Notre Dame's Demise: The Top Twelve Losses Under Bob Davie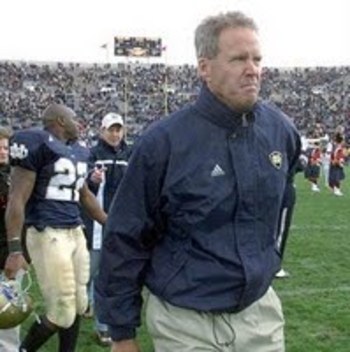 The list of the most important games in modern Notre Dame history continues as we take a look at the biggest losses while Bob Davie was head coach.
Bob Davie took over for the legendary Lou Holtz at the start of the 1997 season and struggled for five years to return the Irish program to prominence.
Over the course of his five seasons as coach, Davie led Notre Dame to some stirring victories, but also some heart breaking losses.
Here are the top 12 terrible losses under Bob Davie.....
No. 12: 1997 Independence Bowl vs. LSU 27-9 L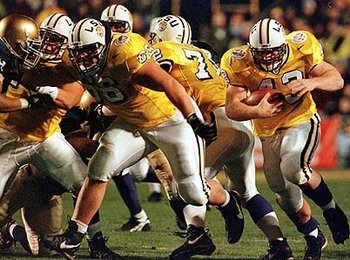 After a rough start in Davie's first year as head coach (beginning 1-4), the Irish came into this bowl game having won 5 straight games, including a 24-6 victory over then No. 11 LSU in Baton Rouge.
Revenge would be sweet for the Tigers, as they continually harassed Notre Dame QB Ron Powlus in his last career game. The game was close until the second half when LSU running back Rondell Mealey exploded for 185 yards on the ground. Mealey would finish with 222 yards and a bowl victory.
No. 11: 1999 @ Pitt 37-27 L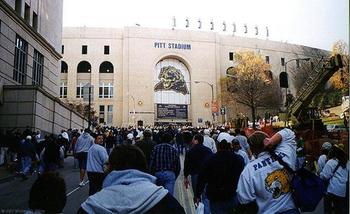 Notre Dame came into this game at 5-4 and looking to play better than they had the week before in an ugly loss to No. 4 Tennessee.
All signs pointed to an Irish victory as Pitt had struggled all season long and was starting their backup quarterback.
However, in the last game played at the old Pitt Stadium, the Panthers came away with a thrilling victory in front of hundreds of letterman from past Pittsburgh teams.
The loss brought Notre Dame back to .500 and was the second of four straight losses to end the 1999 season.
No. 10: 1997 vs. USC 20-17 L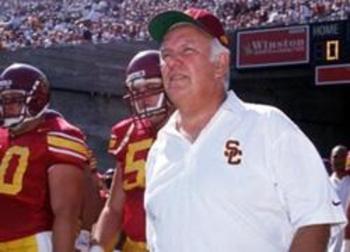 Throughout the first half of Davie's first season, Notre Dame had suffered losses to three ranked opponents and another in Purdue who would go on to a No. 15 ranking.
When Davie led the Irish against USC for the first time, the program was looking to reassert its dominance over the Trojans after losing in overtime the previous year in Holtz's last game.
It would be USC coach John Robinson's last season in Pasadena and he did not have a very talented team, but the Trojans came away with a stirring three point victory.
Notre Dame would regroup and finish strong but the tide was beginning to turn as USC would start to dominate the rivalry in the coming years.
No. 9: 2001 @ Boston College 21-17 L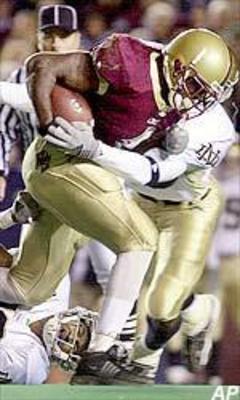 Once again Notre Dame jumped out to a miserable 0-3 record against a tough schedule to begin the 2001 season.
However, they rebounded and won their next three games heading into the match up with the Eagles in Chestnut Hill.
Looking to jump start the second half of the season, Notre Dame once again fell to Boston College in a must-win situation. It would be the beginning of the end for Bob Davie as he was fired just over a month after this close loss.
Notre Dame had the ball twice as long as BC, but it wasn't enough. The Eagles continued on to an 8-4 record and a final ranking of No. 21, while Notre Dame would finish the season with tough losses to Tennessee and Stanford.
No. 8: 1998 @ USC 10-0 L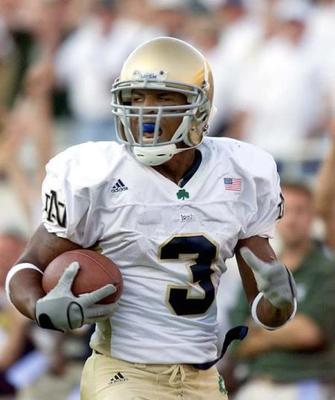 In Bob Davie's second season the Fighting Irish were riding high on an eight game winning streak when they flew to Pasadena, California for a late season match up with the USC Trojans.
Notre Dame came into the game seeking their first BCS bowl appearance but would play without the services of starting quarterback Jarious Jackson.
All night long, the Notre Dame offense could not get going and the Trojans hung on for the victory in an intense defensive battle.
The Fighting Irish would have to settle for a Gator Bowl, instead of a BCS birth
No. 7: 2001 Fiesta Bowl vs. Oregon State 41-9 L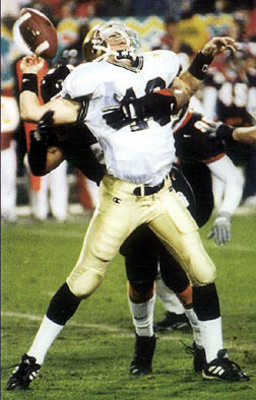 Coming into Notre Dame's first major bowl of the new century, the Irish offense had come alive and had led the team to seven straight wins.
What happened next completely stunned ND Nation.
The Beavers wiped the field with Notre Dame setting up the misery that would accompany Davie's last year as coach.
It was never close and helped to label the Fighting Irish as a program that couldn't win big games.
The trio of Jonathan Smith, Chad Johnson, and T.J. Houshmandzadeh scorched the Irish as the Beavers stormed to 29 third quarter points.
No. 6: 2001 vs. Michigan State 17-10 L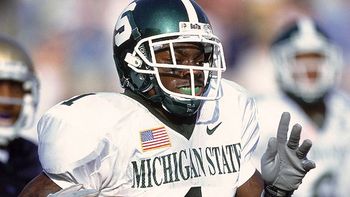 Following the blow out loss to Oregon State in the Fiesta Bowl, the Irish began their 2001 season with a tough loss against No. 5 Nebraska in Lincoln. That made the next game against pesky Michigan State all the more important to get Notre Dame back on the right track.
It wouldn't happen as the Irish lost again to the unranked Spartans at Notre Dame Stadium.
Spartan wide receiver Charles Rogers caught the game winning touchdown and caused fits all day in the Notre Dame secondary.
Michigan State would go on to a 7-5 record while Notre Dame would begin its tail spin in Davie's last season in South Bend
No. 5: 1997 vs. Stanford 33-15 L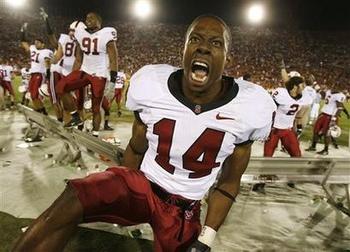 It was Bob Davie's first season as head coach after taking over for Lou Holtz.
Notre Dame had defeated a tough Georgia Tech team to start the season, but that was followed by three straight losses to Big Ten teams.
Heading out to Palo Alto, the Irish needed a victory over the No. 19 Cardinal to save face and turn their season around. Instead, Notre Dame got blown off the field in one of the ugliest losses while Davie was coach.
It didn't help matters that Stanford would tank the rest of the season, winning only five games and end up being unranked.
No. 4: 2000 @ Michigan State 27-21 L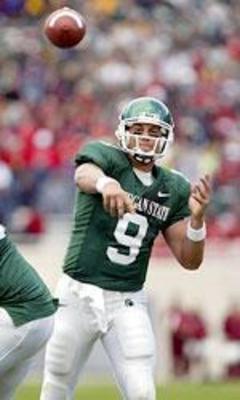 The Fighting Irish came out for the 2000 season playing extremely well with a victory over No. 25 Texas A&M, an overtime loss to No. 1 Nebraska, and victory over No. 13 Purdue, before heading to East Lansing.
Unfortunately, it was the same old story as Michigan State pulled out another improbable win over Notre Dame. Spartan quarterback Jeff Smoker converted a fourth and ten with less than two minutes to play into a 62 yard touchdown that won Michigan State the game.
The Spartans came into the game ranked at No. 23 but fell apart the rest of the way winning only five games total and giving Davie another loss to a sub .500 team.
No. 3: 1997 @ Michigan 21-14 L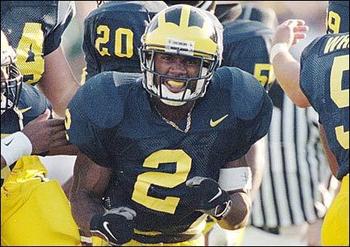 Despite a 1-2 start in Davie's first season in South Bend, the Fighting Irish attempted to shock the world in September by taking out No. 6 ranked Michigan, led by Charles Woodson.
In one of the better played games under Davie, Notre Dame was in the game right until the very end but could not make a play when it mattered.
Michigan turned the ball over three times in their own territory in the second half, but the Irish came away with zero points each time.
On the last turnover in the game, Autry Denson was stopped on fourth and two with less than a minute to go to preserve a Michigan victory. The Wolverines would go on to win the National Championship.
No. 2: 2000 vs. Nebraska 27-24 OT L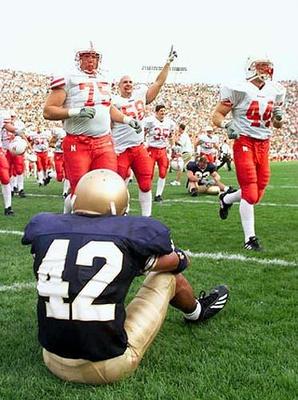 A victory over the No. 1 ranked Cornhuskers could have done wonders for Bob Davie, but alas, it was not meant to be.
Nebraska gave up a kickoff return and punt return for touchdowns before eventually taking the game in overtime.
The Irish settled for a field goal in overtime, but Husker quarterback Eric Crouch scored his third touchdown of the game to seal the victory.
It would be a strong year for both teams, but Notre Dame came up short in its quest for a signature win
No. 1: 1998 @ Michigan State 45-23 L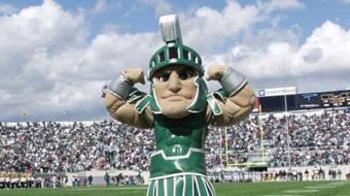 1998 would turn out to be probably Davie's best season under the Golden Dome, but it came with an absolutely crushing loss.
Notre Dame had just opened up the season by defeating No. 5 Michigan but followed that up with an ugly performance to unranked Michigan State.
From the first kickoff, Michigan State dominated the game and jogged into the locker rooms at halftime winning 42-3.
The game was effectively over even though the Irish picked up some second half points in the route.
The loss would be symbolic in many ways as Davie's '98 Irish team would win their next eight games before losing the last two on the season.
If only Notre Dame could have headed to USC undefeated that year, who knows what could have happened.
Davie ended up 0-5 against Michigan State during his time in South Bend.
Keep Reading

Notre Dame Football: Like this team?