NBA's Black Friday: The Best Bargains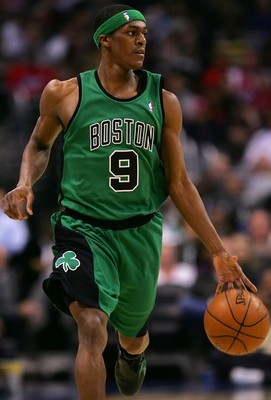 With Black Friday only a few hours away, many bargain-hungry shoppers have already set their alarm clocks and are fast asleep, surely dreaming about the fantastic deals they will be receiving on their favorite merchandise.
Though I am not much of a shopper myself, I thought this would be the perfect opportunity to explore current NBA rosters in search of the best bargains. To determine who are, in fact, the best bargains in the NBA, I took two major factors into consideration:
1. The salary a given player would be receiving this year
2. His impact on his team relative to his salary
Note: Rookies were excluded from this list because they have not yet been given an opportunity to renegotiate their contracts.
10—Wilson Chandler (New York Knicks SG)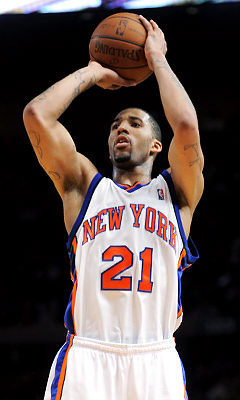 The Knicks will pay Chandler $1.2 million this season and has two years remaining on his contract.
On a team that has been flat-out bad to this point, Chandler has at least demonstrated some ability to put the ball in the basket at times.
Although he has really been struggling as of late, Chandler is still a key building block for this Knicks team and it will continue to depend on his production to become competitive.
Chandler will obviously need to bring his shooting percentage back to a respectable number, though, as the Knicks continue to grow together, his shot selection should begin to improve.
Despite his struggles—he is averaging 11.7 ppg, 5.3 rpg, and 1.7 apg—at $1.2 million, the Knicks still have a pretty good bargain in Chandler.
9—Mario Chalmers (Miami Heat PG)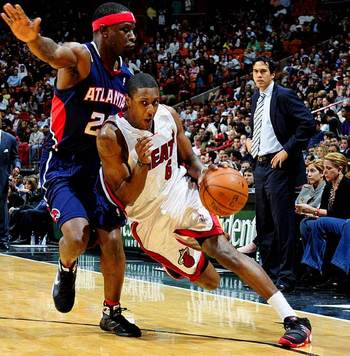 Chalmers is set to receive $756,000 this season and is in the final year of his contract.
He is the starting point guard on a good Miami Heat team that should remain competitive throughout the season. Chalmers is averaging 9.9 ppg, 4.5 apg, and 1.6 spg.
He has been inconsistent this year, but has showed signs of growing into a top-notch point guard. In a loss against the Raptors last week, Chalmers scored a career high 30 points, and added three assists and three steals.
Making less than $1 million this year, I'd say Miami has themselves a pretty good deal.
8—George Hill (San Antonio Spurs PG)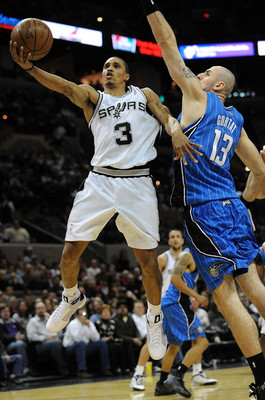 Hill will receive $1 million this season and is in the final year of his contract.

He has been a bright spot on a Spurs team that sputtered out of the gate, and an integral part of its recent resurgence.
He is quickly becoming known around the league for his contributions as a backup to Tony Parker, and has done an admirable job covering during the games Parker has missed due to injury.
On the season, he is averaging 12.5 ppg, 2.5 rbg, and 2.2 apg. With his salary right at the $1 million mark, the Spurs should certainly be excited about the bang they are getting for their buck.
7—Courtney Lee (New Jersey Nets SG)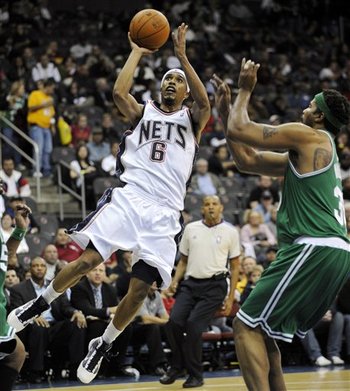 Lee will receive $1.2 million this season and has two years remaining on his contract.
He struggled early with a groin injury, and is only beginning to reintegrate himself into the woeful Nets offense.
There are high expectations for Lee this season that stem from his stellar play during last year's playoff run. He is averaging 9.8 ppg, 2.3 rpg, and 2.4 spg.
By far, the most surprising part of Lee's game this year has been his competency on the defensive end. In his first game back playing since his injury, he recorded six steals.
At $1.2 million, Lee is definitely a bargain and the Nets have themselves a pretty good starting shooting guard.
6—Anthony Morrow (Golden State Warriors SG)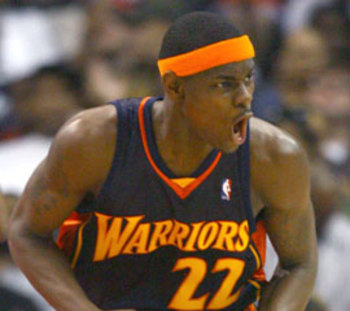 Morrow will be compensated $736,400 for his services this season by the Warriors and is in the final year of his contract.
Morrow is one of those guys who can be invisible one night, and explode for 30 points the next. He has a silky smooth jump shot and he excels from long distance.
He has really begun to pick up his scoring, and recently dropped 27 and 23 on the Mavericks and the Blazers, respectively. Both games were victories for a Warriors team that has struggled out of the gate.
On the season, he is averaging 12.9 ppg, 4.1 rbg, and 1.3 apg.
At about a quarter of a million under the $1 million mark, I think it is safe to say that Morrow is one of the most underpaid players in the league for the impact he has on his team.
5—Will Bynum (Detroit Pistons G)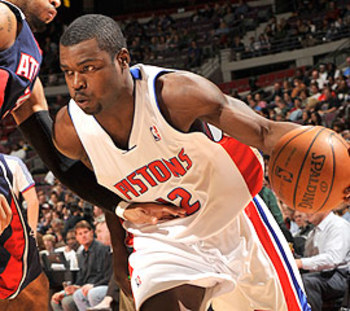 Bynum will receive $825,400 this season and is in the final year of his contract.
Although not the starting point guard, Bynum has truly begun to excel in his role of coming off the bench. The Pistons have been reeling as of late, but that is not due to any lack of effort, or effectiveness, on Bynum's part.
In their last six losses, Bynum has contributed 15 points per game in his bench role. On the season, Bynum is averaging 13.5 ppg, 3.3 rpg, and 4.1 apg.

Any time you have a bench player earning under $1 million, but making this type of positive impact, I think it is clear how much of a bargain you actually have.
4—Joakim Noah (Chicago Bulls C)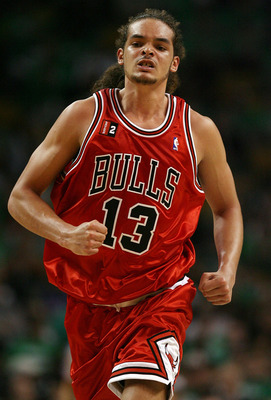 Noah is set to receive $2.4 million from the Bulls this season and has two years remaining on his contract.
He has played out of his mind this season, and has been by far the brightest spot on a struggling Bulls team.
He is currently averaging 11.5 ppg, 11.9 rbg, and 1.8 bpg, and if you ever watch the Bulls play, you would be hard-pressed to find something negative to say about this guy's game. He is overflowing with energy and passion, and has an uncanny nose for the basketball on the glass.
$2.4 million is a steal for this guy.
3—Aaron Brooks (Houston Rockets PG)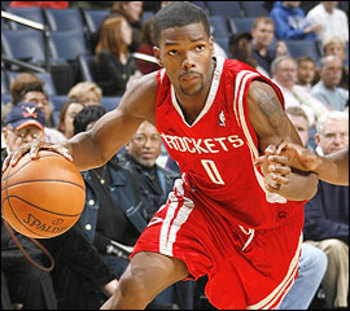 Brooks will receive $1.1 million dollars this season and has two years remaining on his contract.
He was an integral part of the Rockets playoff run last season without Yao Ming, and he has continued to demonstrate his value to this surprising team.
While the Rockets have been inconsistent as of late, Brooks has remained a constant in the starting point guard spot.
On the season, he is averaging 16.3 ppg, 2.3 rpg, and 5.7 apg. At $1.1 million, the Rockets have themselves a steal for this season.
2—Rudy Gay (Memphis Grizzlies SF)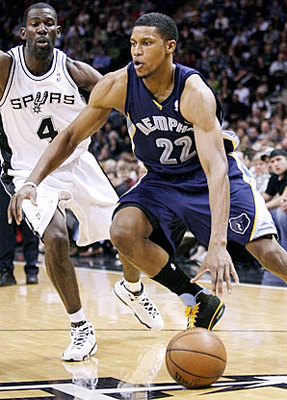 Gay is set to receive $3.2 million this year and is in the final year of his contract.
He has always been known as a potent scorer, and this season has been no different—despite the presence of like-minded O.J. Mayo playing across from Gay.
You can pretty much count on Gay scoring 20 points per night, and there are plenty of teams across the league that would pay him top dollar for his services. He will become a restricted free agent this offseason, and I would expect him to see a lot of interest from across the league.
On the year, Gay is averaging 21.5 ppg, 6.8 rpg, and 2 apg. Even at $3.2 million, which is the highest amount you will see on this list, he is clearly a bargain for what he brings to the table.
1—Rajon Rondo (Boston Celtics PG)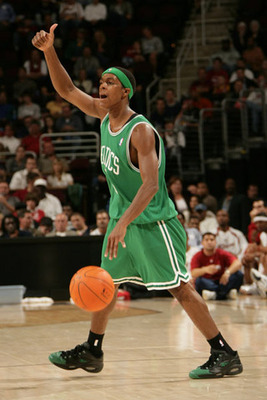 Rondo will be paid $2 million dollars by the Celtics this season and has six years remaining on his contract.
He is clearly emerging as an elite point guard in the NBA this season.
He won't ever put up huge numbers, but if you watch this guy play, then you understand the impact he has on the game. He is a quintessential pass-first type of point guard, and he involves his teammates better than almost anyone in the league.
On the season, Rondo is averaging 10.7 ppg, 4.3 rpg, and 8.7 apg. With the Celtics paying him $2 million this season with six years remaining on his contract, it seems like they have truly found the ultimate bargain.
Keep Reading