Buell's Eye: Rivalry Week Picks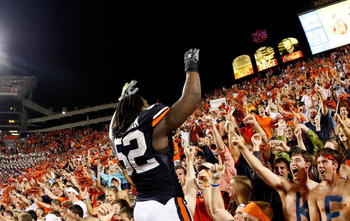 Rivlary Week is upon us!
Leno vs. Letterman. Country music vs. Rap. Moms vs. Grass Stains. Husbands vs. Mother-in-Laws. And the Detroit Lions vs. the Thanksgiving Day meal, although likely the winner of that one has been on the table.
Yes, it's Thanksgiving weekend, the rivlaries abound and conference championship and bowl game placements are up for grabs.
Almost every game this weekend features a rivalry, a potential upset with a spoiler that has already pulled an upset somewhere along the road this season or has shown they have the ability to get it done.
Last week produced a 16-4 record, taking my overall season record to an even 200 wins and 50 losses.
Week 13's Off Weeks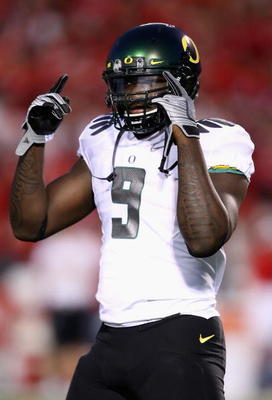 The Ohio State Buckeyes, the Iowa Hawkeyes, and the Penn State Nittany Lions have all completed their regular seasons.
The BCS Rose Bowl game awaits Ohio State while lofty Bowl expectations are in both Iowa's and Penn State's minds, as well.
The California Golden Bears climb back into the Standings after surprising the masses with a victory over their rival, Stanford, last weekend without their star running back, Jahvid Best.
Oregon and Oregon State take this week off but will face in the biggest game of their season next weekend to decide who will play the Buckeyes in the Rose Bowl.
No. 25 Mississippi Rebels (8-3) @ Mississippi State Bulldogs (4-7)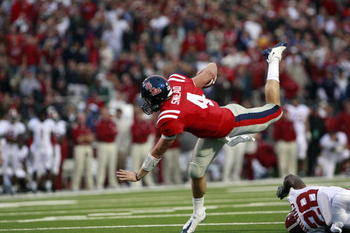 In the battle of Mississippi, this game should prove to be much closer than what the records show.
Mississippi State has played their opponents tough but doesn't have the support of the win column exhibiting that.
The Rebels take this one over the Bulldogs 21-20.
No. 24 North Carolina Tar Heels (8-3) @ North Carolina State Wolfpack (4-7)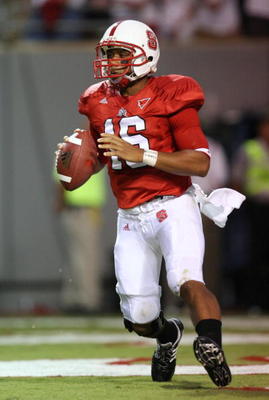 When this week comes around, all bets are off.
So, yes, the picture on this slide is correct and all the masses can exclaim in ony united voice, "Upset Alert!"
In the battle of North Carolina, the Wolfpack, who have had a disappointing season overall, show up at home, ready for their rivalry game against their intrastate nemesis and prevail 17-14.
No. 23 Houston Cougars (9-2) vs. Rice Owls (2-9)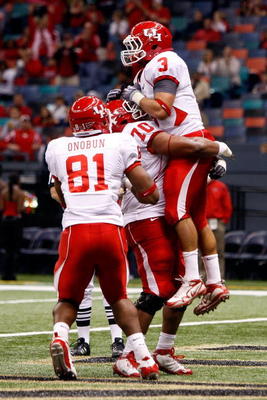 Out of the 18 total games this weekend, this is one of the few that doesn't seem to have that "upset potential" factor.
The Cougars overwhelm the Owls 42-20.
No. 20 USC Trojans (7-3) vs. UCLA Bruins (6-5)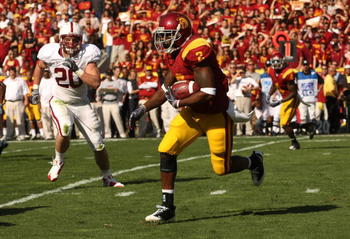 In recent years, right when the Trojans of Southern California seem poised to take their rightful spot in the BCS Championship game, the UCLA Bruins have played spoiler.
This year, for the first time since the start of this decade, USC is not headed to a Championship game of any sort, but UCLA also won't be pulling the upset.
USC wins this classic showdown 27-17.
No. 19 Brigham Young Cougars (9-2) vs. No. 21 Utah Utes (9-2)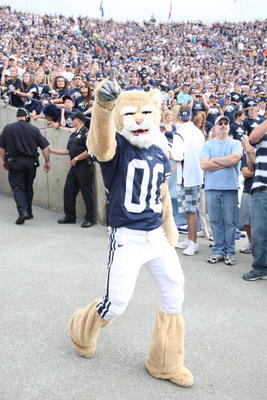 I've been wanting to use this picture all year long.
Now that I'm finally picking BYU to win one, I finally get to!
So, don't let me down, Cougar.
Brigham Young wins the only game of the weekend that features two ranked opponents, with only the state of Utah caring about it, 37-30, over the Utes.
No. 18 Clemson Tigers (8-3) @ South Carolina Gamecocks (6-5)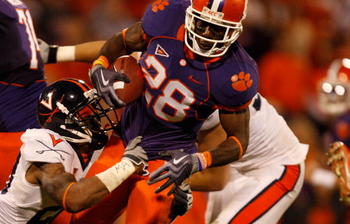 The battle of South Carolina is on and ACC Championship implications are on the line.
C.J. Spiller, a Heisman hopeful, will be the difference once again.
As he scores half the touchdowns, Clemson outruns and outscores the Gamecocks, 28-21
No. 17 Miami Hurricanes (8-3) @ South Florida Bulls (7-3)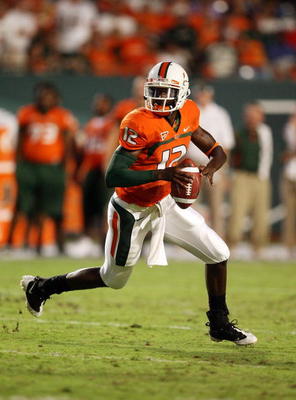 I struggled with picking this one, and to be honest, I still don't have much confidence in my pick.
However, I don't see South Florida being able to score more points than the Miami offense if QB Jacory Harris is on his game.
I'm saying he will be, and with Miami in the lead and adding a few more points, the Hurricanes blow past the Bulls 33-21.
No. 15 LSU Tigers (8-3) vs. Arkansas Razorbacks (7-4)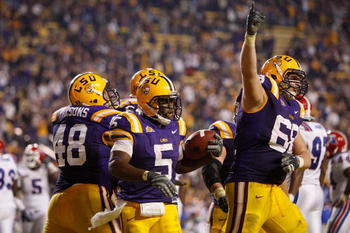 Outside of the game against the Florida Gators, who have proved they are in a league of their own the past 21 games, I like LSU at home during the lovely evening time.
Arkansas sports an impressive 7-4 record, and with the strength throughout the majority of the SEC, (we apologize to Vanderbilt), that record could be even better because this Razorbacks team is dangerous.
Yet, in this SEC Showdown, the Hogs come up just short against the elements and the Tigers 31-24.
No. 14 Virginia Tech Hokies (8-3) @ Virginia Cavaliers (3-8)
A better rivalry may be with the Cavaliers against the Cavaliers from Cleveland.
But, they may wanna catch up with Lebron before he takes Eric Mangini's offer to play for the dismal Browns.
To retract my earlier statement, just for this one, even a "rivalry game" won't be able to help Virginia's chances in this one.
The Hokies take the battle of Virginia 30-20.
No. 12 Oklahoma State Cowboys (9-2) @ Oklahoma Sooners (6-5)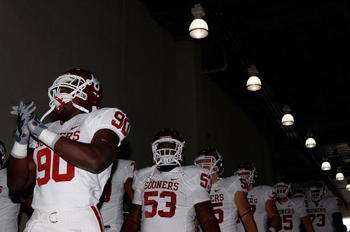 My confidence in this pick is ever-wavering, as well.
Oklahoma has been absolutely dismal, and without Sam Bradford running the offense, the Sooners are struggling to score on nearly ever possession.
However, I will be shocked if Bob Stoops' program doesn't get things together to be prepared for their rivalry game this weekend
In the battle of Oklahoma, the Sooners keep their bowl game dreams alive, albeit it may not be what they were originally dreaming of, with a 20-14 upset over the Cowboys.
No. 9 Pittsburgh Panthers (9-1) @ West Virginia Mountaineers (7-3)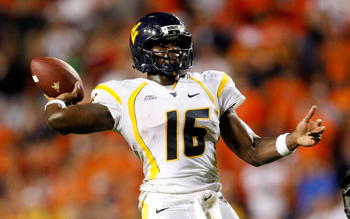 Nothing quite ruins your season like a late season loss to your biggest rival.
(By the way, when is Pittsburgh going to start playing Penn State every year, or am I the only one that actually wants to see the return of that matchup?)
In the battle of the Outback Steakhouse parking lot, wait...no, sorry...the "Backyward Brawl," the Mountaineers pull the upset of the Panthers 27-24.
No. 7 Georgia Tech Yellow Jackets (10-1) vs. Georgia Bulldogs (6-5)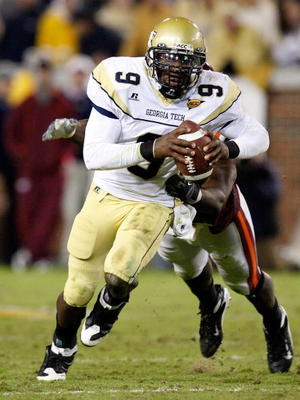 The Bulldogs are down but never out in this rivalry game.
But, the Yellow Jackets have every thing to lose with only one loss under their belt and an ACC Championship berth in their sights.
Georgia Tech wins the battle of Georgia over the Bulldogs 24-20.
No. 6 Boise State Broncos (11-0) vs. Nevada Wolfpack (8-3)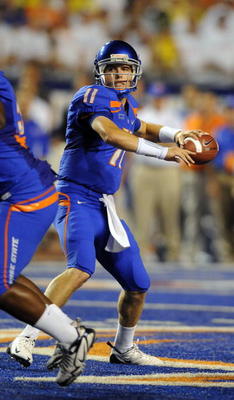 A Boise State upset is actually a possibility this weekend for a team who hasn't had many close ones.
Nevada comes in with an 8-3 record and thoughts of spoiling a BCS Bowl and Championship dream season for the Broncos.
Yet, in the end, Boise State prevails once again 41-30.
No. 5 Cincinnati Bearcats (10-0) vs. Illinois Fighting Illini (3-7)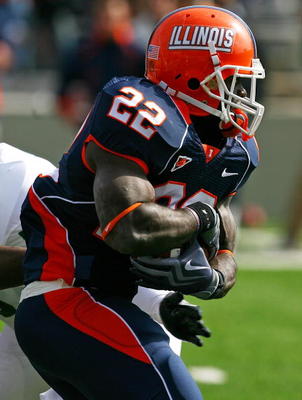 Call me crazy, but yes, I'm picking Illinois to end the Cincinnati Bearcats' undefeated record, dream season, and Championship aspirations.
The Fighting Illini are sporting a horrendous 3-7 record, but with the game being played at noon, this Big Ten team thrives in this one.
In the biggest upset of the weekend, Illinois shocks Cincy 20-17.
No. 4 Texas Christian Horned Frogs (11-0) vs. New Mexico (1-10)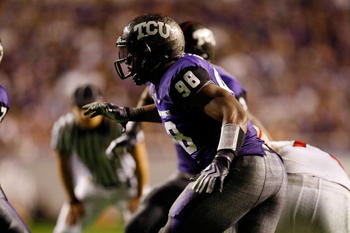 Poor New Mexico.
You can't call this one a rivalry.
You can't even call this one close.
TCU sits one SEC upset away from tasting the BCS Championship and the pressure all rests on the shoulders of Alabama and Florida.
TCU blows out New Mexico 45-14.
No. 3 Texas Longhorns (11-0) @ Texas A&M Aggies (6-5)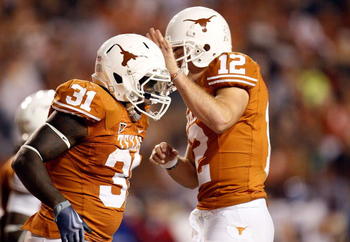 Even though Thanksgiving Day features some classic games, I'm not too sure how great the games will actually be.
Even at Twelfth Fan Stadium, the Aggies have their hands full with the Longhorns' eyes fixed on the BCS Championship game.
Texas destroys Texas A&M 38-14.
No. 2 Alabama Crimson Tide (11-0) @ Auburn Tigers (7-4)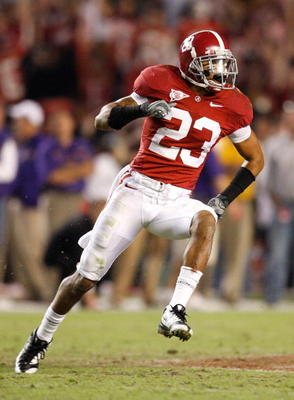 Everything in me wants to pick the upset in this year's Iron Bowl, one of the best rivalries of the weekend and of the season. Shoot, it's one of the best rivalries, period.
But, since I dreamt that Alabama was up by 10 points late in the fourth last night, the Crimson Tide get my vote as they head into the SEC Championship versus Florida.
Alabama outlasts Auburn's upset bid, 30-24.
No. 1 Florida Gators (11-0) vs. Florida State Seminoles (6-5)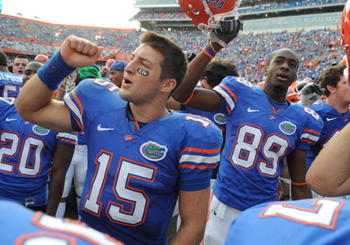 In the battle of Florida, the Gators look to remain perfect and the 'Noles try to salvage a disappointing season.
Backup QB EJ Manuel leads the Seminoles offense into The Swamp, and although he puts on an impressive performance, keeping the game close, Florida marches on to the SEC Title game against Alabama with a 31-17 victory over their intrastate rivals.
Keep Reading

Alabama Crimson Tide Football: Like this team?