The Pac-10's Top Running Backs Spark New West Coast Goal Rush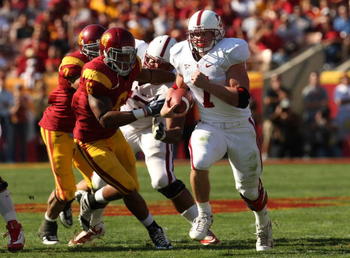 College Football tends to go in cycles, so it is no surprise that the Pac-10 has turned into more of a rushing conference than a passing one. Not that they forgot who to toss the forward pass to on the West Coast, but the production of runners has been impressive lately, especially this year.
The top-six runners in the Pac-10 all rank in the top 41 in the nation, with three in the top 10! Let's take a look at the PAC's top runners this year.
Stanford's Toby Gehart leads the Pac-10 Ground Game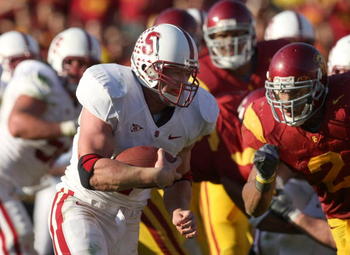 After breaking the 1000 yard mark last year, Toby Gerhart has continued to pound away with his physical rushing style at 5.4 yards per carry rushing for 1531 yards with one game to go.
That puts him at No. 2 in overall yardage. While 139 yards per game puts him in third in the nation. Gerhart is leading the Pac-10 in its return to the running game, as well as Stanford's return to a bowl game
Oregon State's Jacquizz Rodgers Spectacular Second Act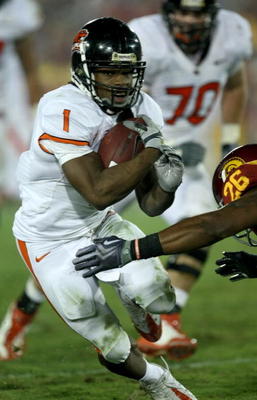 Rodgers, who was second in the PAC-10 last year in rushing, has continued to power the Oregon State rushing attack into his sophomore season. Improving from 4.8 to 5.4 yards per carry, and producing 119 yards per game, giving him 1313 on the season with one game to go. Which ranks him at number eight in the NCAA for yards per game. While he is shorter in stature, don't mistake Rodgers for being little. He is a powerful runner!
Oregon's LaMichael James; Blount Suspended? No Problem!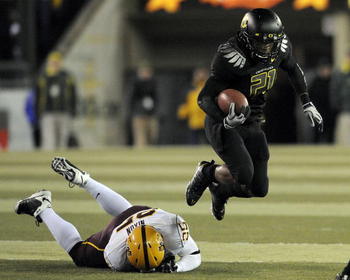 This young Duck was forced to step up early on as returning starter LeGarrette Blount was suspended for most of the season after the incident in the first game. James, a freshman, has responded brilliantly averaging 6.8 yards a carry for 1310.
He is neck and neck with Jacquizz Rodgers in yards per game at 119 as well, and is only six yards behind the Oregon State back for total yardage on the season. Not to bad for a freshman not expected to start!
With the Civil War left to go the two will battle it out in the last game for the right to be second in the Pac-10 in rushing.
California's Best Hampered by Injuries, but Still Productive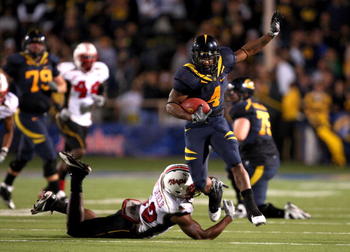 Last years top rusher in the Pac-10 returned this year and continued to be a productive back. His yard per carry dropped off from eight to six, but that is still a highly impressive number. On pace to rush for over 1000 yards for the second strait season, Best's season was derailed after a frightening injury and concussion has cut his season short.
Best does hope to return for California's final game against the University of Washington. At this point he has rushed for 867 yards at at 96 yards per game.
Southern Cal's Mcknight Leads a Solid Stable Backs Out of USC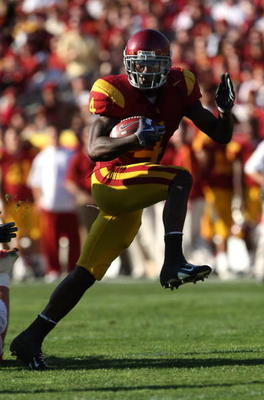 With a stable of five-star recruits to choose from, McKnight has emerged as a leader for the Southern California rushing attack. With 932 yards on 6.5 yards per carry McKnight looks to break the 1000 yard mark on the year. McKnight is averaging 93 yards per game, and is always a threat to take it to the house with his speed and elusiveness.
Washington's Chris Polk leads the Huskies Charge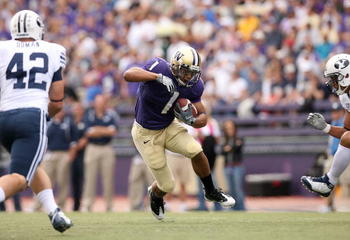 Chris Polk, who had his freshman season interrupted by injuries, has returned in full force leading the Huskies rushing attack with 88 yards per game on five yards per carry. Looking to become Washington's first 1000 yard rusher since 2007, Polk has 889 yards on the season and with two games remaining should reach that mark.
Polk is a tough runner with good speed who separated himself from the pack of running backs at Washington to be the every down back. Considered a redshirt freshman due to last year's injury, Polk has a bright future and looks to challenge for the top of the Pac-10 rushing in the future.
Keep Reading