Dirk, Kobe, and LeBron Lead 2009-10 NBA MVP Candidates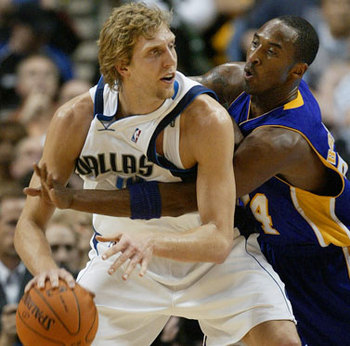 It's never too early to start talking about the most debated award in all of pro sports. That's right, I'm talking about the NBA MVP Award.
Last week I broke down what it takes to win the NBA MVP, so we have a baseline for this season and years to come.
Using the MVPi stat, we are already starting to see who some of the contenders and pretenders for the award are.
Contender #1 Dirk Nowitzki, Dallas Mavericks, 189.7 MVPi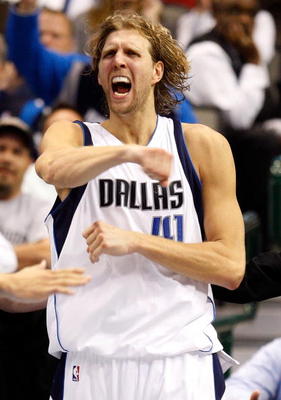 The 2007 NBA MVP has the Dallas Mavericks sitting on top of the Southwest Division with his 26.9 points and 8.9 rebounds per game. He has scored 20 or more points in all but one of the team's 13 games (12 against NO in a loss) and has six double-doubles on the year.
Dirk has already shown some guts this season like his 40 point performance against Utah, where he nailed 15-of-16 free throws, a shot he is converting at 90.1 percent this year.
His impressive MVPi ranks him seventh amongst the last 20 MVP winners, and it's close to the 191.4 he posted in 2007.
Contender #2 Kobe Bryant, Los Angles Lakers, 167.1 MVPi
If Pau Gasol was going to be out longer, there is a good chance Kobe would have run away with the MVP by the All-Star break.
Bryant has already scored 40 points four times in his first 11 games, matching the number of times he did it all last season, and the Lakers went undefeated in those game this year.
In fact, Bryant's three lowest scoring nights (18, 19, and 20) mark the Lakers three loses on the year—remember when people though he should score less for LA to win more?
Currently the Lakers rest 1/2 game behind Phoenix, but my money says they surpass the Suns in the rankings over the next few weeks and won't give up their lead on the West from there.
Now that Gasol is back, and Bynum is playing so well, I'm not sure if Kobe will have the stats he needs throughout the year to win the MVP, but he is looking better than ever right now—posting a better MVPi than when he won the award in 2008.
Contender #3 LeBron James, Cleveland Cavilers, 154.9 MVPi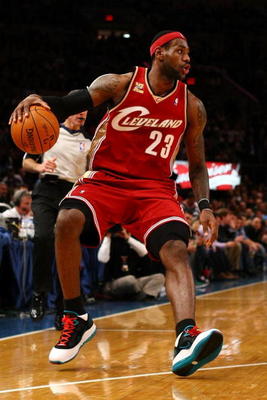 More impressive than his 29.4 points or 6.9 rebounds per game are the 8.1 assists per game King James is dishing out. That number ranks James sixth in the NBA, and he is third in scoring for the Central Division leading Cavs.
Whether the Cavs win or lose, James has been the most impressive player on the court every game. He continues to improve his shooting at all levels, posting career numbers from the field (52.7%), stripe (78.5%), and three (37.1%).
The primetime matchups will be key for James' MVP perception, and the best record in the East won't hurt either—especially if LeBron wants to match last year's 219.0 MVPi.
Contender #4 Joe Johnson, Atlanta Hawks, 153.7 MVPi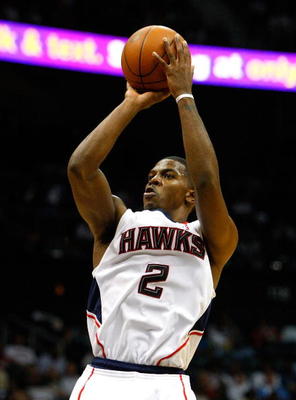 The real dark horse right now for the MVP Award is Joe Johnson, who has Atlanta tied for the best record in the NBA at 11-3.
Johnson's 24.9 points per game at home is a big part of the reason why the Hawks are undefeated there. From threes, to rebounds, to assists, the point/forward can do it all.
If Johnson can keep Atlanta going at this pace, I am all for him winning the MVP, but I expect the Hawks' record to decline below .700 over time. If they can't beat Orlando for the division, Johnson doesn't have a shot.
Contender #5 Steve Nash, Phoenix Suns, 145.3 MVPi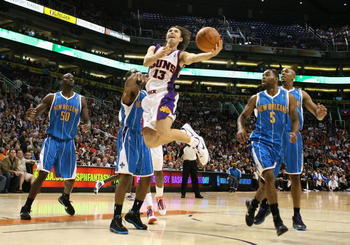 Steve Nash is playing the least amount of minutes he ever has in his Suns career. In that time, he is scoring more than he did in his 2005 MVP season (17.1 to 15.5) and averaging more assists than he ever has in his life (11.6).
It's easy to see that the Suns' beloved offense is back. They aren't as deep as years past, but everyone around Nash can knock down the open jumper, including Nash who is shooting above his career percentage at all three shooting marks.
Nash's 145.3 MVPi is more than 45 points higher than either of his MVP seasons.
Right now the Suns have the lead in the Pacific. If they can keep it, Nash will prevent Kobe from being in the running, and we know the voters lean towards little men.
Contender #6 Dwight Howard, Orlando Magic, 139.7 MVPi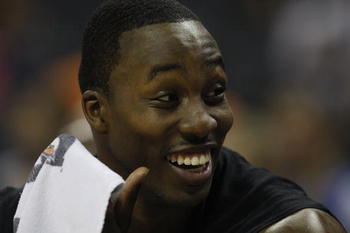 To be honest, Howard is very close to the pretenders list.
The 2008-09 Defensive Player of the Year's scoring, rebounding, and block numbers are down from last season by healthy margins, and he is only playing 31 minutes per game.
The only catch here is that the Magic are tied for the best record in the NBA and, in the long run, they look likely to beat out Atlanta for the Southeast Division.
On top of that the only constant for the Magic's talented roster has been Howard—Jameer Nelson is out, Vince Carter has missed time, and Rashard Lewis was suspended for the first 10 games of the season.
One reason Howard's numbers have taken a hit is because teams are taking it to him, and it has been resulting in foul trouble. Howard needs to realize one less block could mean five more minutes of overall production—and the MVP Award in the long run.
Contender #7 Carmelo Anthony, Denver Nuggets, 130.2 MVPi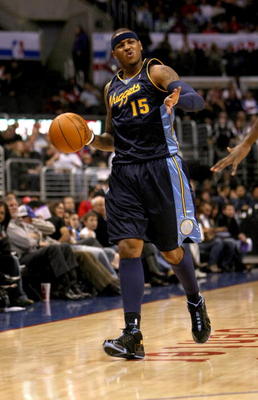 It's actually surprising that Anthony, the NBA's leading scorer (30.5), doesn't have a higher MVPi. It might also be surprising to know that the Nuggets are 4-4 on the road to go with their 5-0 home record.
The MVPi isn't the final vote however and, the way Anthony has been playing, I put him in fourth place above Joe Johnson on my imaginary ballot.
It should be noted that Anthony worked extremely hard to get in the best shape of his life this season; he is quicker than ever and attacking with 10.5 free throw attempts per game (making 86.0%).
Pretender #4 Brandon Jennings, Milwaukee Bucks, 102.1 MVPi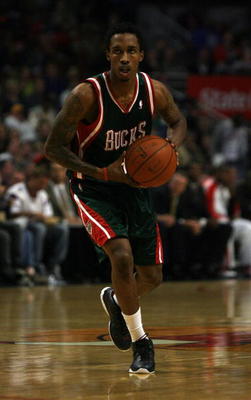 To be clear, Jennings is not on this list because he is a rookie. Rookies have won the MVP in the past, and this Allen Iverson clone could win one in the future.
Jennings is a pretender because I don't think the Bucks have a shot at winning the Central Division. I'm not even sure they will finish above Chicago at the end of the year.
I had Jennings as my second best player in the 2009 NBA Draft because he is special, but in today's NBA, it is going to take someone by the name of LeBron "Air" Bryant to in the MVP as a rookie
Pretender #3 Paul Pierce, Boston Celtics, 99.3 MVPi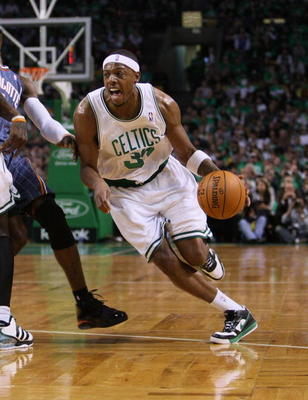 The Celtics are a team. They are a Championship team. They have some really good players and even some great ones.
Pierce is the best player on this team, but he is not that much better than the others to separate himself statistically as a legitimate MVP candidate.
Pretender #2 Dwyane Wade, Miami Heat, 99.2 MVPi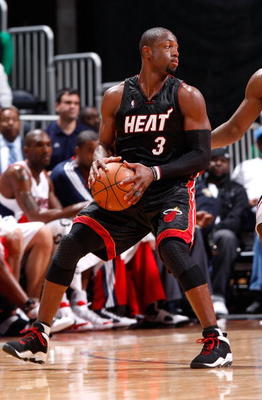 Sorry Heat fans and D-Wade diehards, unless Miami makes a trade quick, it doesn't look like Wade has a shot at the MVP.
Is Wade good? Without a doubt, he is one of the five best players in basketball.
Are the Heat good? Without Wade they would struggle to win against the bottom teams in the NBA. They don't seem to have a shot at winning the Southeast Division, and that keeps Wade out of the running.
Pretender #1 Brandon Roy, Portland Trial Blazers 93.0 MVPi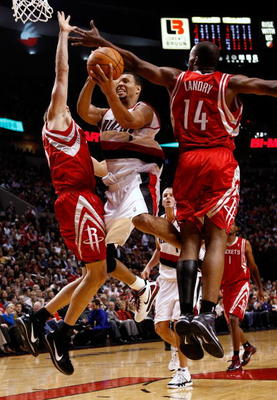 Even if the Blazers had a few more wins through 16 games, Roy's stats are just not up to MVP quality.
All of Roy's averages and percentages are down from a year ago, he is still playing All-Star basketball, but he isn't even playing up to his potential.
Keep Reading