10 Reasons Every Arkansas Razorback Fan Should Be Thankful This Thanksgiving Season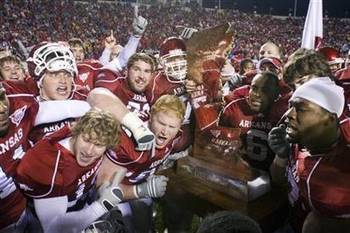 Arkansas Razorback fans have a lot to be thankful for in 2009.
The Hogs have the most explosive offense in the SEC and have improved greatly since 2008.
It has been an inspirational year for the young Razorbacks.
The following is a list of the 10 things every Arkansas Razorback fan should give thanks for this Thanksgiving.
Bobby Petrino and His High Flying Offense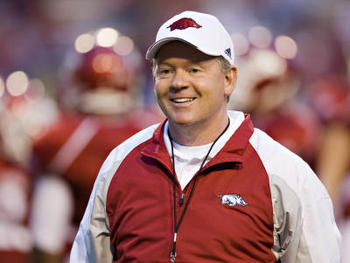 Bobby Petrino leads the way for things to be thankful for this Thanksgiving for Arkansas fans.
It is year two at Arkansas for Bobby Petrino, and he has the Razorbacks playing great football. Arkansas leads the SEC in a handful of offensive categories, and he has the program on the rise.
Petrino and the entire Razorback Nation look to finish 2009 strong and have an unforgettable 2010. The pieces are falling into place for Arkansas to be an SEC West contender in the coming years.
DJ Williams and His inspirational leadership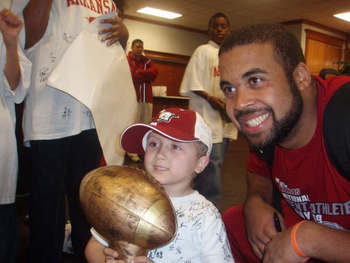 DJ Williams is a warrior on the football field and an unbelievable person off the field.
Prior to the 2009 season, DJ shared his childhood story of fleeing an abusive situation with his father in Texas to come to Little Rock with his mother and two sisters.
DJ also has shown his heart in his community service and time spent with fans.
Pictured here, DJ gave away his 2008 Offensive Player of the Year award to Ethan following the 2009 Red and White game. Ethan is a young wheelchair bound fan that merely wanted to meet DJ. Williams made the moment much more than anyone ever would have expected.
DJ's play on the field has been productive as a tight end and leader, and he deserves the thanks of all Razorback fans. His unselfish play has allowed the Razorbacks to improve every week.
If DJ returns for his senior year in 2010, he will be a key piece in the Hogs contending in the SEC and possible BCS plans next year.
Paul Petrino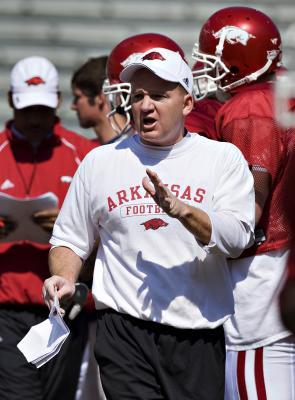 Third on the list is Paul Petrino. Paul is the younger brother of Bobby Petrino, and is the offensive coordinator for Arkansas.
Paul just turned down a Western Kentucky head coaching job, which has Arkansas fans rejoicing.
His connections in Florida for recruiting have been paying off for Arkansas since he stepped on campus, and his ability to coach up young wide receivers has been unbelievable.
This ability has not only Arkansas fans giving thanks, but young Ryan Mallett giving thanks this Thanksgiving as well.
Joe Adams' Health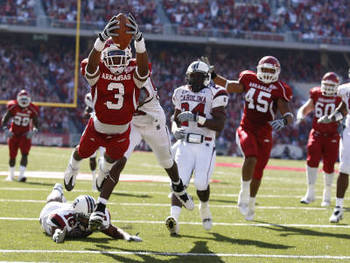 Joe Adams is quickly becoming one of the best wide receivers in the SEC. He has made many great offensive highlights for the Razorbacks so far in the 2009 season.
In early October, Joe suffered a minor stroke that kept him off the field for about a month. At the time, Razorback fans were not sure if Adams would ever return to the field.
Adams was cleared to play less than a month ago and has been on fire ever since. He has 26 receptions for 540 yards and six touchdowns, all while missing three games in the middle of the season due to a stroke.
Adams' health is reason enough for all Razorback fans to give thanks, and his play on the field is an added bonus.
Garrick McGee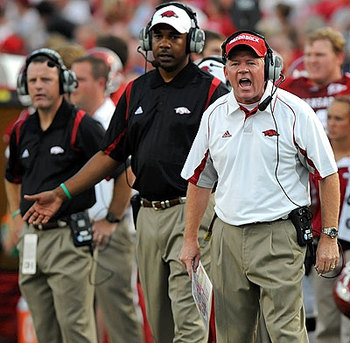 Arkansas quarterback coach Garrick McGee is next on the list.
McGee was a star quarterback out of Tulsa who started for the Oklahoma Sooners. He is a legend back home, and this has allowed McGee to recruit in the state of Oklahoma for Arkansas better than anyone ever has.
He also has worked wonders with Ryan Mallett, and has allowed Mallett to make a case for first team All-SEC QB in 2009.
McGee gives all Arkansas fans reason to give thanks, and he should earn a large raise after this season so that the Hogs can continue to give thanks for all the great things he has been doing on campus.
Broderick Green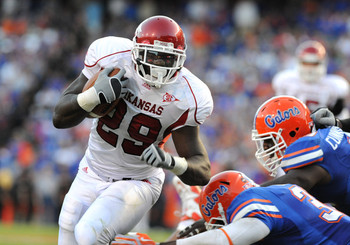 Yes, Bobby Petrino has his big back.
Broderick Green had a somewhat slow start to the 2009 season, but over the last month-and-a-half he has become the beast that was expected of him.
At 245 pounds, Green is a workhorse in goal line and short yardage situations for the Razorbacks.
Green transferred from USC and was granted immediate eligibility. The decision was not known until the season was about to start, so Hog fans have given thanks for Broderick already once in 2009, but a player of Green's size can be given thanks for again.
Willy Robinson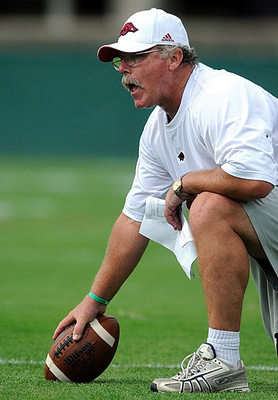 Defensive coordinator Willy Robinson is next on the list.
All Razorback fans have Willy to thank for the improvement in the Arkansas defense from week to week. The defense is last in many categories, but has cut the points allowed per game down over the last six weeks and is No. 1 in the SEC in red-zone defense.
Fans also all need to give thanks for Robinson's health. Just two weeks ago, Robinson was rushed to the hospital with an infection and because of his, he missed the Troy game. To much relief, Willy returned to the field the following week.
This progress, and his health, gives all Razorback fans reason to give thanks for Willy Robinson this Thanksgiving.
Elton Ford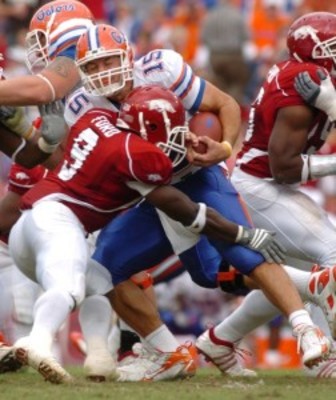 Elton Ford has made an improbable comeback in 2009. A year ago, in Ford's freshman season, he sustained a potentially career ending neck injury, the same injury that has many players in wheelchairs.
Ford was determined to return to the field. He worked all winter to regain his strength, and this preseason he returned to the field.
Coaches and players were nervous at first to let Ford go all out, but he has worked his way back as a starting safety for the Hogs. Elton is a key component to this defense and, like most of his fellow defensive players, is a young sophomore who will return next season.
This inspirational return to the field, and continued motivation, is a reason all Hog fans should give thanks.
Ryan Mallett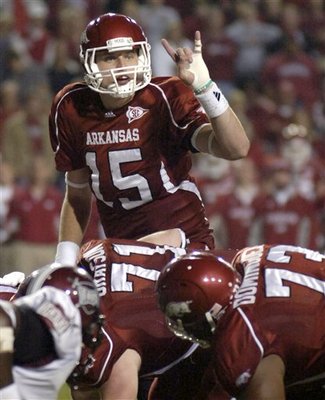 Ryan Mallett is the epitome of all those things Arkansas fans need to give thanks for this Thanksgiving.
In his first year, Mallett has shattered the Arkansas record books. He is the single season passing record holder and passing TD record holder, with two games remaining on his season. Mallett also has become the only Arkansas quarterback to ever pass for over 3,000 yards in a season.
Razorback fans have high hopes that Mallett will return for his RS junior year, but many think he may enter the NFL Draft.
All Razorback fans should give thanks for having a quarterback like Ryan Mallett wearing the Razorback uniform, and all he has done to get the Hogs program on the rise in 2009.
The Golden Boot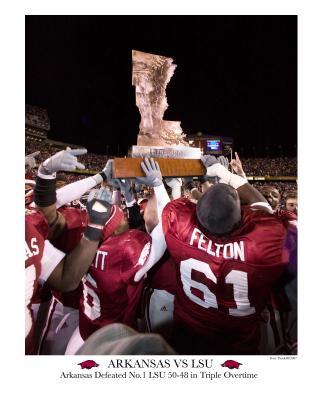 Arkansas has brought home the Golden Boot two years in a row, and look to make it three when they square off with LSU on Saturday Nov. 28th, 2009 in the Thanksgiving Weekend Tradition.
Winning the Golden Boot kicks Arkansas' recruiting into high gear, and springboards the Hogs into the next season. A perfect example of this can be seen last year when the Hogs struggled to a bowl-less 5-7 season in Bobby Petrino's first year.
However, Arkansas beat LSU and the Hogs went on to land a top 25 recruiting class, and carried the momentum from the victory over to the 2009 season where the Hogs look to win out and finish with a nine win season. All this is thanks to the Golden Boot.
Keep Reading

Arkansas Razorbacks Football: Like this team?