The Top Eight Coaches on the Hot Seat in College Football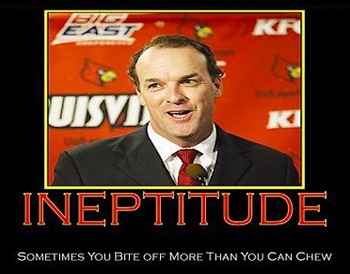 Well, it's getting close to the end of the 2009 season, and you know what that means—it's time for the firings to start!
Though there may be a couple of surprises in here, these are pretty much widely considered to be the main coaches on the hot seats. Comments and questions are always welcome. Let's get to the list!
8) Mark Mangino: Kansas—Anger Management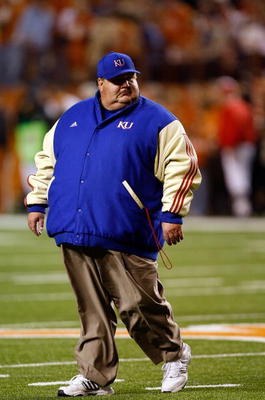 (Look, I'm sorry. No one should have to see something as horrifying as that in a full picture.)
At the start of the season, Mangino's job was considered pretty safe. He had brought the Kansas Jayhawks from the dregs of football and won them the Orange Bowl in 2007.
Even after a somewhat rough 7-5 season in 2008, he still won the Insight Bowl.
However, after allegations of Mangino having severe anger management issues came to light and the team unraveled to a current 5-6 record, he now has a fairly good shot of being fired, especially after a 51-20 beating at the hands of Texas, which some considered his last shot.
If he is fired, it's a true disappointment because of what he's done for the Kansas football program, even if he is fatter than Charlie Weis and a clone.
Kansas had not experienced good football for an extended period of time since the 1900s and may not do so if Mangino is fired.
7) Mike Sherman: Texas A&M—Defensively Dazed and Confused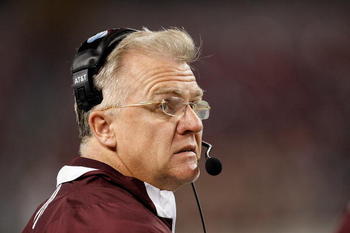 Mike Sherman was expected to make Texas A&M a relevant football program again when he took the job leading up to the 2008 season. To be honest, it's hard to do that when you lose to Arkansas State at home in your first game as head coach.
Sherman finished that 2008 season 4-8 and 2-6 in the Big 12, the EXACT SAME RECORD as his predecessor, Dennis Franchione, in his first season.
Sherman must win the Texas game on Thanksgiving Day to have the same record that Franchione did in his second season, and even then, the Aggies have already clinched a worse Big 12 record than Franchione's second season (2009's possible 4-4 vs. 2004's 5-3).
Plus, remember that 77-0 loss Franchione had his first year against Oklahoma? Sherman hasn't had a loss that bad yet, but he's gotten awfully close: he lost 66-28 to Oklahoma and 49-9 to Texas in 2008 and he's already lost 47-19 to Arkansas, 62-14 to Kansas State, and 65-10 to Oklahoma this year.
6) Paul Wulff: Washington State—What The Heck's Good Football?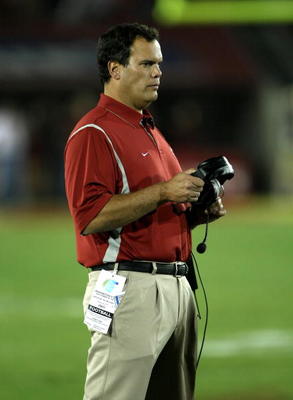 To be fair to Paul Wulff, Washington State football has never really been a overly powerful team, except for a recent spurt in the late 90's-early 2000's.
The bowl game in 1981 was the first bowl game for WSU in FIFTY YEARS. The Cougars one and only Rose Bowl victory came in 1916 against Brown University.
However, their recent play might be the most unwatchable football in Division I-A.
Through 24 games, Wulff has, ahem, "achieved" a record of 3-21, counting a grand total of one (1) Pac-10 victory over the winless Washington Huskies last season in the worst Apple Cup in the rivalry's history.
The most points his team has scored in a Pac-10 game during his tenure is 28 against Arizona in 2008, in a 59-28 loss. On average, WSU gave up almost 44 points per game last year, placing them 119th out of 120 teams in scoring defense.
This season, they've managed to surprisingly not get shut out (happened three times in 2008), but their defense has still managed to give off a strong whiff of suck, giving up almost 40 points per game (118th out of 120 in scoring defense) and the offense is scoring 13.1 points per game (119th out of 120) with a high of 30 in an overtime victory against perennial football heavyweight Southern Methodist University.
As bad as Washington State has been at points in time, they have never been this terrible, except for maybe 1969 and 1970, in which it combined those two years for a 2-19 record.
After what should be a loss to Washington this week, Wulff will be 3-22 through two years at WSU. If anything, I feel bad for Cougars fans who have to sit through this every week.
5) Steve Kragthorpe: Louisville—We Bet The Kroger Ads Will Miss Him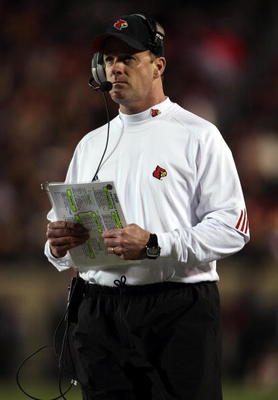 Back when Bobby Petrino was head coach of the Louisville Cardinals from 2003 to 2006, the Cards were reaching heights they had never touched before.
Under Petrino, the Ville went 41-9, including an 11-1 season in 2004 that led to a No. 6 final ranking and an Orange Bowl victory in 2006, capping an incredible 12-1 season for Louisville whose only blemish was a 28-25 loss to a resurgent Rutgers team.
It seemed like there was no stopping this incredible force of a team and its wonderful leader of a quarterback, Brian Brohm.
Then in January 2007, it all exploded.
Petrino decided to resign from Louisville to become head coach of the NFL's Atlanta Falcons. In what Louisville fans have called a "whirlwind courtship", Tulsa head coach Steve Kragthorpe was hired as new head coach in less than 48 hours.
And that's where Louisville football becomes a sad, sputtering sliver of the program it used to be. The team came into Kragthorpe's first year with a No. 9 preseason ranking.
Save for aforementioned great quarterback Brian Brohm, the team bombed out, finished 6-6, and was not invited to a bowl game. The next year was worse: Louisville had its first losing season since 1997, going 5-7 and suffering three incredibly embarrassing losses—27-2 at home to in-state rival Kentucky, 41-7 to Pittsburgh, and a horrific 63-14 loss to a red-hot Rutgers team.
In 2009, Kragthorpe's job security is nonexistent. The Cardinals currently sit at 4-7 after a 34-22 loss to South Florida and are all but confirmed to another loss to a great 7-3 Rutgers team.
The offense is nothing like it used to be with a high of 30 points versus Indiana State. The defense has been good at times, but has allowed 30 points or more in six different games.
It has gotten so bad that Louisville fans have resulted to parodying Drake to get their frustration out (http://www.youtube.com/watch?v=2rSb1CQDSOY). For the program's sake, yes, it's time to Bag Krag.
4) Al Groh: Virginia—Grohning in Disappointment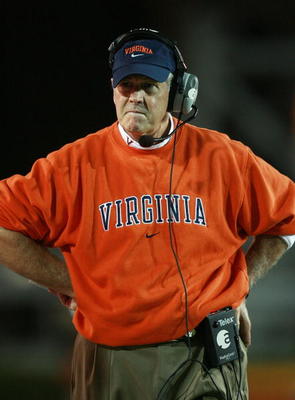 By now, Virginia fans are used to it: the Cavaliers start slow, pick up a couple of wins they shouldn't, and it always seems to save Al Groh's job.
This time, they haven't done that.
Virginia's started slow and stayed slow, currently the owners of a 3-8 record which includes losses to Division I-AA school William and Mary, a 52-17 beating by Miami (FL), and a 34-9 loss to Georgia Tech, the Ramblin' Wreck's first win at Virginia since 1990.
They also seemingly have the inability to win at home, with a 1-5 record at Scott Stadium.
They are the owners of a five-game losing streak, almost certain to hit six when they lose to Virginia Tech this coming Saturday. Groh has found ways to save his job before with five one or two point victories in 2007.
A near victory at Virginia Tech last season (17-14 loss), and a four game win streak last season that consisted of victories over 9-5 East Carolina, 8-5 North Carolina, and 9-4 Georgia Tech.
If Groh ever needed a victory to save his job, now's the time.
3) Dan Hawkins: Colorado—This Ain't Intramurals!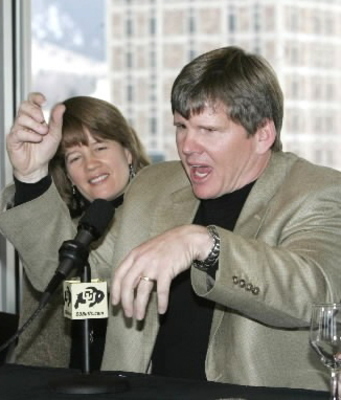 IT'S DIVISION I FOOTBALL
IT'S THE BIG TWELVE
IT AIN'T INTRAMURALS
Dan Hawkins might want to resort to intramurals after his time as head coach at Colorado is up.
Under Hawkins, the Buffaloes have a record of 16-32 and 10-21 in the Big 12. Hawkins has only done the following: completely ruin what was once a good and proud program (although it's partially Gary Barnett's fault), up until the Texas game, his love for nepotism (started son Cody Hawkins from 2007 until the Texas game in 2009), and has repeatedly underachieved with his teams.
The answer is obvious: for the Buffaloes to ever get back to relevance, Hawkins has to be fired.
2) Ralph Friedgen: Maryland—He'll Be Happy When He Beats MTSU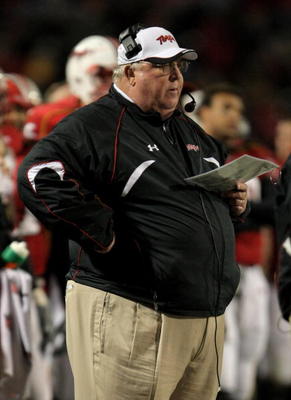 Friedgen, like Groh, always seems to have the ability to pull a couple wins out that he shouldn't every season and save his job.
Last season, he easily could have been fired after a terrible first two games in which Maryland almost lost to a Division I-AA opponent (defeated Delaware 14-7) and lost to Middle Tennessee State University, 24-14, as a two touchdown favorite.
All Friedgen did was beat 9-4 California and 8-5 Wake Forest and won the Humanitarian Bowl against Nevada. Coming into this season, Maryland fans were hoping for another bowl game from the Terrapins.
Much like the Cavaliers, their season has imploded.
Maryland is sitting not-so-pretty at 2-9 and 1-6 in the ACC following a tough loss to Florida State, 29-26.
Remember MTSU? Maryland lost to them again this year, this time 32-31. They almost lost (again) to a Division I-AA opponent, James Madison, before pulling one out 38-35.
Since the JMU game, they've gone down in eight of nine games they've played, with the only respectable victory being Clemson on the road, 24-21.
Maryland looks to be at its worst under Friedgen and it may finally be time for him to go.
1) Charlie Weis: Notre Dame—Firing in Progress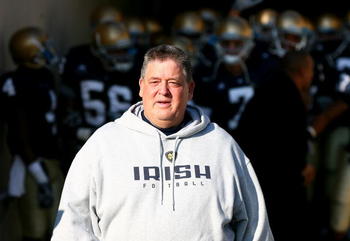 Does he even need an introduction?
Under Weis, the Fighting Irish are 35-26 for a winning percentage of .574, a worse winning percentage than predecessors Bob Davie and Tyrone Willingham.
Players have spoken out and given Weis their support, but to lose twice to Navy in a three-year span and have a winning percentage that mediocre is what most would consider unacceptable for Irish football.
His firing is pretty much all but confirmed and he will probably be gone after the Irish get whipped by Stanford this coming Saturday.
Keep Reading