Penn State's Daryll Clark Quarterbacks the 2009 All-Big Ten Offense
With most of the teams in the Big Ten having completed their regular season schedules, save Wisconsin's trip to the tropical paradise, the Big Ten is set to announce their annual All-Big Ten football award at 8 p.m. ET on Monday, Nov. 23.
The Bleacher Report All-Big Ten Defense list has already been constructed, so now it's time to make it known.
While you won't find many Big Ten teams or players in the top offensive statistics this year in college football, it wasn't for lack of quality talent. Rather, it might have something to do with the outstanding defenses in the conference this year.
So, without further ado, here is the All-Big Ten Offense.
QB Daryll Clark, Penn State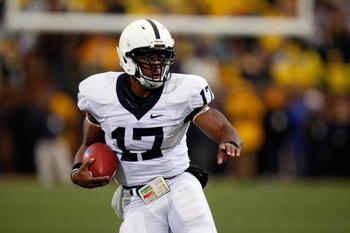 Daryll Clark is arguably the best all-around quarterback in the Big Ten.
Clark's 145.67 quarterback rating and 23 touchdowns are the best in the conference. He also ranks third in total offense.
In the last two years, Clark has thrown for over 5,300 yards.
RB John Clay, Wisconsin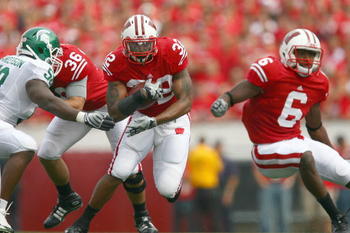 John Clay has been the Big Ten's best running back this year. His 241 rushes for 1224 yards and 13 touchdowns so far have him at the top of all three categories in the conference.
Not bad for a sophomore.
Wisconsin heads to Hawaii for the last game of the season to play against the 103rd ranked team in rushing defense. Expect Clay's numbers to increase substantially.
RB Evan Royster, Penn State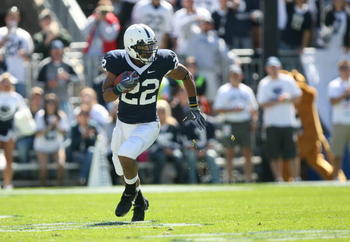 Evan Royster surpassed 1,000 yards for the second year in a row, and sits second in the conference in rushing yards.
He averaged 92 yards rushing a game and 5.87 yards per carry.
TE Garrett Graham, Wisconsin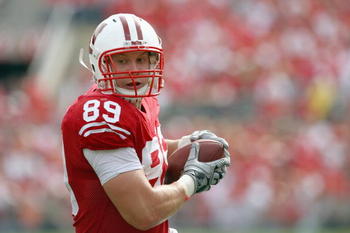 Wisconsin's Garrett Graham leads all Big Ten tight ends in receiving yards (502) and touchdowns (seven). Three of those touchdown catches came against Michigan State.
C Mike Brewster, Ohio State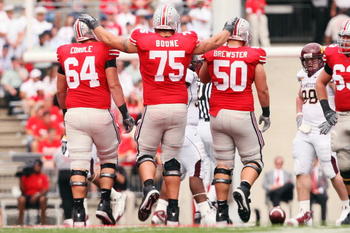 Sophomore Mike Brewster was named to Phil Steele's Midseason All-Big Ten Team. Brewster's ability to block and open holes was one of the main reasons for the Buckeyes leading the conference in rushing offense.
OT Kyle Calloway, Iowa
Kyle Calloway became a starter for the Hawkeyes during his sophomore year and has grown into one of the best offensive linemen in the country. He is projected to be a first or second round draft pick this year.
OT Gabe Carimi, Wisconsin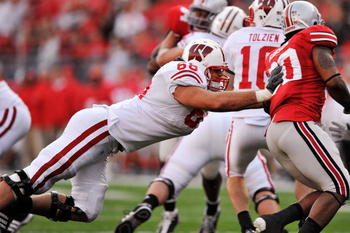 Gabe Carimi has opened a lot of holes for John Clay to run through this year. It is no surprise that he is a projected first or second round draft pick by some.
OT Bryan Bulaga, Iowa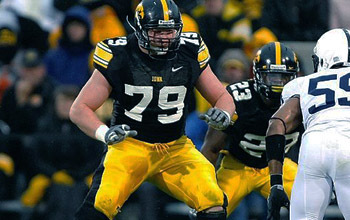 While Bryan Bulaga missed three games this year with an illness, he is still one of the best offensive linemen in the country. It is unclear if he will leave Iowa early for the NFL draft.
OG Justin Boren, Ohio State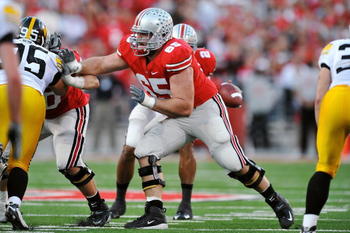 Former Wolverine. Current Buckeye. Future NFL All-star.
Justin Boren has turned into one of the most dominant interior linemen in college football.
WR Keith Smith, Purdue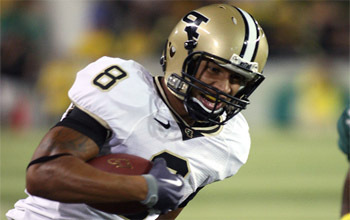 Purdue's Kevin Smith leads the Big Ten in total receptions (91), total reception yards (1,100) and yards per game (91.7).
Smith had six games this year with 100-plus receiving yards.
WR Blair White, Michigan State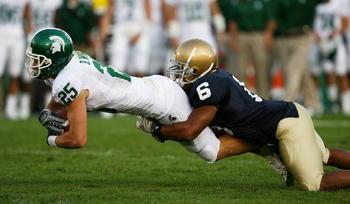 Blair White has racked up 876 receiving yards this year, 3rd in the Big Ten, to go along with eight touchdowns.
He won Big Ten Co-Offensive Player of the Week for his 186 yard receiving effort against Northwestern.
Honorable Mention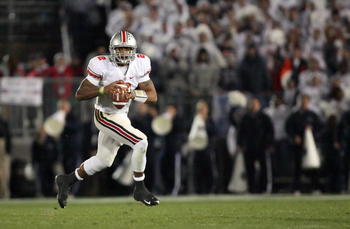 QB Terrelle Pryor, Ohio State
QB Mike Kafka, Northwestern
OG Steve Schilling, Michigan
OG Kevin Zeitler, Wisconsin
RB Ralph Bolden, Purdue
WR DeVier Posey, Ohio State
WR Marvin McNutt, Iowa
WR Eric Decker, Minnesota
WR Tandon Doss, Indiana
TE Tony Moeaki, Iowa
Keep Reading