Quarterback Signees of 2006: Did They Become NCAA Studs or Duds?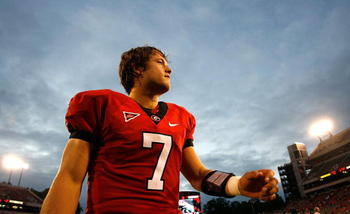 Many of the members of the recruiting class of 2006 will be exiting stage left at season's end. A handful of players, like Matthew Stafford and Nate Davis, have already done as much and are no longer repping their respective universities with pride.
On the other hand, several players are still churning out yards and blazing trails of their own for the new breeds to follow.
As the 2009 college football season comes to an end, it seems fitting to examine how the highly—and not so highly—touted high school boys of 2006 have done.
While some have excelled beyond their wildest dreams (Tim Tebow), others have found it hard to make any true impact at all (Mitch Mustain).
As we will see, all the players listed here were at one time or another considered to be the best at their respective positions. Unfortunately, Friday night glory does not always translate into Saturday success.
1) Matthew Stafford (Highland Park High School, Dallas, TX)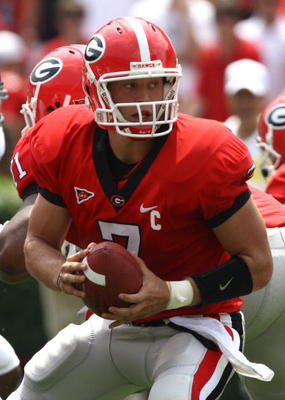 Matthew Stafford was the No. 1 rated quarterback coming out of high school, according to Rivals.com, and the Georgia Bulldogs wasted no time getting the strong-armed gunslinger from Texas onto the field.
Stafford became the first true-freshman since Eric Zeier (1991) to start for the Red and Black.
Career passing stats: 7,731 yards, 51 touchdowns, 33 interceptions
Win-Loss Record: 29-9
Bowl Appearances/Wins: 3/3 (2006 Chick-fil-A, 2007 Sugar Bowl, 2008 Capitol One Bowl)
MVP of the 2009 Capitol One Bowl
Mel Kiper Jr. is quoted as having once said of Stafford:
"Matthew Stafford eventually will be the No. 1 pick in the NFL draft. Write that down."
He was right. Stafford was the No. 1 pick for the Detroit Lions in the 2009 NFL Draft, and he is currently their starting quarterback.
As for his legacy at Georgia, his amazing arm impressed on a weekly basis, but never translated into a SEC Championships or national title for the Dawgs. As such, he didn't leave the lasting mark that many hoped he would.
2) Tim Tebow (Nease High School, Ponte Vedra Beach, FL)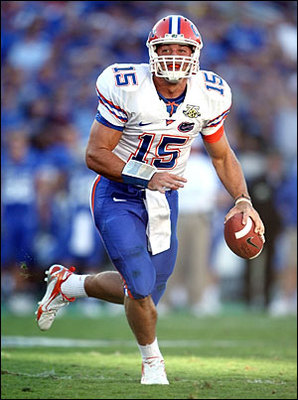 While Matthew Stafford may have had the golden arm, Tim Tebow was the golden boy of the 2006 class.
One of the things that stands out about Tebow is the documentary that ESPN ran on him titled "Tim Tebow: The Chosen One."
It originally aired before he committed to Florida, and definitely had him entering the college realm with high expectations.
Fortunately for Gators fans, he has stood the college football world on its head by becoming not only one of the greatest ever to don a Florida uniform, but also one of the best to have ever played quarterback at the FBS level.
In his freshman season, he helped the team to their first National Championship since 1996.
Then, as a sophomore, he won the Heisman and the Davey O'Brien Award after scoring 55 touchdowns—via the air and ground—during the season.
As a junior, he led his team to another National Championship and fell just short of a second Heisman, with many suggesting he was robbed of the award.
Currently, his Florida Gators sit atop the BCS rankings, undefeated, and are favored to repeat as champions at season's end.
Tim Tebow has definitely proven to be better than advertised—and then some.
Passing stats to date: 8,120 yards, 79 touchdowns, 15 interceptions
Rushing stats to date: 2,641 rushing yards, 53 touchdowns
Win-Loss Record: 32-5
Bowl Appearances/Wins: 3/2 (2006 BCS Championship, 2007 Capitol One, 2008 BCS Championship)
Two SEC Championships: 2006 and 2008
Heisman Trophy Winner: 2007
Davey O'Brien Award, Maxwell Award, AP Player of the Year: 2007
3) Demetrius Jones (Morgan Park, Chicago, IL)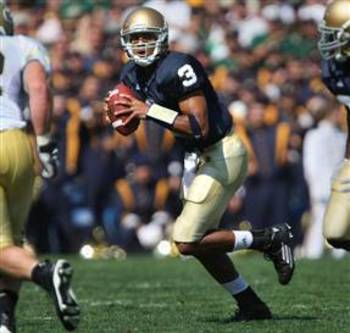 Demetrius Jones was ranked No. 2 by Rivals in 2006 and was signed by Notre Dame and their newly-minted head coach, Charlie Weis.
Jones made one uneventful start in the first game of the year against Georgia Tech before promptly being benched in favor of Jimmy Clausen. He would later transfer to Northern Illinois University.
He was scheduled to make his debut for the Huskies the following season but transferred yet again, this time to the University of Cincinnati.
As of the 2009 season, he hasn't played a down as a quarterback since the Notre Dame start in 2006; he was passed over for the job at Cincy in favor of current starter Tony Pike.
He is now a linebacker for the Bearcats and has 18 tackles and a fumble recovery on the season.
4) Mitch Mustain (Springdale High School, Springdale, AR)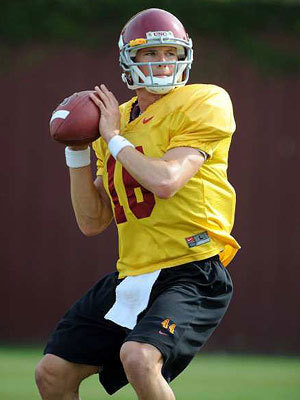 Mustain was one of the most sought-after players coming out of high school, evidenced by the fact that he was recruited by nearly every major program in the country.
At the time, he opted to stay close to home and go to the University of Arkansas where he was immediately anointed the teams starter as a true freshman.
After leading the team to an 8-0 record, Mustain was benched in favor of Casey Dick. For the season, Mustain finished with 894 passing yards, 10 touchdowns and nine interceptions.
At season's end, Gus Malzahn—Mustain's high school coach as well as the Razorback's offensive coordinator—decided to leave. Mustain followed suit and eventually transferred to the University of Southern California.
He is currently third on USC's depth chart behind Matt Barkley and Aaron Corp.
5) Jevan Snead (Stephenville High, Stephenville, TX)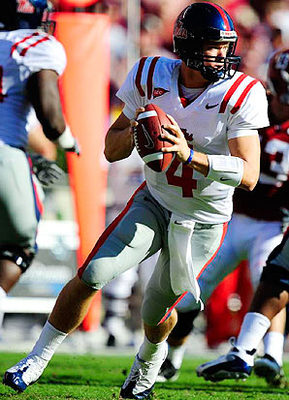 Snead finished his high school career 23-2, and was a member of the Elite 11 quarterback class along with both Tim Tebow and Matthew Stafford.
He initially committed to go to Florida, but changed his mind after Tebow chose the Gators over Florida State. He eventually decided to stay close to home and play for the University of Texas.
However, once it became clear that he would be playing second-fiddle to Colt McCoy, he transferred to the University of Mississippi after his freshmen season to play for the Rebels.
During the 2008 season, Jevan would lead the Rebels to an 8-4 record—their first bowl-eligible season in six years.
Snead finished the year with a big-time bowl win over Texas Tech, setting the stage for a 2009 Ole Miss team that many regarded as a sleeper for the national title.
Career passing stats: 4,745 yards, 43 touchdowns, 23 interceptions.
Win-Loss Record: 15-7
Bowl Appearances/Wins: one (2008 Cotton Bowl)
6) Juice Williams (Chicago Vocational, Chicago, IL)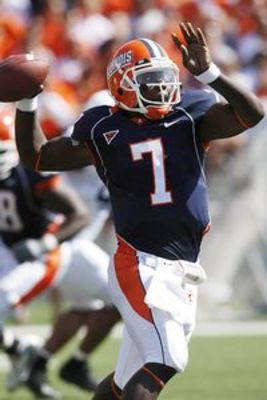 Like Mustain, Stafford, and Tebow, the Juice was considered to be one of the top quarterbacks in the nation out of high school.
He was No. 2 in the state and chose to stay at home by signing with the University of Illinois.
His first start came four games into the season against Iowa. The Illini would lose to the Hawkeyes, but the Juice would maintain the starter's job.
As a starter, Williams has led the Fighting Illini to a Rose Bowl appearance, which marked the team's first BCS berth in seven years.
His current win-loss record stands at 18-17.
Passing stats to date: 7,544 yards, 50 touchdowns, 42 interceptions
Rushing stats to date: 2,434 yards, 17 touchdowns
Bowl Appearances/Wins: 1/0
7) Jake Locker (Ferndale High, Ferndale Washington)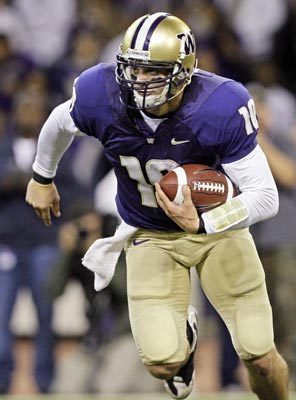 As a senior in high school, Locker was a Parade All-American, led his team to a 14-0 record, and a state championship.
His senior totals were outstanding as he passed for 1,603 yards and 25 touchdowns while rushing for 1,339 yards and 24 touchdowns.
He opted to sign with then-head coach Ty Willingham and the University of Washington, and redshirted his first season.
In 2007, he made 12 starts for the Huskies and won three games.
In 2008, his team would go winless in a season marred by a Husky offense that seemed to lack both direction and an adequate offensive weapon outside of Locker.
Former USC offensive coordinator Steve Sarkisian took over as head coach this season, leading the team to a 3-7 record as well as a huge win over the Trojans.
Locker also plays baseball and has been recognized by Baseball America as one of the nation's top prospects. Locker, for his part, is still committed to playing football.
Passing stats to date: 4,930 yards, 32 touchdowns, 25 interceptions
Rushing stats to date: 1,383 yards and 20 touchdowns
Win-Loss record: 6-28
Bowl Appearances/Wins: 0/0
8) Josh Freeman (Grandview High, Grandview MO)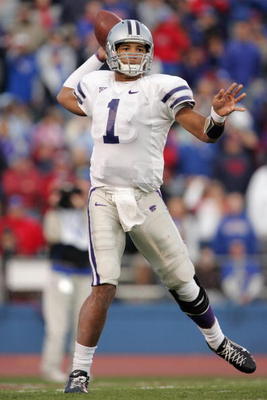 Freeman was a record-setting quarterback at Grandview High School. He set ten school records during his career at Grandview, including, passing (7,175), passing touchdowns (78), and passing attempts (809).
He was initially committed to play for Bill Callahan and the University of Nebraska, but was convinced to stay close to home and play for the Kansas State Wildcats.
Freeman started the last eight games of the 2006 season, and was the Wildcat's first true freshman starter since 1976. He compiled 1,760 yards through the air and led the Wildcats to a bowl game.
Even though the Wildcats would fail to qualify for a bowl game during his last two seasons in Manhattan, Freeman made enough of an impression on the NFL scouts to be selected 17th overall by the Tampa Bay Buccaneers in the 2009 NFL draft
Career passing stats: 8,078 yards, 44 touchdowns, 34 interceptions
Career rushing stats: 343 yards, 20 touchdowns
Career Win-Loss record: 14-18
Bowl Appearances/Wins: 1/0 (2006 Texas Bowl)
9) Patrick Devlin (Downington East, Exton, PA)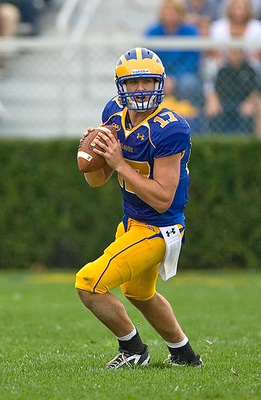 Initially recruited by Penn State to play for Joe Pa's Nittany Lions, Devlin was redshirted for the 2006 season.
The following year, he would see action in a few games but was essentially blocked by both Anthony Morelli and Daryll Clark on the depth chart.
In 2008, Devlin split time with Clark and played well in the games in which he appeared, but never was able to wrestle control of the tarting job away from Clark. As a result, Devlin transferred to the Division I-AA Delaware Blue Hens.
In ten games so far this season, Devlin has 2,257 yards passing and 15 touchdowns.
His Blue Hens are 6-4 on the year.
10) Austen Arnaud (Ames Senior, Ames, IA)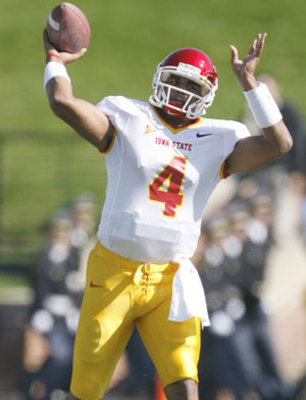 Recruited by both Houston and Iowa, Arnaud opted to play for his hometown Iowa State Cyclones.
Arnaud played sparingly in 2006 and 2007 but was the full-time starter in 2008. The Cyclones finished 2-10 that year, which essentially ended the tenure of then-head coach Gene Chizik.
As of the 2009 season, Arnaud has 1,550 yards passing, 12 touchdowns, and nine interceptions.
Career passing stats: 4,609 yards, 27 touchdowns, 20 interceptions
Career rushing stats: 898 yards, 12 touchdowns
Career Win-Loss: 9-15
11) Kevin Riley (Beaverton High, Beaverton, OR)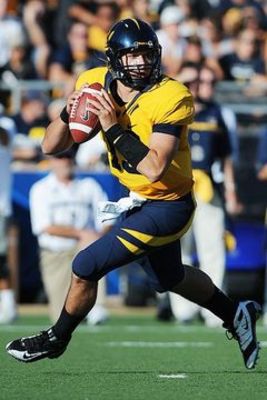 Taking a redshirt in 2006, Riley made his first start for the Cal Golden Bears in 2007 after their starter, Nate Longshore, was unable to play due to an injury.
Even though he failed to secure a win against the Oregon State Beavers, he did manage to throw for 290 yards and two scores in the game.
He would make his next start against Air Force in the Armed Forces Bowl, leading the Bears to a 42-36 win while passing for 286 yards and three touchdowns. Riley totaled 563 passing yards, five touchdowns, and one interception in his two starts that season.
Riley eventually became the full-time starter in 2008 and has held the job ever since.
Passing stats to date: 4,109 yards, 34 touchdowns, 12 interceptions
Win-Loss record: 25-13
Bowl Appearances/Wins: 2/2 (2006 Armed Forces Bowl, 2007 Emerald Bowl)
12) Sam Bradford (Putnam City North, Oklahoma City, OK)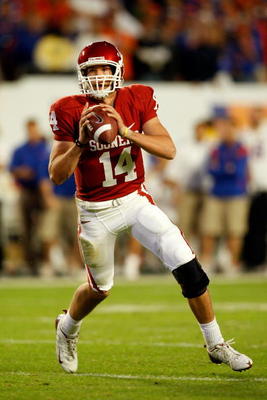 When Sam Bradford arrived in Norman in 2006, he found himself in the midst of a quarterback quandary. Coach Stoops didn't have a starter to speak of for the 2006 season, and was holding open try-outs for the job.
Bradford didn't win the starting job that year, and eventually redshirted the 2006 season. However, he was named the starter in 2007 and never looked back.
Against the better judgment of a few, he opted to return to Oklahoma for his junior season in 2009, and was injured in the first game against BYU. His Sooners would go on to lose that game 14-13.
He re-injured himself during the Sooners' annual game against the hated Longhorns and opted to end his college career shortly thereafter.
Career passing stats: 8,403 yards, 88 touchdowns, 16 interceptions
Win-Loss record: 23-5
Bowl Appearances/Wins: 2/0 (2007 Fiesta Bowl, 2008 BCS National Championship)
Two Big 12 Championships (2007 and 2008)
Heisman Trophy Winner in 2008
Davey O'Brien Award and Sammy Baugh Trophy in 2008
Other Notable Players from the Class of 2006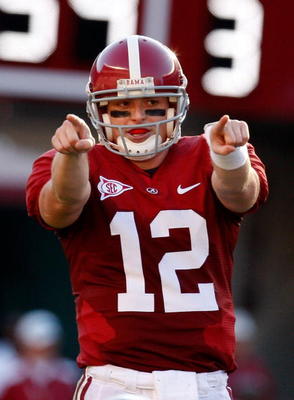 Chris Smelley (American Christian High, Tuscaloosa, AL): Recruited by the University of South Carolina. Made 15 starts for the Gamecocks, going 9-6. He transferred to the University of Alabama in 2009 to play baseball.
Ricky Stanzi (Lake Catholic High, Mentor, OH): Currently a starter at the University of Iowa. Has played in one bowl and, in 2009, had his team ranked as high as No. 5 in the polls.
Greg McElroy (Carroll High, Southlake,TX; pictured): Became the starter in 2009 after the departure of John Parker Wilson. His team sits undefeated at No. 2 in the BCS polls. So far this season, he has 2,109 passing yards to go with 15 touchdowns and five interceptions.
Taylor Potts (Abilene, TX): Currently starting for the Texas Tech Red Raiders. Career stats to date: 3,080 yards, 20 touchdowns, 12 interceptions.
Christian Ponder (Heritage School, Colleyville, TX): Current starter for the Florida State Seminoles. His team is 5-5 this season with a big win over then-No. 5 BYU on the road. This season he has passed for 2,717 yards, 14 touchdowns, and seven interceptions.
Nate Davis: Played his collegiate career at Ball State, finishing with 9,233 yards passing and 74 touchdowns. Entered the 2009 NFL Draft and was selected in the fifth-round by the 49ers.
Todd Reesing (Lake Travis, Lake Travis, TX): Senior starter for the Kansas Jayhawks. Reesing has led the Jayhawks to two straight bowl appearances, both wins, and has 10,440 yards passing, 86 touchdowns, and 31 interceptions in his career thus far. He has led Kansas to 25 wins and 11 losses as a starter.
Colin Kaepernick (Pitman High School, Turlock, CA): The dual-threat quarterback out of California has led the Nevada Wolfpack to seven straight wins in 2009 after starting the season 0-3. For his part, Kaepernick has already thrown for 6,662 yards, 55 touchdowns, and 15 interceptions while rushing for 2,738 yards and 37 touchdowns. His career record currently stands at 19-15. He has also played in two bowl games.
Keep Reading

Georgia Bulldogs Football: Like this team?