Marcus's Half Baked Take on MMA Lookalikes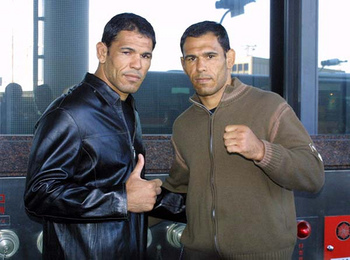 In today's column, we're going to play a little game I like to call "MMA Lookalikes" in honor of the Nogueira brothers, who in my opinion, vaguely resemble each other. Also, that picture made me laugh.
Before we begin, I'd like to get something on the record: Rich Franklin does NOT look like Jim Carrey. JIM CARREY looks like what would happen to Rich Franklin if he quit training, became addicted to cocaine and cigarettes, and developed an abnormally large overbite.
Matt Serra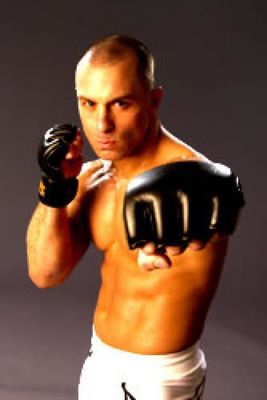 We begin our hastily put together and poorly thought out list with Matt "The Terror" Serra, who is best known for upsetting multiple UFC welterweight champ Georges St. Pierre at UFC 69 in Dallas. Chief Justice Earl Warren believes that Serra acted alone.
Of course, whenever I look at him, that's not what I think of. I think of Scrappy Doo, and I think of ...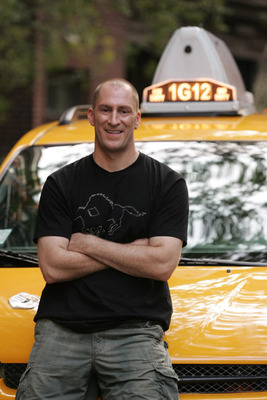 ... That Guy from TV hit "Cash Cab", Mr. Ben Bailey! Fun show to watch when battling a hangover.
Also, did you know that Bailey is 6'6? Oh, the wonders of Wikipedia. He has a foot on Serra. Sadly, he is not a professional fighter, just a licensed New York cabbie who has probably punched out some guy at a traffic light.
Dustin Hazelett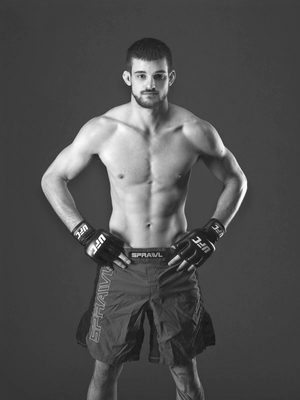 It's Dustin "McLovin" Hazelett, one of my top ten favorite welterweights who is good at bending peoples arms the wrong way. If Hazelett moved up in weight to fight serial screamer Chael Sonnen, and he somehow got ahold of one of Sonnen's arms ... lets' just say that even Matt Hamill could hear that shriek.
Why didn't they make a McLovin movie? Everyone would go see a McLovin movie. Anyway, Hazelett doesn't look like McLovin. He looks like ...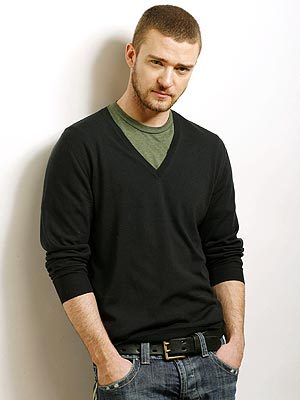 Give Timberlake a bad leg tattoo, cauliflower ear, deadly submission skills, and about seven inches of height and you'd have Dustin Hazelett. Plus, again, this picture made me laugh. I'm easy like that.
Antonio Silva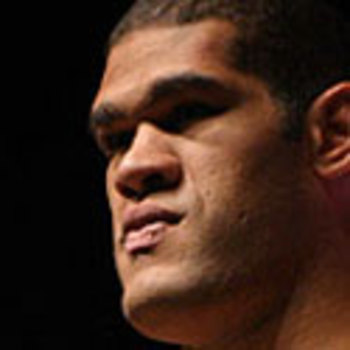 Ah yes, it's the man with many nicknames. "Junior" never worked for me. Too cutesy. "Bigfoot" is good, and I've heard him called "The Missing Link" many a time. But a man with a head this massive deserves a special nickname. Lets call him ...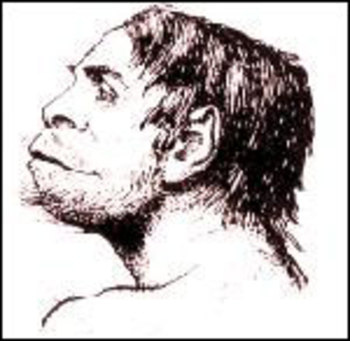 ... Piltdown Man! First of all, "Piltdown Man" just SOUNDS mythical. Second, it's derived from the infamous 1912 hoax where charlatan scientist Charles Dawson collected skull and jawbone fragments of what was believed to be a previously unknown form of early man. Third, Piltdown Man was proven to NOT be the missing link, and as scary as Silva is, he isn't the missing link, either. As far as we know. Although it would be kind of cool to see him wrestle a gorilla.
Don Frye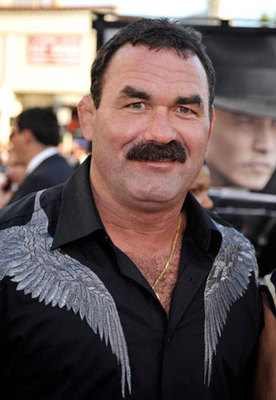 It's the true pioneer of ground and pound, Don Frye! Frye never met a bottle of tequila he didn't like, and it's showing in the way he's aging. Whats' the opposite of "aging gracefully"? Aging clumsily? Don Frye is aging clumsily. We better get his lookalike out of the way before he puts on another ten pounds of neck fat and squashes the comparison. You've all heard it before, but he looks just like ...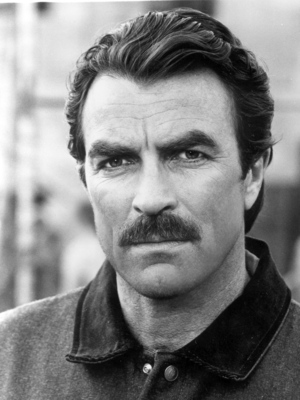 ... Magnum P.I., Tom Selleck. Selleck was the star of my favorite sports movie that nobody ever talks about, Mr. Baseball. Selleck spouts out various gems in that one, including ...
"I could piss over that fence."
"Wouldn't wanna track any carpet on the mildew."
"Buncha big swingin' dicks we got over here."
Selleck: What IS this.
Dennis Haysbert: ... Practice.
Selleck: For what, Russian dance contests?
And now, onto the final entry ...
Matt Lindland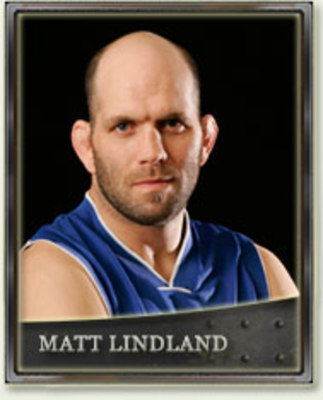 Every time I think of Lindland, I think of touring Team Quest in early 2007, a few weeks after the Fedor fight. Robert Follis, Ed Herman and some other trainer were standing around engaging in outright crazy talk, saying things like "he totally had that fight in the bag, Fedor kept grabbing the ropes, and blah blah blah". Just a steady stream of excuses.
Um, Matt? You weren't going to do anything if you had gotten on top, except maybe be armbarred from a different position. He's Fedor, for Gods' sake. Show a little frickin' respect.
Taking the "saying mean yet true things about Matt Lindland" torch away from Phil Baroni, I believe that Matt Lindland looks like ...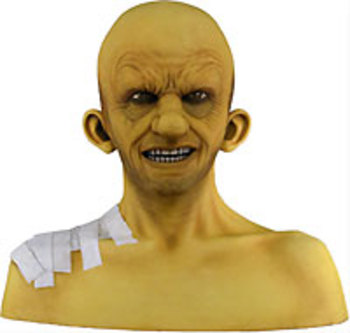 ... The infamous "Yellow Bastard" from the movie Sin City. I know, I know. Kind of mean. But hey, Matt Lindland is all KINDS of mean. He's mean enough to insult MMA fans everywhere by accepting a fight with Fedor.
Ross Pearson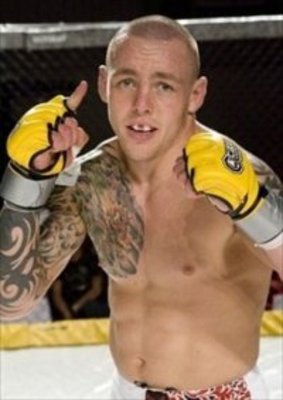 We continue to plow on with TUF 9 lightweight winner, Ross Pearson, fresh off of an impressive victory over Aaron Riley. I think Ross should trade careers with ...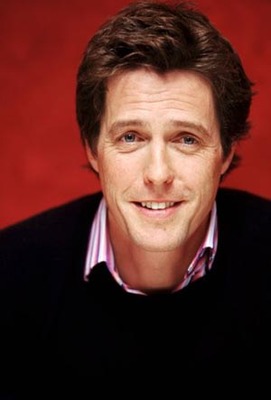 ... Hugh Grant, just so we can see that sniveling little weasel get knocked out by Robert Emerson. Also, it'd be kind of funny to watch Ross Pearson pretend to have sexual chemistry with Sarah Jessica Parker.
Seriously though, LOOK at those two pictures again. That was a good one. You have to admit.
Tony DeSouza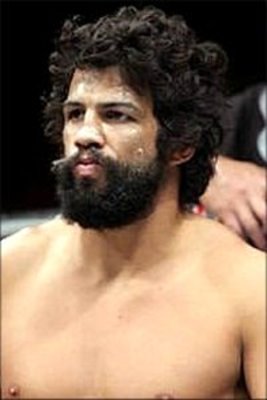 It's the proverbial "blast from the past", Tony DeSouza, looking like he just finished filming a hostage video. He's probably best known for getting his head taken off by Thiago Alves and Jutaro Nakao back in the day.
He looks like ...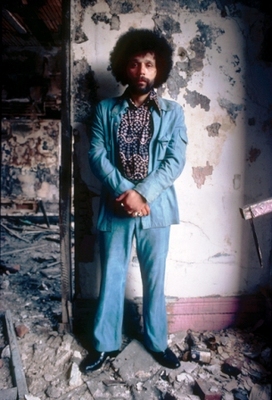 ... the director and writer of one of my all time favorite movies, "Short Eyes" ... Miguel Pinero! Intense, funny, and poignant movie, especially when you remember that it was originally a play written for and by convicted felons. You went before your time, Miguel. RIP.
Matt Hughes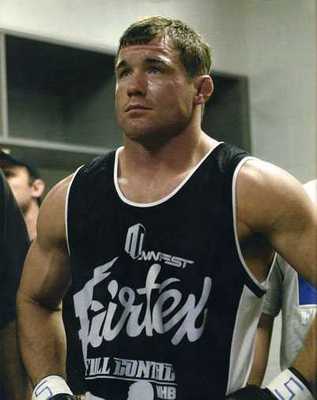 You knew I wasn't getting through a list of MMA Lookalikes without picking on Country Breakfast just a little. And although he does look like his brother Mark (you're not going to believe this, but they're twins), I'm not going to go for that dumb joke here because I already used it for the Nogueira brothers. No no, this one requires an entirely different dumb joke, a joke so dumb that it requires the services of ...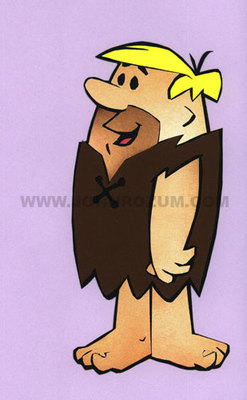 ... Barney Rubble! Old Barney was the best. He inspired one of my all time favorite movie lines, the famous "that Barney Rubble, what an actor!" line from Night Shift. He would do damn near anything to obtain Fred Flintstone's Fruity Pebbles, including breaking into Fred's house, rapping like Ghostface Killah, and dressing in drag. He had an insatiable jones for the Pebbles. Plus, he looks like Matt Hughes. They even have the same stance.
Paulo Thiago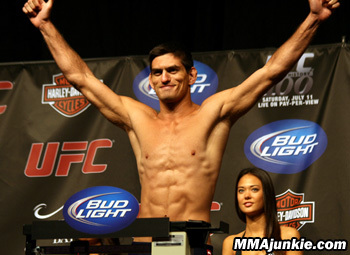 Ladies and gents, please welcome Paulo "Two First Names" Thiago to the Lookalikes! He's very happy to be here. And do you know why? Because he looks like ...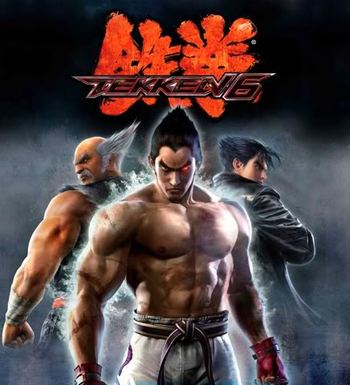 ... Jin Kazama from the Tekken franchise, one of the few video games that I still actually play. I love this franchise. I'm pretty tough to beat with Lei, even though I generally suck at video games.
By the way, this is officially either my best column ever or my worst column ever. I can't decide.
Alistair Overeem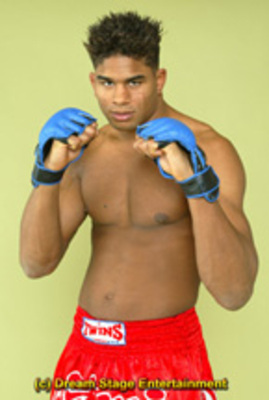 Man, I'm running out of gas on this article, which has something in common with Overeem, as he runs out of gas in fights. He has humongous hands, a good clinch game, an absurd guillotine, and the ability to remind me of ...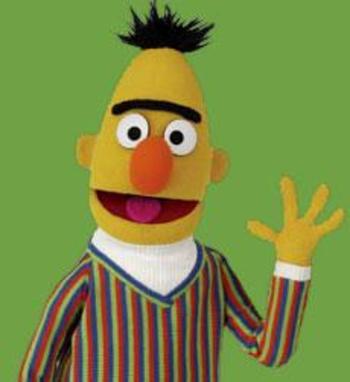 You guys saw that one coming, right? Anyway, I really enjoyed doing this article. Switchin it up a little bit. It is the product of entirely too much coffee, too many spiritual medicines, and too much spare time. I hope you all got a kick out of it.
Keep Reading