25 Suggestions to Make NCAA Athletic Programs More Profitable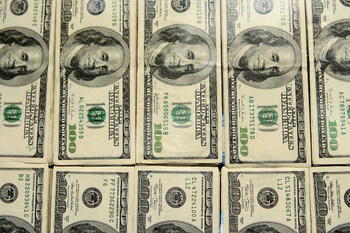 With the lingering economic downturn, NCAA Division I members are cutting athletic programs to keep their athletic programs afloat.
This is happening in a time when the NCAA has imposed a moratorium on classification upgrades while they reviews their rules and criteria on the upgrade process.
The NCAA, as the major governing body of university sports, could ease the financial burden on all schools by expanding their focus and re-writing those rules and others today.
The NCAA is a bit of a bureaucracy (the president of the NCAA, James Isch, cannot just impose rules); rather, there is an executive committee and a governance board that creates the rules and oversees each of the NCAA's three classifications.
That said, saving money and helping build up their athletic programs is in the interest if every member university, so reform is possible.
I have limited my list to 25 changes the NCAA might impliment to make it's member universities more profitable. Although I'd champion all of them, any one of these reforms could really help the NCAA's member schools' bottom lines.
Some of the ideas are fairly simple and require little explanation; With many of the other ideas I have gone into a little more detail to illustrate how they might deliver greater financial success for NCAA members.
(One final note before we begin. Please forgive the picture choices. Slide shows on Bleacher report must use the Bleacher report picture archive. Bleacher report has plenty of pictures of Australian rules football, sand volleyball and the like, but D-II football? I had to be a little creative there in drawing the links. But feel free to make a game out of it and try and guess why I chose the pictures I did.)
With no further ado, "Come on, NCAA, let's make some money!"
Focus on building up D-I basketball and FCS and D-II football membership in the Western half of the US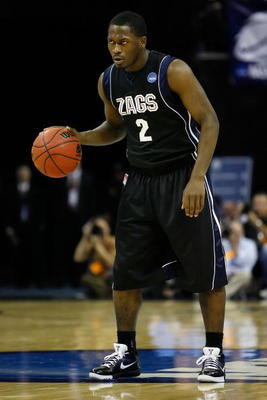 Every year the NCAA Tournament divides the country up into regions to limit travel costs and allow tourney participants to keep more of the revenue instead of spending it on travel.
As there are significantly more eastern schools than western schools, the tourney divides the country up into 4 regions, West, Midwest, East , and South.
If you draw a line from the easten edge of Texas following state lines up to the eastern edge of North Dakota and then count the schools west of that line, only 90 of the D-I's 347 schools are in the western US.
Likewise, at the D-II level only 70 or so of the 290 or so D-II schools are west of that line.
This creates a situation were each year several eastern teams are redirected to the Western and Midwestern brackets, further weakening the perception of western basketball.
I have tried reseeding brackets to try to shorten travel but ultimately I reached the same point that seeding committes must...that there are far too few western conferences and central conferences and far too many undeserving eastern ones that have to be placed.
------------------------------------------------------------------------------------------------
Rule1: Push for upgrades of deserving western schools and conferences for D-I basketball and FBS and D-II football and possibly give western bubble teams an edge in making the basketball tourney until more western conferences can be established or moved up.
------------------------------------------------------------------------------------------------
At a highly theoretical level, the NCAA needs to push for more Western conferences and to take out some of the undeserving eastern ones who are ONLY participating at the level they are due to cheap travel.
A school that might be be an FCS power if they were located in the east is often a marginal DII or DII school in the west due to a lack of competition breeding high travel costs.
In many cases more focus by the NCAA in an effort to fix that situation is all that is required.
In football at the FCS and D-II levels (levels of play that are designed to generate significant revenue, unlike D-III) the lack of western schools makes the cost of national playoffs quite steep for western schools.
Getting more balanced regional representation will increase fan interest in the west growing the NCAA basketball money overall, generate more revenue for good western upgrade candidate schools and their western opponents, and cut the brutal travel costs out west.
I wouldn't be opposed to the NCAA trying a hard sell on NAIA members either. Remember NAIA rules allow their members to award up to 24 football scholarships and up to 11 basketball scholarships.
Larger NAIA schools could walk right into DII or DIII and compete immediately if the NCAA was welcoming enough with their sales pitch.
And the NCAA needs that. Right now they are looking at the real possiblity of a total collapse of the football playing west at the DII level.
There simply aren't enough schools. All DII football playing schools in the far west have to endure ridiculous travel.
Adding mid-sized regionally isolated football playing NAIA schools like LA's Azuza Pacific, Eastern Oregon, Southern Oregon, and Montana Tech would be a godsend to the travel budgets of western DII football schools...possibly leading to the resurrection of football at a number of schools like Western Washington.
Cut the number of football scholarships and participants
I love college football, but I acknowledged the reality of it. Football is the biggest problem for athletic programs as the sport is expensive in general and demands a number of players magnifying those costs even further.
Football does have the potential to fund athletic programs in full, but, as the sport is a cash cow, it is controlled by the BCS schools, who are, in turn, ruled by the athletic departments with the top 15-20 athletic budgets.
To make any significant change at the top of the food chain, the NCAA needs to work with university presidents and turn the rank and file BCS schools against the ADs of BCS elite...at least as much as realistically possible.
As many have suggested over the years, the simplest way to ease the burden on athletic programs is to cut the number of football scholarships and total participants in football at each level of competition.
Cutting scholarships for football is an unpleasant idea for most hard core football fans, but it is the least obtrusive way save collegiate baseball, wrestling, and other sports teams.
Coaches hate the idea of smaller rosters in general and the ADs at the top recognize that smaller rosters cuts their coaches' margin of error, which is why the presidents should make the decision.
This would be an attractive cost saving option for presidents at a number of lower BCS schools who struggle to maintain pace with the top 15 or so programs and even a few of the presidents at schools in the top 15 who just hate waste.
(It is a suggestion that if included in the total reform package, could have the presidents of those universities assisting the NCAA in pushing it through additional reforms. After all, schools at the bottom of the BCS and at the bottom of the FBS have similar financial problems. When you add in the leadership at struggling FCS and DII programs, a strong coalition could arise to help solve problems at all levels.)
Currently FBS schools are capped at 85 full scholarships for players and some schools have dozens of players trying to walk on.
FCS Schools are capped at the equivalent of 63 full scholarships (These can be divided up between as many at 85 players).
Division II schools are capped at 36 scholarships.
Even with scholarship cuts, football programs will still exist. I also believe the talent differences would be preserved (dominant teams will still have much better talent) just the total costs will go down.
BCS schools will still have 5 and 4 star recruits all over their rosters, but now their three-star fourth team will play for lower BCS and non -BCS FBS schools. It will allow more really good football players to actually play in college.
Most importantly, the costs for every football playing university accross the board would be reduced.
Fewer scholarships and fewer players mean less travel costs, less equipment costs, less housing costs, less money needed to be spent in support of the players, and fewer matching scholarships for Title IX sports.
The downward push of talent would make the talent level at the FCS level more acceptable to the NFL fan, helping to make all levels of collegiate scholarship football better attended and more profitable.
I will come back to this point often. Anything that pushes deep bench BCS players into the starting lineup at a lower level is a financial positive for NCAA members.
------------------------------------------------------
Rule 2: Cut Football player numbers
------------------------------------------------------
Cut FBS programs to a maximum of 65 full scholarships and no more that 85 total players, with a traveling roster capped at 60 players.
Set a minimum scholarship limit for FCS programs of the equivalent of 30 full scholarships and a maximum of the equivalent of 45 full scholarships. The FCS scholarships could be divided between up to 60 players. Teams would be limited to 70 total players with a travelling roster capped at 60 players.
Set maximum scholarship limit for Division II to 30 tuition only scholarships which could be divided up among as many as 50 players. The teams would be limited to 60 total players with a traveling roster capped at 50 players.
Do right by women and do justice to Title IX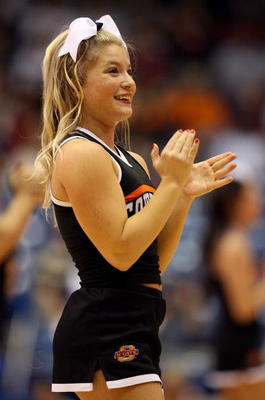 Title IX was a high falutin' idea about equality of opportunity by sex pushed down the throats of the somewhat sexist folks who ran the NCAA in the late 1970's and early 1980's.
Those folks screamed loudly that "these liberal ideas will destroy college sports!"
The government wanted these reforms in place, but certainly didn't want the blood on their hands if they inadvertently killed a major football program, so the reform was delivered as an overriding guideline with little specifics behind it.
The NCAA resisted and it's members were regularly taken to court. The outcomes of these cases established new more difficult rules for meeting this guideline.
And the NCAA leadership and leadership in the athletic departments at member schools didn't help. The angry NCAA braintrust structured Title IX compliance in a way that pitted equality advocates against non-revenue male sports advocates. They protected football and put the squeeze on all other sports.
They said, "OK, to comply with Title IX, we are now only going to cap the number of baseball scholarships a DI school can offer to 11.7, in spite of the fact baseball requires a 30 man roster."
"Ok to comply with Title IX, we are now only going to cap the number of soccer scholarships a DI school can give men at 9.9, in spite of the fact that a full soccer roster is usually just as large. But if you have a women's soccer team you can give out 14 full scholarships."
and on and on...
As the years have passed these rules have lead to a lot of schools dropping programs with no female equivalents like men's wrestling and have created a lot of ill will towards Title IX as well as a lot of anger towards football from women who rightfully see Title IX compliance as a fairness issue.
Today the NCAA is no longer run by "neanderthals". The people who run things now can see both sides, so it is high time to make the rules to handle TItle IX reflect that change in mentality.
------------------------------------------------------------------------------------------------------
Rule 3: Work to improve the logic behind Title IX compliance. Offer equal scholarship numbers in similar sports and make those numbers sensible for those sports. Finally balance unpaired sports against each other.
------------------------------------------------------------------------------------------------------
When an equivalency exists in a team sport, like men's and women's soccer or baseball and women's softball, make schools offer the same number of scholarships for each sex and make that number have some reflection on the number of players required.
When an equivalency is not there, like mens' football, try to balance the scholarship load with sports for women that lack equivalencies.
Don't play games about interpreting Title IX. Make those numbers equal.
Also look at high school participation rates to guide what scholarship sports the NCAA should push to it's member schools. You really should have participation numbers in college that in most ways parallel participation numbers by sex in high school.
Here are the percentages of participants per sex by sport in the top 10 high school sport.
(The raw data is from the 2008 National Federation of State Associations' annual report on high school athletic participation. The percentages listed are derived by dividing the number of participant in each sport by sex by the total number of participants in the top 10 sports for each sex).
3,980,560 young men participated in the top 10 male sports in high school and 2,703,327 young women participated in the top 10 high school sports in this report.
Men's sport participation % Women's sport participation %
1. Football 27.84% 1. Basketball 16.63%
2. Basketball 13.89% 2. Track & Field 16.55%
3. Track & Field 13.79% 3. Volleyball 14.72%
4. Baseball 12.01% 4. Softball 13.73%
5. Soccer 9.64% 5. Soccer 12.82%
6. Wrestling 6.52% 6. Cross Country 7.04%
7. cross country 5.55% 7. Tennis 6.38%
8. Golf 4.02% 8. Swimming & Diving 5.45%
9. Tennis 3.93% 9. Cheerleading 4.12%
10. Swimming & Diving 2.81% 10. Golf 2.56%
Looking at the percentages a few things jump out. 1) College football actually should have more opportunities than other sports. 2) The top 5 sports for each sex are quite a bit more popular than the next 5. 3) 4 of the top 5 sports for each sex have near equivalencies or exact equivalences.
While certainly the top 5 sports are team sports and require larger scholarship numbers, it makes one wonder why the NCAA doesn't require all DI schools to offer specifically the top 5 sports for each sports and maybe one more sport for women to balance football. (Perhaps in the North they could substitute Hockey and Field Hockey for women instead of soccer.)
All of the top 5 sports have the potential to generate some revenue with the possible exception of track, so why aren't these sports part of D-I's minimum requirement?
It seems pretty simple to put together sensible guidelines that satisfy the intent of Title IX while offering appropriate opportunities to dedicated student athletes in their preferred sports.
Ending the battle of the sexes just increases the number of people who are willing to watch and support collegiate athletics. In other words, ending the battle would increase the revenue to fund sports at member schools.
Make cheerleading a full scholarship sport for women at FBS Schools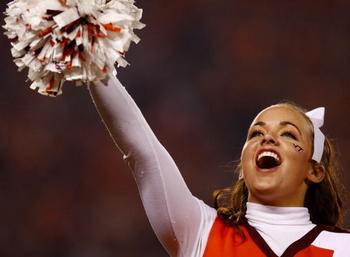 Consider how many events cheerleaders have to attend at an FBS school.
They should be on full scholarship.
A lot of student athletes can make time arguments, but cheerleading has the best secondary argument... they can balance the Title IX football imbalance issue.
Additionally, schools already have cheerleaders. They already have to schlep these poor young ladies around the country. They already have to buy them uniforms and pom poms.
In financial terms, it would be the cheapest full scholarship female sport a school could add because schools would only be adding the scholarships.
But to look only at the financials isn't fair to cheerleaders.
Cheerleading has become a sport in it's own right.
Cheerleaders do participate in contests and those are contests where athleticism and training play a role. How is that any different than football or basketball?
This is a real sport that girls chose to compete in from their earliest years. Making it a scholarship sport is a ton more reasonable than creating crew "rowing teams" filled with women who have never had an interest in competitive rowing...before finding out they could go to college for free if they participated.
There are plenty of real sports that women play in high school (like cheerleading), that should be pushed over something inanely regional like competitive rowing.
Adding 30 female cheerleader scholarships to would do a ton to eliminate the Title IX football scholarship imbalance problem for FBS football playing universities.
----------------------------------------------------------------------------------------------------
Rule 4: Make cheerleading a full scholarship sport at the DI level and link scholarship football to scholarship cheerleading.
----------------------------------------------------------------------------------------------------
Programs at the IAAA, FCS, and DII level that offer fewer sports and fewer full scholarships.
I think at those levels, with fewer demands on cheerleaders' time, it would be approriate to award partial scholarships... say, tuition-only scholarships. At that level, with Title IX matching, this would make sense.
Strongly encourage FBS schools to offer women's volleyball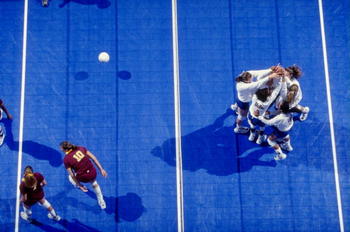 Collegiate athletic opportunities for men and women should mirror high school participation percentages. That is just seems like common sense.
The three most popular high school men's sports are football, basketball, and track.

The three most popular high school female sports are basketball, track and volleyball.
Now Title IX clearly suggest there should be equal opportunity between the sexes, so logically the NCAA should try to have their member schools offer an equal number of basketball and track scholarships to each sex.
That leaves football and volleyball as a natural match.
------------------------------------------------------------------------------------
Rule 5: Link scholarship football to scholarship volleyball.
------------------------------------------------------------------------------------
With say 30 full scholarship volleyball players, 35 full scholarship cheerleaders, and a reduction in the total number of football scholarships, the once crippling FBS football scholarship Title IX imbalance would be solved rather cheaply.
Volleyball is not a hugely expensive sport, as teams have little in the way of equipment, the uniforms are not expensive, and they play in gyms that are already there for basketball.
Additionally, the women's volleyball is a beautiful one to watch, with it's rare mixture of surprising power and grace. It is a sport with real potential as a revenue generating sport down the road.
Require mandatory redshirt seasons for every freshman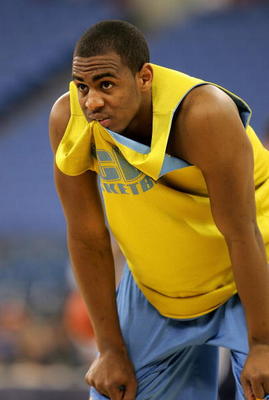 Redshirt every freshman athlete to give him or her a year to get used to college, physically and emotionally mature, and to have five years to get their degree.
--------------------------------------------------------
Rule 6: Redshirt all athletes as freshmen.
--------------------------------------------------------
By keeping the incoming player off the playing field in their first year you do a number of positive things for schools.
1) Knuckleheads do not hurt the university as much. It is one thing when a nameless freshman robs another student, it is entirely another thing when your star freshman all-American point guard (around whom your entire program is built) does it.
A lot of the "out of control program" news would not make it into the TV media, preventing universities in some cases from having to do a costly buyout of their coach and a costly hiring of a new coach.
2) Blockheads don't hurt your university as much either. it is much better to have some unknown freshman student athlete get kicked out for academic dishonesty rather than someone your program is counting on this season.
3) As some students graduate in 3.5 to 4.5 years, the university could actually get a player playing effectively for free for some or part of their senior year. Under the current system that is a lot less likely to occur.
4) It would raise graduation rates in athletics. More athletes getting their degrees means a greater chance that one of them will hit it big and give money back to the university. It also would do a lot to erase the dumb jock stigma that hurts community support for many successful athletic programs.
5) It helps coaches know what they have entering the player's second year. If a coach loses a player he was going to count on or finds that player isn't what he thought, he can land a JUCO player to fill the spot.
6) It would make the pro athletes to emerge from NCAA programs more mature across the board, which again reduces criticism on the athletic program and the university that produced them.
(Especially in the case of pro basketball players, having a kid do at least two years of college would do a lot to force those athletes to grow up before they are given large sums of money and released into the wild to potentially damage the school's reputation.)
This would also have the effect of pushing more talent down to lower levels in the revenue sports, men's football and basketball.
Schools at the top would be inclined to give five-year scholarships to "sure things." There would be much less desire to gamble on a player.
The at risk players they would normally take a chance on could go to Junior Colleges to prove themselves on the field, in the community, and in the classroom hoping to get the offer from the BCS powers afterwords, or they might just chose to play for a non-BCS FBS school or even an FCS school to have the 5 year scholarship in hand.
Allow students to transfer once without loss of eligibility and force coaches to gracefully assist in the process
In general, I do like the idea of sitting out a year after you transfer to get accustomed to the academic requirements of your new school in today's setup.
But we have already discussed mandatory redshirts for all freshmen. If you are already redshirting everyone in their freshmen year to get them ready for college, there is no reason for sitting a transferring student.
Additionally, the fact that an FBS player can transfer to an FCS or DII school and play right away while an FBS to FBS transfer requires sitting out a year and forfeiting that year of eligibility suggests that the fact they are not allowed to do it at the FBS level has nothing to do with helping the kids.
It is all about controlling them. Limiting in conference transfers is fine, limiting tranfers in entire classifications is just wrong.
It is a rule that should go away.
--------------------------------------------------------
Rule 7: Allow student athletes in good standing to transfer out of conference once and play immediately in the following season without losing a year of eligibility. Require coaches to assist in the process and punish them if they try to undermine the process.
--------------------------------------------------------
At my local FBS university, there are probably 40+ players on the 100 team roster who have no shot of seeing playing time over the length of their careers and 2-3 others who maybe get a couple of plays a game but would be stars at the FCS level in a different system.
That is kind of sad.
The system and the coaches are not doing right by these guys.
Even if you assume that 15 of those kids are walk ons, that means 25 students PER each of the 120 FBS schools, or 3000 great high school players screwed to the bench at the FBS level who could be earning playing time at another FBS or FCS university.
Those are players who could really excite the fan base at another school and better progress to their athletic goal.
If FBS scholarships and totals were cut per the earlier slide to 65 scholarships and 85 total players, the system would be fairer to the players and that number would likely decrease a good deal, but there would still be a need for players to transfer from time to time.
I think there should be 4 categories of football players who should be encouraged to consider transferring and assisted in transferring without penalty:
1) The player who has fallen out of favor with the coaching staff or has fallen out of the depth chart should be able to look for another program and transfer without the NCAA killing any of his eligibility.
2) Players who have lost their starting job should be able to request the right to see if there is any interest from other programs after the end of the season without feeling hate from the coaching staff if they decide to stay.
3) Players who have been in the program two years and are third team or lower on the depth chart should also be able to request the right to look for another program after the season.
4) Players at skilled positions who saw a dramatic loss of attempts should be able to request the right to look for another program after the end of the season. (I leave defining "dramatic" to the NCAA)
The NCAA should require the coaches of that school to write a very brief thumbnail that lists the player's measurables and positive attributes, what positions in what schemes might best fit him, as well as his high school and college stats and awards.
All of this information should be in a database accessible to collegiate coaches nationwide. Coaches should be able to search this database and make contact with the kids through official channels and offer a scholarship to the kid.
In this type of scenario a kid buried on the depth chart at UT could transfer out to a school like Tulane for his last two years.
UT would have no negative ramifications and could immediately re-offer his scholarship. Tulane would add a 3 or 4 star talent that didn't pan out at UT but was well coached there and fills a hole on their roster.
It requires a dramatic change in the mindset of coaches, but it would be a winning proposition for all parties.
UT wins, Tulane wins, the player wins...but really the NCAA wins as better players are on the field exciting the fans.
Require FBS schools to play one game a year vs. FCS schools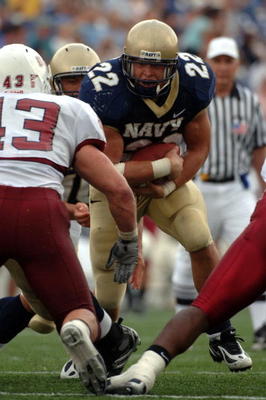 If the BCS wants to keep FCS schools at a lower classification, they need to make it worth their while to stay at the FCS level.
--------------------------------------------------------
Rule 8: Require FBS schools to play 1 game a year vs. FCS opponents and cap FCS schools at playing 1 game a year vs. BCS schools or 2 games a year vs. non-BCS FBS opponents.
--------------------------------------------------------
Rather than giving a Sun Belt school a million dollars in a bodybag game to stay in business at the FBS level, wouldn't the BCS rather give an FCS power a million dollars in a bodybag game to stay at the FCS level?
It seems this argument is not being made to the BCS schools.
If every FBS school played a game against a FCS school, there would be a lot less financial pressure on FCS schools to move up.
If every FBS school had to play an FCS school in one game, the rating system would probably weigh the FCS program's strength a little more in evaluating the FBS team's performance in that game and their strength of schedule, giving FCS programs more credibility among FBS fans.
Now obviously, you would not want FCS schools to go independent and simply line up a series of away body bag games against BCS schools, so limiting the number of games they can play against FBS competition helps keep the competitive balance at the FCS level.
In general BCS schools won't want to play the top 5 FCS programs for fear of an upset but the FCS's 6-25th best programs would be in high demand from BCS powers, demanding big payouts.
A school like Boise State on the other hand that needs a little strength of schedule bump, might be quite eager to play a recent FCS champion while everyone else in the non-BCS FBS world are scheduling FCS scrubs.
Lower ranked FCS schools might determine that playing two non-BCS FBS schools would serve their program better.
I think in practice, If the FBS school averages more than 40K, they can and probably should be allowed to host an FCS school each year and pay the FCS school $500K to $1M for the game, basically what the Sun Belt extracts today.
To preserve the competitive balance in the FCS conference, maybe the FCS school could keep a portion of the payout and the rest would be split evenly between its conference mates like BCS bowl money is divided.
If the FBS school averages less than 40K, maybe they'd have to play a 2-1 series vs. an FCS school within a reasonable distance, so the FCS school would not only get money, but also a recruiting bump.
If you were Montana and you got to stay at the FCS expense level, pack your stadium for home games, and either play Utah and Boise State each year or maybe a bodybag game against BYU, why would you ever think about moving up?
Let fan support fasttrack basketball DI upgrades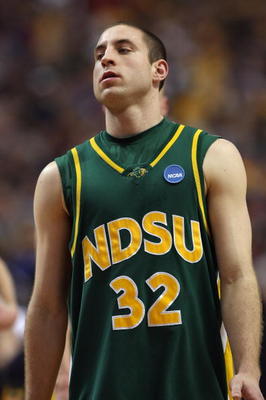 Fan attendance is the key to having a good revenue stream to support DI programs.
It seems like a lot of schools assume that the move to DI will erase fan support issues. While it is true that a lot of schools would do better as DI programs than as DII or DIII programs, the rules should reward those lower classification schools who do a good job promoting their sports, because those are the schools the NCAA would want in DI anyway.
--------------------------------------------------------
Rule 9: The NCAA should offer immediate core DI member status to DII or DIII basketball school that finishes in the top 30 in attendance over 3 years and averages over 2500 fans per game.
The NCAA should also set an average attendance threshold met annually for 3 straight years that would allow transitional DI schools to skip through their remaining transitional years and become DI core members immediately.
--------------------------------------------------------
Now I do want to be clear. The required number of sports for DI play would still need to be met. I am just saying there should be a fasttrack option for schools that have well run athletic programs to allow them to reach the coveted "core member" status that all conferences seek to add.
Drop basketball leagues with poor support to DII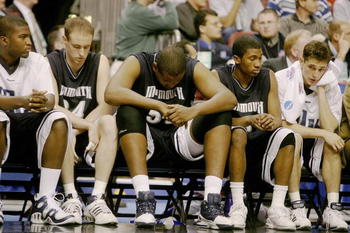 The NorthEast Conference averaged 1206 fans per basketball game last season making them 31st or dead last among conferences in DI by almost 300 fans per game.
Should they get an automatic bid? Do they deserve one? Have they shown that they are competing at a DI level in the tournament?
I think they should be downgraded to DII, at least temporarily. I just don't see the competitiveness or the financial support there for them at the DI level. and it helps the west/east imbalance.
--------------------------------------------------------
Rule 10: Reclassify DI conferences that draw less than 1500 fans per game for men's basketball to DII.
--------------------------------------------------------
As a league if you cannot average 1500 fans per basketball game over multiple years, you should not be allowed to play at the DI level. You aren't profitable or competitive and you are just taking an opportunity from a conference that might be able to hit that threshold.
Really as a conference if you average less than 2,000 per basketball game you should be on notice for a future downgrade.
Rebuild the North Central Conference as a core DI/FCS conference and offer the MIAA immediate core DI status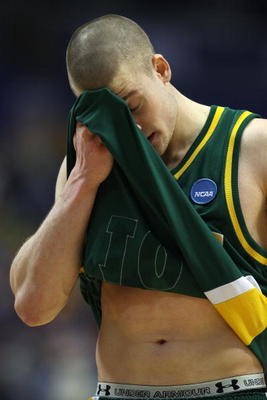 The North Central Conference was a DII conference based out of Minnesota and the Dakotas. North Dakota, North Dakota State, South Dakota, South Dakota State, Minnesota St. Mankato, Minnesota - Duluth, Nebraska-Omaha, Augustana, and St. Cloud State formed the conference.
As a conference it lead the DII in basketball attendance in 2000 with an average of 2114 fans per game.
That average is more than the America East, the MEAC, the Atlantic Sun, the Big West, The Ivy, The Big South, The Patriot, the Southland, The SWAC, and the NEC have done in recent years.
The membership thought about upgrading as a conference but the NCAA has ridiculous time rules concerning conference upgrades, so the more motivated members jumped as individual schools...serving as spare parts for ill-conceived and widely spread out conferences.
North Dakota won the DII football title in 2001. Since then the Dakota schools have done quite well at the FCS level and Minnesota -Duluth won the DII title last year.
The NCC was EXACTLY the kind of conference the NCAA should want graduating to DI. The member schools for the most part were the larger publics in a nice tight footprint. They had well established rivalries, well-run programs, and they drew well.
Allowing it to be parted out and the schools to struggle in transition sends a horrible message to lower tier schools who could help the NCAA. The rules on conference upgrades need to be changes and the NCC needs to be rebuilt by the NCAA.
-----------------------------------------------------------------------------------------------
Rule 11: Restore the NCC as a core DI/FCS conference and set thresholds in place that allow the immediate upgrade of similar conferences, like the MIAA to the DI level.
-----------------------------------------------------------------------------------------------
The NCC could take the NEC's tourney slot, helping the NCAA with it's east/west balance.
The MIAA which averages about 1700 per game in basketball each year and draws well in football. It is quite similar in characteristics to the NCC and should be offered immediate upgrade status to core DI status as well.
Although they would take an at large spot making this move somewhat contentious with the BCS elite, elevating them would also help the East/West balance that makes the NCAA tournament so awkward and a lot more expensive than it needs to be for participants. That could offset the loss of the slot.
Get the Great West Conference into the NCAA basketball tourney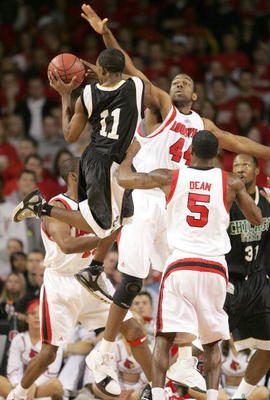 The Great West is a conference comprised of 3 categories of schools. It was originally conceived as an FCS football-only conference for stranded west coast schools.
Then it became a refuge for schools from the DII North Central Conference when the NCAA rules effectively forced that very strong and competitive conference to split in order for their schools to move to a higher level of play.
Finally when those schools were at their wit's end on ways to satisfy the NCAA's minimum membership rules, they invited a bunch of schools no other conferences wanted.
The membership may never be eligible for a NCAA basketball tourney bid based on the rules the NCAA has in place.
The rules for basketball are simply too difficult to satisfy. The teams in the Great West are offering the number of sports to satisfy Division I membership, but because the NCAA requires ridiculous time requirements for transitioning to being full members of DI and then more time to become core members of DI and then still more time to have six basketball playing core members playing together, it is unlikely they will ever earn an NCAA automatic berth.
When it is all said and done it may take those schools 20+ years to be in a conference that earns an automatic bid.
That is heinously unfair and is being used as an example to discourage good candidate schools from moving up to the DI level.
-----------------------------------------------------------------------------------------------
Rule12: Award the Great West an automatic bid to the NCAA basketball tourney in return for them becoming a "catchall" conference for basketball independents.
-----------------------------------------------------------------------------------------------
A better solution would be to cut a deal with the Great West to allow them into the tourney with an autobid and no limitations on the size of their membership, but require they offer basketball membership to any school that satisfies the NCAA's upgrade criteria and wants to move up to the DI level.
If the NCAA restores the NCC and establishes them as a DI conference, SUU might want to go with the NCC for shorter travel as a non-football member and the NCC would probably OK that. Cal Poly and UC Davis already have an all-sports home. That would leave a primarily east facing all-sports conference with Chicago State, Houston Baptist, UTPA, and NJ Tech.
Making this a catchall conference would better serve the NCAA as about 3/4 of their schools at each level are in the eastern half of the US. Poor Independents like Savannah State which could not afford travel in the current GW might be more inclined to join catchall "Great East."
That solves a lot of tha NCAA's potential legal exposure. It makes the NCAA look less like evil jerks in the pockets of the BCS elites, and it probably spurs a lot of schools to move up to join the conference, cutting travel costs for their members and stabilizing that conference.
Make DI non-revenue men's sports' scholarships tuition only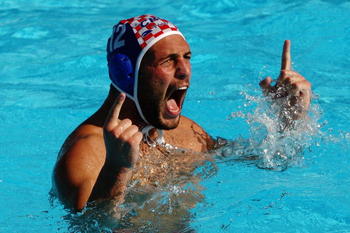 I think this would likely be challenged in court, but if you can word the rule properly it might be legally defensible.
People constantly argue that student athletes should get a share of the money they generate. Perhaps a way around the equality of scholarships by sports issue would be if schools could report revenue generated by sport.
If any traditional non-revenue generating men's sports actually made a profit, the players in that sport at that school might get a rebate up to housing costs.
I don't think it would create too much of a competitive imbalance if something like that was allowed. The best male student athletes already go to the best supported programs anyway.
--------------------------------------------------------
Rule 13: Make DI men's scholarships in non-revenue generating sports tuition only and seriously consider making them non-scholarship sports at the DII level.
--------------------------------------------------------
In practical terms, the student athletes from richer upbringings are the ones who wrestle, swim, play golf, water polo, baseball, etc.
This would in essence put full scholarships into sports (Football and Basketball) where poorer kids would have more access to them. Additionally, the top athletes would lean towards football and basketball (the sports most likely to generate revenue for the school) improving the money sports product across the board.
In Title IX terms this would cut a lot of costs out. Rather than matching hundreds of full men's scholarships, schools would be matching tuition-only partial scholarships for some to most of the load.
At the DII Level this would do a lot to save member universities money and level the playing field competitively. DII schools and DIII schools would be evenly matched in a number of sports allowing shorter travel.
This might actually clear enough savings that the NCAA could fix some of the problems I mentioned previously with the it's guidelines for satisfying Title IX requirements, like bumping up baseball or hockey scholarships (granted they would be tuition-only scholarships) to say, 30.
Encourage the creation of 3rd and 4th money sports in regions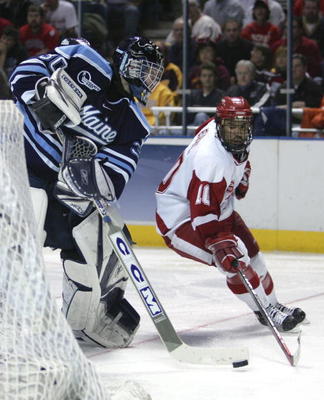 --------------------------------------------------------
Rule 14: Encourage the creation of pockets of team sports that might create new revenue streams in a region.
--------------------------------------------------------
There is no reason why football and basketball are the only sports from which the NCAA can generate revenue.
Hockey is fiercely popular in the frozen north.
Volleyball is quite popular in the west coast.
Baseball is a revenue generating sport at several schools, but not as many as the popularity of the sport probably dictates.
Soccer is growing in popularity nationally. It is fiercely popular among Mexicans and South Americans. Why aren't schools along the Mexican border pushing to develop revenue generating soccer programs?
Because the NCAA is not doing its part to push the promotion and growth of these popular team sports.
Limit the kinds of schools that can be classified DI, DII, or DII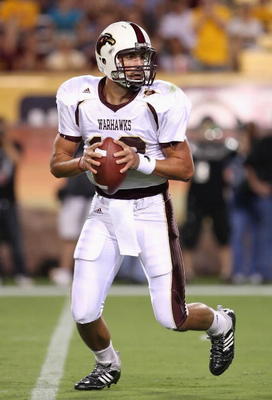 While moving between criteria does require some attendance goals to be hit (although the honesty of those recorded attendance totals is often in question) and playing at the FBS level does have some attendance minimums on the rule books, those rules are not being enforced.
Right now almost the only factors considered to be at a certain level of competition is the number of sports offered.
For DI, a school has to offer 14 sports with schools being allowed to offer quite a few athletic scholarships.
For DII, a school has to offer 10 sports with schools being allowed to offer a limited number of athletic scholarships.
For DIII, a school has to offer 10 sports (that number is scheduled to go to 12 by 2012) none of which allow athletic scholarships.
These critieria are simply not enough.
--------------------------------------------------------
Rule 15: Use more criteria like for football a university's stadium's capacity parallel to the sidelines only, average turnout, athletic budgets, enrollment (for publics) or endowment size (for privates) to determine the range of levels of competition at which a school should be allowed to participate. For basketball, use attendance average thresholds, marketing budgets, and athletic budgets.
--------------------------------------------------------
Much fan focus goes to the imbalance of finances at the FBS level, but the imbalances are just as striking at all levels, including the DIII level.
A D-III school like UT-Dallas with an enrollment of almost 15,000 is allowed to play at the DIII level in a conference of 15 schools of which only 3 other schools have enrollments over 3000 and none of the others have enrollments over 6000.
Gee, they are a soccer, volleyball, and basketball power? Wow. So surprising.
To allow situations like this to exist push schools with fewer resources to invest more money to keep up with the UTD's of the world, putting undo strains on their resources. Large schools like UTD and well endowed schools like the "nerdy nine" should not be allowed to compete at the DIII level. They should have to compete at the FBS, FCS, IAAA, or DII level. Give them a range.
Schools like this should be forced to compete in a classification with schools with similar enrollments. It UTD wants to play non-scholarship athletics, that is fine, but require them to do so at the DII level vs. other large non-scholarship schools and some small partial scholarship schools.
If large non-scholarship schools like UTD don't like it, let them go join the NAIA. Let them take their brass knuckles into that boxing ring. The UTDs of the world don't do the NCAA any favors by playing at the DIII level.
Likewise a school like UL Monroe has little reason to be playing in the FBS level. They report an average attendance of about 16,000 per game, have an enrollment of a little over 8000 and an athletic budget of just under 8M.

How do they afford to support the 339 participants in athletics at their school, you ask? Just look at their football schedule.
They played bodybag games (games against BCS schools that offer large payouts ---sometimes in the neighborhood of $1M per game --- in return for a lesser program playing on the BCS team's field.) against UT, Arizona, State, and Kentucky this year and Auburn, Arkansas, and Mississippi last year.
That is a lot of money coming in to fill up their shortfalls. Can ULM continue to make up the revenue shortfalls? Maybe. So maybe you let ULM tread water and not downgrade them on principle.
It doesn't change the fact ULM should never have been allowed to upgrade this early in their university' development or that other schools who try to replicate the ULM scenario will likely fail.
Their finances clearly dictate that today, they should be an FCS power ala McNeese State. The NCAA should have had rules in place that designated universities of that size with that athletic budget at as being topped out as FCS level schools.
It is one thing if a filthy rich private or a large private chooses to take on TBS football. It is quite another if a small poor public wants to do so. The NCAA needs to provide tough love.
If the NCAA doesn't do more to tighten their guidelines about what levels of play schools with certain resources would have available to them, they will have more UL Monroes moving up and some of them melting down and more small schools' programs at lower levels imploding over trying to compete with the local bullies.
The NCAA criteria needs to be tightened up to allow more control over runaway spending.
Separate FCS and DII football from other NCAA classifications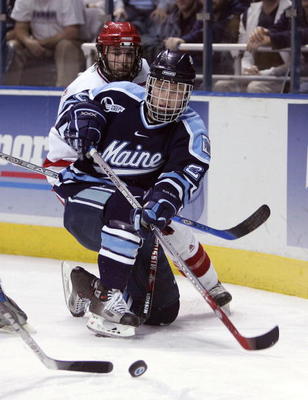 Regardless of level, when you figure in participants and equipment, with the possible exception of Hockey in certain areas, football is the most expensive sport you can start. It has the power to fund athletic programs or destroy them.
There are plenty more things that can be done to limit the destructive power of an ill-conceived football program and harness the revenue potential of a well conceived one.
Frankly, the NCAA is effectively screwing their lower tier membership in a totally unnecessary way . I recognize the NCAA has to back the BCS schools or risk them leaving, but you can still protect the BCS deathgrip on TV revenue without crushing the viability out of lower tier schools athletic programs.
So break football off to be independent of classification tier, similar to what they do with Hockey.
Currently, if you want to play FBS or FCS football you need to be a member of Division I...i.e., you need to sponsor 14 sports.
Hockey, as an historically northern sport, was only played by northern universities. It was decided after much hand wringing by the NCAA, that it would be destructive to too many small hockey playing universities and raise costs for too many large hockey playing universities to divide all of the teams into classifications, so they just separated hockey from divisions like DI, DII, and DIII.
Teams that play hockey are all classified DI Hockey teams, regardless of the classification of the rest of those Universities' athletic programs. They play in hockey only conferences that are comprised of schools who's overall athletic programs come out of a variety of classifications.
This was a sound business idea and should serve as precidence for better handling the super expensive sport of football.
Perhaps the NCAA could remove football from the jurisdiction of each classification's own governence board to allow direct cost management by the NCAA. (It probably wouldn't be approved at the FBS level, but the university presidents have a lot more power over thier programs at the lower levels and would probably love to have someone else be the financial voice of reason.)
BCS schools and the upper half of the FBS would resist detaching the number of sports offered from football because they are the schools that attend most bowl games. Sports are a way to promote universities, and Bowl games are some of the best sports promotion out there.
Plus some of them pay quite well.
Opening the FBS door to schools that don't offer 14 sports (and thereby letting those schools "steal" Bowl bids and bowl money) is a likely non-starter with the majority of FBS schools.
While I can understand the resistance of FBS schools, those schools would have nothing to complain about if FBS was still tethered to Division I and the NCAA simply untethered all other levels of football from overall athletic program classifications. It would be an excellent financial move for the NCAA to protect their sub-FBS members.
-------------------------------------------------------------------------------------------------
Rule 16: Detach FCS and lower level football from overall classifications
--------------------------------------------------------------------------------------------------
Whatever a school's classification and affiliation is in football, all that school would have to do to qualify as D1 is sponsor enough total sports. (Any level of football would count as 1 sport.)
The NCAA could push schools to compete at their appropriate level based on their enrollment and stadium size. Small DI schools could play non-scholarship football with no issue at the DII level and large DII schools with the components to succeed at the FCS level could opt to play FCS football along with their current sports at the DII level.
Rename the Classifications to silence dissent
The classifications need to be rethought. Any effort to modify the classifications will raise a storm of protests from some people. That needs to be nipped in the bud if reform is to happen.
A few years ago the NCAA renamed IA football "the Football Bowl Subdivision"(FBS) and IAA "the Football Championship Subdivision" (FCS).
These names were selected to obscure the fact that IAA is a lesser division than IA. Beyond that, the new names are not intended to accomplish any higher goals.
What if you renamed them to accomplish much bigger future goals?
Giving each football classification a much more descrptive name would simplify matters down the road.
----------------------------------------------------------------------------------------------
Rule 17: All Classifications of football should have descriptive names.
----------------------------------------------------------------------------------------------
FBS - could be renamed the "Full Scholarship Division" (FSD)
FCS - could be renamed the "Partial Scholarship Division" (PSD)
DII Football - could be renamed the "Large School Amateur Football Division" (LSAFD)
DIII Football - could be renamed the "Small School Amateur Football Division" (SSAFD)
Force FCS non-scholarship conferences, like the Ivy League, to a lower classification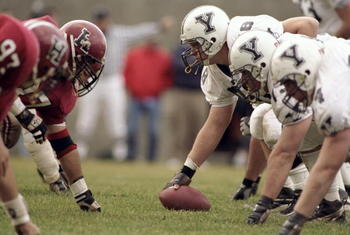 The NCAA forcibly reclassified conferences back in the 1980's and in this economic crises, it would make sense to take advantage of the new rules to do so again.
--------------------------------------------------------
Rule 18: All non-scholarship FCS conferences are immediately reclassified to the Large School Amateur Football Division (formerly DII). All DIII football playing schools with enrollments over 5,000 are reclassified to the LSAFD as well.
--------------------------------------------------------
The Ivy League, Pioneer League, and Patriot League do not offer scholarship football. Most are non-competitive with the rank and file of FCS and do not chose to participate in the playoffs/are not invited.
The Ivy League will not change their ways. The Patriot League play Ivy league schools and may not choose to either to protect that association. Many Patriot League football programs draw well and would be welcome additions to other conferences if they chose to offer 30 scholarships.
The Pioneer is a collection of DI schools who want to play football but have concluded they want to play it without scholarships. Most are former members of scholarship based conferences.
Some might choose to add 30 scholarships and return to those conferences. Others might choose to add 30 scholarships and join a local conference if the footprint is sensible.
All members schools who refuse to comply should be reclassified to the Large School Amateur Football Division (LSAFD-formerly DII).
Allowing top amateur football teams to play non-scholarship football at the FCS level cheapens the FCS (and cheapens the DII amateur level).
Putting the Ivy League schools in with other true non-scholarship programs raises the stature of true amateur football and gives a lot of schools without the financial means to play at a higher level a reason to be content at the non-scholarship level.
The separation of football and the renamed classifications simplifies the fight of dropping conferences like the Pioneer, Patriot, & Ivy League to a lower classification.
At that point those conferences have no leg to stand on anyway. They would not lose their automatic basketball tourney bids.
These conferences are non-scholarship football conferences who's universities proudly sell their teams as filled with "true amateurs" and "true student athletes". And as noted above, usually either do not quality or don't play in the FCS playoffs anyway.
Frankly it is an easy out for the Ivy League as their programs have twice as many athletes participating in them as most FBS schools! That is expensive even without scholarships.
Like in the 80's the path of least resistance would probably hold. The Ivy can still play FCS schools if they want, claim amateurism, and can be a power at the amateur level.
It may be grating for the Ivy league and the others, but at the end of the day, it is a win-win scenario for them.
Just the downgrades would decrease the PSD (FCS) from 125 current members to 100 members and would increase LSAFD (DII) from 146 members to 171 members.
Upgrades of larger school's non-scholarship football programs from DIII would add another 40 schools to the LSAFD bringing that total to 211 members including such appropriate opponents for the Ivy league as MIT as well as non-scholarship conferences like the UAA ("The Nerdy Nine"), the NJAC, and the WIAC.
Force financially overmatched FCS conferences, like the Northeast Conference, to a lower classification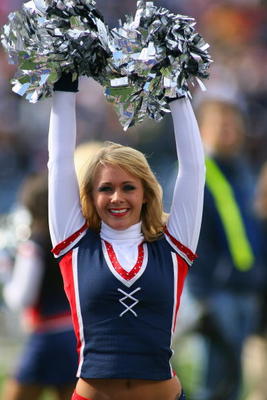 The BCS schools do not want more schools moving up into their classification. In order to prevent that from occurring, the NCAA needs to make hitting a reasonable financial loss level, a break even point, or profitability more likely in the second classification.
To do that, the schools that are least likely to draw strong crowds (say at least 6000-8000) need to be moved down.
If a school is drawing 1000-4000 fans per home game, they can't pay a visiting team any significant revenue and don't have a large enough fan base to travel fans.
In simple terms, games against them drag down schools that are trying to make it at the FCS level.
The NorthEast Conference appears to be a conference that is financially overmatched at the FCS level. These schools are almost all a good 20 years away from hitting this criteria.
For the most part, the NEC is a collection of medium sized private schools. Almost all of their stadiums seat less than 4600.
Their member universities recently started offering 30 football scholarships after being a non-scholarship conference for years. Since then they have voted to bump that number up to 40 scholarships, but that vote was taken before the economic downturn.
Presumably these increases are designed to make their teams competitive with other FCS programs, something that was not historically the case.
The NEC has not had an automatic invitation to the FCS playoffs and has rarely had a member invited as an at large participant due to lack of competitiveness.
It should be noted the conference is scheduled to receive an automatic bid to the FCS playoffs stating in 2010.
This conference in particular seems in over its head at the FCS level and desperate to hold on to high profile Division I status and still play football.
--------------------------------------------------------
Rule 19: All FCS conferences that are deemed unlikely to be able to develop 6000+ average attendance shall be reclassified to the Large School Amateur Football Division (LSAFD) classification for 10 years.
--------------------------------------------------------
With the separation of football from classification, the NCAA forcibly reclassifying this conference as DII would offered a face saving escape for all admins at the NEC schools.
(Central Connecticut State could be allowed to rejoin Albany in a football only America East Conference as they have sufficient enrollment to be a solidly supported football playing FCS school, they just need a visitor's grandstand in their stadium.).
FCS schools can play DII schools in their out of conference schedule currently, so all of these reclassified schools would still be able to play the FCS schools they may want to play, if there is mutual desire.
DI FCS schools that don't really have much fan support could drop to fewer scholarship or non-scholarship DII to save money and still give scholarships in other sports to satisfy their D1 membership.
If a school draws less than 4000 per game, I think the school might draw just as well at the DII level. When you consider matching scholarships, that is quite a savings that would offset any minor loss in attendance.
With their cost investment, the schools of the NEC could become dominant at the lower level. With better on the feild results and a feeling among the fans of being unfairly dismissed by the NCAA, these schools could see stadium enlargements an larger crowds over the next 10 years.
That could put these schools' programs on financial ground that could have them competitive at the higher level if they should opt to move back up after the 10 year period is up.
This would decrease FCS from 100 members to 93 members and would increase DII from 211 members to 218 members.
Take action to reduce FCS conference membership to 6-9 schools.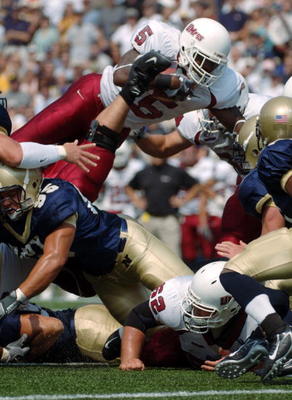 With the non-competitive conferences banished, the next biggest problem facing profitability at the FCS level is the intractability of the large conferences.
--------------------------------------------------------
Rule 20: Break FCS conferences to 6-9 members for now, lowering the conference minimum membership threshold to qualify for an automatic berth to 6 teams.
--------------------------------------------------------
The CAA has swelled to 14 football playing members to satisfy NCAA minimum membership rules and avoid being associated with less developed programs.
The SWAC and MEAC have large memberships and opt out of the FCS playoffs for an interconference competition, hurting the viability of an FCS playoff system and cheating it of some of the FCS's most fervent fans.
The MVFC offered North Dakota State and South Dakota State a much better home than the Great West as football only members. This situation has the GW at 5 members and the MVFC at 9 members.
The Big sky also has nine members, while the Great West is under the threshold to have an automatic playoff bid.

How can these situations be allowed to exist when all of the FCS is struggling and other conferences don't even have enough membership to qualify for an automatic bid?
There is no polite way to put this. All of these conferences need to be broken apart and rebuilt.
(The Southland Conference is looking to go to 12 football playing members soon, but 3-4 of those members have no intention of staying at the FCS level, therefore no action is required.)
Cap the number of teams allowed to play in an FCS conference at 9 as that is ideal for scheduling purposes and set the threshold for an automatic football playoff bid at 6 schools.
Immediately reassign geographically displaced football only member schools with a goal of giving schools in each conference similar chances of making the playoffs as a conference champion and reducing travel costs for conference members.
The CAA has 7 full members who also play football, with an 8th, Georgia State, due to come on line next year.
Maine and New Hampshire are football only members of the CAA. In all other sports they are members of the America East conference.
The America East conference has football playing members participating in other conferences because they don't have the required numbers for an automatic berth under the current rules and because some of their members are considered inferior to others.
SUNY Stony Brook plays in the Big South. SUNY Albany plays in the Northeast conference (NEC) mentioned in the previous slide. And Central Connecticut State is a mid sized public playing in the NEC that used to be a member of the America East. It should be again.
A10 schools UMASS and Rhode Island fit this footprint far better than the CAA footprint. Reassigning them to the America East football conference would give the AE 7 football playing members and a nice financially workable footprint.
The CAA could keep Big East member Villanova as a football playing 9th member. A10 member and football only CAA member Richmond would be reassigned to the Big South as a replacement for Stony Brook.
The breaking of the historically black college and universities' historic conference affiliations would be even more contentious, but is even more needed.
The status quo is much like the Ivy League situation, but in this instance the schools can compete in the playoffs at this level and simply are not willing to. That has to end.
Additionally the status quo effectively limits HBCU upgrades to this classification and invokes financial travel hardships on HBCUs on the fringes of the conference.
This situation has appeared to play a role in leading to Florida A&M to loudly consider upgrading a few years ago. If the goal is to keep schools with this level of support at the current classification where they can better generate positive cash flow, this situation must be corrected.
To that end, I suggest reassigning Alabama A&M and Alabama State of the SWAC, South Carolina State, Florida A&M, North Carolina Central, and Bethune Cookman of the MEAC, Tennessee State of the OVC, independent headache Savannah State, and possibly DII Fayetteville St. to a new all 9 member HBCU SouthEastern Athletic conference (SEAC).
The SWAC would have 8 members, the MEAC would have 9, and the OVC would have 8.
This would shrink the travel footprints of the conferences, dramatically reduce travel costs for all schools involved, and likely increase attendance, something that should be the goal of the NCAA with their actions.
With 3 conferences, the idea of a head to head bowl game for the champion of the HBCU world instead of going to the FCS playoffs would be a dead idea.
NDSU and SDSU could be put back into a North Central Conference with UND and USD and Big Sky football outliers Sacramento State and N. Arizona could join with SUU, UC Davis, and San Diego and possibly a resurrected St. Mary's football team to form a workable west coast based Great West football Conference.
Or just add NDSU and SDSU back into the Great West. Either would get the GW over the autobid threshold. Right now only basketball automatic bid rules rules prevent this from occurring for all sports.
Now the playoffs would still need to be made financially tolerable, but I have ideas for that too.
Forcibly upgrade DII football conferences based on stadium size, attendance, & enrollment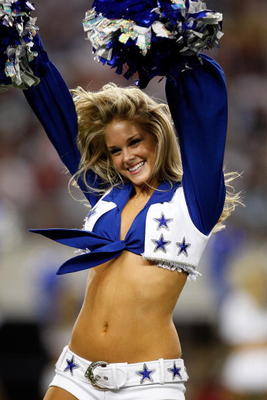 Now let's talk about upgrading conferences.
Schools like the upper half of the Division II Lone Star Conference, whose communities only really care about football, could probably scrape up 30 full scholarships and play FCS, but keep their costs down by being a D2 member in everything else.
I used to live in the Texas Panhandle and can tell you that only part of reclassifying West Texas to D2 that really still haunts panhandle residents is the idea that they will never host a game against schools like UNM, NMSU, UTEP, Tulsa, Air Force, or Texas Tech as a member of D2.
That is just a bummer.
WT has a 20,000 seat stadium and would likely be able to fill it for a local FBS opponent, meaning their gate payouts could match say any sunbelt school's. The problem is WT and most of the schools of the LSC simply do not have the enrollment to support DI membership.
Playing PSD (FCS) football in Texas would help them and all of the other strong football schools in the Lone Star conference schools a lot in attracting more students. Having that kind of flexibility in scheduling (playing D2, FCS, and FBS schools) combined with the lower scholarship costs an FCS football /D2 other sports scholarship load would have, could potentially make all of those schools' athletic programs regularly self-sufficient.
That should be the point, right?
--------------------------------------------------------
Rule 21: All DII conferences that are deemed likely to be able to develop 6000+ average attendance shall be immediately reclassified to the Partial Scholarship Division (PSD) football classification with full football membership privileges, including automatic playoff berths.
--------------------------------------------------------
The NCAA should push D2 football conferences up that appear to play FCS-level football. The play of recent upgrades UND, USD, SDSU, NDSU, and UCA strongly suggest the top DII programs can compete with the top FCS programs.
They should elevate these conferences up immediately on a 10 year trial period. These conferences could then vote at any point to adopt the PSD (FCS) minimum of 30 scholarships and immediately become full members of PSD (FCS) --- but would not be obligated to do so as this is designed to be a trial period.
The conferences that would be forcibly upgraded would have a lot of flexibility as the point would be to reduce travel for PSD (FCS) schools and increase attendance by adding more well supported members with large enrollments and fan bases, not potentially harming the upgraded football only conferences.
A whole conference could vote to stay at the PSD (FCS) level, down to 5 members could vote to stay at the PSD (FCS) level as a new conference, or individual members could vote to stay at the PSD (FCS) level while their conferences moved back down.
The Great Lakes Intercollegiate Athletics Conference, The Gulf South Conference, The Lone Star Conference, Mid-America Intercollegiate Athletics Association, The Pennsylvania State Athletic Conference would all be great candidate conferences for upgrading for football.
(One DII conference that could easily do the upgrade and be quite successful at the FCS level that I have not listed is the Southern Intercollegiate Athletic Conference (SIAC). The SIAC is a group of tiny public HBCUs (only 2 of them have enrollments over 3000 and none of them exceed 4200) that draw very, very well at the DII level. I am not convinced that tiny publics should play at the partial scholarship level, even though the SIAC's fan support is certainly strong enough to make it.)
Subtracting the downgrades and adding the GWFC/NCC, the America East Football Conference, and the HBCU Southeastern Athletic Conference would amount to 11 autobids.
The GLIAC, GSC, LSC, MIAA, and PSAC are conferences with large memberships. It would make sense to have their larger enrollment members move up as a PSD (FCS) football-only conference and have their smaller enrollment members continuing to play in a LSAFD (DII) football-only "lesser" conference.
You might see the following football conferences moveup:
Greater MIAA: Neb-Omaha, UCM, Fort Hays St, Washburn, Pittsbugh St, NW Missou St, & Emoporia St.
Greater GLIAC: Wayne St, Ferris St, GVSU, SVSU, N. Michigan, & Michigan Tech
Greater GSC: Ark Tech, Harding, N. Alabama, Valdosta St., & West Georgia
Greater LSC: ACU, Angelo St, OCU, WT, MWSU, NEOSU, Tarelton St, & "the school formerly known as Texas A&I"
Greater PSAC: Slippery Rock, Shippenburg, West Chester, Millersville, California, IUP, Edinboro, Kutztown, & East Stroudsburg
Schools that are regionally displaced outliers like Samford and Georgia St. could be reassigned to the Greater GSC for football as could Youngstown State and possibly Dayton to the Greater GLIAC and Duquesne to the Greater PSAC for football.

Teams from the upgraded part of the conferences could continue to play teams in the lower classification part of the conference (if they desired) in "Out of Conference" play.
Those 5 upgraded partial conferences would bring the total automatic conference slots up to 16.
This balances out the level of play increasing PSD (FCS) from 100 members to 135 members and would increase DII from 218 members to 173 members.
Expand the PSD (FCS) playoff to 32 teams and get all of the games on TV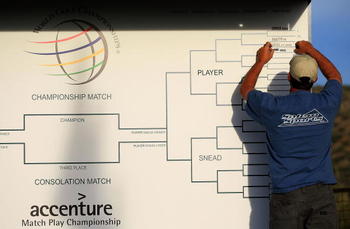 The NCAA plans to play a 20-game playoff starting in 2010 with 12 first round byes.
Eliminating the byes would expand the playoffs to a full 32 team field without extending the length of the playoffs, allowing 16 autobids and 16 at large bids.
That sounds great in theory, but a lot of FCS schools lose money participating in the playoffs. To make this work, you need sponsors.
--------------------------------------------------------
Rule 22: The (FCS) playoff field shall be expanded to 32. All games will be televised. All visiting teams' travel costs will be covered.
--------------------------------------------------------
Try to get all of the games on ESPN. If that doesn't work, cook a deal with a network like Versus that is starving for sports content and has modest TV goals. (Come on, they broadcast the UFL.)
One FCS game may not draw a huge audience, but being able to watch all of the FCS playoffs on one network would draw fans of all FCS schools to that one network, and that would be significant.
Get all of the playoff games on TV. Tape delayed is fine. Play the games at normal hours and tape the games for broadcast. Midnight broadcast start times are fine. 3 AM is fine too in the era of Tivo.
Have downloadable brackets ala March Madness.
Just get them all on TV and you'll start to build a following that will generate revenue down the road.
In the interim, the network can "sponsor" the visiting teams, covering some, most, or all of the team's travel, food, and hotel costs in payment for the rights to broadcast the games.
Even if BCS revenue needs to be spent to ensure every playoff team can afford to participate, it needs to be done.
You can't build FCS into a stable financially sound Classification if teams regularly opt out of the playoffs. The playoffs need to be something special where every team that earns a berth plays.
Set Criteria for quick football upgrades and push individual schools up on a trial basis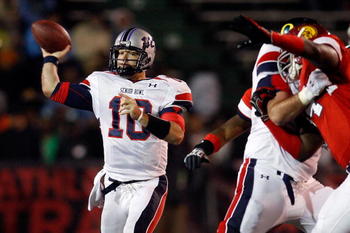 It is generally pretty clear what is needed for a safe upgrade to compete in the revenue sports.
Universities having the enrollment base ( more than 6K is pretty safe although down to 4.5K is doable for publics, smaller for privates) , the fan base (usually at least 4-6k per game average unless there are compelling reasons that suggest large gains), and the stadium (at least 6K) will allow at least moderate sucess at the FCS level.
At the FCS level, fan attendance and the proximity of competition & rivals to maintain that support are keys that can sometimes outweigh a smaller enrollment.
At the FBS level, a safe upgrade would require universities have enrollments of at least 15,000, a multi-year fan attendance average over 12,000, an athletic budget of at least $10M, and a stadium that seats at least 22,000 fans on the sidelines... endzone seating is just overflow seating and is likely to go empty most games.
(Basketball has an easier criteria. If you draw over 3000 fans per game, you are a pretty safe upgrade with a chance to develop into a basketball power at the DI level. If you draw over 1500 per game you can be a reasonable member of a DI conference if there is one in your region that needs a member. I am not so much pressing for easy basketball upgrades as I think there are really too many teams trying to play in the DI basketball tourney.)
--------------------------------------------------------
Rule 23: Any school that fits the above listed criteria should be forcibly upgraded to FCS on a 4 year trial period (if an appropriate host conference is available). Upgrades of candidates that satisfy the criteria to FBS level should not be forced up. All football upgrades should fully process within a 1-2 year span of committing to playing at the higher level.
--------------------------------------------------------
There simply are not enough strongly attended schools at the FCS level, which is why I advocate the forced trial upgrade. It actually would not be all that disruptive to a school as they could play half of their schedule against FCS schools and half against their current DII conference. If the school is a DII power they will split vs. the FCS schools and win most of the games against their old DII opponents.
Now not all conferences are created equal. It is one thing to move up a school with strong attendance but is only a "good" football program at the DII level into a conference of less developed programs like the Big South, and quite another to move it up into the CAA or SoCon. An annual DII title contender with great attendance might jump to a stronger FCS conference though.
Examples of how this might work:
The former NCC schools up to the North Central Conference/Great West.
DIII power Wisconsin-Whitewater to the NCC/GWFC.
If the criteria are met, not only should the NCAA upgrade schools wanting to move up immediately, they should also allow them to compete in the playoffs from day 1. At the FCS level the NCAA should push existing football conferences with schools of a similar cailber in that footprint to admit those schools in as football only members.
Suspend the conference's automatic berth if need be to get it done, just get it done.
Publically release annual recommendations for financially "at risk" programs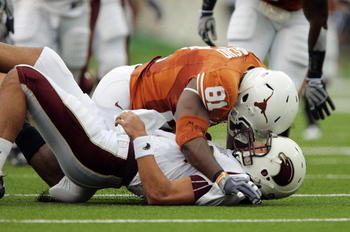 If the NCAA fears the legal pushback of downgrading members, it could release an annual report pointing out trouble areas.
--------------------------------------------------------
Rule 24: The NCAA should release an annual report pointing out which schools are not drawing enough at the FBS and FCS level in football and are not drawing enough at the DI level in basketball to be financially viable at their current level while offering an established, well known, and simple reclassification path that allows those schools to downgrade and be immediately eligible for the playoffs.
--------------------------------------------------------
Turn student apathy to the NCAA's favor.
There are about 30 DI basketball schools that annually draw 1000 fans per basketball game or less and another 42 or so that draw 1000-1500 fans per game.
There are about 9 programs at the FBS level that have historically drawn 14,000 or less per game over a multi-year period. Some of them, like FIU, Akron, Idaho, and FIU have new stadiums or capacity enlargements coming that should help them become more reasonable FBS schools. Some like Buffalo and Idaho have become more competitive to mask the issue a bit for a few years. Schools like EMU, Kent St., Utah St., Ball St., and Akron need to have someone light a fire under their butts about facility improvements.
There are about 30 programs that draw 4000 fans per game or less at the FCS level.
These schools either need to upgrade their facilities, upgrade their marketing, or downgrade their programs.
Apathetic students at these universities would put a ton of pressure on these universities to downgrade to a cheaper, more appropriate level of competition.
Allowing them to immediately qualify for the playoffs (even though they would have a depth and talent edge) would soften the blow and allow a lot of schools to really develop their programs quickly.
Use the public sentiment.
Cap athletic expenditures of the top 15 BCS programs to slow out-of-control spending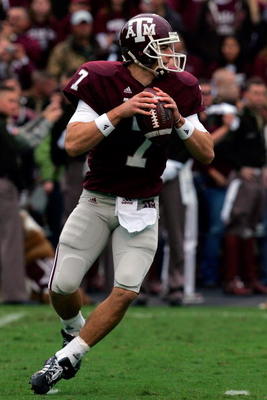 --------------------------------------------------------
Rule 25: Cap the spending of the BCS elite by setting a limit at the spending level of the 16th largest budget the previous year.
--------------------------------------------------------
In 2006 Texas A&M had the 16th largest collegiate athletic budget expense, spending $61.4M that year. If this rule had been in place in 2007, it would have capped athletic expenditures for all schools for 2007 at $61.4 M.
Schools above that threshold (like Ohio State at $101.8 M) who would normally take all income generated by the athleic program and plow it into their football program, would be required to convert that surplus money (for Ohio State $40.4M) into academic scholarships, the university research budget, library funding, or some other nerdy thing.
The surplus money over that threshold would not be taken from the university, but it would be forced out of the hands of the university's athletic directors and put into the hands of other departments at the university.
This would level the playing field to a point where the dreg teams of the BCS could still have decent seasons every couple of years.
I have listed this as my last suggestion because frankly this is a "how to fix the BCS" suggestion and while it does help the NCAA, it helps the BCS a lot more.
Never forget that the BCS is not majority of the NCAA's membership.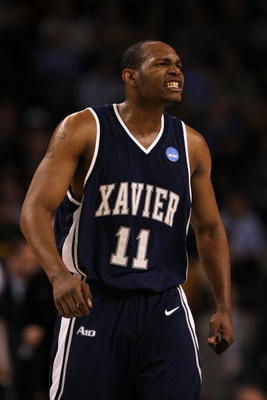 I had a number of ideas that didn't make the list --- like capping the salary of the highest paid employee in the athletic department at $500K.
I left reforms such as this one off the list as this would be a fist fight as a lot of millionaires working in elite BCS athletic departments would be looking at potential salary cuts.
I didn't want to write an article on financial reforms for the BCS.
Ultimately the BCS schools are not the NCAA --- they are a parasite living on the NCAA.
Pushing something like that as a part of the reform proposal would obscure other ideas and reduce the chance for a real series of reforms that would make true NCAA members more profitable.
For years editorialists have predicted the BCS schools would break away from the NCAA and take all of the media money and attention with them.
I doubt this occurs. I think the BCS power brokers stay in the NCAA to use their stranglehold on the revenue streams to continue to supress emerging programs.
If they left and the NCAA was proactive, the NCAA could chip away at the BCS schools' stronghold on the money, especially in basketball.
The relationship between the NCAA and the BCS schools may leave the NCAA in a compromised situation, but that doesn't mean the NCAA can't and shouldn't try to do better for it's smaller programs.
Afterall, what if the BCS schools do leave one day?
That chilling (if unlikely) thought is enough of a reason to try to make as many universities' athletic programs outside of the BCS as financially healthy as possible.
In conclusion if the NCAA can buld an FCS where 40 teams are drawing more than 15,000 per game --- instead of 8 --- and has a fully developed nationally televised playoffs, it only makes the NCAA's long term position stronger.
So let's get it done, OK?
Keep Reading