Mavericks' Guards Battle for Minutes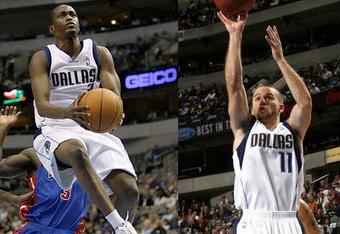 You want players to compete with one another in order to improve. Competition provides a challenge, a challenge proving worth and value. NBA teams witness this very spectacle in training camps, practices, and even games.
The Dallas Mavericks might have a competition of their own brewing at the moment. It's not hot news in the way the Golden State Warriors make headlines recently, but Dallas' young guards Jose Juan Barea and Rodrigue Beaubois seem to be on the teeter-totter when it comes to Mavericks fans .
Barea and Beaubois show zero signs of proving one is better than the other, but surely both want to see the floor as much as possible. Barea, a four-year veteran, eased his way in gaining the coaching staff's confidence to handle steady minutes, including closing out games.
Rookie Beaubois already starts at shooting guard in place of the injured Josh Howard .
But thus far into the early season, Barea receives more minutes off the bench than Beaubois does starting. Here's a breakdown of the minutes in the five games when Beaubois starts:
With the exception of the game against the San Antonio Spurs on Wednesday, a trend is obvious: The time gap shrinks between the two guards as the season progresses.
Rick Carlisle knows the rookie will make mistakes and miss defensive assignments from time to time. Carlisle also understands the young player possesses smooth, athletic talent and needs minutes to learn on the fly. The same process took place with Barea over the past few seasons and he's shown tremendous improvement.
The Mavericks' roster contains four to six guards, all capable of playing 30 solid minutes per night. Jason Kidd , Jason Terry , and Howard (when healthy) consume the bulk of the minutes. However, it's impossible to satisfy everyone, which remains one reason Barea and Beaubois compete for playing time.
Both bring different elements to the game.
Beaubois fills the shoes of Howard by launching the team off to quick starts with his lightning speed, scoring ability, and length on defense.
Barea enters and orchestrates the offense when Kidd rests, and looks for his shot when playing in the three-guard lineup Carlisle favors during games.
Beaubois shows glimpses of excellence and he's impressing fans and his teammates. "He has really impressed me so far. He is very quick off the dribble and he has a nice little touch in the paint. He can finish, he is athletic. He looks really, really good to me," said Dirk Nowitzki .
Barea is no stranger to praise either. He received lots of it when his constant hard work translated to the court.
For now, Dallas has itself a positive dilemma. Having two young players who possess the ability to play either guard position provides the Mavericks with depth and confidence. Barea and Beaubois go hard at one another in practice and even harder against opponents on game nights. If they both continue to improve by fighting for those minutes, I say let the battle continue.
This article is
What is the duplicate article?
Why is this article offensive?
Where is this article plagiarized from?
Why is this article poorly edited?

Dallas Mavericks: Like this team?