Georgia Tech Football: Top 10 Games of the Last 10 Years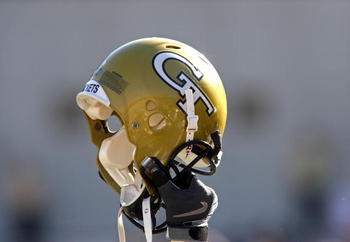 Over the past ten years, college football fans have certainly been able to witness some spectacular games.
At Georgia Tech, things have been particularly special.
Even though the Yellow Jackets have not won a national championship since the 1990 season, they have certainly had their share of amazing and memorable games.
Here, in this list, are ten of what I consider to be the most memorable Yellow Jackets games from the past decade.
So sit back, enjoy, and don't forget to tell me what you think and what I might have left out!
No. 10: Georgia Tech at Auburn—2005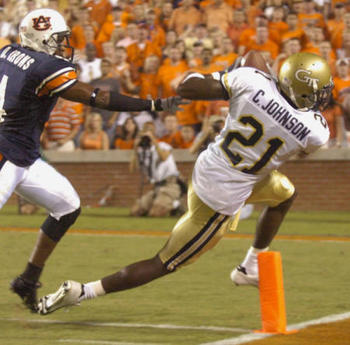 Both Georgia Tech and Auburn came into the 2005 season with high hopes; Auburn was ranked No.16 in the nation, and coming off their storied 13-0 campaign in 2004. Georgia Tech had tons of experienced starters returning on both offense and defense, including the spectacular Calvin Johnson.
Unfortunately for the Tigers, the game belonged to Tech from the opening kickoff.
The Yellow Jackets intercepted QB Brandon Cox four times, forced him to fumble once, and Tech stud RB P.J. Daniels ran for 111 yards on the way to a dominating 23-14 victory.
Also of note, Reggie Ball actually played well, throwing for 174 yards and a touchdown.
Play of the Game: Ball's first quarter 35-yard bomb to Calvin Johnson for a touchdown.
No. 9: Georgia Tech at Miami—2005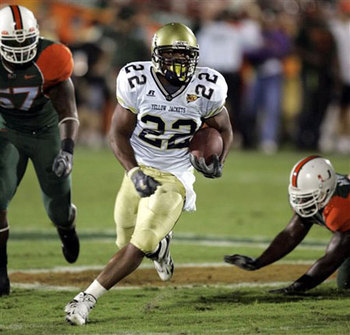 In October of 2005, Georgia Tech traveled down to the old Orange Bowl to face off against the Miami Hurricanes, who were ranked No.3 in the nation at the time.
The Hurricanes sported the top-ranked scoring defense in the nation, and many wondered how a struggling Tech offense would be able to put up any points against such a ferocious unit.
Surprisingly, it was the Jackets' defense that shined that night, sacking Miami quarterback Kyle Wright seven times. The Yellow Jackets held Miami's offense to just over 200 yards in a thrilling 14-10 victory that ended the Hurricane's ACC and National Championship hopes.
Play of the Game: Tech CB Dennis Davis' interception at the goal line with 1:08 left to play.
No. 8: Georgia Tech vs. Notre Dame—2006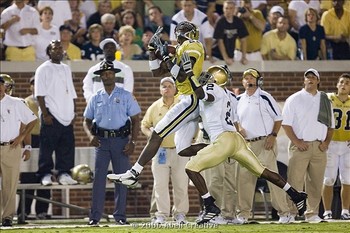 Even though Georgia Tech lost this game, the 2006 season opener, the atmosphere at Bobby Dodd Stadium was absolutely electric, and the quality of play spectacular.
No.2 Notre Dame had superstars on both offense and defense and were looking to regain their national prominence under new head coach Charlie Weis.
Georgia Tech, on the other hand, had future NFL wideout Calvin Johnson and a Jon Tenuta-coordinated defense that was as scrappy as it was aggressive.
After scoring the first ten points of the game, Georgia Tech's offense became stagnant, and Brady Quinn's Irish offense took advantage, escaping Atlanta with a 14-10 victory.
Play of the Game: Phillip Wheeler's personal foul on 4th-and-13 that gave the Irish a first down and led to the game-winning score.
No. 7: Georgia Tech at Clemson—2000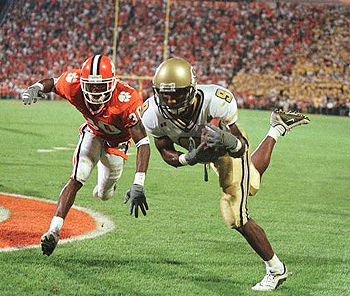 The Georgia Tech-Clemson game in 2000 had a little something for everyone.
Clemson came into the game with an 8-0 record, ranked in the top five in every poll, and holding the key to the ACC title in their hands. All they had to do was get by a scrappy Tech squad and defeat FSU the following week.
Unfortunately for the Tigers, George Godsey was Tech's QB, and he threw for a team—record 454 yards and three touchdowns.
The thing that Yellow Jackets fans remember most, however, is what has been dubbed by some as "The Catch"; a one-handed grab by Kerry Watkins that won the game for Georgia Tech with no time left on the clock.
Play of the Game: "The Catch" by Kerry Watkins.
No. 6: Georgia Tech at Florida State—2009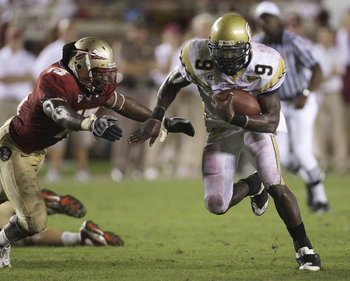 A stark contrast to the 2008 Florida State game, this year's collision between the two ACC rivals had an interesting subplot: the job security of FSU legend Bobby Bowdon.
Tech flew down to Tallahassee with a 4-1 record, still smarting from a 33-17 defeat at Miami two weeks prior. Florida State, on the other hand, was 2-3, and trying to avoid their first 0-3 ACC start in history.
The Seminoles came out and scored on their first five possessions of the game, and Tech on their first four, as FSU took a 35-28 halftime margin.
Halftime adjustments by the Tech defense held FSU to only nine second half points, however, and Josh Nesbitt made play after play to help Tech escape Tallahassee with a 49-44 win.
Play of the Game: Nesbitt's heroic strip of the ball from an FSU defender who had just picked up an errant Tech pitch.
No. 5: Georgia Tech at Georgia—2008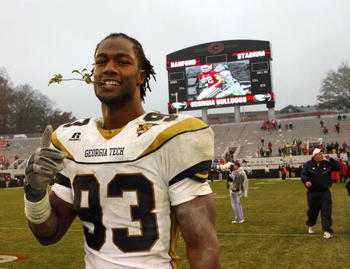 When Georgia Tech traveled to Athens in November of 2008, they had not defeated their arch-rival Bulldogs in seven long years.
With a new coach and a new mindset, all of that changed on a cold, rainy day in Athens.
Despite being down 28-12 at the half, the Yellow Jackets came out swinging in the second half, executing their spread option attack to perfection.
The Georgia defense had no answer, allowing Tech to run for 405 yards on the day, and securing a 45-42 victory.
Play of the Game: Tech recovering Richard Samuel's kickoff fumble, and scoring on the next play.
No. 4: Georgia Tech vs. Florida State—2008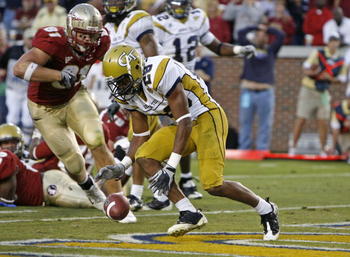 Georgia Tech had never beaten a Bobby Bowdon-coached Florida State team.
Never.
Not in twelve tries; some close, others not.
All that changed on November 1st, 2008 when FSU tailback Marcus Sims fumbled into the south end zone at Bobby Dodd Stadium, and Georgia Tech's Rashaad Reid recovered.
Despite giving up multiple big plays throughout the game, FSU found themselves on the Tech three-yard line with just over a minute left to play, down 31-28, and Tech fans everywhere sensing that yet another heartbreaking loss was imminent.
However, Tech S Cooper Taylor hit Sims on an inside trap, Sims fumbled, and the rest is history.
Play of the Game: Can it be anything besides the Marcus Sims fumble?
No. 3: Georgia Tech vs. Virginia Tech—2009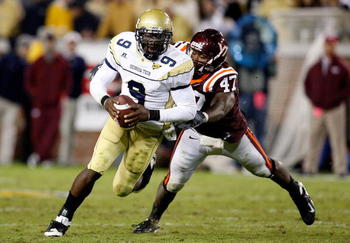 This game was billed as a must-win for both programs to stay in the ACC race, and it did not disappoint.
Virginia Tech entered the game with a No.3 ranking, looking to stay undefeated in the Coastal Division race. Georgia Tech just needed a victory to stay alive and remain tied with Miami in the loss column.
A Tech defense that had really struggled the entire season bowed their backs in the first half and held VT to a paltry three points. The offense came alive in the second half to lock up a 28-23 Yellow Jacket victory; one that has been hailed as the signature win in Paul Johnson's short tenure at Tech.
Play of the Game: Josh Nesbitt touchdown run with two-and-a-half minutes left in the game, to put the Jackets up by two scores.
No. 2: Georgia Tech at Clemson—2004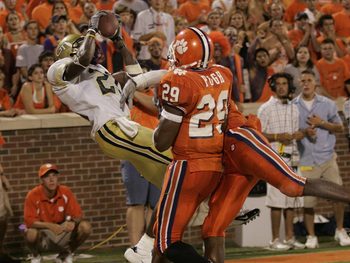 Georgia Tech and Clemson have possibly the best rivalry in ACC football, with only two games in the last ten years being decided by more than five points.
That being said, the 2004 meeting between the schools was possibly the most exciting match-up in series history.
Tech was down 24-7 with only five minutes left, but after a quick touchdown, a defensive stop, and another quick score, the Jackets found themselves with the game within reach, but running out of time.
Clemson had a fourth down with only 37 seconds remaining, and elected to punt from their own 25-yard line. However, the snap went straight into the ground and Clemson recovered at their own 11, giving Tech fans hope.
In stunning fashion, Calvin Johnson scored his third touchdown of the game on the very next play to give Georgia Tech the victory.
Play of the Game: Bad snap by Clemson gives Tech the ball on the CU 11 with 28 seconds left, sealing the Tigers' fate.
No. 1: Georgia Tech vs. Georgia—1999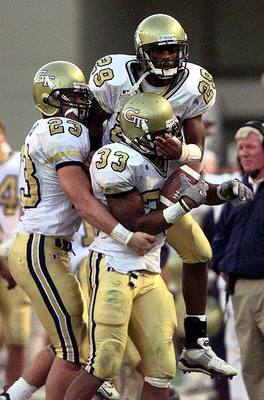 Jasper Sanks fumbled, Chris Young recovered.
Can there be another number one?
With only nine seconds left in the 1999 edition of the Clean, Old Fashioned Hate rivalry, the score was tied 48-48 and Georgia had the ball at the Georgia Tech two-yard line.
In a controversial play call, UGA tailback Jasper Sanks ran the ball one last time toward the goalline. As his knees hit the ground, the ball squirted out and was recovered by Georgia Tech. Replays showed Sanks' knee was down before the fumble, but booth review had not yet been born and Tech held on.
In overtime, UGA quarterback Quincy Carter was intercepted in the end zone, and Tech kicker Luke Manget made a 38-yard field goal to win the game and upset the Dawgs.
Play of the Game: Disputed Sanks fumble that kept Tech's hopes alive.
Keep Reading

Georgia Tech Football: Like this team?