Ranking Eight College Coaches Who Have Resurrected Their Programs In 2009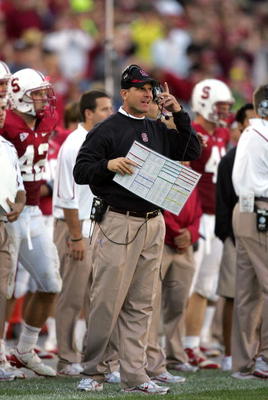 A coach wears many hats: apologist, antagonizer, PR man, cheerleader, clarifier, defender of the faith.
Sometimes, a coach has to don the hat of a shaman, and resurrect his program after many have left it for dead.
These eight coaches have had the most difficult job of all: convincing their players, and themselves, that there's a light at the end of the tunnel, a meaning to all this violence.
They, their players and their fan bases have persevered, and for it, they deserve major accolades.
Here are the eight best coaching resurrections of the year.
No. 8: Robb Akey, Idaho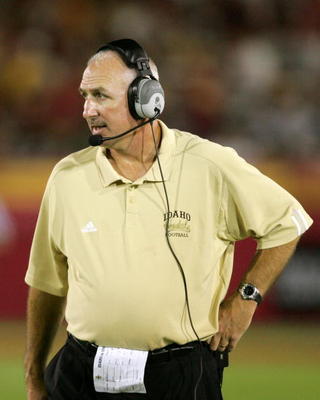 After enduring one- and two-win seasons his first two years, Rob Akey guided the Idaho Vandals to seven wins and a spot in the upper tier of the WAC. He's guaranteed the fanbase a winning season, the Vandals' first since 1999.
Now, to be honest, Idaho will likely get passed over by the Pac-10's no. 6 team for the Poinsettia Bow, and seven wins and uncompetitive losses to Fresno State, Nevada, and rival Boise State might not sound like much.
But those teams are probably moving to the Mountain West next year anyway, which leaves the Vandals to pick over the bones of the conference next year.
Woo!
No. 7: Bill Snyder, Kansas State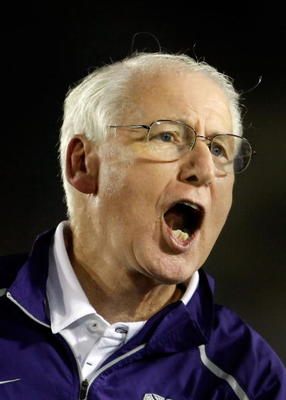 Sure, the Big 12 North is a wonky place to play football right now. Memo to the coaches at Oklahoma and Nebraska: games don't end 7-3. First quarters do.
But did anyone expect Bill Snyder's Kansas State team to be sitting at the top, in position to play Nebraska for the North's berth in the championship?
Not with the acrimony surrounding the program, and certainly not with Kansas returning Todd Reesing, Nebraska looking resurgent, and Missouri fielding a five-star redshirt freshman in a proven offensive system.
But Snyder's done it, scoring a handful of upsets and kicking other teams while they're down.
After starting the season 1-2, the Wildcats blocked an extra point to beat Iowa State, survived Colorado, jumped all over the hapless Aggies and took back the Governor's Cup from the Jayhawks.
Coming off a bad loss to Missouri, this weekend's game might be a truer measuring stick of KSU's progress than we're comfortable seeing.
But this is also easily a team that could have gone without a win in 1-A competition on the year (they've played UMass and Tennessee Tech, and can use only one of those wins towards bowl eligibility). To be competing for the Big 12 North is a terrific accomplishment when so many predicted Snyder's return would make for some pretty depressing television.
In a division that might be just as wide open next year, hanging around could be all the Wildcats find necessary.
No. 6: Pat Fitzgerald, Northwestern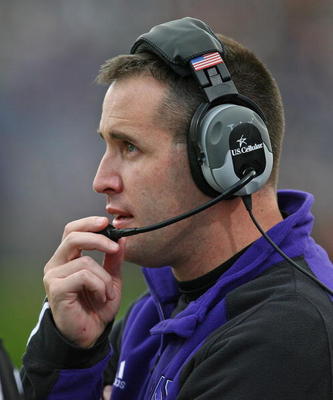 Put those great 1995, 1996, and 2000 seasons under Randy Walker aside, and you've got a Wildcats team that's been a perennial Big Ten also-ran.
Since taking over in 2006, however, Fitzgerald's teams have shown steady improvement.
The Wildcats were 4-8 in his first season, broke even in 2007 (but were not invited to a bowl) and won nine games last year, including a win over Iowa at Kinnick Stadium, over Michigan in the Big House, and a close loss to Chase Keenum-led Missouri in the Alamo Bowl.
All that said, 2009 looked like it was going to be a strong step back for Walker's team. They lost their leading rusher, Tyrell Sutton, as well as prolific passer CJ Bacher to graduation, beat Eastern Michigan on a last second field goal, and suffered an early loss to Syracuse and a flat second half to Minnesota.
But Fitzgerald showed his teams don't quit. The Wildcats bounced back to battle Penn State until well into the fourth quarter, beat Iowa again at Kinnick, and are bowl bound for the first time in consecutive years since Fitzgerald was an All-American at linebacker (and yes, I totally forgot him on the list; nobody's perfect).
Beating Wisconsin this weekend would put the Wildcats back into possible-nine win territory, a huge accomplishment for the second youngest coach in the NCAA.
With the Big Ten looking as pathetic as it does now and in the foreseeable future, there's not much standing between Northwestern and the keys to the kingdom, if Walker can keep the mojo going.
No. 5: Dabo Swinney, Clemson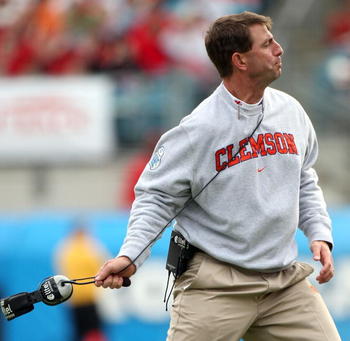 Despite breaking the 50-year losing streak to Boston College in his second game, beating rival South Carolina, and leading the Tigers to a close loss to Nebraska in the Gator Bowl, fans didn't know how Clemson coach Dabo Swinney would fare in his first full year.
The answer: pretty damn good.
Clemson almost rallied despite going down a quick three scores at Georgia Tech, lost to TCU at home (understandable, given how the Horned Frogs have fared since), and fell to Maryland. Many dismissed the Tigers for just doing what they do—not capitalizing on the talent they had.
That's when Swinney's crew rattled off five straight ACC wins to all but sew up a bid to the ACC Championship game, including an overtime upset of Miami on the road.
Delivering on our faith is what we observers never got from Tommy Bowden's inconsistent tenure. Though Bowden's teams were never "down and out" like some of these other programs, they never achieved up to their preseason potential or took a firm grasp on an ACC that, annually, was theirs for the taking. For that, the Clemson Tigers will have to suffer a few years, of "Yeah, they should be good, but will they be?"
No matter. Swinney, who already had a reputation as an outstanding recruiter, has shown he can effectively utilize the talent he reigns in. He's got CJ Spiller producing the numbers the All-American should produce, and has redshirt freshman quarterback Kyle Parker progressing at an encouraging clip.
Additionally, the Clemson defense is second overall in yards allowed and third in scoring, and is fielding an All-American defensive back in Deandre McDaniel. Swinney has shown he can coach an all-around team.
Swinney inked a five-year deal after the 2008 season, and I wouldn't be surprised to see that extended if Clemson can get the Yellow Jackets in the rematch.
No. 4: June Jones, SMU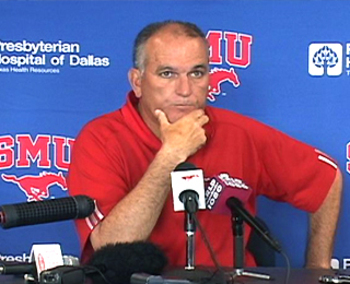 Prior to this year, SMU hasn't had a winning season since joining Conference USA, and that included a dismal 1-11 first year in June Jones' debut for the Mustangs.
Jones' resignation from Hawaii was shrouded in controversy. He left the Warriors citing a lack of institutional support, despite late promises to raise his salary and improve facilities by the UH administration.
But all that is in the past now that the Mustangs are 6-4 and bowl eligible, with a win over UTEP last week.
Good victories over Tulsa and East Carolina, a close overtime loss to Navy, and a loss to Washington State on a last second field goal have shown his team will again be competitive against squads within and outside of Conference USA.
If SMU can beat a good Marshall team while Darius Marshall is still gimpy and survive against Tulane, the Mustangs will be in line to represent the West in the Conference USA Championship in December and challenge East Carolina in the rematch.
That's some serious progress after a one-win season. But that's why Jones makes the big bucks.
No. 3: Jim Harbaugh, Stanford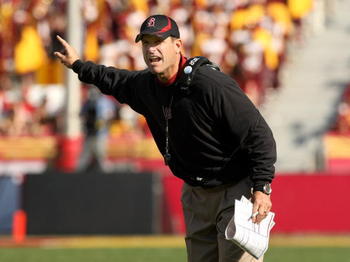 I discern between coaches who score the occasional upset against the big teams, but remain underrated and rarely advance past middle tier, versus those who want to compete and win annually.
Jim Harbaugh is definitely a coach not content to play the upset card. He wants to win Pac-10 championships every year, and he believes he can do it.
Stanford is fresh off back-to-back upsets of top 10 teams, trucking Oregon at home and destroying USC on the road for their highest placement in the BCS since its inception.
Scoring college football's greatest statistical upset to date against USC in 2007 was merely the beginning for the ex-Wolverine quarterback, who will likely see his contract fattened as the Stanford administration tries to keep him away from bigger and better things.
On the flipside, Harbaugh reminds me of 2007-era Les Miles, in a bad way. I would caution the Stanford coach that passion and exuberance are no substitutes for consistency and sound fundamental play. Miles has had to eat crow the last two years after racking up serious existential debt for his brash talk and bold play.
The big test will be if he can replace all-Pac-10 running back and Heisman hopeful Toby Gerhart at the running back position once Gerhart graduates at the end of the year. Andrew Luck is making great progress despite only being a redshirt freshman, but Gerhart is crucial in the power-running game and is the heart and soul of the team.
No. 2: Al Golden, Temple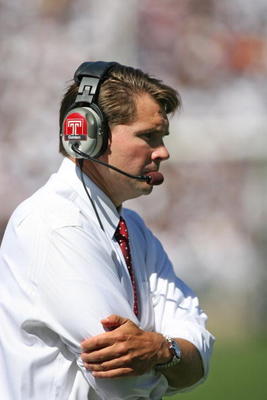 Remember 1990? The first McDonald's opened in Moscow. Microsoft released Windows 3.0. East and West Germany reunited (aww!). The Pistons won the championship for the second time in as many years (woo!).
And the Temple Owls had a winning record for the last time.
Until this year, of course. This year, Al Golden's Owls are undefeated in MAC play, and beat Navy—yes, the Navy team that was a two-point conversion away from tying Ohio State in the 'Shoe—at Navy. They're the only skin on Penn State's wall worth bragging about, and Vaughn Charlton still threw for more yards than Daryll Clark.
After winning one game his first year and four his second, Golden and the Owls have their eyes set on the MAC championship. Freshman running back Bernard Pierce leads the conference in rushing with 1308 yards and 15 touchdowns, and Temple's rush defense is 25th overall in the country.
So that's how they beat Navy.
Mad props to Golden for resurrecting a program that's been defunct since before Terminator II hit theaters.
You can only go so far in the MAC, sir. Maybe the Big Ten will require your services.
No. 1: Kirk Ferentz, Iowa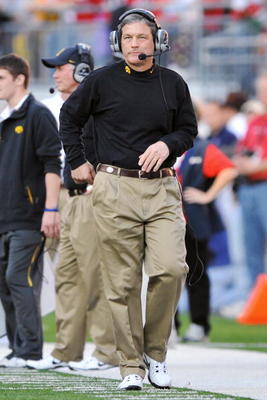 I almost put Jim Tressel here—the Buckeyes have bounced back from that loss to Purdue admirably—but for all intents and purposes, they should be the Big Ten champion.
That's why Ferentz gets the nod. Though he arguably wasn't "resurrecting" anything—Iowa had arguably the strongest finish of any Big Ten team last year, destroying South Carolina in the Outback Bowl—the Hawkeyes have been left for dead on numerous occasions throughout the season, beginning with the preseason news that Jewel Hampton, Shonn Greene's replacement at running back, was out for the season with a torn ACL, and ending with the injury to Ricky Stanzi that led to a -17.5 spread for the nominal Big Ten championship game.
Yet the Buckeyes still needed overtime to put Iowa away for good, despite redshirt freshman James Vandenberg making his first start at quarterback, on the road, in the Horseshoe, in a game that decided the Big Ten's BCS bid.
Vandenberg's poise and preparation call for major accolades for Ferentz and the coaching staff. So does the heroic play of the battered and retooled offensive line, which hadn't played as a cohesive unit since the injury to OT Brian Bulaga in week three.
Adam Robinson, who was supposed to miss the rest of the season after going down with an ankle injury against Michigan State, returned against OSU to add a threat to the running game, contributing another story of sacrifice to a group that played as a team and won as a team, cliche though that may be.
The Hawkeyes won a lot of games close, and few handsomely. But they'll have played the toughest schedule of any team in the country by season's end, and to go 10-2 (assuming a win this weekend against Minnesota) with what they've been through as a team is a coach-of-the-year tier performance no matter how you slice it.
Check Out Another College Football Slideshow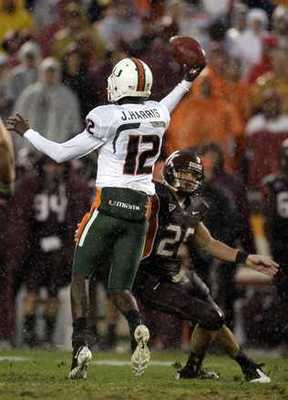 Keep Reading