Do you smell that in the air? That scent of perfume with just a hint of gold digger in it? That's right—it's WAG season baby!
With the NBA and NHL getting started, the NFL at its halfway point, and the World Cup finalizing its field, this is the time where those sexy wives and girlfriends are out in full force.
Whether it's catching a glimpse of them at a game or way more in a photo spread, WAGs are always fun to look at.
Today we're saluting the rarest breed of WAG. While most players go after the blonds and brunettes, it's the ones with the redheads that make us really sit up and go, "Daaaaamn."
Just so you know, these don't have to be full-on redheads. Just a hint of color does it for me.
So without any further ado, here are the 15 Hottest Redheads in WAG History.
No. 15: Kim Sears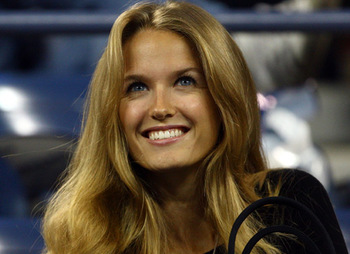 We'll start off with Kim Sears. Andy Murray's girlfriend has been notoriously camera shy and notoriously hot. When you do get a good shot of her, you can see why the "other" Andy in tennis has taken a liking to her.
No. 14: Alicia Rickter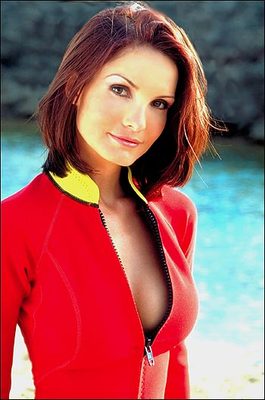 Mike Piazza married former Playboy Playmate Alicia Rickter back in 2005. She's got the all-red thing going in this picture, which I'm a fan of.
Not everyone can make the wetsuit sexy, but Alicia makes me want to go jump in the water; or a cold shower. One or the other.

No. 13: Erin Bates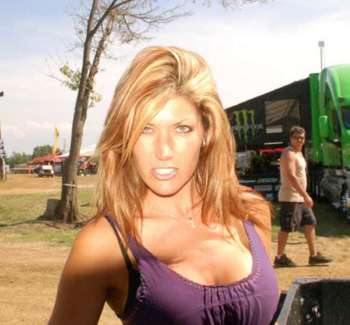 Brian Vickers' girlfriend is none other than Speed TV's motocross reporter, Erin Bates. She's got that kind of vibe where she can be having fun and turn sexy in .05 seconds.
I think it's that kind of speed that turned Brian Vickers on to her. Or her hotness.
No. 12: Milene Domingues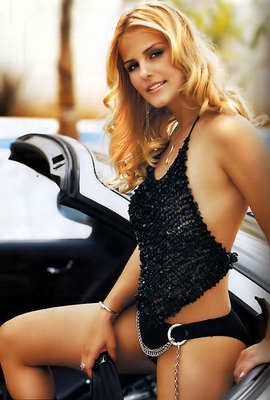 The ex-wife of the world-famous Ronaldo (no, not Cristiano, just the one name), Milene Domingues shows that black certainly goes well with red hair. Actually, I'm fairly certain that she could be wearing a clown suit and have it look good.
No. 11: Elisabeth Reyes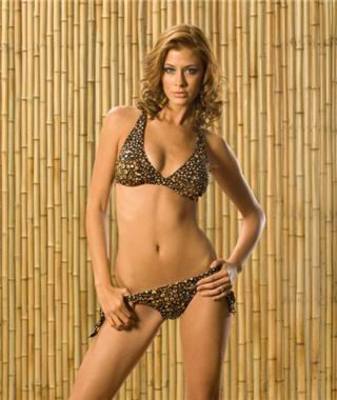 This sexy soccer WAG is currently dating Spain's Alexis. Just a note to those of you paying attention: If you're cool enough to just go by one name, you have a 72 percent better chance of landing one of these women.
In an unrelated story, I'll just be going by McD from now on. Damn, that's cool.
No. 10: Susana Werner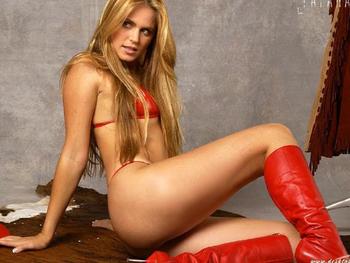 Júlio César Soares Espíndola's wife has got this color coordination thing figured out: red hair, red bikini, red boots. All of this is just making me red-hot under the collar.
No. 9: Angelica Bridges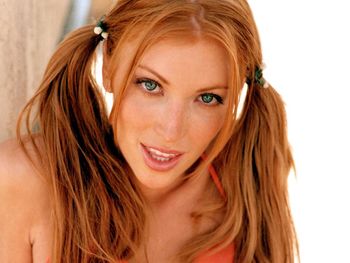 Angelica Bridges is the smokin' hot wife of the Oilers' Sheldon Souray. She used to be on Baywatch . With those green eyes, red hair, and the pigtails, it's just too much sexy for me. I have to move on.
No. 8: Anna Benson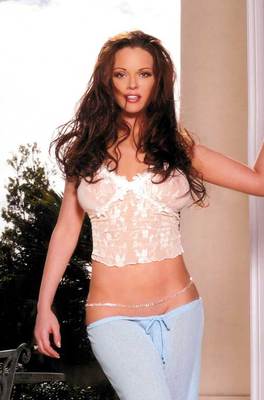 Kris Benson's wife is crazy. Like, "threaten to sleep with her husband's entire organization if he ever cheats on her" crazy. Which, of course, does nothing other than make me want to be a mail clerk for whatever team he's with and send hookers to his hotel room on a nightly basis.
No. 7: Ilary Blasi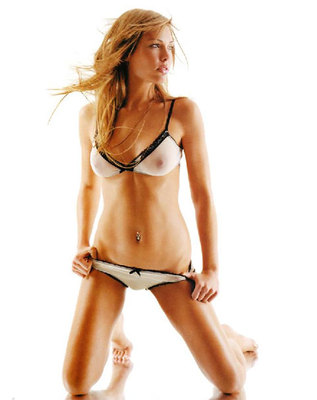 Footballer Francesco Totti's wife is a former showgirl, who thankfully has not lost the desire to show off her body. Even after a couple of kids, she still has looks that kill and a body that keeps on kicking.
No. 6: Andrea Veresova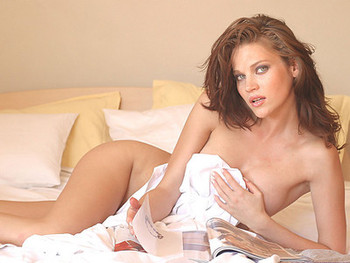 Jaromir Jagr's ex-girlfriend was a former Miss Slovakia and a current hottie who has got it going on. She could have been a top five selection, but she refuses to drop that damn blanket.
No. 5: Marta Cecchetto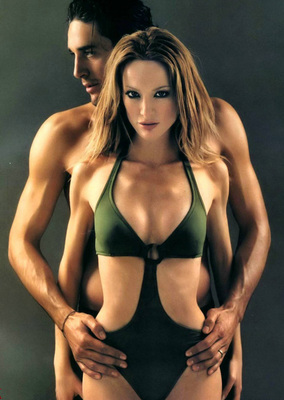 Luca Toni's girlfriend, Marta Cecchetto, is multitalented. Not only can she look hot posing for pictures, but if you'll check out the video below, she does a good job of turning us on via film as well.
No. 4: Jennifer Walcott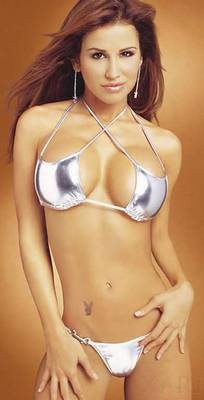 I still don't know how Adam Freaking Archuleta landed this babe, but for WAG purposes, I am grateful. The sexy Playboy Playmate has warmed our hearts and other organs, not only in centerfolds, but also in that great cinema classic American Pie: Band Camp .
No. 3: Fabiana Semprebom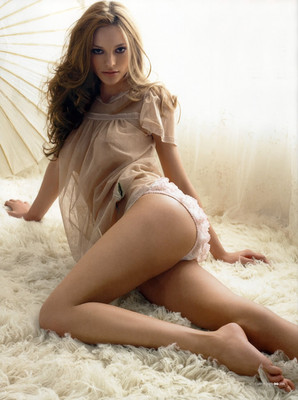 This woman is dating this man , Guillermo Canas. Sometimes life isn't fair.
But at least Fabiana (terrific hot girl name) has the decency to get indecent with us in pictures. That makes up for it.
No. 2: Jaime Hanna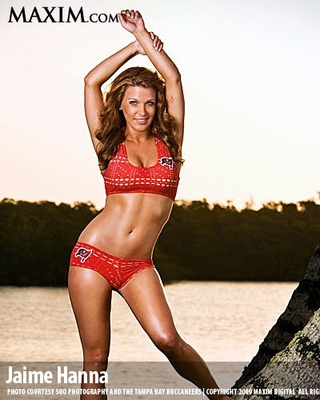 One of my favorite cheerleaders of all time, Jaime Hanna is one sultry redhead that I hope will stay with Evan Longoria forever so I can continue to put her on lists like this. Oh, and more photo spreads wouldn't hurt, either.
No. 1: Oksana Andersson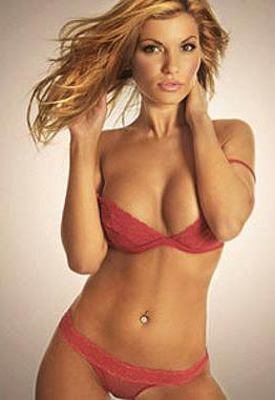 When you're getting soccer WAGs involved, the rest of the group doesn't really stand much of a chance. They are by far the hottest and the most willing to take their clothes off. All I can say is that Christian Wilhelmsson, whoever the hell you are; you are a lucky, lucky man.
Long live the redhead.
More from Mike McD
If you liked this, check out The 10 Most Impressive Dating Résumés in Sports !