Top 10 Funniest Moments (and Comedians) in NFL Football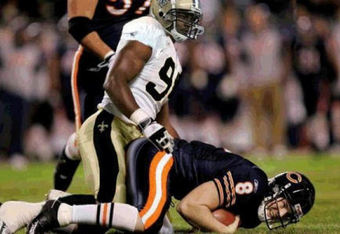 Too many goofy things happen on the football field. So, in order to get a list together that's below infinity, I've decided to stick to the NFL or former or current NFL players.
After all, when kids screw up, it's funny. When professionals screw up, it's downright hilarious.
Let's get to the list.
10.) Chad Johnson, Chad Ochocinco or Terrell Owens - - Please, don't get on my case for not paring down the list regarding this ridiculous threesome…err, pair. Remember Chad Johnson's Mohawk hairdo? Chad Ochocinco is just, well, the man's name is Ochocinco after his number, and Terrell Owens? How about the popcorn incident or the signing the football incident or the crying because the media was picking on his quarterback, Tony Romo incident…again, you choose the best idiotic thing with these guys.
9.) Funny football dances - - I love this one. Just go onto youtube and put in "funny football dances". This actually isn't #9 per se, more like #10A because most of the funny football dances are done by the two funniest men in football history, Chad Ochocinco and Terrell Owens. There's the cabbage patch, running man, hula hoop dance, and good old fashioned football scoring spike the ball, jig. Oh, I forgot…Magic fingers! Magic fingers!
8.) Streaker Gets Belted - - Better to show you than describe to you. Watch here. Did you watch? Did you? Ouch.
7.) Whiffed Punts, Kicks and the Bad Snaps - - There's also the ball falling out of the quarterbacks hand and the QB throwing the pigskin onto the back of one of his players. Whatever the case may be players just can't seem to keep the ball in their hands sometimes. My favorite? The 1986 Giants vs. Bears playoff game where G-Men punter Sean Landeta loses the ball because of a gust of win, it gets picked up by Chicago's Shaun Gayle and he marches into the end zone. A funny moment and yet so, so sad.
6.) Phil Luckett Coin Flip Call - - We've witnessed a lot of bad call this 2009 NFL season, like the embarrassing calls in the Ravens vs Patriots game, but this one takes the cake. Sure, it's not Adam Sandler funny, more like Frasier funny, but it's funny. I will always try to find a place for Phil Luckett's bad con flip call in the 1998 Thanksgiving overtime game between the Pittsburgh Steelers and the Detroit Lions. Phil, Jerome said, "Tails." Tails, Phil. Tails. That was one of the worst NFL calls of all time.
5.) Leon Lett Gets Funky and Looks Like a Fool in the Super Bowl - - Double L makes the list twice. The first is for his ridiculous I'm going to put the ball over the goal line before I get into the end zone move that cost him a touchdown in the 1993 Super Bowl when Don Beebee stripped it from him. Big Bad Leon wanted to get cute and, instead, looked like a fool. Of course…Double L wasn't going to let one stupid thing stop him from ever doing another stupid thing, right?
4.) Leon Lett and Snow Are Enemies - - Man, I miss Double L! In a snowy game in 1993 against the Miami Dolphins, yes, in the same year, the Cowboy block a field goal and seemingly have the game won, but Double L decides to chase down the ball and scoop it up only the ball slipper because, like, it's snowing, and like, Double L has these massive, uncoordinated hands, and like, well, like, the Dolphins recover and like kick the field goal because after Double L touched it the ball was live. Yep. The Dolphins won the game.
3.) Gus Frerotte Gets Manhandled by Padding in the End Zone - - Gus Frerrotte, a graduate of Tulsa University, scored a touchdown in a game in 1997 against the New York Giants when he was with the Washington Redskins, head butted the padding at the back of the End Zone, and injures his neck. Check out the video: "Yeah, baby! Touchdown! Oh…man..that stings…"
2.) Broadway Joe Wants to Get It On with Suzy Kolber - - I love Joe Namath. Want to succeed in New York, Mark Sanchez? Played as Joe played, but don't do as Joe did off of the football field. Well, maybe, that's not such a bad thing. Somehow, I think pretty boy Sanchez would have more luck with Suzy Kolber than Skid Row Joe. Click here to watch.
1.) Peyton Manning…Comedian - - This is for real, folks! Petyon Manning is freaking hilarious. The man is a comedian. Check out his commercial work in the video below. Or, how about his work on SNL. Peyton does comedy almost as well as he plays on the football field. "Funny moments? I'll give you funny moments? I am a funny moment!"
This article is
What is the duplicate article?
Why is this article offensive?
Where is this article plagiarized from?
Why is this article poorly edited?

Indianapolis Colts: Like this team?