The 2009 All-ACC Defensive Team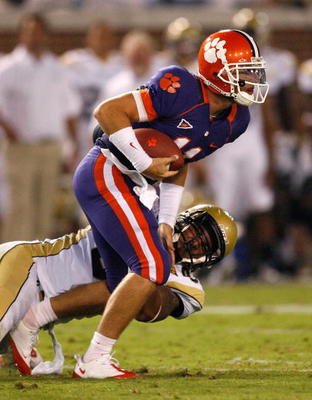 With the 2009 college football season nearing an end, it is time to look back and reflect on the top performers across the ACC.
Even though the ACC continues to be maligned by the mainstream media, the conference has produced some high quality talent and some very entertaining games with the ACC Championship game yet to come.
This week, we will take a look at the defensive side of the ball and pay tribute to the best the conference has to offer.
Next week, we will take a look at the offensive side of the ball and the debate will undoubtedly begin over who was ignored and who was over-hyped.
Before we begin, I would like to thank Jeffrey Fann, Angel Melendez, Zac Osterman, and Michael McGuffee for their insight and opinions in helping compile this list.
Without further ado, the All-ACC Defense of 2009...
DL-Derrick Morgan (Georgia Tech)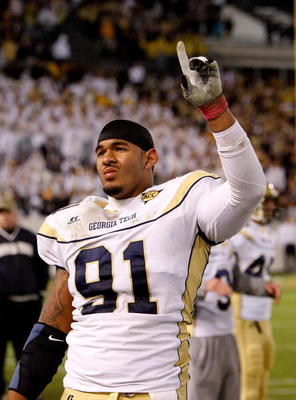 Derrick Morgan was a unanimous pick on our board, and with good reason.
Morgan leads the ACC with 12 sacks which ranks fifth in the entire country. Without a doubt, the junior is helping quarterbacks throughout the conference become personal friends with the turf.
His explosiveness and his ability to battle through double-teams make him the most complete player on the defensive line. It also makes the players around him better, for the offensive line becomes so preoccupied with Morgan it allows the other defensive players to slip through the cracks and cause chaos.
Morgan's talent makes him a prospect that NFL scouts drool over.
DL-Robert Quinn (North Carolina)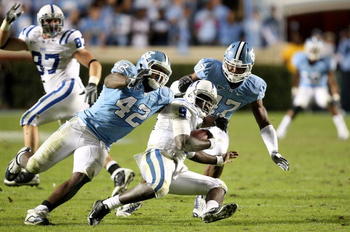 Second on the sacks and tackles for loss list, Robert Quinn is a scary athlete.
Quinn is only a sophomore but he is already a focal point for offensive lines across the conference. After finishing third in ACC Defensive Rookie of the Year vote last season, Quinn has already proven to be a tough fighter.
As a high schooler, Quinn not only had to impress scouts and improve his game, he also had to deal with brain surgery that put many of his dreams on the line.
After facing fears like that, everything else has to be gravy.
Quinn is a game changer, he has forced a conference-high four fumbles and has helped the Tar Heels turn around a season that looked all but lost until their last second victory over Virginia Tech last month.
Quinn's numbers are undeniable, and so is his talent.
DL-Allen Bailey (Miami)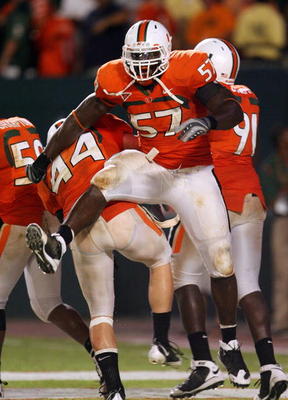 The resurgence of the University of Miami has been helped out by punishing defensive tackle Allen Bailey.
Bailey was also a consensus choice for our ACC staff, and the numbers show why.
Bailey is third in sacks, fifth in tackles for loss, and sixth in fumbles forced.
Bailey has hopped around between end and tackle his two years at Miami, but injuries to the front line have forced his versatility.
The Hurricanes have not had the same defensive line-up for the first two months of the season.
Considering the consistent numbers Bailey has put up despite the turmoil around him is very impressive. He merits a place on the list.
DL-Ricky Sapp (Clemson)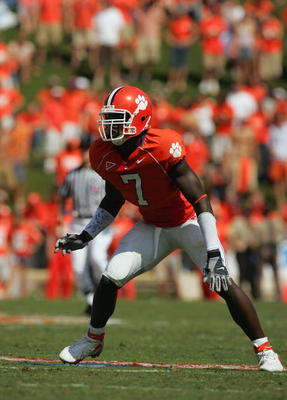 The senior Tiger proved his toughness a long time ago in the ACC.
Last season, Sapp suffered an ACL injury before returning to have his strongest season to date for Clemson, which appears on the verge of its first ever berth to the ACC Championship game.
His career numbers are pretty impressive; Sapp entered the year fourth among active ACC players for career tackles for loss. The successor to Gaines Adams had to earn his playing time and despite the depth at the position has put up numbers that few in the ACC can match.
Sapp's 46 tackles, 10 tackles for loss, four interceptions, and 14 quarterback pressures make him a perfect complement to his counterpart Da'Quan Bowers. It also makes him worthy of this list.
LB-Alex Wujciak (Maryland)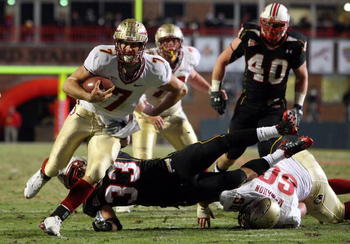 Although the Terrapins have had an absolutely awful season, they can take solace in watching a superb linebacker in Alex Wujciak.
Wujciak leads the entire ACC in tackles with 113. Just about every time Maryland makes a play, Wujciak is there. No wonder he was yet another unanimous pick from our ACC Featured Columnists.
Although Wujciak is listed as a junior, his freshman year was lost to a knee injury. Nonetheless, in just two years of game action, he has become one of the best linebackers in the country, earning just about every preseason accolade one can achieve.
One must assume that it is only a matter of time before Wujciak declares early for the NFL Draft, considering just how tumultuous things are in College Park. Better enjoy those final few weeks Maryland fans.
On the bright side, we'll be seeing Wujciak for many years to come in the NFL.
LB-Cody Grimm (Virginia Tech)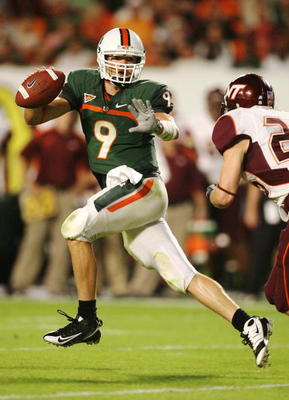 It's never easy being the son of a legend.
Virginia Tech linebacker Cody Grimm has lived in the shadow of his famous father and Redskins' hero Russ Grimm for his entire life. However, his play is helping him make a name of his own.
Grimm has had a long road to success in college football. After starting on the scout team and working his way up the depth chart, things are starting to pay off for the senior Hokie.
Grimm is third in the ACC in tackles while leading the conference in forced fumbles. Grimm simply knows where to be on the field and can make game-defining plays each and every time he suits up.
Without a doubt Grimm knows how to make the most of his opportunities. Despite starting one game last year, Grimm had a team high eight tackles in the ACC Championship and a timely interception in the Orange Bowl.
Grimm has become a favorite of Hokie fans and he is a no-brainer on this list.
LB-Luke Kuechly (Boston College)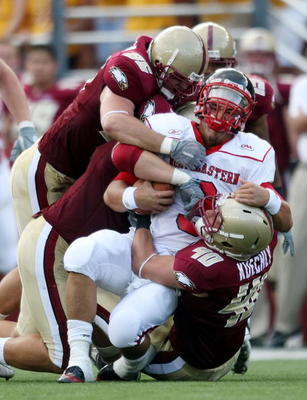 Boston College has become known for its linebackers, but they were dealt an unexpected blow when it was announced that their star Mark Herzlich had been diagnosed with a rare form of cancer.
The Eagles looked to be on the verge of falling from their perch atop the ACC Atlantic Division for the first time in years.
Well, even if Clemson takes that honor away from Boston College, Luke Kuechly helped the Eagles soar to unexpected heights this season.
Kuechly is a true freshman who looks little like a punishing linebacker. In fact, Kuechly is a kind and gentle guy, that is until you get him on the football field.
Kuechly is second in the conference in tackles and sixth in tackles for loss.
He already has both hands firmly around the ACC Defensive Rookie of the Year trophy and with the unexpected experience, expect him to be a nightmare in most ACC quarterbacks' dreams for the next few seasons.
DB-DeAndre McDaniel (Clemson)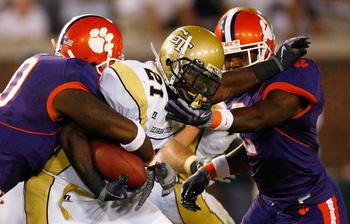 DeAndre McDaniel leads the ACC in interceptions and has already taken one pick all the way into the end zone for the score earlier this season.
The junior is 11th in the ACC in tackles and has shown a great ability to tackle in the open field. He is the first Clemson player to lead the team in tackles and interceptions in 25 years.
It is little wonder that McDaniel was also a unanimous pick for the All-ACC defensive squad.
McDaniel has already declared he is coming back for his senior season—music to the ears of Death Valley. However, his focus must certainly be on the remainder of this season, as the Tigers are facing a potential BCS berth next month if they can pull off the upset against the Yellow Jackets of Georgia Tech.
McDaniel may go down to the wire with Morgan for the ACC Defensive Player of the Year,a contest that may not be decided until their clash for the conference crown.
DB-Morgan Burnett (Georgia Tech)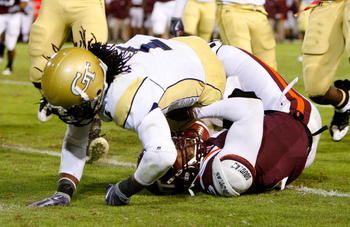 While Georgia Tech's defense may be one of its biggest holes so far this season, Morgan Burnett has still put up extremely impressive numbers.
Burnett has four interceptions on the year and is a picture perfect tackler.
Burnett had a breakout season last year when he earned a multitude of All-American honors. And even if he does not have the gaudy numbers of 2008, he has still gone up against some of the top wide receivers the ACC has to offer and has done a good job of keeping them out of the end zone.
The Yellow Jackets rank in the top 25 in overall defense across the country in large part to the contributions of their two All-ACC selections on this list.
Burnett has been the difference between champion and contender for Georgia Tech in the Coastal Division. Just ask the quarterback being pinned in the picture.
DB-Leon Wright (Duke)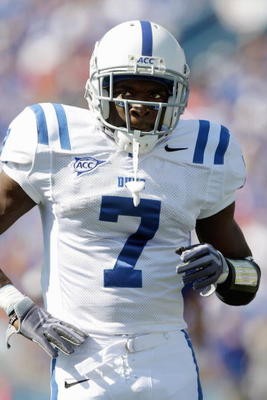 I know, it seems weird for all of us to think that Duke is actually a good football team.
It seems even weirder for a defensive guy to make the All-ACC team, considering that the Blue Devils have had trouble stopping just about anybody this season.
However, Leon Wright simply has numbers that cannot be ignored.
Wright is second in passes defended and second in interceptions for the conference. He is also the only player in the entire league to take two picks back for touchdowns.
His 146 yards interception yards are better than any other defensive player in the league this year.
Oh yeah, he also plays for Duke. Wright has as many picks this year as his previous three seasons combined.
Wright is clearly leaving in style—the senior is a central part of one of the best Duke teams since 1994. Hopefully the Blue Devils have one or two upsets left in them as the season winds down.
DB-Brandon Harris (Miami)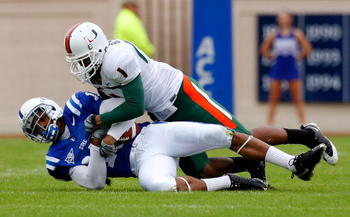 No one can argue with the numbers Brandon Harris has put up.
Harris leads the conference in passes defended with an astonishing and nation-leading 12 break-ups.
Harris was recently named a semi-finalist for the Jim Thorpe Award and although the personal accomplishments are nice, he has stated numerous times he is more concerned with achieving the team goals.
While Miami will fall short of its ACC dreams this time around, the Hurricanes clearly seem to be a team on the rise. The sophomore cornerback should reach even greater heights next season as Miami continues to turn things around.
Wide receivers everywhere, don't say I didn't warn you.
Keep Reading

Georgia Tech Football: Like this team?