You're Fired: Rex Ryan Must Be Canned If Jets' Stumble Continues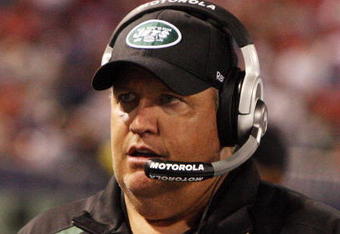 Jim McIsaac/Getty Images
"Another one bites the dust! Another one gone! Another one gone! Another one bites the dust!"
So goes the 2009 season for the New York Jets.
Correction: So go 41 years of nothing but mediocrity and misery in the long, tortured history of the NFL's version of the Chicago Cubs.
There is not much to say after the Jets allowed the Jacksonville Jaguars to walk into Giants Stadium and slap them silly, 24-22. Sure, the Jets held a 22-21 lead, but did anyone really feel that the Jets were going to hold on and win? Really?
Mark Sanchez played 60 minutes of totally stupid football, throwing two interceptions that killed the Jets' momentum early and often.
Braylon Edwards fumbled away a 41-yard reception and dropped an easy two-point conversion.
Dustin Keller dropped a couple of huge passes that could have set the Jets up nicely in field position.
And the defense had no answer for David Garrard, Maurice Jones-Drew, and the Jaguars' usually feckless offense.
Add that to the fact that Rex Ryan, the king of boastful proclamations of change and better tomorrows, wasted away all three of his timeouts in the second half. This in turn permitted Jacksonville to put together a brilliant game-winning drive that culminated in Jones-Drew unselfishly taking a knee at the one-yard line, enabling the Jaguars to run the clock on any potential Jets comeback.
As if Sanchez were going to pull a John Elway-like miracle in the final seconds.
Ever since Ryan joined the Jets, he has put his team on a pedestal as one of the best football teams in the NFL.
He has talked, and talked, and talked about how nobody would score on "his" defense.
He talked, and talked, and talked about how "his" team would find a way to make it to the playoffs this season, even with a rookie quarterback.
When Ryan's Rebels got off to a fast 3-0 start that was highlighted by a 24-7 smackdown of the Houston Texans and an emotionally charged 16-9 victory over the New England Patriots, the expectations for the Jets from the outside matched those of its coach.
The Jets could become the best; they could be a championship contender...today.
They made it into every expert's top 10 list. People talked about how refreshing it was to see a team that could talk the talk and walk the walk. Fans dreamed that Rex Ryan, Mark Sanchez, and company would finally, eventually, deliver that coveted second Super Bowl trophy to Florham Park, New Jersey.
That may still happen...one day...one year...maybe.
Maybe before we all "shuffle off this mortal coil."
But the fact remains that for the past six weeks we have seen this team turn from trash-talking winners into a bunch of blabber-mouthed losers.
When the Jets lost in Miami on a Monday night, Ryan's excuse for not using his timeouts as the Dolphins drove to the game-winning score was that he never thought the wildcat (an offense that Ryan's chatty linebacker Bart Scott called a "gimmick" offense) would score on "his" defense. They scored, easily, and the Dolphins won the game.
Problem is that Ryan forgot that the Jets are not the Baltimore Ravens. Ed Reed, Ray Lewis, and Terrell Suggs are not going to walk through that door to make Rex Ryan look like a genius anytime soon, but the coach still wants to believe that his philosophy will make the Jets D into something special.
So far, it hasn't.
This past week the Jaguars ransacked that so-called great defense for over 300 yards of offense, including 123 rushing yards by Jones-Drew.
Ryan's on-field failures include not reeling in Sanchez. He should have benched his young star in the Buffalo game when he went off on a five-interception tailspin. He should have sat him down in that game to teach him the lesson that it is a privilege to start in this game, not a right.
A coach is supposed to have a feel for a game; when his quarterback doesn't have it, take him out and put someone else in who can win the damn game.
He should have never allowed Sanchez to childishly eat a hot dog on the sideline between series in Oakland, and he should never have allowed the quarterback to come across as a pissed-off college student when he told the media to talk to his hand after the Jaguar game.
Usually the great coaches ride their young QB, especially if they don't get it. Bill Parcells was famous for yelling and chasing after Phil Simms back in the day when Simms was a young and rising star; Parcells taught him how to be a professional.
Clearly, Ryan isn't getting through to his young star.
Ryan is also responsible for not insisting his special teams coach, Mike Westoff, not kick-off to Ted Ginn Jr. a second time, shortly after the speedy kick returner burned his team for a 100-yard kick return in the second Miami game.
He is also to blame for not realizing that he had 12 men on the field at several points in the Jacksonville game, prompting the team to waste timeouts.
Finally, Ryan is to blame for giving the team a midterm vacation during the team's bye week, a week that could have been used to iron things out and move his team back on track after they had lost four of their previous five.
Because of that extra week off away from any football activity whatsoever, Ryan's "invincible" defense looked rusty in the first half of the Jags game, as Jacksonville scored 21 points before anyone could say "boo." Usually, a coach gives his players a couple of days off during a bye...not seven!
If the buck stops with Bill Belichick this week for his team's failure to execute a 4th-and-2 on the 28-yard line, then the buck has to certainly stop with Ryan when his team fails to match his lofty expectations.
To make matters even more interesting, a story leaked out to the New York Post late last night that Ryan was seen crying in the Jets locker room on Monday morning.
"He didn't bash us at all; he was just very emotional...he was crying," right tackle Damien Woody told the Post. "Rex believes in our team so much, I can't even put it into words, and it would be a shame if we didn't capitalize on our opportunity.
"He was talking about the situation—this upcoming game with New England and how we're still there; how we still have a pulse," Woody said. "He said it's all about us, that nobody believes in us and that we are the only ones who believe we can get things done.
"He said, 'I believe in you; I believe you get can get this thing done,' and that's when he really got emotional."
Two things come to mind:
1) It is good to see a coach who believes in his team.
2) That being said, there is no reason for Ryan to pull this Dick Vermeil moment in the locker room. Vermeil used to pull those stunts in Philadelphia, and it didn't exactly win him any fans. Ryan has to get hold of himself; losses happen in the NFL, and bad coaching decisions happen, too.
Think Belichick was crying and sucking his thumb like a baby in the Patriots' locker room after the Colts game? Think any coach who is working with a struggling unit breaks into tears in front of his team?
I find it hard to believe.
Sure, coaching an NFL franchise is a pressure job, and there are a lot of hours and stress involved, but coaches suck it up and take the heat. They set an example for the franchise by pushing them to fight through the struggles, and if a player can't handle the heat, then they are asked to leave the field. Crying makes Ryan look weak.
How are players supposed to react to that?
Then there is another story from the Post that Ryan would seek counsel from many coaches in the NFL, including Dolphins GM Bill Parcells?!?! What? Parcells is going to help out a division rival? Please, give me a break. Why should the man steering a division rival that went out to become the Jets' "daddy" this season help Ryan and his Jets?
It makes no sense. Division rivals do not help each other; they don't talk to each other about strategy; they don't advise each other. If Parcells ever returns a phone call from Rex Ryan, it might sound like this:
"Rex? This is Bill Parcells returning your call. The only advice I can give you is to do your best and wish you good luck. By the way, who's your daddy?"
In spite of all the zaniness that has surrounded the Jets this month, this much is clear: They are at a crossroads in their season and, perhaps, at a crossroads in Ryan's head coaching career.
With a pool of experienced, winning head coaches on the market, Rex Ryan better get this team back to .500 and finish strongly, or it could be over before it ever started.
Of the Jets' final seven games, only two look winnable: at Buffalo on Dec. 2 and at Tampa Bay on Dec. 12. Outside of that, the Jets play at New England (6-3), Carolina (4-5), Atlanta (5-4), at Indianapolis (9-0), and Cincinnati (7-2). That is a combined 31-14 record for those five Jet opponents.
With their inconsistent style of play of late, the Jets could conceivably find themselves at 6-10 by season end. To many people, that would seem about what you can expect from a team with a rookie head coach and a rookie quarterback.
However, when a majority of the fans feel that this Jets team could win 10 games and compete for a playoff spot; when the owner boastfully guarantees playoffs before the Jaguars game; when players talk a big game all season long; and when Coach Ryan talks the talk about this year's version of the Jets from day one of mini-camp until today...6-10, 5-11, or, dare I say, 4-12 would be considered a colossal failure.
Let me ask the fans on the site: If you were the owner of a team that got off to a 3-0 start and sat and watched the team go 1-12 the rest of the way, does that head coach deserve a second chance? Even if he is a rookie? Especially when Mike Holmgren, Bill Cowher, Mike Shanahan, Jon Gruden, and maybe Jeff Fisher are all out there waiting for the phone to ring?
For years the Jets have gone the route of hiring the rookie coach in the hope that he would turn out to be the next great one. Walt Michaels, Bruce Coslett, Pete Carroll, Herman Edwards, and Eric Mangini were all rookie head coaches when the Jets hired them, and all failed.
Coslett was average with the Jets and went on to an average stint in Cincinnati.
Carroll was fired after one 6-10 season in 1994 and went on to a few more average years in New England before becoming a football god at the collegiate level at USC.
Edwards was successful at the Jets, taking them to the playoffs three out of five years, but his erratic coaching decisions did him in. Subsequently, he was a disaster in Kansas City, while Mangini went from Mangenius to dope in a New York minute.
There is nothing wrong with going after a coach with experience. The times this franchise went after experienced head coaches, they were the better for it. Weeb Ewbank was an established winner when he came to the Jets and took the team to its lone Super Bowl title. Parcells took two different teams to the Super Bowl in his career and almost took the Jets to one in 1998.
If Woody Johnson cares about winning, if Woody Johnson cares about selling out those 2010 tickets that have been advertised online and on television all month, then Woody Johnson is going to want to put a winner on the field.
Heading into 2010 with a big-mouthed coach, and even bigger-mouthed players like Bart Scott, who predicted big things and started 3-0 only to finish 6-10 or 5-11, is not going to put fans in the seats.
Today's NFL is predicated on winning right away. That is why Jim Zorn is on the chopping block in Washington after a year and a half. That is why Mangini might be fired after one season in Cleveland. As Vince Lombardi once said, "winning isn't everything...it is the only thing."
Many times in this city have first-year coaches been fired. The Jets have fired coaches after one year; the Yankees have fired managers after a year or two. The Giants have done it, too. Everyone has done it.
Don't think for a minute that if the Jets' season continues to spiral out of control it can't happen to Rex Ryan.
Even if he is learning on the job.
This article is
What is the duplicate article?
Why is this article offensive?
Where is this article plagiarized from?
Why is this article poorly edited?

New York Jets: Like this team?