Buccaneers-Dolphins: Analyzing the Michael Clayton Play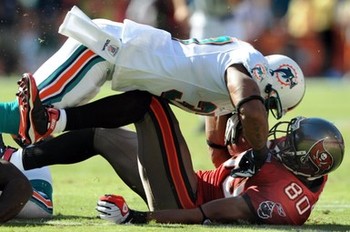 On Sunday, the NFL officiating crew ruled that wide receiver Michael Clayton did not have control of the football, that it was tipped up into the air and intercepted by the Dolphins. The play caused a 10-point swing in the final 1:20 of the first half and had the Bucs rallying to recover the rest of the game.
Is this man down? You make the call.
Keep Reading

Tampa Bay Buccaneers: Like this team?