Weis A Good Bet In Crucial Games; Nine Make-Or-Break Games Reveal Coach's Mettle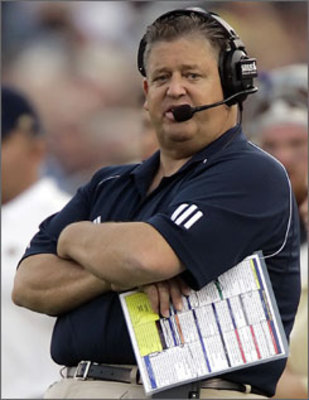 The bad news for Charlie Weis' Fighting Irish is that the final quarter of the 2009 schedule poses two road challenges against currently-ranked opponents. The good news reads much the same: The Irish will have an opportunity to erase the humbling loss to Navy and play their way into a top-tier (non-bcs) bowl against upstart Pitt, Uconn and Stanford.
It's well documented that Weis' teams have experienced highs and lows throughout his tenure. Unfortunately the Jersey guy's Glory Days of '05 and '06 feel like... truthfully, like a different coaching era— due in large part to the programs' recent struggles to regain respect and mediocrity.
Along Weis' recent ascension back to ND standards, there have been quite a few pivotal games that have proven formative in creating the enormous stage for tonight's Pitt game.
Some of these games even the most fervent ND supporter would be unable to identify as "must" games—but in hindsight, more often that not, Weis' boys have delivered clutch performances.
Believe it or not, the reason that Weis has been able to resurrect a team that experienced complete futility just two short years ago, is attributable to his success in dire situations.
It's true that Charlie continues his quest for a "Signature Win," but he's not devoid of victory when the mission's critical.
Here's a look back at the significance of Weis' 5-3 mark in "Statement Games."
"Must Win" vs. Stanford- Nov. 26th, 2005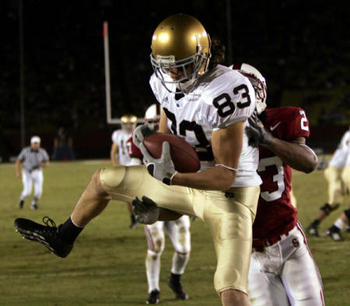 Dubbed the $13 Million Dollar Game, the win would solidify their Top five ranking and BCS birth. The Irish prevailed 38-31 thanks to some last-minute magic from Quinn and Co.
Why a Must-Win game?
To return the Irish to BCS prominence and cash in on the handsome payout needed to help afford Weis' contract.
"Must Win" vs. Michigan State- Sept. 23rd, 2006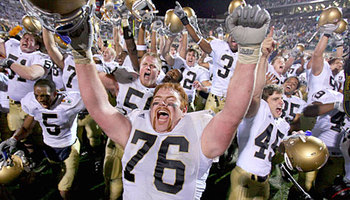 Trailing 37-21 entering the 4th quarter, the Irish scored 19 unanswered points, capped off by the go-ahead Pick Six by Terrail Lambert.
Why a Must Win?
A pre-season #2 in the polls, the Irish needed a win at Sparty to avoid a 2-2 start, following a home loss to Michigan. The win sparked an eight-game win streak and ensured a return trip to the BCS.
"Must Win" vs. Navy- Nov. 3rd, 2007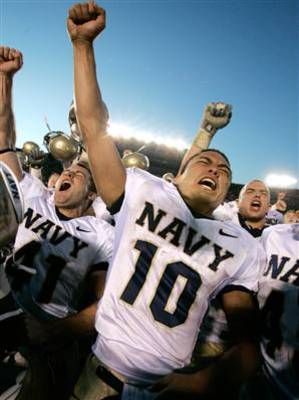 ND's defeat broke the 43-game winning streak against The Academy.
Why a Must-Win game? The Irish had dropped their previous two contests, both at home, to rivals USC and BC, and were barely competitive. A loss would signify ultimate rock bottom.
"Must Not Lose" vs. Syracuse- Nov. 22nd, 2008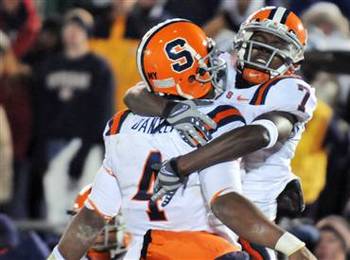 After a surprising 5-2 start, the Irish were shocked by the 'Cuse 24-23 on Senior Day, and finished the year 6-6.
Why they couldn't lose?
It would mark the first time in Notre Dame history the Irish dropped a game to an eight-loss team.
"Must Win" vs. Hawaii- Dec. 24th, 2008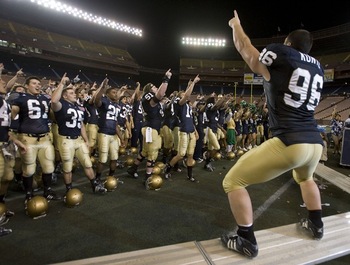 Notre Dame pummeled the Warriors in the Hawaii Bowl, 49-21.
Why a Must-Win game?
The Irish had an unfathomable nine-game Bowl losing streak that dated back to the '93 season when they defeated Texas A&M in the Cotton Bowl.
"Must Compete" vs. USC- Oct. 17th, 2009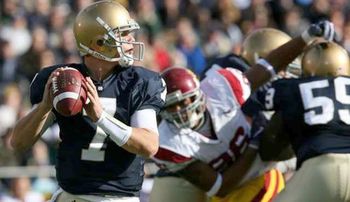 Notre Dame rallied from a 20-point 2nd half deficit to come within a last-second endzone slip of tying the score, losing 34-27.
Why Must-Compete?
After their first near-win in the "Bush Push" game of 2005, the Irish hadn't proven worthy of being on the same field as the Trojans- getting blown out three consecutive times.
"Must Win" vs. Boston College- Oct.24th, 2009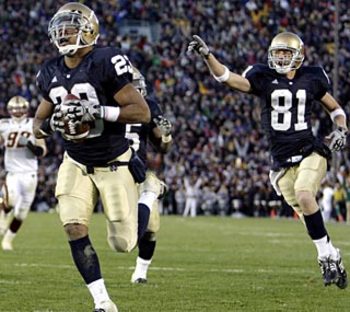 Notre Dame bounced back from a difficult loss the previous week to USC and won 20-16.
Why Must-Win?
BC owned the Irish since the turn of the century and had won six straight over the Irish.
"Must Not Lose" vs. Navy- Nov. 7th, 2009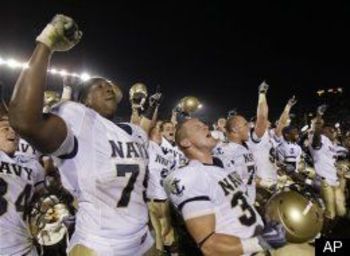 The Irish suffered their 2nd straight home loss to the Cadets, 23-21.
Why "Must Not Lose?"
Because Weis is already infamous for getting consistently crushed by rivals USC and Michigan during his tenure- he could ill-afford to add "The Coach Who Can't Beat Navy," to his rap sheet.
Keep Reading

Notre Dame Football: Like this team?