The All-Time BYU Football Team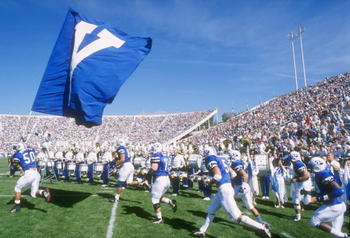 BYU should easily take care of New Mexico this weekend. It should be a game BYU dominates, which basically means it will be fun to watch for about a quarter and a half.
During boring BYU games is the perfect time for speculation about the Cougars. Seeing it is the 25th anniversary of BYU's National Championship I have been discussing and thinking about which players would make up the All-Time BYU Football team.
Here is the All-Time BYU Football Team by positions.
(I would like to acknowledge contributions from Aaron Welling, Tyler Stimson—Featured Columnist for BYU Football and Jake Stowell—host of "The Big Podcast.")
Quarterbacks: Ty Detmer Tops the List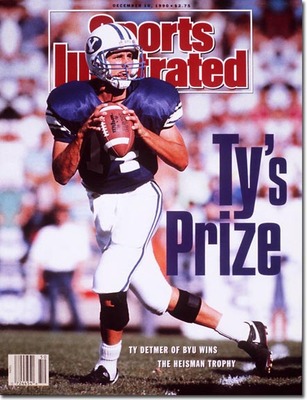 Ty Detmer — 15,031 total passing yards, 121 total touchdowns, and a Heisman Trophy. Detmer's numbers at BYU were truly epic, but he was also a winner. Detmer currently holds the BYU record for most wins as a quarterback with 29 career victories (although Max Hall looks to break that record this season).
Jim McMahon — Called by some NCAA statistician "The Babe Ruth of College Football." McMahon set 70 different NCAA records while at BYU, which is a record for most records set. McMahon had 9,723 career passing yards, and 84 total touchdowns (including 47 in a single season). It is a shame BYU hasn't retired McMahon's number.
Steve Young — Tim Tebow really is a poor man's Steve Young. Young not only could move the ball on the ground like Tebow, but he had an arm to go with it. Young had 8,817 of total offense in two years at quarterback. His senior season he led the nation in total offense, and he also accounted for 41 total touchdowns.
Running Backs: Luke Staley Over Unga For Now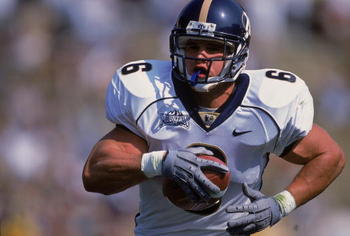 Luke Staley— A once in a decade college running back. Staley had all the tools to be a great running back before being injured his Junior year. Staley had break-away big play potential every time he touched the ball. He ended his career with 41 career touchdowns and the Doak Walker Award.
Harvey Unga— When Unga finishes his career he could pass Staley as the best running back in BYU history. Yet, for now Unga is #2. Unga doesn't have the break away speed of Staley; however he has better pass catching skills and is a more physical back. Unga will also finish his career with the most rushing yards in BYU history.
Eldon Fortie—A dual threat tailback in the 1960's. Fortie had 1,149 rushing yard, 14 TDs, 814 passing yards and 7 passing TDs his senior year.
Jamal Willis—A smooth running back who was great catching the ball out of the backfield. 2,988 total yards of offense, and 40 career touchdowns.
Wide Receivers: Austin Collie The Best Pass Catcher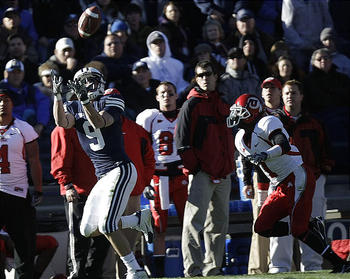 Austin Collie— A big, fast, wide receiver with great hands. Collie left BYU a year early, but still is BYU's all time receiving yard leader. Collie finished his career with 3,255 receiving yards and receiving TDs.
Eric Drage— 3,065 career receiving yards and 29 career receiving TDs for BYU's most fundamentally sound receiver.

Matt Bellini— 2,635 career receiving yards and 28 career receiving TDs.
Glen Kozlowski—2,223 career receiving yards and 23 career receiving TDs. Very impressive considering he was injured for most of his senior year.
Reno Mahe— A converted running back who ended his career with 2,163 receiving yards and 19 TDs. Mahe had something lacking in many BYU receivers, speed.
Tight Ends: Pitta's Numbers Good Enough for Third Place Among Great Tight Ends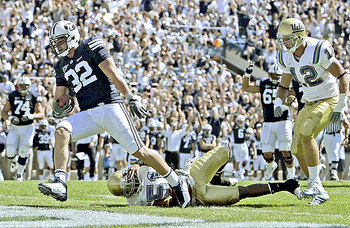 Gordan Hudson—Two time All-American. Set the record while he was playing for most receiving yards by a Tight End. He ended his career with 2,484 career receiving yards, and still has the most touchdowns by a tight end in school history.
Chad Lewis— Lewis played with another BYU great tight end Itula Mili so his career numbers aren't as great as other BYU tight ends. Yet, Chad Lewis was the complete package at tight end.

Dennis Pitta—It helps when your brother-in-law is throwing you the football. Pitta has the most receiving yards of any tight end in BYU history, and is currently fourth on BYU's all-time receiving yards list.
Offensive Lineman: The Best of the OL Group is Outland Trophy Winner Mo Elewonibi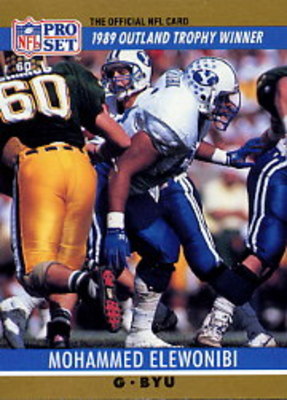 Mo Elewonibi—1989 Outland Trophy Winner. 1989 Cosensus All-American. 1989 First-Team All-WAC
Brad Oates—1974 and 1975 First-team All-WAC
Bart Oates—1982 First-team All-WAC
Evan Pilgrim—1993 Honorable Mention All-WAC. 1994 Second-team All-American. 1994 First-team All-WAC
John Tait—1997 and 1998 First-team All-WAC
Defensive Lineman: Outland Trophy Winner Jason Buck Leads BYU's All-Time Defense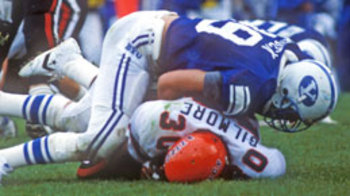 Jason Buck—1986 Outland Trophy winner. 1985 WAC Defensive Player of the Year. 112 total career tackles, 20 for loss, and 24 sacks in just two years of play.
Shawn Knight— 119 total career tackles, 7 for loss, and 22.5 sacks. Led BYU in sacks in 1986.
Brady Poppinga— 192 total career tackles, 39 for loss, and 20 sacks. led BYU in sacks 2002, 2003, and 2004.
Mike Morgan— Holds BYU record for most sacks in a season 21, and also most career sacks 38.
Linebackers: Rob Morris is at The Head of The All-Time Linebacker List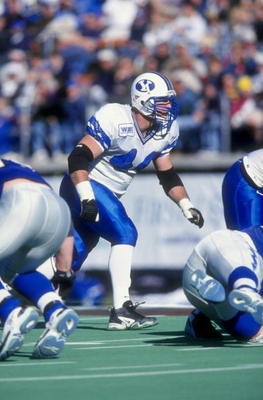 Rob Morris—345 total career tackles, 34.5 for loss, 13 sacks, and an interception. Led BYU in tackles 1997 and 1998. Led BYU in sacks 1998. 1998 WAC Defensive Player of the Year. 1998 and 1999 First-team All-WAC. 1999 Second-team AP All-American.
Bob Davis—349 total career tackles, 6.5 for loss, 10.5 sacks, and 2 interceptions. 1988 and 1989 led team in tackles. 1989 Third-team All-American. 1989 First-team All-WAC
Shad Hansen—BYU's all-time tackle leader with 408 total career tackles. 1992 First-team All-WAC.
Shay Muirbrook—345 total career tackles, 22.3 for loss, and 18.5 sacks. Led BYU in both tackles and sacks in 1996. 1996 WAC Defensive Player of the Year. Muirbrook also holds the record for most sacks in a single game—six sacks versus Kansas State in the 1997 Cotton Bowl.
Secondary: Kyle Morrell the Best of the Secondary Players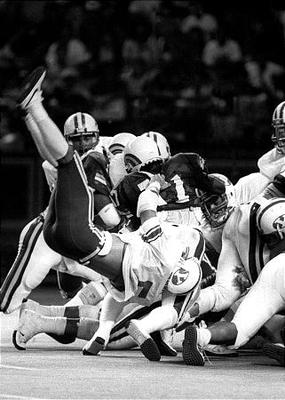 Kyle Morrell—Made a national championship saving tackle to seal the win over Hawaii. 232 career tackles, 2 sacks, and 8 interceptions.1984 First-team All-American. 1984 First-team All-WAC. 1984 WAC Defensive Player of the Year.
Derwin Gray—273 career tackles, 6.5 for loss, and 8 interceptions. Holds BYU record for most tackles in a single game, with 22 against Penn State. 1992 First-team All-WAC
Brian Mitchell—171 total career tackles, and 13 interceptions. 1990 First-team All-WAC.
Tim Mctyer—Was a true shutdown cover corner for BYU. 1996 First-tam All-WAC.
David Atkinson—BYU's all-time interception leader with 20 interceptions. 179 total career tackles. 1972 First-team All-WAC.
Special Teams: Lee Johnson Could Plain Punt, But Matt Payne Would Lay Down Some Hits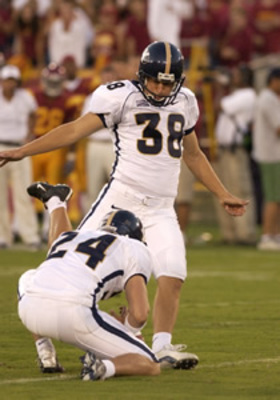 Lee Johnson, Punter—Holds BYU records for: Longest punt, 80 yards against Wyoming; best punting average in a game, 60.4 yards against Wyoming; best punting average in a season, 50.6 yards per kick 1982; and best career punting average, 47 yards per kick.
Matt Payne, Kickoffs—It is hard to be the most popular player on your team if you are the kicker; however, Payne enter BYU legend and BYU fan's hearts with his intense kickoff and punt coverage.
Owen Pochman, Place Kicking—The most consistent kicker in BYU history. Pochman missed just three PATs during his three year career.
Jame Dye, Punt and Kick Return—Every time Dye handled a punt or kickoff he had the potential to score. Dye holds the BYU record for best career punt return average 19.8 yards per return. He is also tied for the lead for most punt return touchdowns in his career with four.
The All-Time BYU Football Team Roster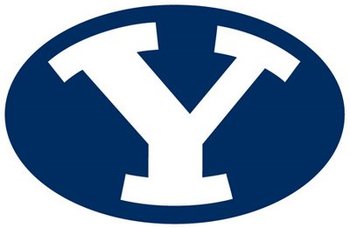 Offense
QB Ty Detmer
QB Jim Mcmahon
QB Steve Young
RB Luke Staley
RB Harvey Unga
RB Eldon Fortie
RB Jamal Willis
FB Todd Christensen
FB Lakei Hemuli
WR Austin Collie
WR Eric Drage
WR Matt Bellini
WR Glen Kozlowski
WR Reno Mahe
TE Gordan Hudson
TE Chad Lewis
TE Dennis Pitta
OL Mo Elewonibi
OL Brad Oates
OL Bart Oates
OL Evan Pilgrim
OL John Tait
Defense
DL Jason Buck
DL Brady Poppinga
DL Shawn Knight
DL Mike Morgan
LB Bob Davis
LB Rob Morris
LB Shad Hensen
LB Shay Muirbrook
DB Derwin Gray
DB Brian Mitchell
DB Tim Mctyer
DB Kyle Morrell
DB Dave Atkinson
Special Teams
P Lee Johnson
KO Matt Payne
PK Owen Pochman
P/K Return James Dye
Keep Reading

BYU Football: Like this team?