The Georgia-Auburn Rivalry: Five Things We Love About It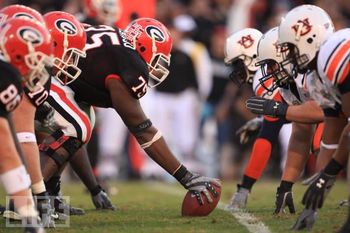 When Georgia and Auburn meet on the field there, is normally something big at stake. SEC titles, unbeaten records, or just bragging rights. It doesn't take much to get the blood pumping for this one. This is the "South's Oldest Rivalry" and it has lived up to its billing more often than not.
We could write a book on this great rivalry. The games, the coaches, the players, and the fans all hold an important part in making this rivalry one of the most talked about in the country.
If you haven't been fortunate enough to see some of these games, I'm truly sorry you have missed out.
But take a few minutes here today and get ready for the 113th meeting tomorrow. The records do not matter; the standings mean nothing.
This is Auburn and Georgia. This is civil war. Brother vs brother, cousin vs cousin, and neighbor vs neighbor.
It might just get ugly!
1) The History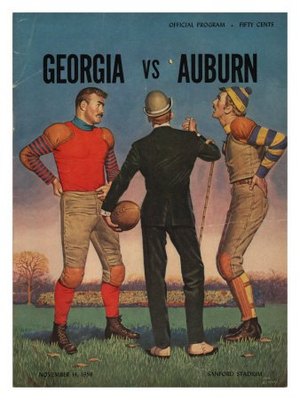 Georgia and Auburn first played football in 1892. I was not around at that time, but history tells us that the game was played in Atlanta at Piedmont Park. Auburn came out on top that day, 10-0.
Since that first game, these two teams have gone on to play 111 additional games. The series record is about as close as you can get. Auburn holds the advantage today 53-51-8.
Auburn lies just over the Georgia line in Alabama. So as you can imagine, many Auburn fans live in the great state of Georgia.
As a matter of fact, the city of Columbus has hosted the game 39 times. 1958 was the last year the game was played in Columbus.
It is now played as a home and home series. Georgia held the advantage in Columbus, 21-16-2.
2) The Fans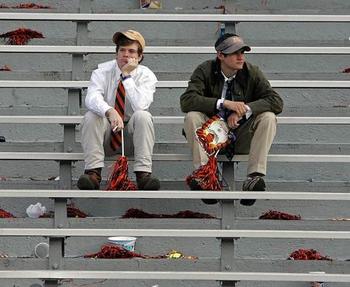 In all great rivalries, the fans play a major part. The fans keep the rivalry alive 365 days a year. The game itself has a three to four hour window that gives us our fuel for the fight.
Georgia and Auburn both have great fans. From "War Eagle" to "Go Dawgs" the battle cries are heard throughout the year.
This rivalry is slightly different from others. While most Georgia fans hate (in a loving football kind of way) Tennessee, Florida and Georgia Tech, the Auburn hatred is more about the bitter defeat on the football field.
While the game may bring out the passion in all of us, once the game is over Georgia and Auburn fans can usually get along. Just use caution during the few hours that follow if your team lost.
Good natured rivalry? Family type competition? Whatever the case may be this one is just a little different.
Although, I can honestly say that the only time I was ever screamed at by a drunk college girl was at Auburn.
3) The Players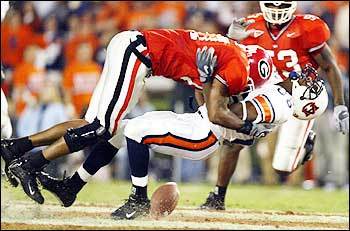 From Pat Dye to Herschel and Bo, from David Greene to Ronnie Brown, this series has never been short on big name players making big time plays.
Every year there will be a player stepping up to make a big time play in this series. History confirms it and common sense tells us it will continue.
In 1957, Auburn kept their unblemished record in tact with a touchdown pass from Lloyd Nix to Jimmy "Red" Phillips, giving the Tigers a 6-0 win.
In 1959 it was Fran Tarkenton throwing a late touchdown pass to give Georgia a 14-13 win and in the process erasing Auburn's SEC title hopes.
In 2002, it was David Greene to Michael Johnson with the fourth and 19 touchdown pass to give Georgia the win and the SEC East crown.
This list could go on and on, but you get the picture. Great rivalries are made when great players make big plays!!
4) Traditions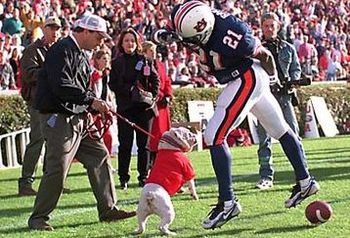 Traditions in college football are not exclusive to the South. Every school in our great country has traditions. College football traditions are special in every part of the country.
Georgia and Auburn are no different. Georgia has the UGA line of English Bulldogs. More pictures are taken every year of this beloved mascot than most grand babies. UGA VII patrols the sideline for the Dawgs these days.
The most memorable picture of UGA is of course the picture of UGA V "attacking" Auburn's Robert Baker.
The "War Eagle" at Auburn is one of the greatest traditions in college football. I must admit the first time I saw this live it was very impressive.
The "Tiger Walk" or the "Dawg Walk" you don't want to miss one of these traditions on game day.
Both schools are deep in tradition.
5) Home Field Advantage?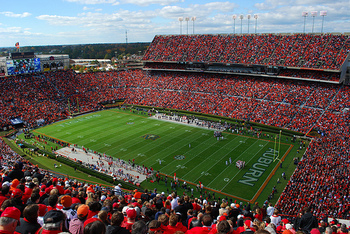 Home field advantage in this great rivalry has been non-existent for the most part. Both teams currently hold winning records in their opponent's home stadium.
This one is really hard to explain, but the numbers speak for themselves.
At Jordan Hare, Georgia is now 14-9-2. In Sanford Stadium, the Tigers are a healthy 17-9.
Nothing like beating up your brother in his own back yard. Of course these brothers are grown ups, so they have moved away and don't still live in the same house.
Just a friendly way of showing him up in front of his family and friends. It happens more often than not.
Georgia will try to go against that trend this Saturday. If the Dawgs can win for the fourth straight time over Auburn, then they will do just that and chalk up what would be a rare win at home.
But of course this is Georgia and Auburn, so expect the unexpected.
Keep Reading

Georgia Bulldogs Football: Like this team?