Big Ten Power Rankings (Week 11): Buckeyes and Hawkeyes Battle for the Big Ten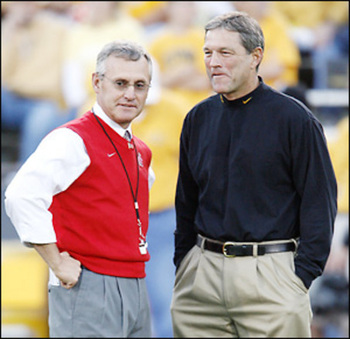 The Big Ten Championship, or at least the Rose Bowl participant, will be decided when the Iowa Hawkeyes travel to Columbus to face the Ohio State Buckeyes.
An Ohio State win would secure the Buckeyes' fifth straight Big Ten title and mark Jim Tressel's first trip to the Rose Bowl.
If the Buckeyes win the following week in Ann Arbor, Ohio State will claim its third outright Big Ten Championship in five years.
An Iowa win would give the Hawkeyes their first Rose Bowl game since Hayden Fry roamed the sidelines, and a win over Minnesota would give Iowa their first outright title since 1985.
Penn State and Wisconsin are still in contention to share the title, but the Rose Bowl dreams for those teams are lost.
The lobbying and jockeying for bowl position is starting to become commonplace, and the Big Ten remains the only conference to have each of its member schools still mathematically in bowl consideration.
For Indiana, Michigan, Purdue, and Illinois, the margin of error is very slim to nonexistent, while Minnesota and Michigan State most certainly should have the opportunity to win the one they still need.
The Northwestern Wildcats, already bowl eligible, will try to strengthen their case and possible bowl location with two more winnable games.
The 2009 round table members are J.A. Allen, Tim Cary, Bret Feddern, Kristofer Green, Ryan Jelley, and Tim Bielik.
On to the Week 11 Power Rankings...
Players of the Week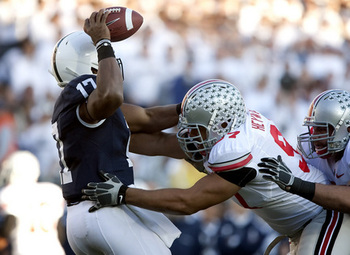 * Penn State quarterback Daryll Clark is sacked by Ohio State's Cameron Heyward in the first quarter of the Buckeyes' 24-7 win on Saturday in Beaver Stadium.
The B/R Big Ten Players of the Week
Offensive Player of the Week: QB Kirk Cousins, Michigan State
Defensive Player of the Week: DE Cameron Heyward, Ohio State
Special Teams Player of the Week: KR/WR Ray Small, Ohio State
11. Indiana Hoosiers: Eight points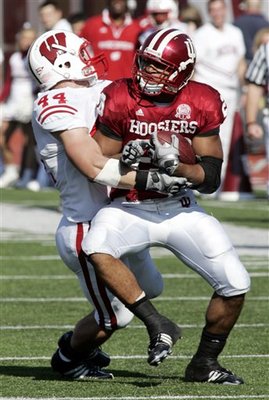 * Indiana running back Darius Willis is brought down by Wisconsin linebacker Chris Borland during the Hoosiers' 31-28 loss on Saturday.
High vote: 2
Low vote: 1
TC: If there were a "moral victories" award for the 2009 Big Ten season, Bill Lynch's Hoosiers would be a shoo-in winner.
While Indiana is only 1-5 in the conference, they came within three points of road wins at Michigan and Northwestern, led Iowa in the fourth quarter at Kinnick, and most recently fell three points short of upsetting the Badgers.
Of course, close only counts in horseshoes and hand grenades...
RJ: The Hoosier fell in a close one to Wisconsin and now must win their final two if they hope to go to a bowl.
BF: They tried to put up a good fight against Wisconsin, but ultimately came up short...again. They are now tied for last place in the Big Ten.
TB: Three straight losses and the collapse in Iowa City could be enough for the Hoosiers to miss another bowl game this season. Ben Chappel has done a decent job at QB, but there is not much defensively for Indiana to hang their hats on.
JA: It is always the same game plan Wisconsin brings with them whenever they play the Indiana Hoosiers. They run at them. They pound them down. They badger and harass them.
The Hoosiers remained powerless for the most part to stop the Badger running attack. So it went on Saturday. The Badgers built a substantial first half lead and then sat back. The Indiana Hoosiers made a valiant effort to catch up, but in the end could not.
Next week the Hoosiers must travel to Happy Valley, where a bunch of very unhappy Nittany Lions will be waiting for them.
The Hoosiers' hopes of attaining a postseason bowl have grown slim. They must win their last two games to become eligible. Time, as they say, is of the essence.
KG: The Hoosiers' faint hopes of returning to postseason plays look to be in serious jeopardy now. With only two games to play (and needing two wins to become eligible), the Hoosiers may come up just short.
But who would have thought that Indiana would have had even four wins against a schedule that included five ranked teams?
10. Michigan Wolverines: 13 points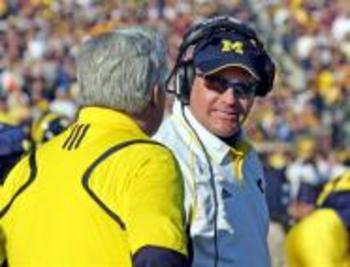 * Michigan head coach Rich Rodriguez talks with defensive coordinator Greg Robinson during the second half of a 38-36 loss to Purdue. It was the first time the Boilermakers won at Michigan since 1966.
High vote: 4
Low vote: 1
TC: While teams like Purdue and Illinois are on the way up, Michigan is heading quickly the other direction. After a 4-0 start, RichRod's team will miss the postseason if the Maize and Blue can't pull an upset over the Badgers or Buckeyes in the next two weekends. Not good for job security, if you ask me...
RJ: The Wolverines' defensive troubles caused them to drop yet another close game, and they must now hope for an upset if they want to go bowling this season.
BF: Michigan's season has been a roller coaster, to say the least. 1-5 in the Big Ten. Of course, if they beat Ohio State...none of that will really matter to Michigan fans.
TB: My, how the world has collapsed in Ann Arbor, as a 1-5 record in the Big Ten could show that Rich Rodriguez's offense doesn't quite work, at least with a freshman at QB. An upset over Wisconsin or Ohio State will be what's needed to push Michigan into a bowl game, neither of which seems likely.
JA: "The party's over...it's time to call it a day." That must have been the rustic refrain hummed by the Michigan Wolverines in the dull roar of the showers after the stunning defeat at home by the Purdue Boilermakers.
Rich Rodriquez and his team have got to feel the weight of the world on their shoulders as mighty Blue fails again. Purdue played inspired football and finally, Michigan just could not turn it around.
Life does not get easier for the Wolverines as they must travel to Madison to play the Badgers next Saturday and then finish the season hosting the Ohio State Buckeyes. They have to win one of these two.
KG: Wow! That 4-0 start is a distant memory in Ann Arbor as the Wolverine nation starts to realize the Rich Rodriguez has won exactly two Big Ten games in his two years at the helm.
Now, sitting at 5-5 the Wolverines must win at Wisconsin or at home against Ohio State. Two more losses will keep Michigan home for Christmas for the second straight year.
9. Illinois Fighting Illini: 18 points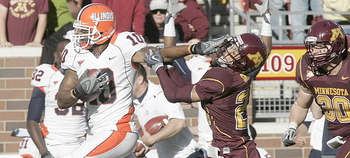 * Eddie McGee stiff-arms Minnesota's Marcus Sherels on a 38-yard catch and run during the second half of Saturday's 35-32 win over Minnesota.
High vote: 4
Low vote: 1
TC: After not topping 17 points once during a five-game losing streak, the Illini have snapped their skid with back-to-back 38- and 35-point performances.
Coach Ron Zook has to wonder where this offense was in the first two months of the season, but still, his team has definitely rallied around the vote of confidence Illinois athletic director Ron Guenther provided his coach.
RJ: The Illini pulled off another upset Saturday, knocking off Minnesota, and are beginning to look like the team everyone expected to see.
BF: Illinois held off a Minnesota comeback in the fourth quarter for their third win of the season. With three games left, the Illini can still make some waves in college football if they beat Cincinnati in two weeks.
TB: After all the disaster looming around Champaign, the Illini have turned things around with two consecutive wins. Juice Williams may be out for some time, but Jacob Charest played well enough to score the road upset.
JA: Illini Terry Hawthorne intercepted a pass and returned it for a touchdown. The Illinois defense was mighty on the day as Clay Nurse had four of Illinois' eight sacks. Minnesota's offensive line seemed to be missing in action as the Illini held on to enjoy a 35-32 victory over Minnesota on Saturday.
Who can believe in this team's resurgence? Obviously the football players do, as do their coaches. What a turnaround!
Next week they host the Northwestern Wildcats, who may be riding sky-high after their upset of Iowa this past weekend. Illinois is on a roll. It's about time.
KG: Ron Zook and his fighting Illini are finally showing some fight. Illinois has not been eliminated from bowl contention just yet, but in order to get to the six-win threshold, the Illini must win out against some pretty difficult competition.
This week they battle Northwestern for state bragging rights, and then they must travel to No. 5 Cincinnati before finishing at home against Fresno State.
8. Minnesota Golden Gophers: 26 points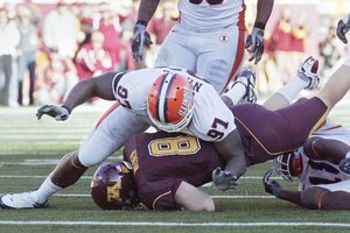 * Illinois defensive end Clay Nurse sacks Minnesota quarterback Adam Weber during the Gophers' 35-32 loss to the Illini on Saturday.
High vote: 6
Low vote: 3
TC: It took an extra week, but the Eric Decker letdown seemed to hit the Gophers in a home loss to Illinois.
Now Minnesota catches a break on the schedule with South Dakota State coming to TCF Bank Stadium, a game the Gophers have to win. Otherwise, Tim Brewster's team will need an upset victory in Iowa City in the regular season finale to go bowling.
RJ: The Gophers fell to Illinois but have a cupcake this week, which should help them get bowl eligible.
BF: Minnesota confuses me. One week they have it, one week they don't. If that proves true, then after their bye week they will destroy the South Dakota State Jackrabbits before traveling to Kinnick to lose their final game on the year.
TB: Adam Weber misses Eric Decker as the Gophers failed to clinch a bowl spot against an Illini team without Juice Williams. Good news: The Gophers draw South Dakota State with bowl eligibility on the line.
JA: Minnesota's quarterback Adam Weber played an abysmal first half. It was one of those nightmares from which you cannot awaken as Weber completed only five of 17 passes for 74 yards.
Add to that a fumble and an interception returned for a score, and you have a first half you need to erase from your memory. Weber finished the day 14-of-31 for 221 yards.
Minnesota fought its way back valiantly at the end but could not muster enough minutes or enough scores to overcome the Illini lead. Minnesota next hosts South Dakota State—hey, folks, this team is no patsy!
KG: The Gophers are another perfect example of how the middle of the Big Ten is just too close to call. Tim Brewster's squad beats the Spartans but can't get past a suddenly tough Illinois squad. C'est la vie in the Big Ten.
7. Purdue Boilermakers: 30 points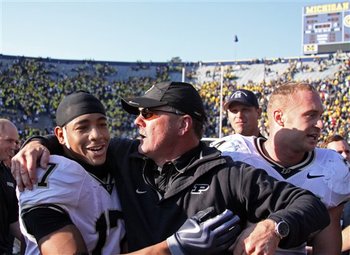 * Purdue wide receiver Aaron Valentin celebrates with head coach Danny Hope after a 38-36 victory over Michigan in the Big House.
High vote: 9
Low vote: 3
TC: The Boilers posted their first road victory in over two years and their first win at Ann Arbor in more than four decades.
While it seemed nearly impossible for Purdue to qualify for the postseason when Danny Hope's team sat at 1-5 with Ohio State coming to town, this surprising squad is only two wins away from the magic six-victory number.
RJ: The Boilermakers' win over Michigan was big as now they must just win their final two to become bowl eligible.
BF: Surprisingly, Purdue is competing strong in the middle of the pack. Beating Michigan at the Big House helped their cause of making it to a bowl game. If they beat MSU and Indiana, Purdue can salvage a season that started off like crap.
TB: Suddenly, the shocking win over Ohio State doesn't seem as much of an upset, as Purdue has won three of its last four and has turned the season around. Ralph Bolden is easily the breakout player of the year in the Big Ten.
JA: The Purdue Boilermakers football team mirrors Big Ten unpredictability. Just when you believe you have everything figured out, along comes Purdue, who have defeated both Ohio State and Michigan in the same year, during the same football season, and remain unranked with an overall losing record.
Last week they were shut out by Wisconsin. You just never know what prompts them to win—maybe they have a Don Quixote complex. Next week they play Michigan State at home. Who knows who will win! Purdue seems to suffer from a multiple personality disorder.
KG: The Boilermakers have the uncanny ability to prove you wrong just when you think you have them figured out.
They play Oregon and Notre Dame close but lose to Northern Illinois. They storm out to a huge lead against Northwestern but then commit six turnovers in less than a quarter of action and blow it, then they beat Ohio State by forcing six turnovers. They look less than awful in a shutout in Madison only to beat Michigan in the Big House a week later.
Who knows which Purdue team shows up week after week, but if the good one shows up, opposing teams should beware.
6. Michigan State Spartans: 34 points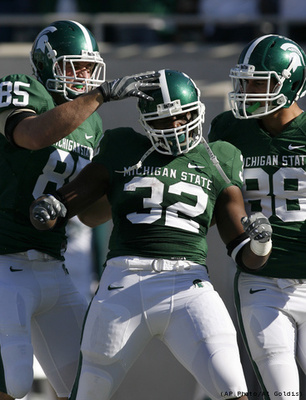 * Michigan State's Ashton Leggett, Garrett Celek, and Brian Linthicum celebrate Leggett's second touchdown of the game. The Spartans beat Western Michigan 49-14 on Saturday in Spartan Stadium.
High vote: 6
Low vote: 5
TC: Kirk Cousins and Ashton Leggett (who?) were a dynamic one-two offensive punch for MSU, as Cousins hit on 88 percent of his passes and Leggett (who?) rolled up four touchdowns. Things get tougher for Michigan State at West Lafayette this weekend, as the Spartans try to become bowl-eligible at the expense of the resurgent Boilermakers.
RJ: The Spartans put on an offensive show against Western Michigan but now must not be caught looking ahead to Penn St. as they travel to Purdue this week.
BF: The Spartans got back on the horse and scored some points over the weekend. Cousins had a great game, going 22-of-25 for 353 yards and two TDs.
TB: Ashton Leggett made his presence felt as the Spartans blew away Western Michigan and need to at least split between Purdue and Penn State to be bowl eligible. They never could fulfill those expectations of last year after making the Capital One Bowl, but this is a building year for Sparty heading into 2010.
JA: Against weak competition, the Spartans scored with an impressive offensive display against Western Michigan. These "treading water" contests are games that hold your place in line while padding your stats for the year. This one came along in time to add to the Spartan win column and keep alive postseason play hopes.
The Michigan State team had suffered two previous defeats before annihilating the Broncos on Saturday. Now the Spartans must play at Purdue next week and then host Penn State as their final game of the season.
The next two weeks could prove mighty interesting for the Spartans, who may wish to fire up their offense again—real soon and real hot.
KG: The Spartans offense was unstoppable in the first half against an overmatched Western Michigan squad. The emergence of running back Ashton Leggett could serve the Spartans well in their final two contests against Purdue and Penn State.
5. Northwestern Wildcats: 42 points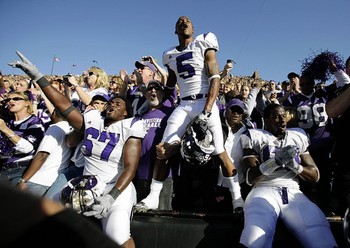 * Northwestern's Sidney Stewart celebrates with fans and teammate Marshall Thomas after their 17-10 victory over No. 8 Iowa on Saturday.
High vote: 7
Low vote: 7
TC: The Wildcats became bowl eligible in style, knocking off the previously undefeated Hawkeyes in Iowa City. Mike Kafka and Dan Persa shared the quarterback duties in Northwestern's biggest win of the season, and they provided enough offense to stun the Kinnick faithful and end Iowa's perfect season.
RJ: The Wildcats pulled off the biggest upset this year in the Big Ten as they knocked off the undefeated Hawkeyes and became bowl eligible.
BF: They managed to pull off one of the biggest upsets of the year. Grumble.
TB: The Wildcats pulled off an unlikely upset, and a healthy Corey Wootton could make their defense something to be reckoned with in the postseason. Bowl eligible once again, Pat Fitzgerald never gets enough credit for the amazing job that he does year in and year out.
JA: The Northwestern Wildcats fell behind quickly 10-0 against the Iowa Hawkeyes, but early in the second quarter the Cats sacked quarterback Ricky Stanzi in the Iowa end zone. When he fumbled the ball, the Wildcats fell on it and scored, coming back to 10-7.
After Stanzi left the game injured with a high ankle sprain, the Hawkeyes offense was done for the day. The Wildcats added another seven on another Iowa miscue and led 14-10, finally adding a field goal to end the day at 17-10.
The Cats became bowl eligible and play a red-hot Illinois team next weekend.
KG: The win over the Hawkeyes is the biggest in Pat Fitzgerald's short career and could go down as one of the biggest in school history. Even more remarkable is that the Wildcats won on the road with a somewhat hobbled backup quarterback getting the majority of the snaps.
Corey Wootton's sack of Ricky Stanzi and the subsequent touchdown turned what looked to be a blowout in the making into a game, and the Northwestern defense played lights out for a three-quarter shutout.
Is this the same defense coach Fitzgerald called "awful" after a close loss to Minnesota in September?
4. Penn State Nittany Lions: 50 points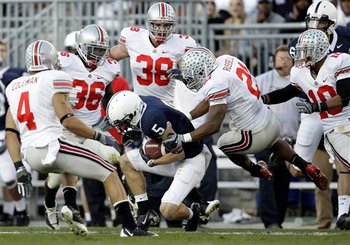 * Penn State receiver Graham Zug is swarmed by the Ohio State defense in the second quarter of the Buckeyes' 24-7 win on Saturday in Beaver Stadium.
High vote: 10
Low vote: 6
TC: The Nittany Lions have laid an egg in their biggest two home games of the season, and it appears that (as many predicted) their soft non-conference schedule didn't adequately prepare them for the rigors of Big Ten play.
Penn State hosts Indiana this week, which could be a bit of a trap game (as the Hoosiers have played well in close road defeats at Michigan and Iowa).
RJ: The Nittany Lions struggled to get anything working Saturday evening and must hope to bounce back and finish the season strong.
BF: The Nittany Lions struggled to put up any points against Ohio State. Evan Royster struggled, Daryll Clark struggled, PSU's defense struggled. Not a good weekend for Penn State at all, but with Indiana coming into Happy Valley this weekend, they should be able to rebound.
TB: We can probably chalk up the game on Saturday to Penn State being outworked and outplayed. But this team returns Sean Lee and is looking to lock up a New Year's Day bowl as a way to send off Daryll Clark.
JA: It was a very long afternoon for Penn State, whose offense was paralyzed by the Ohio State defense. Special teams also cost them as Ohio State enjoyed some healthy punt returns.
Penn State found it could not contain Terrelle Pryor, who scored twice through the air and once on the ground, running it in himself for a TD. The Buckeyes scored the last 17 points of the game.
Penn State was rocked by this defeat but needs to regain its equilibrium quickly to play Indiana next weekend.
KG: Daryll Clark never stood a chance. Tom Brady would have had a difficult time with the protection offered by the Nittany Lion offensive line.
The line did allow only two sacks against Ohio State, but Clark was hurried or knocked down on probably two-thirds of his pass attempts, as the Buckeye defense pinned their ears back and made life difficult all game long for the senior.
The Nits can also thank some horrible return coverage and even worse punting for giving up over 100 yards of field position.
3. Wisconsin Badgers: 54 points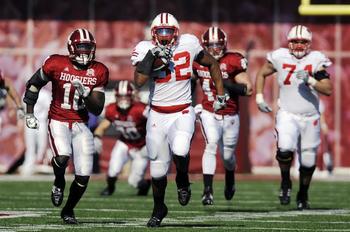 * Wisconsin running back John Clay breaks into the open field during a 31-28 Badger win over Indiana on Saturday.
High vote: 10
Low vote: 8
TC: The Badgers have taken care of business against everyone on their schedule except the league's top two teams. Can Bret Bielema keep his squad focused as the struggling Michigan Wolverines come to town?
RJ: The Badgers have only lost two so far, and it appears that they should be favored to win each game the rest of the regular season.
BF: The Badgers have quietly compiled a 7-2 record so far this year. Impressive.
TB: John Clay and Montee Ball have formed quite a one-two punch in the potent Badgers' offensive attack. Bret Bielema has done a great job of turning things around from a year ago and has put Wisconsin in position for a big bowl opportunity.
JA: Wisconsin built a hefty lead in the first half, running the ball seemingly at will against the Hoosiers. Badger John Clay scrambled 134 yards and managed to score a touchdown on the ground. Montee Ball
also scored two TDs.
Indiana tightened up their defense and added some scoring but were unable to overtake the Badgers as time ran out. After winning their last two, the Badgers look to be in good shape going into the postseason. Next week they host the free-falling Michigan Wolverines in Madison.
KG: The Badgers are an interesting bunch. Like the Nittany Lions, Bret Bielema's squad had two opportunities to get a statement win on the season...at Ohio State and the next week at home against the Hawkeyes. The Badgers didn't get the job done.
Now, at 7-2 and lacking a true signature win, can the Badgers finish the season strong at 10-2 and put themselves in position to get their first BCS appearance?
2. Iowa Hawkeyes: (1) 56 points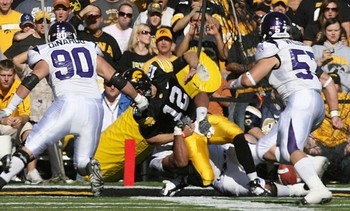 * Iowa quarterback Ricky Stanzi is sacked at the goal line by Northwestern's Corey Wootton in a 17-10 Wildcat victory on Saturday in Kinnick Stadium. Stanzi suffered a severe ankle injury on the play.
High vote: 1
Low vote: 8
TC: Four words: Sports Illustrated cover jinx. With Stanzi sidelined, the Hawkeyes couldn't pull off another patented fourth-quarter comeback and dropped their first game of the season. Can backup quarterback James Vandenberg keep Iowa's title hopes alive in the Horseshoe?
RJ: The Hawkeyes stumbled for the first time this season with a loss to Northwestern, and even more disheartening is the loss of QB Ricky Stanzi.
BF: One play changed the momentum of the game against Northwester, but more importantly changed the momentum of the season. After Stanzi's injury, Iowa struggled to score any points and allowed the Wildcats to get back into the game.
Redshirt freshman James Vandenberg will be starting on Saturday against Ohio State. He will be Iowa's 20th new starter of the season. Not what you want when you are on the verge of a Big Ten title.
TB: Losing Ricky Stanzi for the Big Ten title game drops the Hawkeyes below Penn State despite beating the Nittany Lions. Without their offensive catalyst, the Hawkeyes head into Columbus as heavy underdogs and hard-pressed to get a win, which now seems highly unlikely.
JA: As much as the Iowa faithful pretend this loss does not matter, it hurt big time because Iowa doesn't get chances like this one very often.
Unfortunately for the Hawkeyes and their fans, they lost their quarterback Ricky Stanzi early in the second quarter. Iowa never scored again after shooting out to an early 10-0 lead. The sack and the subsequent fumble in the end zone cost the Hawkeyes a touchdown and their quarterback all in one fell swoop.
KG: Corey Wootton's sack on Ricky Stanzi turned out to be much more devastating than a fumble recovery and TD for the Hawkeyes. In comes true freshman James Vandenberg, who must find a way to overcome 105,000 jeering Buckeye fans in the 'Shoe. Not to mention the 11 warriors on defense who are jawing at the chance to make him look silly in Columbus.
But the Iowa defense is at full strength, and you better believe Pat Angerer, Adrian Clayborne, and Tyler Sash will be chomping at the bit and ready to make a statement against the "mighty" Buckeyes.
1. Ohio State Buckeyes: (5) 65 points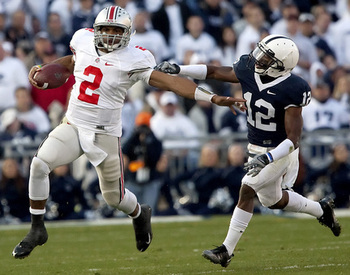 * Ohio State's Terrelle Pryor stiff-arms Penn State's Stephon Morris during the Buckeyes' 24-7 win on Saturday in Beaver Stadium.
High vote: 1
Low vote: 2
TC: The Buckeyes made a statement with a resounding road victory in Happy Valley, and with the injury to Iowa's Ricky Stanzi, OSU has to be feeling confident about their chances at yet another Big Ten title and BCS bowl appearance.
Jim Tressel always points to November, and the Bucks seem to be peaking in the right month for a championship.
RJ: The Buckeyes' win in Happy Valley was big as the Buckeyes now could find themselves in another BCS bowl this year.
BF: The Buckeyes manhandled Penn State and now sit tied with Iowa for first place in the Big Ten. The game this weekend in Columbus will determine the Big Ten title.
TB: The Buckeyes proved to Penn State and to the world that the Big Ten still belongs to them after a strong all-around showing in Happy Valley. With the de facto Big Ten title game in the Buckeyes' backyard, they have all the momentum to get back to Pasadena for the first time since 1996.
JA: The Buckeyes upended the Penn State Nittany Lions in Beaver Stadium and in the end left Penn State fans very unhappy.
Most expected the Lions to roar and silence the pesky and persistent noise emanating from the Buckeye camp. Only Terrelle Pryor seemed to enjoy his homecoming to native Pennsylvania—no one else was happy to welcome him back home, as he threw two touchdown passes and ran for another against the hometown team. Ohio State won 24-7 last Saturday.
All they have to do to cement their spot at the top is beat the Hawkeyes at home this weekend—everyone expects the Buckeyes to do that with little difficulty.
KG: Ohio State's complete domination of a Penn State team that many thought would knock the Buckeyes out of the Big Ten title race, mixed with Iowa's first loss and the loss of their comeback quarterback, moves Jim Tressel's squad back into the top spot.
The Buckeye Silver Bullet defense never looked better, and defensive end Cameron Heyward made the Nittany Lion offensive front look like a bunch of middle schoolers.
The emergence of game changer Ray Small on kick returns, the Boom and Zoom running tandem, and a newly in command Terrelle Pryor give the Buckeyes the chance to play Tressel-ball—and Ohio State is never better than when they can play Tressel-ball.
Keep Reading