University of Cincinnati Women's Basketball: Media Madness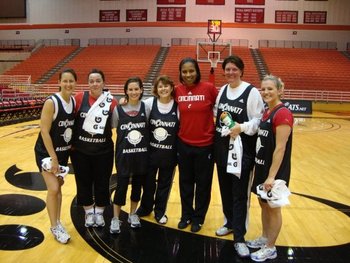 You've heard of March Madness and Midnight Madness...today we did Media Madness with the University of Cincinnati Women's Basketball Team led by Coach Elliott. Seven brave members of the media joined a very patient team and coaches for only one hour (thank goodness) to experience practice in the Big East.
Members of the Media Team with UC Coach Jamelle Elliott (L to R): Jennifer Scroggins and Shannon Russell, The Cincinnati Enquirer; Dacia Snider, Soapbox Media; Betsy Ross, FOX 19/GoBearcats.com, Jackie Reau, Bleacherreport.com and Randi Rico, WLWT.
Media Madness begins with stretching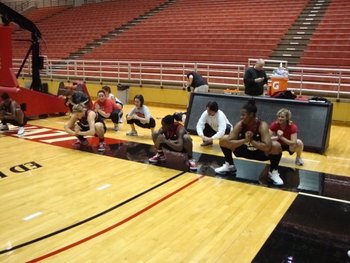 Here we are stretching for our on-court debut.
And more stretching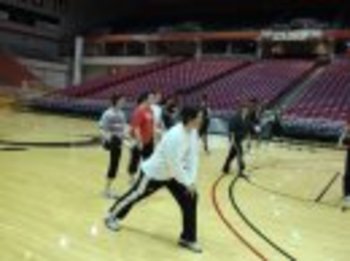 Stretching is very important when you are old, trying to relive your high school glory days!
We got to wear "real" practice jerseys...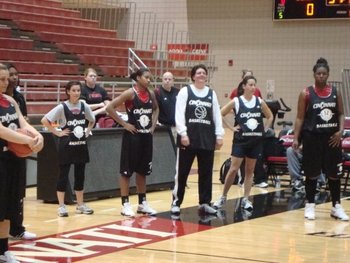 ...and the Gatorade bottles had our names on them! Cool!
Where were my 1985 Jordans? Nowhere in sight, so I had to go with the cool Adidas running shoes with no ankle support.
Trying to show off...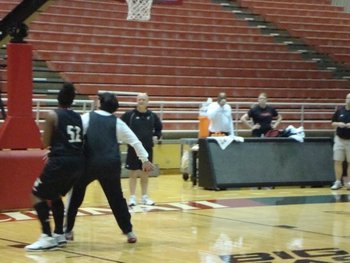 ...for my new friend, Michelle Jones, by boxing her out in a drill.
Michelle was my on-court buddy...I watched everything she did so I didn't look like too much of a fool! Thanks, Michelle!
Break time with Betsy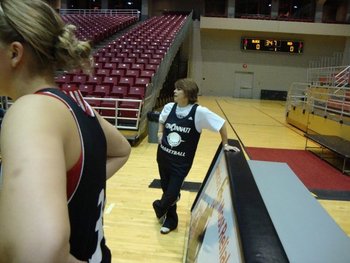 Did I mention...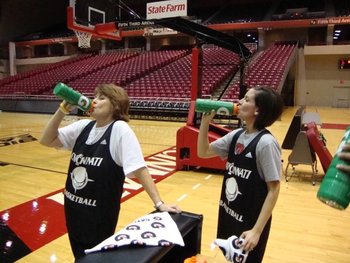 that there were water breaks? Betsy and Dacia guzzling water like they have just crossed the Sahara.
And more water...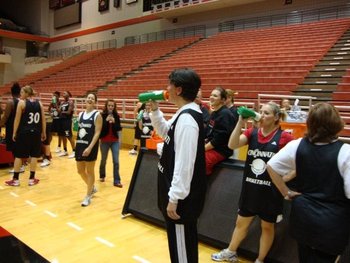 Things you learn...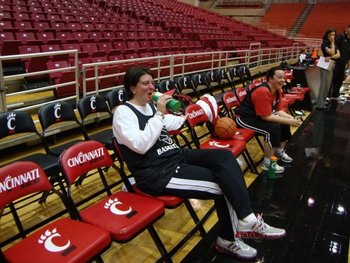 Coach Elliott--with her coach voice--taught me the hard lesson that you don't relax on the bench during a water break! Woopsy. Sorry, Coach!
Free throw contest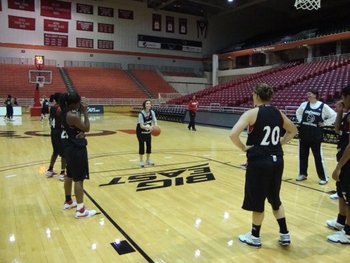 I made my two free shows but our team lost the competition. You know what happens when you lose the free throw contest, don't you?
The three most feared words in basketball...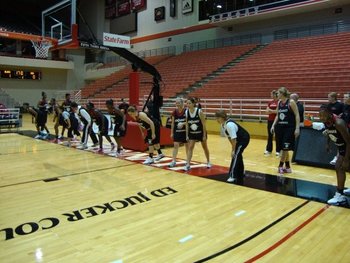 "ON THE LINE!"
Yep, we had to run a modified suicide with the players and the media team.
Our team photo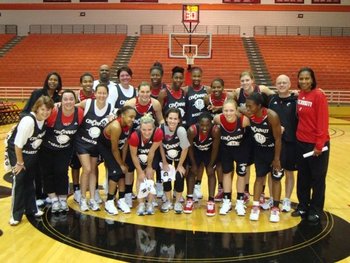 Here is the 2009 edition of the UC Women's Basketball Team with their media buddies! What a good looking group!
It's a media frenzy!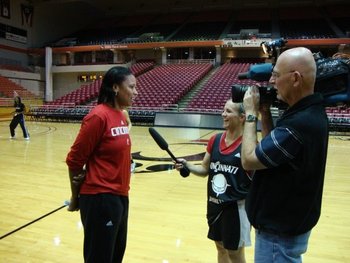 Randi Rico from WLWT conducts a post-practice interview with Coach Elliott.
Prime Time Michelle Jones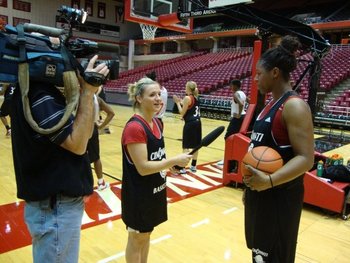 Michelle Jones manages the media during Media Madness with WLWT's Randi Rico.
Keep Reading