Cheerleaders are awesome—hot chicks who dress in suggestive outfits and dance around to fire up the crowd.
But as much as I love cheerleaders from football, basketball, and even hockey, they all have one thing in common—their league has never seriously considered getting rid of them because they are too sexual.
Enter the National Rugby League cheerleaders. These girls are so hot that the league has been under serious pressure to not have cheerleaders at all because of just how hot they are.
Russell Crowe owns a team and got rid of the cheerleaders because he said they were too distracting.
After I heard all this, I definitely had to check these girls out for myself, and they live up to the hype.
So without any further ado, here the Rugby Cheerleaders: The Hottest Women You Never Knew Existed.
The Bulldogs Cheerleading Squad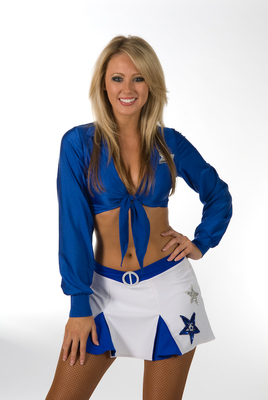 The Canterbury Bulldogs have seemingly taken a page out of the Dallas Cowboy Cheerleaders' book. I won't be filing any plagiarism suits anytime soon.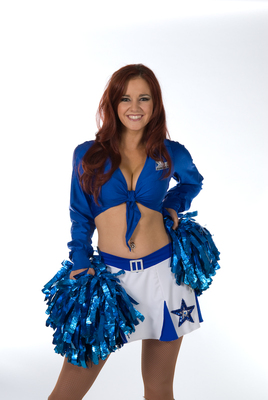 This girl's hair has got me all patriotic with the red, white, and blue in this picture.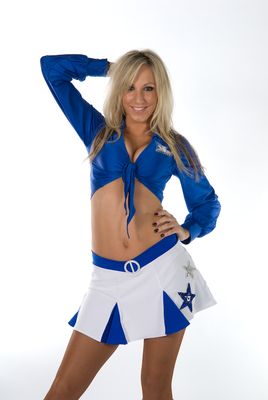 Who needs a push-up bra when you can just tie your shirt together tighter?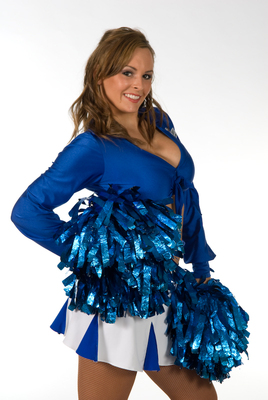 It's amazing that some of these women can stand without immediately toppling over forward.
The Chill Titanettes Cheer Squad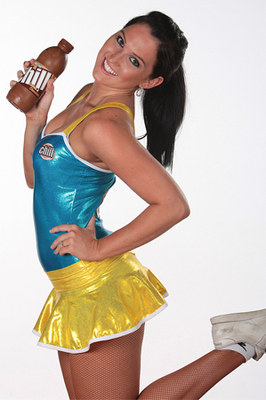 In Rugby, many of the cheerleading squads are actually sponsored themselves. This group is sponsored by some unappealing beverage called Chill that I somehow really, really want to drink right now.
Oh look, they have it in a different color brown. But since I'm too focused on what is between the bottles, I could care less.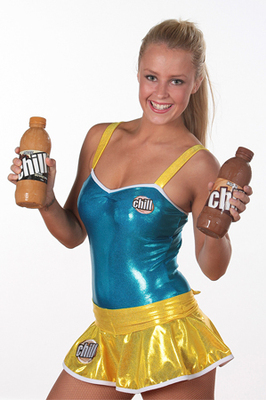 Actually, I think the beverages are there to distract from the ridiculous outfits these girls are wearing. Ridiculously awesome I mean.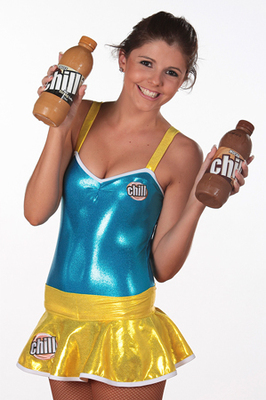 Okay, I think I'll take the brunette...I mean, the brown one.
The Parramatta Eels Cheerleading Squad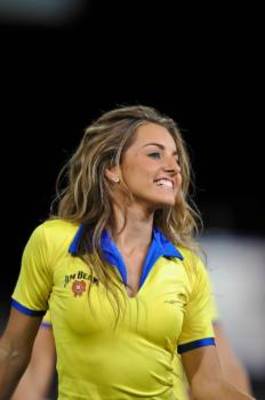 It looks like they threw a bunch of hot bartenders out onto the field. What a great idea!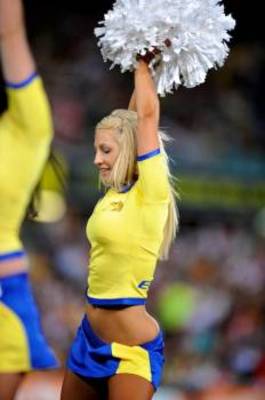 Throw your pom-poms in the air if you know how to shake your booty.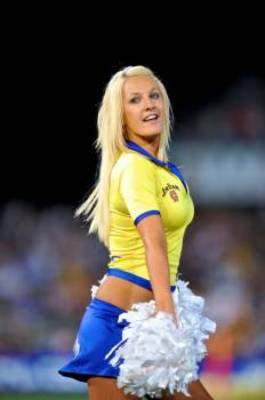 It's not that blonds have all the fun; it's that we just have the most fun looking at them.
The Glad Group Flames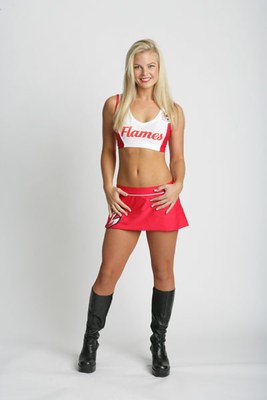 The St. George Illawarra Dragons cheerleaders are called the Glad Group Flames. I guess it's fitting because they are flaming hot and they make me very glad.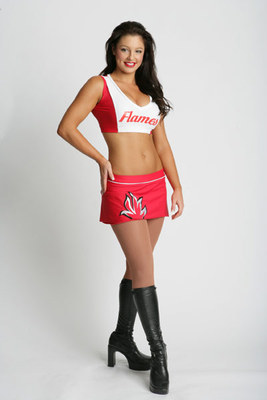 There is a group of these cheerleaders that date as many of the players as they can. They call themselves the Dragon Slayers.
Okay, I made that up, but that sounds kind of awesome, doesn't it? At least for the players. I mean, these girls can slay me any time.
I'm not really sure if Cheergirl of the Year is a great honor, but getting with the Cheergirl of the Year is deserving of a medal of honor, or at least a giant trophy of some sort.
The Hogs Breath Cafe Broncos Cheer Squad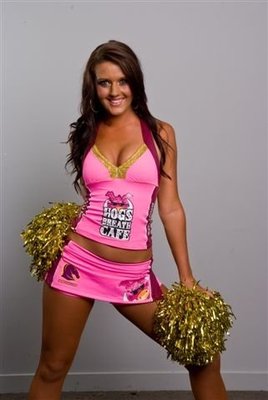 Their name is a mouthful. Another sponsored group, you can see why someone would want to sponsor them. The name "Hogs Breath Cafe" has never looked as good as it does on her.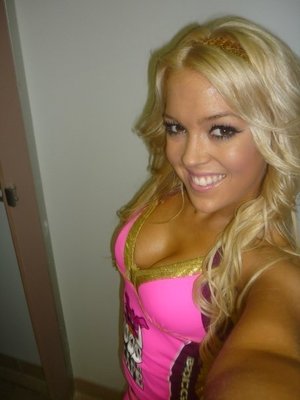 Normally I'm not in favor of the whole "hold your camera out to take a picture of yourself" move, but in this case, I'll allow it.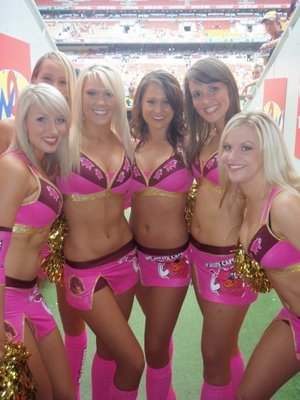 This picture was taken shortly before the kid in the top right fell out of the stands trying to get a better look.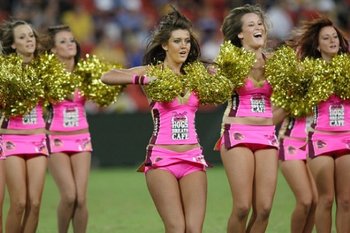 I think we need to work on somehow making their shorts just a little bit shorter.
The Newcastle Knights Cheer Squad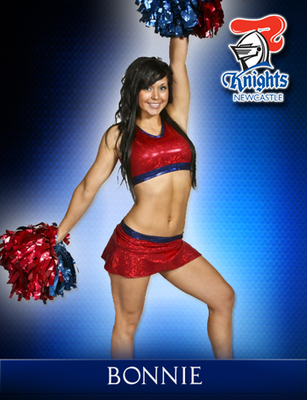 If this was ever the time that your "Knight in shining armor" pickup line would work, this would be it.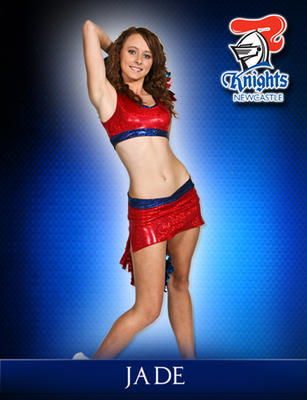 Jade is either posing sexily or trying to scratch an itch. Either way, I'm perfectly willing to help.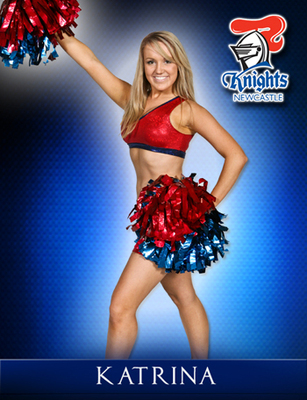 Ever since the whole thing in New Orleans, the name Katrina has been dragged through the mud. It's about time we had a little more positive Katrinas in our lives.
The Manly Sea Eagles Cheerleading Squad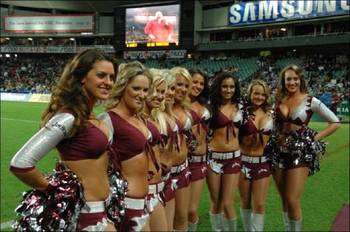 Never has a cheerleading squad's name been so deceiving. They're from Manly. Trust me, other than the name there is nothing manly about this group.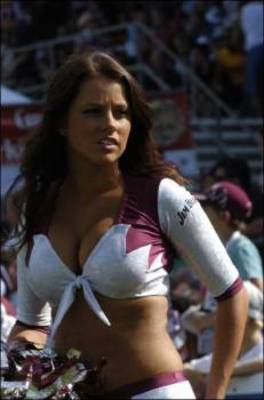 She may not look very happy right now, but that's okay because 90 percent of you weren't looking at her face.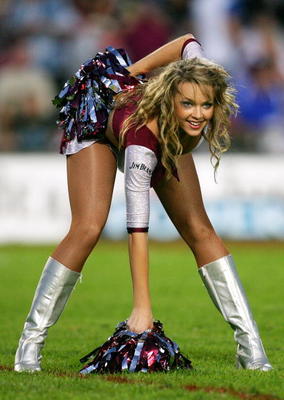 There's really not much to say about this other than "wow."
The Cronulla Sharks Cheerleading Squad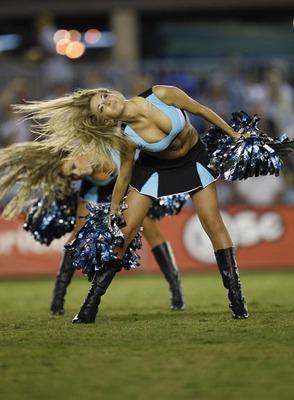 The Sharks cheerleaders go by a much friendlier name: the Mermaids. That's nice and all, but I'm happy that both halves of these girls are human, thank you very much.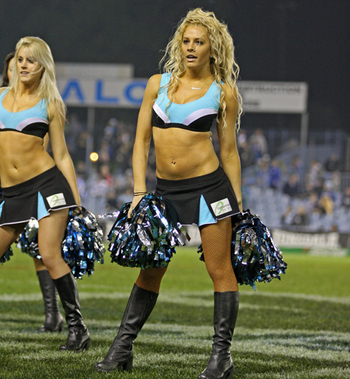 I think leather boots are the only piece of apparel that I like that actually covers up more skin than is normally covered up. It's just sexy.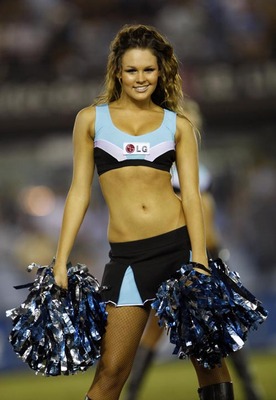 This Mermaid in particular is just calling to me. She puts the "fish" in fishnet stockings.
The Penrith Panthers Cheer Squad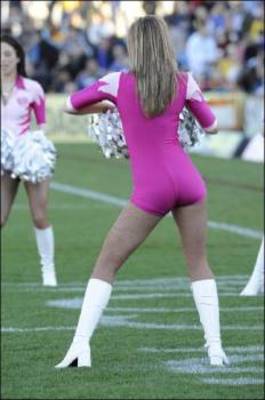 I like these outfits so much that I'm not even going to make an '80s joke.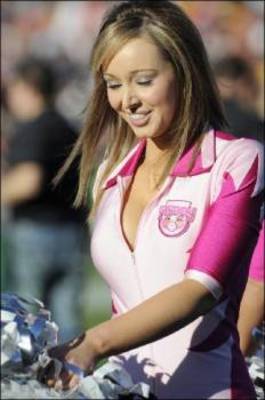 This pink Panther is a rare jewel.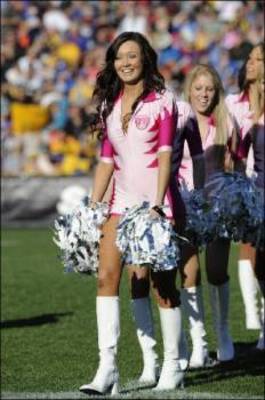 It's the hottest game of follow the leader ever!
The Canberra Raiderettes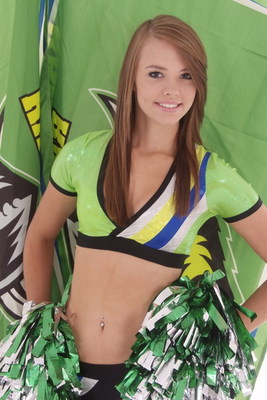 Oakland isn't the only place that has Raiderettes. And Canberra doesn't have Al Davis!
She's so hot that I'm able to overlook the fact that a professional sports team actually wears those colors.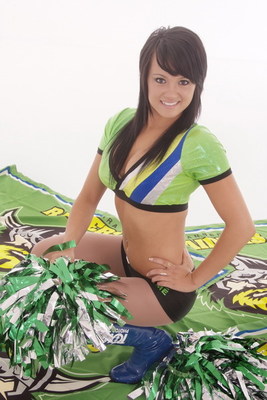 One thing I love about cheerleaders—"Drop it like it's hot" is universal to them. It's hot in any language.
The Roosters Cheerleading Squad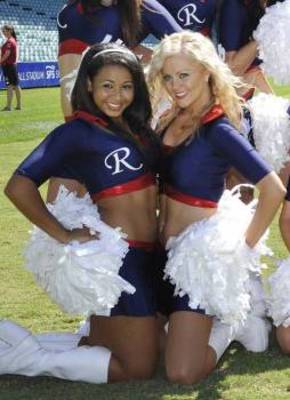 You know what I love about this squad? They're not afraid to work in close quarters.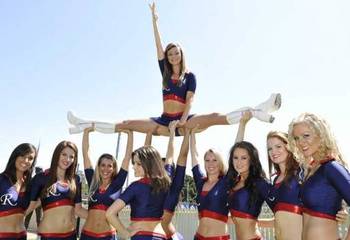 I think we can give the Roosters Cheerleading Squad the award for "Most Flexible."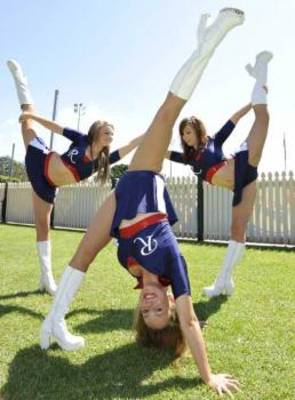 Okay, okay, we already gave you the award. Stop showing off!
The Genesis Spirit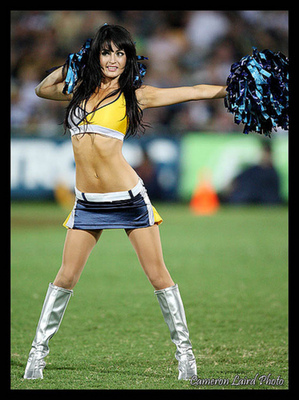 The Genesis Spirit, sponsored by Genesis, are the cheerleaders for the Toyota Cowboys. It's the sponsorship perfect storm!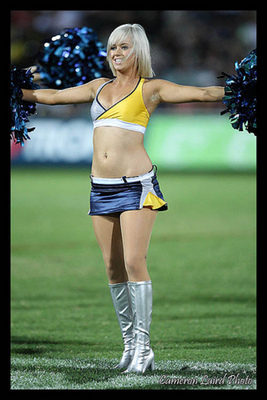 Seriously, though, I can't imagine why a fitness center would sponsor these girls. I can't think of a single reason. Not one.
The Melbourne Storm Cheerleaders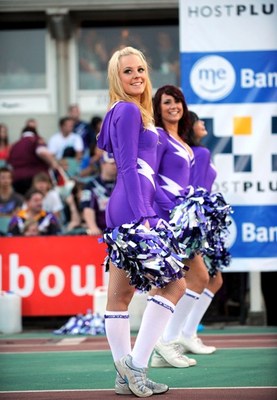 There aren't a lot of pictures of this group out there. It may have something to do with the fact that they look a little bit like Grimace in those outfits, but damn, that first girl sure is hot.
The Wests Tigers Cheerleaders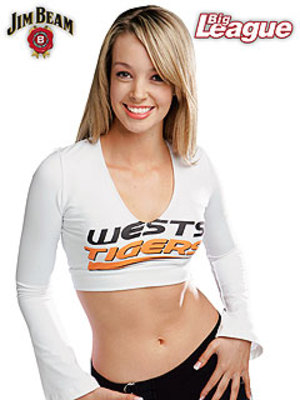 I'm not really sure why there are multiple Wests, but their Tiger cheerleaders make it okay to call themselves whatever they want. They could be the Marshmallow Unicorns for all I care—this girl would look good with any words across her chest.
The New Zealand Warriors Cheer Squad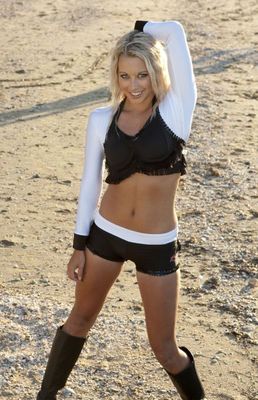 Hot cheerleaders + the beach = good times had by all.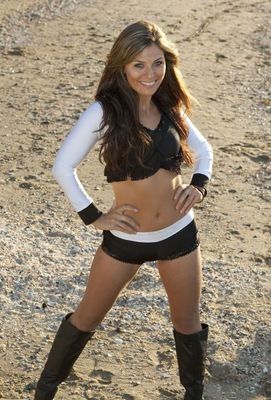 First New Zealand gave us the Flight of the Concords, and now these sexy ladies? I need to go visit that place sometime.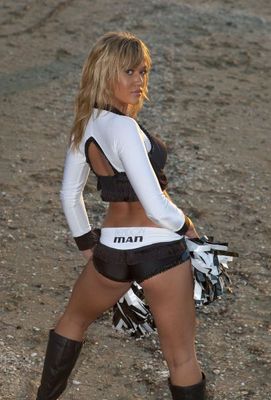 If every hot girl looked back at me with this look on her face, I would be a happy, happy man. That's just seductive.
If you liked this, check out The Hottest Top-25 Cheerleaders in College Basketball !