Philadelphia Eagles Midseason Report Card: Defense and Special Teams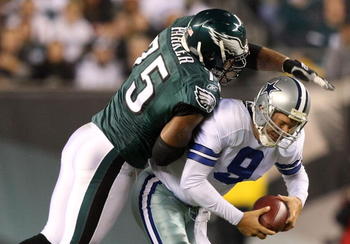 Yesterday's look at the Eagles' second-quarter offense saw them drop an entire letter grade.
Without trying to spoil the show, the defense won't do the same.
While they have fallen a bit (they rank tenth in total defense as compared to third at the last checkpoint), they're still eighth in the league in points allowed and are doing well in several other categories.
Without further ado, on with the show.
Defensive Line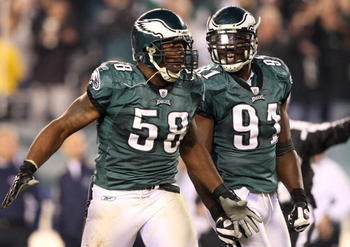 Previous Grade: B-minus
They still know how to get to the quarterback.
The line's 10.5 sacks in the second quarter is just off their pace of 11 through the first four games, but what's perhaps more important is that everyone is getting in on the act.
Trent Cole leads the team with 7.5, tallying a notch in all but one of the team's eight games. Jason Babin and Chris Clemons have come on strong, and even Mike Patterson and Brodrick Bunkley have tickets for the sack train.
Against the run, the Eagles are still in the top 10—which is still good, but slightly lower than they were four weeks ago.
The line hasn't done anything impressively better or egregiously worse since the last checkpoint, but their pass rush consistency against a better selection of teams knocks their grade up a notch.
Overall Grade: B-plus
Linebackers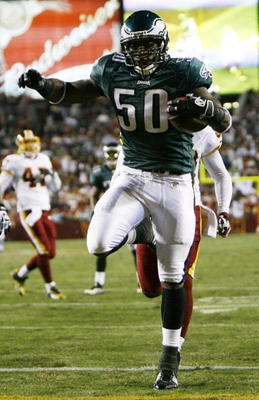 Previous Grade: A
Without Will Witherspoon, I'd hate to see where this team is.
They've now lost two middle linebackers to season-ending injuries, and Chris Gocong missed the Dallas game with hamstring issues.
Witherspoon has been a godsend, tallying 20 tackles, a sack and an interception (which he took back for a TD) in three games. He plays every down (and has virtually rendered Jeremiah Trotter useless) and is quickly becoming the rock of the defense.
On the weak-side, Akeem Jordan seems to be growing into the role and is having a solid, if even less-than-spectacular season. He leads the team in tackles with 53, has shown major improvement in pass coverage and could be a fixture there for years.
The other side is a different story. Gocong had a monster game against Oakland with ten tackles, but hasn't been able to find his groove and is now hurt.
His replacement, Moise Fokou, takes entirely too many dumb penalties and seems better suited to being the WILL, but Jordan has that on lock-down.
Joe Mays has all but fallen off the depth chart and Tracy White has played okay, but has seen way too much of the field for a special teams ace.
If Gocong can get healthy and find a groove and/or Fokou can improve quickly, this can be an excellent group in the second half.
They haven't been "as good" as they were and the run defense has slipped a little bit, but still an excellent grade, nonetheless.
Overall Grade: A-minus
Defensive Backs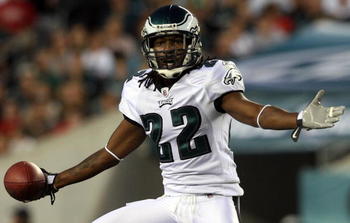 Previous Grade: A-minus
Remember how I said the DBs were ball-hawks in the first quarter report? That hasn't changed a bit, as the Eagles are third in the NFL in interceptions and tied for the league lead in total takeaways.
The starting corners have four picks between them in the last four games, and Asante Samuel is on pace for double-digits and another Pro Bowl berth.
Meanwhile, their backup, Joselio Hanson, is becoming a solid nickel corner.
They do have their problems, though, as the pass defense has slipped to No. 11 in the league and is entirely too susceptible to giving up big plays.
Samuel has shied away from contact more than ever lately, and seemed especially wary after a hard hit to the head in the Dallas game. Those traits make one wonder if there's a head, neck, or shoulder issue that's got him leery of making a hit.
Sheldon Brown still falls for the double move way too much, even against bad receivers, and Hanson is very prone to getting burned by speedier slot receivers.
While it's feast or famine outside, the boys inside have done very well for themselves.
Quentin Mikell has been solid and is second on the team in tackles, but it is Sean Jones who has really come out of nowhere to become a major contributor.
Stepping in for an injured Macho Harris, Jones has 17 tackles in the last three weeks and has been excellent in coverage. He even recorded a sack against Dallas and has made all the plays.
Quintin Demps has also seen more time after not recording a tackle in his first five games, and he notched his first career interception against the Giants. He looks like he'll never be much more than a fourth safety/return guy (see also JR Reed), but at least it's a role he can finally handle.
While the turnover ratio helps their cause, the pass defense has slipped a little and so does their grade.
Overall Grade: B-plus
Special Teams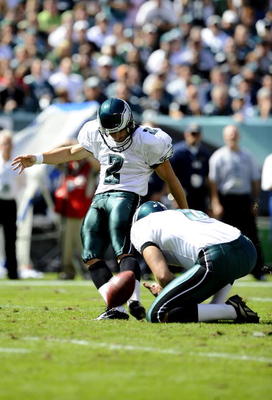 Previous Grade: A
David Akers has either turned back time or sold his soul to the devil. He's 16-for-19 this season, and hit 8-of-10 from 40-plus yards in the last four weeks, including his only attempt of 50-plus.
Of course, his only two misses came in a four-point loss to the Raiders, where making either of those attempts would have been a huge swing. But, with all the other problems the Eagles had that day, it's hard to pin the blame solely on him.
Sav Rocca has been his usual self, averaging over 40 yards per punt and dropping half of his second-quarter kicks inside the 20.
On the return side, DeSean Jackson and Ellis Hobbs have been solid and kick coverage has been very good, so nothing to quabble over here.
On the downside, the Eagles have given up a few long kick returns and Jackson hasn't broken one since September.
Otherwise, business as usual.
Overall Grade: A-minus
Overall Grade: B-plus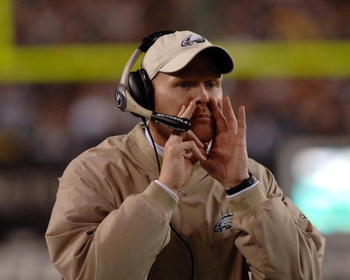 If it were a numerical grade, the Birds would be right around 90.
In short, the defense continues to play at a high level. The Eagles have a top-ten defense, but while they are eighth in the NFL in points allowed, they routinely give up one big play (or more) a game.
Sadly, against Oakland and Dallas, that big play was the game breaker.
They still have three starters capable of Pro Bowl seasons, but the offenses don't get any easier (outside of Washington, anyway) in the second half.
Can they maintain their stout tendencies and help carry the offense back to the playoffs?
Keep Reading

Philadelphia Eagles: Like this team?