Bengals' Draft Plight Comes to a Head: The Curious Case of Jerome Simpson and Lost Opportunities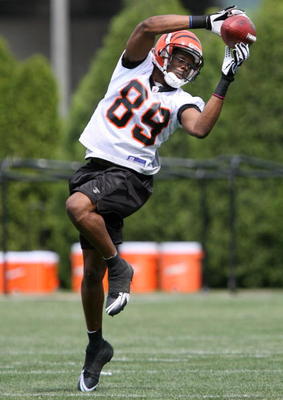 Yes, that is a picture of Jerome Simpson during Bengals training camp.
Who exactly is this wide receiver that Cincinnati was "so high on" from our superb "scouting" in 2008 that we decided to use (read: waste) a second round pick to grab him, even though he would have been available well into the fifth or sixth rounds?
That, my friends, is the $64,000 question. Cincinnati chose this man from Coastal Carolina because they thought he had big play ability, on par with the likes of Randy Moss coming out of Marshall or T.O. out of UT Chattanooga (ride that Choo-Choo).
What has he done in his one-plus-year as a pro? Let's take a look at the stats:
Six games played, one game started, and one catch for two yards.
ONE CATCH!!?? That is both horrendous and inexcusable for such a high pick. Not to mention, the one game he started was last year when the team was so decimated with injuries that they had no other choice.
A team's first to third round picks should be SURE THINGS: position players who can immediately step on the field and make the team better.
Something is obviously wrong with this guy's medulla oblongata because he has yet to "grasp" the complex intricacies of Bob Bratkowski's offense. He is one-dimensional. He's the regular Nintendo to the NFL's PS3-Live system.
But this week, after Chris "Slim" Henry went down with a broken forearm and found himself on the IR, Jerome Simpson may get a chance to show that he was worth that signing bonus of his.
Even though Carson Palmer outwardly endorses Maurice Purify, who currently sits on our practice squad, I say, "Why not give Jerome Simpson a four-week tryout for his life as an NFL player?"
Steelers, Raiders, Browns, Lions. That's it. Show us what you got. If not, it's time for the Bengals to cut their losses and release him. He's wasting a roster spot. C'mon son.
Now, let's take a look at "what could have been" for the Cincinnati Bengals. This list chronicles the wide receivers they PASSED on in the 2008 NFL Draft.
Aside: I'm not going to gripe about Andre Caldwell, the receiver they took in the third round in 2008, since he has shown that he is "T.J. Houshmandzadeh, The Redux": quality guy with less jabbering, sweeter tats, and less hair.
I like his clutch play more than I like seeing Tim Tebow concussed.
Lost Opportunity No. 1: DeSean Jackson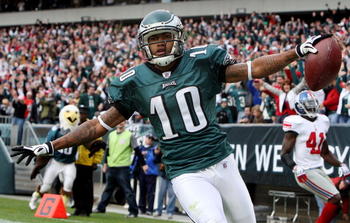 Selection: second round, 49th pick (THREE G*%D**$ picks AFTER Simpson)
This pick, more than any other possibility, irks me the most.
DJ is a top eight receiver and arguably the No. 1 deep threat in the league due to his speed, agility, and elusiveness.
He is the first player to have a running AND receiving TD of 55 yards or more in the same game. He already has six TDs of 50 yards or more this season. (The record, by the way, for those stat gurus, is eight for a season.)
Needless to say, he would have been a perfect solution as a deep threat for Carson Palmer.
But alas...
Lost Opportunity No. 2: Earl Bennett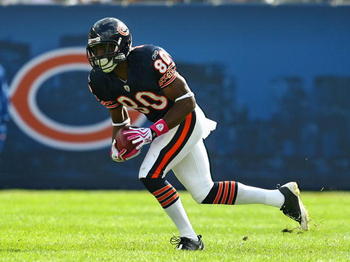 Third round; 70th overall pick.
Now I don't intend to paint a picture portraying one Earl Bennett as a top-flight WR. However, he has proven he fits in with the Bears, even though it's really only because they have no other options and Jay Cutler played toss-and-catch with him in college for a year.
His stats this season: 32 receptions for 427 yards.
Regardless of the system, I'd certainly take THAT over Jerome Simpson's eight inactive games. EIGHT. Eight of eight regular season games = no playing time. How bad does one have to be not to get any "burn," as they call it on the streets?
Lost Opportunity No. 3: Harry Douglas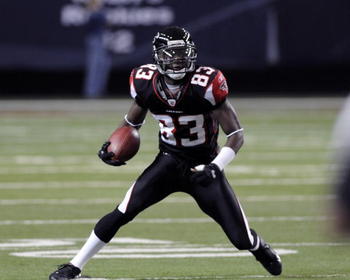 Granted, he has been injured all season with a knee, but he was the bona fide second receiver going into the season behind Roddy White given his performance as a rookie in 2008.
Coming out of Louisville as a second team All-American, Harry D was taken in the third round as the 84th pick. His rookie season, he racked up 320 receiving yards and was poised to build on that until he was injured two days into training camp.
Given his game-busting speed (think Mario Kart when you get the toadstool), he would have been a welcome addition to a Bengals lineup including veterans Chad Ochocinco and Laveranues Coles.
Lost Opportunity No. 4: Mario Manningham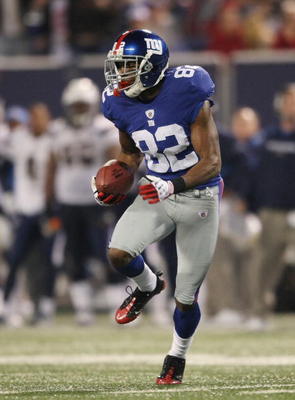 Third round, 95th overall pick.
Mr. Manningham has emerged onto the scene as a potent 1-2 combo with Steve Smith 2.0. He has hauled in 34 receptions and 491 yards with four TDs.
Even though he's an of alum of "The School Up North," he provides sure hands, a good understanding of the game, and has a knack for the end zone (all things that Simpson has yet to prove).
To top it off, he has come out of nowhere to provide a spark to my fantasy team when other key receivers have gone down. For that, you receive my endorsement.
Lost Opportunity No. 5: Josh Morgan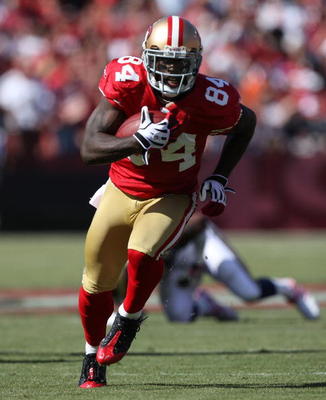 Sixth round, 174th overall pick out of Virginia Tech.
Morgan had a monster year as a rookie, coming up from under the radar to post solid stats in the 12 games he saw action AND considering he had the likes of Shaun Hill throwing his passes: 20 receptions for 319 yards.
While his numbers aren't as stout this year (yards per catch down from 16 to 13.8), he is likely to bust out and prove his mettle now that he has a rejuvenated Alex Smith at the helm, who suddenly learned how to throw with accuracy, and another sensation/distraction in Michael Crabtree patrolling double coverage.
He's a strong pass catcher in traffic and a good run blocker, both things that Twiggy (aka Simpson) has not been able to demonstrate.
Lost Opportunity No. 6: Pierre Garcon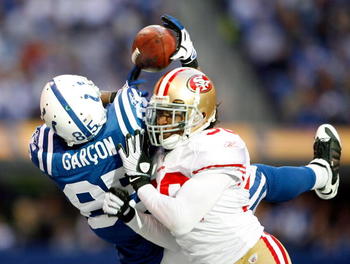 Yes, the heady Frenchman from D-III dynasty Mt. Union, who went in the sixth round with the 205th pick to Indy, is DEFINITELY better than Simpson.
Maybe it's Indy's system, or maybe it's the uncanny good looks of Peyton Manning, but whatever it is, this guy has stepped up in this, his second season, to provide numbers worthy of a third, maybe even second option (with Anthony Gonzalez out). He has 353 yards receiving with two TDs.
Moreover, this guy's willingness to work his butt off and learn the nuances of such a rhythm-run offense speaks to his dedication as a student of the game.
Tell me Jerome Simpson, why can't you learn to run block, play special teams, or do anything besides a run a go route?
Final Verdict: LACK of Scouting to Blame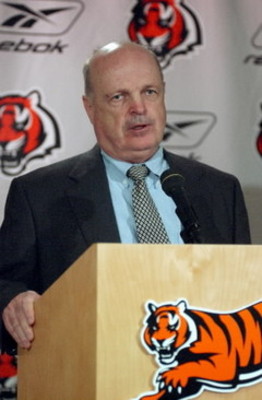 Our lack of success with draft picks like Jerome Simpson is an addition to a list that is growing by the year.
Mike Brown's draft bust list is too innumerable to delve into in a column like this. I think I would need a year's worth of articles to chronicle all the failed picks. But I digress...
Why the Bengals end up with players like Jerome Simpson in the second round is directly related to the amount of emphasis Cincinnati places on scouting. The answer to that, my friends, is zero. None. Nil. Zilch.
The Bengals have ONE full-time scout. Yes, you read that correctly—one. There are five others who fill the void of regional directors of "player personnel"—whatever that means.
Successful franchises understand the importance of scouting, and these teams are able to find diamonds in the rough year after year.
Case in point, Pittsburgh pulls Mike Wallace this past draft in the late third round, as well as Indy with the aforementioned Pierre Garcon. Look at how they had a plan for these players, drafting for need and not potential.
Comparison: When I hit up Taco Bell late night for my fourth meal consisting of a Cheesy Gordita and Crunch Wrap Supreme, they have at least six to seven employees there until 3 a.m.
The Bengals, on the other hand, have one full-time scout and five other nepotistic family members who maybe read ESPN Insider three times a season.
The entire college football landscape can NOT be covered adequately by an untrained staff without the proper football background.
Mike Brown, stop being the Shylock that you are and get a clue. Hire competent scouts—people who've been around the NFL and college games long enough to be credentialed assessors of talent.
Keep Reading

Cincinnati Bengals: Like this team?