Big 12 North Predictions and Power Rankings (Week Eleven)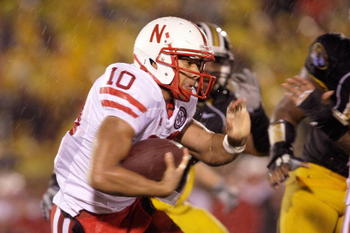 It's been the story of the entire season, hasn't it?
One week, you feel like you've finally begun to understand the mindless havoc that is the Big 12 North. The next, you realize that there's a reason you've deemed it "mindless havoc" in the first place.
I guess I got exactly what I wished for, though; an unpredictable football season.
I guess it's ironic that I dream for seven months of a football season so crazy that it turns my mind to mush, then spend the five months during the season trying to predict what will happen anyway.
But that's beside the point.
Last week, Josh Klein, Ryan Faller, and I all made the exact same five picks, and got exactly four of them wrong. (Thank you, Oklahoma State).
Let's see if we can put things in order this week...
No. 6 Kansas (5-4, 1-4) vs. Nebraska (6-3, 3-2)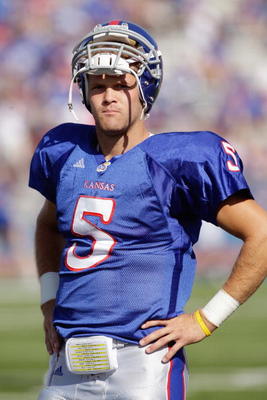 I not only saw some improvements in the second half from Todd Reesing, but the rest of the offense as well. It's just too bad they couldn't finish those drives out right.
This defense just can't be expected to carry them throughout games, and I'm upset at the lack of adjustments made to accommodate Daniel Thomas and company on the ground.
While I did see improvement, I doubt it will be enough to overcome the stoutest defense in the North, especially when matching the Husker defensive line up with that of Kansas' offense.
I'll take Nebraska in a very similar, very ugly, 20-14 win at home.
No. 5 Missouri (5-4, 1-4) at Kansas State (6-4, 4-2)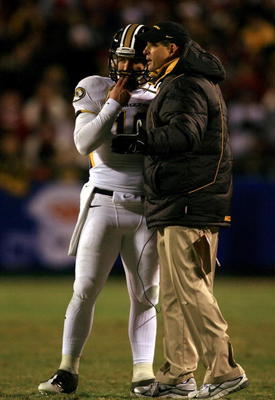 Allowing 400-plus passing yards is no way to make a run in the North. (Believe me, Kansas tried that last year.)
Rushing for only ten yards is no good either. (Yep, we tried that too.)
Doing so at home against Baylor is a good way to knock yourself out of the race and turn your fans against you.
Had Missouri won, I would have at least considered picking them against Kansas State on their way to revitalizing a dreary season. Now, not a chance.
Grant Gregory may actually have to throw the ball this week, but it will be Wildcats all the way, 24-20.
Sorry, Ryan. I know how you feel.
No. 4 Iowa State (5-5, 2-4) vs. Colorado (3-6, 2-3)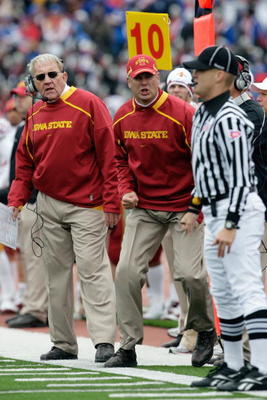 There's not much to be said for losing to Oklahoma State, though it would have still been nice to have at least shown up.
The offense did nothing until the fourth quarter, and the ever-reliable rushing attack barely squeaked out 50 yards. On the contrary, they gave the Cowboys rushing yards to spare (331).
Still, I'm not sure why, but I like Iowa State's chances at home. Consider when Colorado beat Kansas, then played horrendously at Manhattan. I see a similar situation, simply against a worse team, right here.
It's a bit of a surprise, but I'm taking Iowa State, 23-13.
No. 3 Colorado (3-6, 2-3) at Iowa State (5-5, 2-4)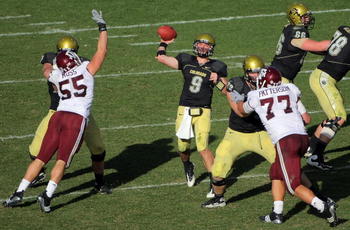 The most impressive part of Colorado's victory last week over Texas A&M was the 45 rushing yards contributed by Tyler Hansen.
Those rushing yards are calculated after subtracting the 60 yards he lost in sacks.
I think Iowa State will be able to run just well enough to overcome a slow Buffalo defense, but more importantly, I think a mediocre Cyclone offensive line will have a big effect. Ironically, I think this effect will come from a lack of pressure.
I guess I think that not flushing Hansen out of the pocket will tempt him to sit back and throw a little bit more, which could work out really well or really poorly for the Aggies, and my guess is it goes poorly.
The reasoning sounds dumber the longer I stare at it, so I'm sticking with my pick and moving on before I change my mind.
No. 2 Kansas State (6-4, 4-2) vs. Missouri (5-4, 1-4)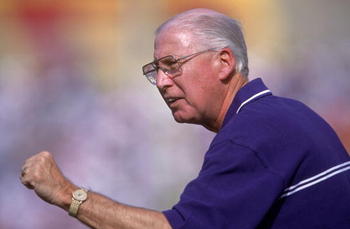 Congratulations, Bill. The Drum has returned to Manhattan and your team is one win away from returning to bowl eligibility.
Also, here's where I stand up like a man and say congratulations to Kansas State fans as well. You went through some rough years but are starting to reap the rewards of your patience.
That bowl game isn't eminent yet, and to be honest, I'm still not entirely sure about Kansas State beating Missouri; the match-ups aren't entirely in Snyder's favor.
However, I've doubted the Wildcats one too many times, and I think a win over Missouri this Saturday will add greatly to a steadily improving resume, enough to send the purple back to the bowls.
No. 1 Nebraska (6-3, 3-2) at Kansas (5-4, 1-4)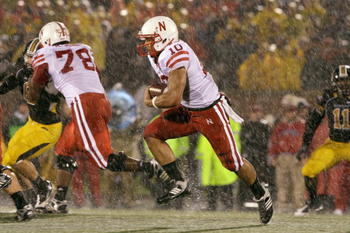 It's funny how two teams so close in overall records can seem so far apart in reality.
The offense wasn't pretty, and they will have to start playing better, but it was enough. Of course, enough is easy to achieve when your defense picks off five passes and can pull through in the clutch like Bo Pelini's did.
The only thing that stops Nebraska in Lawrence is their offense. KU's offense is trying to regain the swagger it once had, and Nebraska would be very wise not to give the Hawks any extra chances at home.
However, should turnovers plague the Jayhawks instead, as they have in recent weeks, then chalk this one up for the big red, who should advance one step closer to the North Crown this week.
Keep Reading