Cheerleader Showdown: Florida vs. Alabama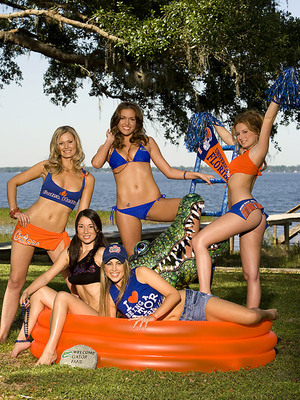 With less than a month before the monster showdown between Florida and Alabama, two undefeated monsters from the SEC, I figured it's time to start breaking down the game in the best way that I can think of - with cheerleaders.
Who has the hottest cheerleader, who is set up best for the future, and who has the hottest alumni? I take on these questions and more in the very first Bleacher Report Cheerleader Showdown: Florida vs. Alabama.
Uniforms - Florida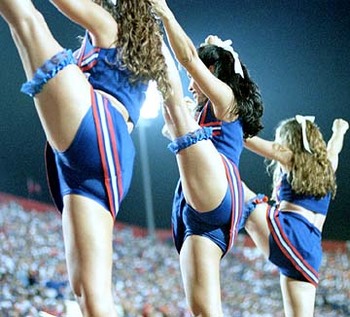 It's hot and muggy in Florida, which means it's the perfect weather for cheereladers. As you can see, Florida gives them uniforms that let them breath a little, plus those garters are pretty hot.
On the other hand...
Uniforms - Alabama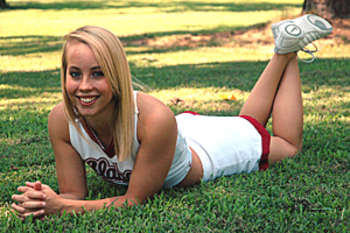 This is a nice picture of a cute Alabama cheerleader, but I'm not sure it can really hold up to the previous picture. She would have to be doing a lot more than just laying there to compete with Florida.
Advantage: Florida
Hottest Cheerleader - Kaley M. (Florida)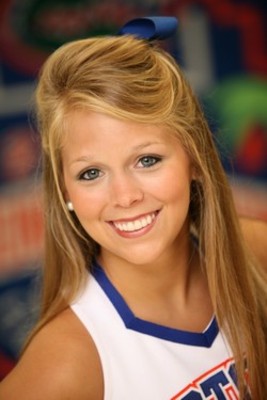 One thing Florida really has going for them is they give pretty decent headshots on their cheerleading website. This allows us to get a good look at Kaley M., the hottest cheerleader the Gators have to offer.
I admit, I would like to see a little more, but she is definitely cute.
On the other hand...
Hottest Cheerleader - Payton Buzbee (Alabama)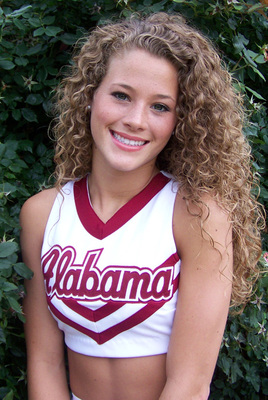 Payton Busbee had the distinct honor of representing the entire SEC in a conference matchup of cheerleaders on Athlon Sports. Don't get me wrong, Payton is a lovely girl, but I'm not quite sure she could be called the hottest cheerleader in the entire SEC.
As a matter of fact, I'm not even sure she's the hottest cheerleader in this matchup. Advantage: Florida.
Fantastic Freshmen - Tarin M. (Florida)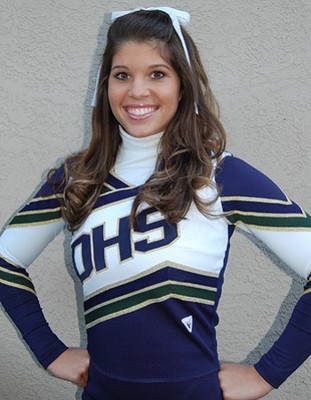 Having hot cheerleaders isn't something you can take for granted. Just a couple of dry spell years and you're looking at a bleak future where every hot cheerleader is heading to a rival school because yours just doesn't cut it anymore.
Needless to say, Florida doesn't have that problem at all with Tarin on board for the next four years.
On the other hand...
Fantastic Freshmen - Sidney Ann McGough (Alabama)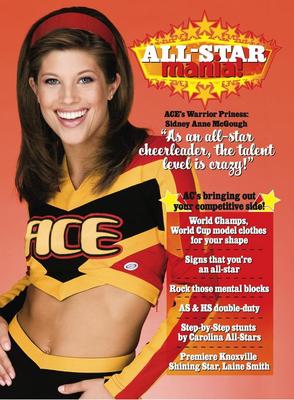 As far as I know, Tarin never graced the cover of a cheerleading magazine (twice!). That's where Sidney Ann comes in. This Alabama cutie has her squad on the hot train for the foreseeable future.
It's a tough one, probably the closest race so far, but I have to say Advantage: Alabama.
Famous Alumni - Erin Andrews (Florida)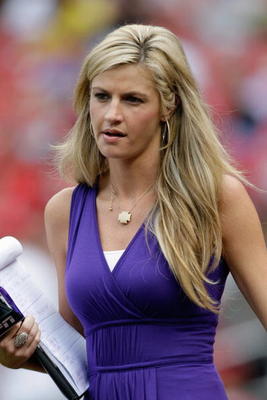 Now, Erin Andrews wasn't a Florida cheerleader per se, but she was a Dazzler, which is pretty darn close. And as someone who has captured the hearts and minds of every male sports fan in the country, I'd say she's a pretty good alumni to have in your corner.
On the other hand...
Famous Alumni - Sela Ward (Alabama)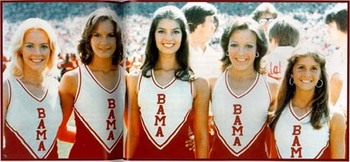 That's right, Sela Ward the actress, right there in the center.
She's a cougar now, and as you can see, she wasn't too bad back in college. Add to the fact that in her prime she was smoldering, it would be hard not to give this one to the Crimson Tide.
Advantage: Alabama
Tie Breaker - Consistency
With the score 2-2, it all comes down to one thing: consistency. Who has been doing it better for longer. When you really looked at it, you just have to give it to Florida.
Florida is full of gorgeous girls and their cheerleading squad is amazing year after year, no matter how good looking another school may get.
Plus, I think Florida is going to win the actual football game. So there.
More From Mike McD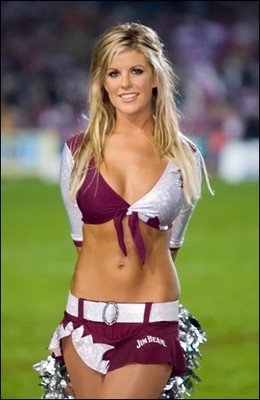 Keep Reading