The 10 Worst Heisman Winners of All Time
The Heisman is awarded for many reasons. Reasons not necessarily clear, consistent, or entirely agreed upon.
Sometimes, players win on a two-, three-, or four-year body of work. Sometimes they represent a smaller part of a winning institution. And sometimes, they win because no one else is stepping up.
On the eve of crowning what promises to be one of the worst Heisman winners of all time (or the best, if the committee wises up about Case Keenum, CJ Spiller, or one of the defensive candidates), let's take a look at some of the worst Heisman selections throughout history.
Maybe their selection was political; maybe it was controversial; or maybe it was just plain lazy. Either way, why these ten men own trophies is grounds for serious debate.
No. 10: Rashaan Salaam, Colorado RB, 1994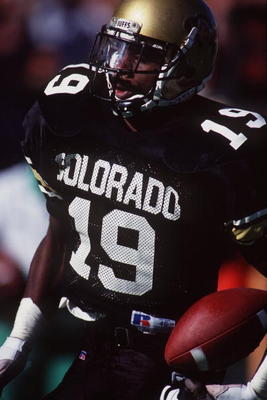 Retrospect has allowed us to say that a) Kordell Stewart was probably the more crucial player in the Buffs' 1994 season, b) Ki-Jana Carter had harder yards and better stats on fewer carries, since he was resting on the bench by the fourth quarter in the Nittany Lions' dominant '94 offense, and c) Steve "Air" McNair was the more dynamic overall player in the long run.
But with Salaam becoming that rare 2,000 yard rusher on a premier team, it was inevitable that he would carry home the stiff-armed man.
No. 9: Pat Sullivan, Auburn QB, 1971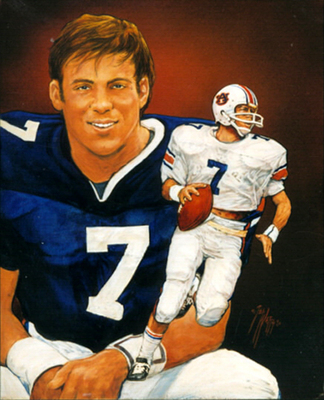 The knock on Sullivan was that he beefed up his numbers in Auburn's blowout wins, but fell flat in the bigger games, mustering only 121 yards and two picks against Alabama in the '71 Iron Bowl.
His junior season was arguably the more successful as well, as Sullivan threw for 800 more yards and rushed for more touchdowns.
Still, he got Bear Bryant to christen him as a player who "does more to beat you than any quarterback I've ever seen," and that was enough for the voters to edge him over Ed Marinaro of Cornell, a running back with gaudier stats who helped Cornell dominate the Ivy Leagues.
Really, it was just a weak year all around.
No. 8: George Rogers, South Carolina RB, 1980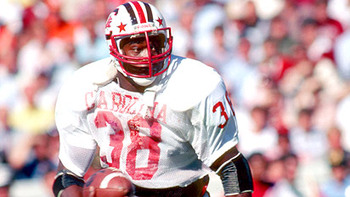 Another bad case of ageism in ballotting, this time it's South Carolina senior running back George Rogers.
Rogers lead the nation in rushing, but his 8-4 Gamecocks played in no meaningful games after a marquee 13-10 loss to the Georgia Bulldogs in which Rogers fumbled on the Gamecocks final possession, ending SC's chances to strike back.
Rogers finished ahead of breakout freshman sensation Herschel Walker, who was a Freshman All-American and led Georgia to an undefeated season. He also outrushed Rogers in the Georgia game. Hugh Green, the dominant Pittsburgh defensive-end who finished second and was the Sporting News Player of the Year and a winner of numerous other defensive awards missed out on the award as well.
No. 7: Paul Hornung, Notre Dame QB, 1956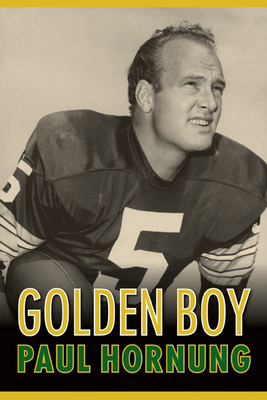 Hornung was good-natured about the criticism of Notre Dame's 2-8 record, saying he led the nation in kickoff returns because "we give up so many points that opponents are always kicking off to us."
Hornung holds the distinction of being the only player on a losing team to win the award, and he was indeed dynamic, playing on both sides of the ball as running back, receiver and defensive back.
But there was also Jim Brown of Syracuse and Johnny Majors of Tennessee to consider in the voting, and that usually means someone is reppin' out.
No. 6: Johnny Lattner, Notre Dame HB, 1953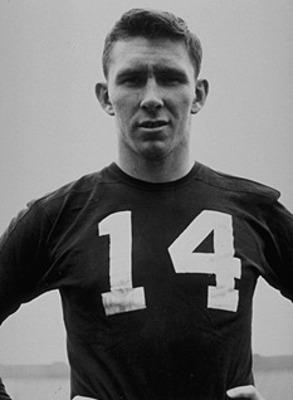 Whoops, don't mean to pile on the Irish here, but Lattner's all-around skills also meant he didn't lead the absurdly talented 1953 Irish team in rushing, receiving or scoring.
Paul Giel, the runner-up out of Minnesota who lost to Lattner by only 56 votes, was a better pure halfback, and though Lattner showed skills in nearly every facet of the game, he was merely a representative of the university at large. And they don't design Heismans for that.
No. 5: Archie Griffin, Ohio State RB, 1975 (the second time)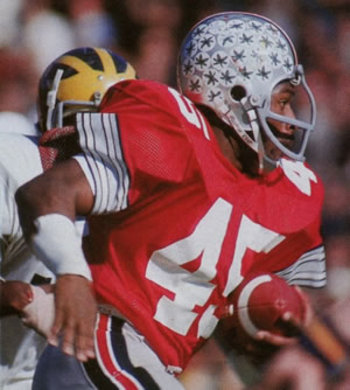 Griffin's second Heisman was Tebow-esque.
The Ohio State running back and 1974 winner repped out to the Heisman ceremony despite not leading the nation in rushing yards (that would be USC's Ricky Bell, with 1,957, who finished third), yards per carry (Cal's Chuck Muncie, who finished second), or touchdowns (Griffin's running mate, OSU's Pete Johnson, with 26).
In fact, Griffin only had four scores, and rushed for a paltry 46 yards against arch-rival Michigan, though the Buckeyes won the game, 21-14.
But Griffin won the award handily, mostly on the strength of his dominant junior season, to become the first player to take home the trophy twice.
No. 4: Jason White, Oklahoma QB, 2003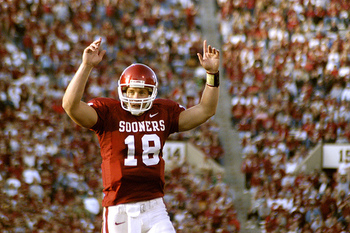 White's career at Oklahoma was one of the strangest to date.
He led his Sooners to an undefeated 2003 season, winning the Davey O'Brien award and finishing with the second-most passing yards of any quarterback, throwing 40 touchdowns to eight interceptions. The 2003 Sooners were being called the greatest college football team of all time.
Then Oklahoma got blown out of the Big XII Championship game by Bill Snyder's Kansas State Wildcats, a game in which White threw for 298 yards with two interceptions and no touchdowns.
White still won the award, edging Pitt's Larry Fitzgerald (an atrocity in its own right, given Fitzgerald's modern dominance) by 130 points, but lost to Nick Saban's LSU Tigers, 21-14, in the BCS national championship.
White had an even BETTER year in 2004, better even than 2004 winner Matt Leinart, to whom he finished third.
But politics dictated that White win only once, and furthermore, White's Sooners got blown out by the USC Trojans, 55-14, in the national championship game.
Something more must have been amiss, because White went unselected in the 2005 draft. His career birthed more unpleasant questions (does Oklahoma field system quarterbacks? Can Stoops still win the big game?) than pleasant answers.
No. 3: Gary Beban, UCLA, 1967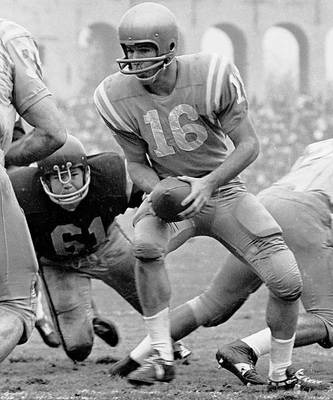 Gary Beban, UCLA's quarterback for the 1966 and '67 seasons, threw for under 1,400 yards and had as many interceptions (8) as touchdowns. He was arguably more successful on the ground, running for 12 touchdowns but only 227 yards.
But the biggest slight was how Beban, a stellar player who battled severely bruised ribs, was overshadowed on the Bruins largest stage by USC's OJ Simpson.
Beban threw for 301 yards, two touchdowns, and a pick-six, but it was Simpson who made the highlight reel, dragging two defenders on a 13-yard touchdown and reeling off a 64-yard score while blasting through the UCLA secondary.
In the end, Beban took home the stiff-armed man on the illegitimate pretense of being a senior despite better numbers for Simpson. This is where voters should have learned—age doesn't matter.
No. 2: Eric Crouch, Nebraska, 2001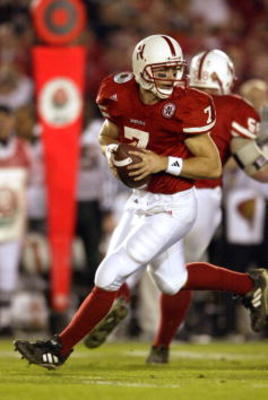 Crouch's award ignited a debate still raging about the true nature of the award—is it supposed to award career achievement, or just achievement within a single year?
Crouch had an alright year passing, including the winning score against Oklahoma, but runner-up Rex Grossman threw for absolutely gaudy numbers in wins over Gator rivals Florida State (290 yards), Tennessee (362 yards), Georgia (407 yards) and LSU (464 yards!) in a conference where that's just not typical.
It didn't help that Grossman was only a sophomore and Crouch a senior, or that Crouch was a better threat on the ground and Grossman a purer passer. Many felt that if the two had been switched, it would have been Grossman's in a landslide.
The ballots reflected this ambivalence; Crouch beat Grossman by less than 70 votes, and no player received more than 800 votes in the closest race in Heisman history.
No. 1: Gino Torretta, QB, Miami, 1992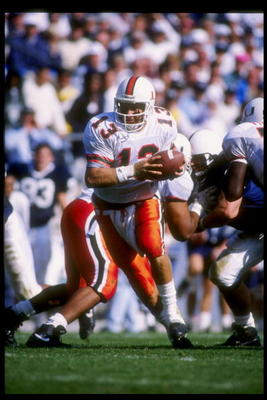 If you buy into the Heisman bias conspiracy, Gino Torretta must be the reason you don the tin foil helmet.
Torretta was a white quarterback on a premier team, a senior, boasting average statistics in a single year but a body of work to support himself, up against a black running back from a small West Coast school.
In light of that, is it any wonder Marshall Faulk, one of the greatest NFL running backs of all time, who could best Torretta stat for stat, and had far less help on defense and at quarterback, was left out in the cold in 1992, while Torretta took home the stiff-armed man and became a no-namer in the big leagues?
God, I hate love this award.
Bonus BT Pick: John Huarte, Notre Dame QB, 1964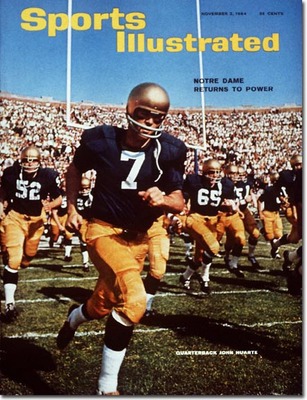 From BabyTate, the community leader of the college football section of the Bleacher Report, himself:
...I've never met anyone in my circle of friends that didn't believe the 1964 award to John Huarte was the all-time worst decision.
Huarte defeated Joe Namath, Gale Sayers, Dick Butkus, Tommy Nobis, Roger Staubach (the previous winner) Jerry Rhome, Craig Morton, future Heisman winners Steve Spurrier and Mike Garrett, Donny Anderson, Mike Curtis, Ken Willard, and it goes on and on.
The '64 award, I have always believed, was a reward to Ara Parseghian for turning around the Notre Dame program right after he turned around the Northwestern program.
At Northwestern, Ara had a brilliant quarterback named Tommy Myers who deserved the Heisman but just seemed to be at the wrong place losing the wrong game at the wrong time.
It has always seemed to me the statue was in the bag for Huarte long before Rod Sherman and company's 2nd half comeback in the final game of '64.
Thanks, BT. I personally would've pulled for Dick Butkus, but only because people always made fun of my last name, too.
Check Out Another College Football Slideshow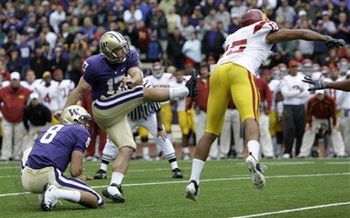 Keep Reading