Top 16: A Few of My Favorite Georgia Bulldog Players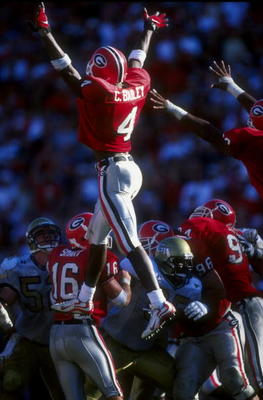 You know how you have those "all-time," "greatest ever," "best of the best" lists filled with stats, historical notations, and what-not? Well, this isn't one of those kinds of lists.
My history of loving Georgia football isn't as long as some or as short as others but I've seen enough Bulldog football in my short lifetime to make this list.
The criteria is quite simple: the players on it made me love Georgia football even more.
That's it. Nothing more.
I will miss a few of your faves no doubt but don't blame that on oversight. Better still, add a few of your faves in the comment section. That should balance it out just fine.
Many of the guys you will see here are from the early 90's and onward, but that is because that is where my working memory spans. I was a toddler when Herschel played so you can do the math on why I may miss a few of the all-time great ones.
These guys are ones I either actually SAW play or have enough video archive history that I could relive some of their key moments on film.
It's not stat-driven, it's heart-driven, and in light of this 2009 season, we can all appreciate a little more heart where Georgia football is concerned.
16. David Pollack: DE, 2001-2004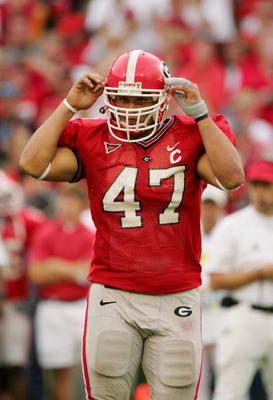 Fierce. Motivated. Big time playmaker. True.
Those are just a few of the adjectives you can use when describing David Pollack. There are, no doubt, tons more.
Pollack broke out in his second-year at Georgia as a sophomore. His "hello, it's me" game came early on against the South Carolina Gamecocks where he both deflected and caught a Dondrell Pinkins pass in the endzone for a touchdown.
He was money from that point forward and went on to have three stellar seasons for the Dawgs.
Career Stats: 242 tackles, 51.5 tackles for loss, 31 sacks
2004 Notables: Bednarik Award, Lott Trophy, Ted Hendricks Award, and Lombardi Award.
David joins Frank Sinkwich and Herschel Walker as the only 3x concensus All-American from the University of Georgia.
Today Pollack is an SEC Analyst and can be seen on television as well as heard talking sports on AM radio, locally, in Atlanta.
15. Garrison Hearst: RB, 1990-1992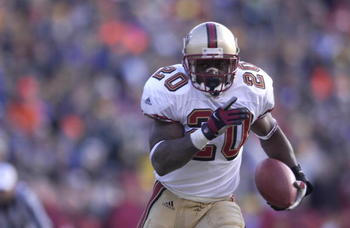 Garrison Hearst was a phenomenal runner. If he saw the endzone, he was heading straight for it—no holds barred.
However, as phenomenal a runner as he was, he was an even better in pass protection as a blocker. There is no telling how many opposing defensive ends or linebackers met his wrath as they tried to make a b-line for his quarterback.
Garrison was a take no prisoners player who played hard on every down and, as a Dawg fan, you could appreciate his passion for the game.
He finished his career with 3,232 yards and 35 touchdowns—the rushing total puts him behind only Herschel for most all-time at Georgia.
14. Terrence Edwards: WR, 1999-2002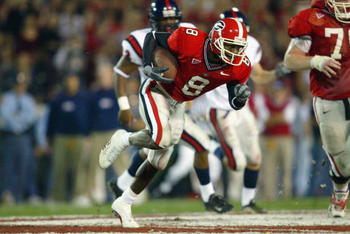 Don't blink. The No. 8 you see before you does not belong to current Bulldog great, A.J. Green, but to past Bulldog great Terrence Edwards.
Edwards never met a pass he didn't like as he was as sure-handed and money as they came. Georgia fans were spoiled on his ability to catch almost any pass thrown his way and were often shocked if he did drop or miss one.
By the time he left Georgia he had accumlated 3,093 yards on 204 receptions. That's over 15 ypc for those trying to do the quick math.
He wasn't able to secure a spot in the NFL but has found a home in the CFL with the Winnipeg Blue Bombers where he has found similar success.
13. Thomas Davis: FS, 2001-2004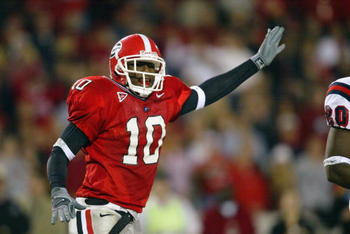 There wasn't a fiercer hitter in my mind...well, maybe one other guy.
Thomas brought it all on the hits. He made every pound count and if you were willing to take him on, he was willing to oblige you with a red and black tattoo planted firmly on your chest.
I loved to see him make a play because it always amounted to something for the Georgia defense and it gave the fans quite a show.
In his three years as a starter he ended up with 272 tackles, 10.5 sacks, and three interceptions.
But even more than that he was a leader on the field and made every player who played alongside him a better guy for it—he was a special player.
Davis is now a starting linebacker for the Carolina Panthers.
12. Greg Blue: FS, 2001-2004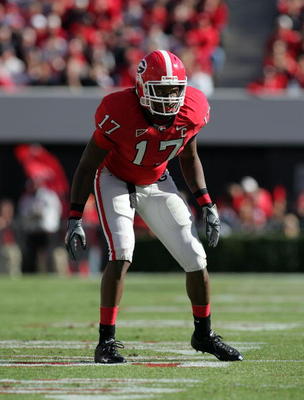 Beware of the safety lurking deep, his name is Bluuuuuueeeeeeeee!!!!!
If ever Thomas Davis had competition in the big hit department, Greg Blue was that guy.
He made no bones about his goal when he hit the football field—he wanted to inflict some pain and a lot of it as soon as possible.
His ability to get to the ball-carrier as quickly as the snap was gotten off made him a monstrosity for the opposition because he was as fast as he was dangerous.
He had unbelievable focus on the field and never once allowed himself to be caught lame on a play. Great discipline. Great execution. Great player.
Blue made quite a name for himself at Georgia and he was one of the reasons that the Georgia defense was so fierce during the Van Gorder era.
He finished his career with 260 tackles and a whole lot of YouTube videos through which to view his marauding mastery.
11. Thomas Brown: RB, 2004-2007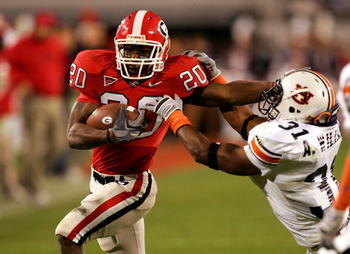 Thomas was a runner. He may have been all of 5'8" and 188 lbs but he used every pound and every inch to his advantage.
He was quick, elusive, and fearless on the football field. If he was gonna take a hit, he was gonna take the hit—he ran full-steam ahead and often found daylight for a big gain or a crowd-pleasing touchdown.
He shared snaps for a majority of his career because Georgia was never without a big name on the roster who could tote the rock, but Thomas was a fan fave and he definitely never disappointed me on Saturdays.
His career at Georgia ended with him having gained 2,573 yards.
10. Max-Jean Gilles: OL, 2001-2004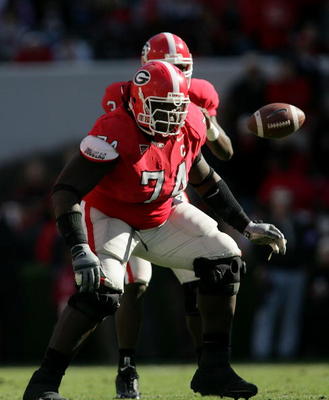 It may seem a tad unusual to name an offensive lineman as a favorite player but Max is definitely on my list.
His size, footwork, and overall play ability was freakish for a guy who weighed in at a sultry 340 lbs on a slim day. Max was a monster and as long as he was on the field, the runners found holes and the passers found lanes.
He made it easy for us to go on that 42-10 run we had as a team during his time there as a player. He was an o-line mainstay and that was huge.
As I watch our line go through its changes and gyrations now, it's difficult not to appreciate the guys like Max who made it look so easy for so long.
MJG is currently playing in the NFL.
9. David Greene: QB, 2001-2005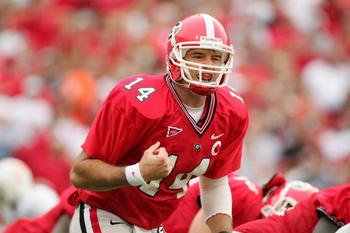 David Greene wasn't flashy and he wasn't glamorous.
No. 14 was hardly a rockstar to anyone outside of Athens, GA but he was as good as they came for my money—you couldn't have picked a better quarterback to run the Georgia offense for Mark Richt if you tried.
The fact that he was actually in a competition at the beginning of the 2001 season now seems laughable considering his eventual accomplishments, but who would ever have guessed that this average quarterback from Snellville would become one of the SEC All-Time Greats?
Greene was accurate, heady, and incapable of being shook. He made so many big plays that it became second-nature for him. He was simply money and that is something that is hard to come by.
He finished his career at Georgia with 42 wins. The most of any starter since Tennessee's Peyton Manning.
8. Billy Bennett: K, 2000-2003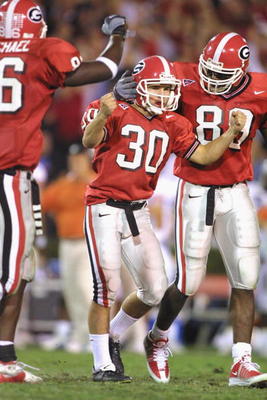 Current Dawg fans know all about the sure-leg of Blair Walsh. However, just as many remember the record-setting one of Billy Bennett as well—the local kid done good for the University of Georgia.
During the 2002 and 2003 seasons, there can be no telling how many games this guy saved or won for the Dawgs by virtue of his leg but one thing is for certain: we had no problem calling No. 30 to the field with the game on the line.
He finished his Georgia career with 409 points, an SEC record and the second-most in NCAA history. He also holds the record for most NCAA field goals with 87.
7. Musa Smith: RB, 2001-2003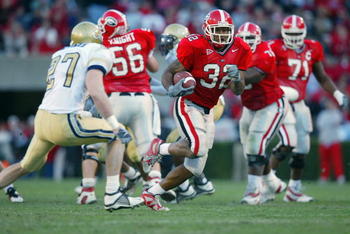 The year that always stands out for me is 2002. That's the season that brought the Dawgs their first SEC Championship in 20 years.
During that year, Musa rushed for 1,324 yards and eight scores—the first back to go for over 1,000 yards since Garrison Hearst 10 years prior.
The Dawgs finished 11-1 and made it to the Sugar Bowl. Musa ran all over the Seminoles for 145-yards and from that point forward, Georgia Bulldog football was no longer a footnote.
I always equate Musa with our re-emergence in a way because he was such a key member of that record-setting football team.
6. Champ Bailey: CB, 1996-1998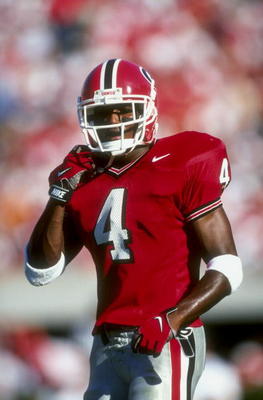 If the ball was in play, Champ was on the field.
You know how they speak about Branden Smith's versatility being such that he can play on both sides of the ball? Well, meet his mirror.
Champ Bailey was the last, true, two-way player at Georgia. It was not unusual to see him in on offense, defense, and special teams because he was so talented.
He was probably, hands down, the best corner to come through Georgia in a long while and most definitely the best since. Whatever side of the field he was covering became no-man's land for quarterbacks—it was too risky to take any chances on his side of the field.
Champ was simply an amazing athlete with phenomenal ball skills.
During his junior season, his last at Georgia, he was in on more than 1,000 plays.
5. Knowshon Moreno: RB, 2006-2008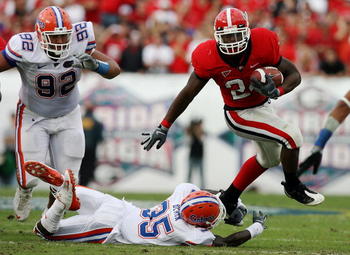 What wasn't to like about Knowshon? He was a competitor and he played the game with so much heart and energy, that it was difficult not to become infected by his game.
When he ran the football, he wasn't always the fastest or the strongest guy on the field but you had a sense that he was going to do whatever was necessary to get the yards your team needed.
He made everyone around him better, in my opinion, and that is a hard something to replace on a team.
4. Hines Ward: WR, 1994-1997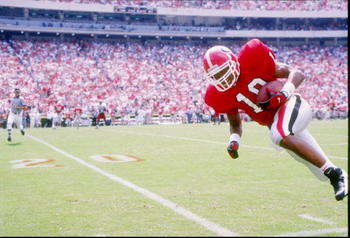 Even though the NFL now considers him it's "dirtiest" player, Hines was Georgia's versatile offensive weapon while he was in Athens—playing at the quarterback, tailback, and wide receiver position while he was there.
He wasn't always welcomed by the Dawg nation, he was even booed on a few occasions, but he never played with any less heart, will, or determination than you would have liked.
The arrival of Jim Donnan marked the end of his quarterback playing days but paved the way for him to become the fearless wide receiver that he is now—the same one that would not only lead the Dawgs in receiving in 1996 and 1997 but would also later garner the Super Bowl MVP.
Hines is a tough as nails football player, dirty or not, he's an everlasting fave of mine.
3. Matt Stinchcomb: OL, 1995-1998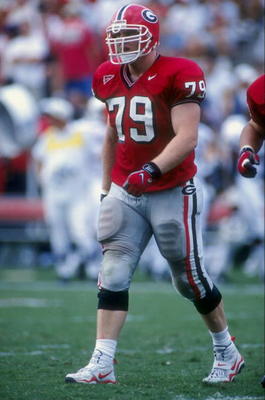 If Stinchcomb was anchoring the line, good luck getting past him. He was a dominating left tackle and was without an equal when he played for Georgia.
His technique wasn't raw or unpolished. He was solid and he was always ready to play—he made 32 consecutive starts!
As a Georgia fan who has seen the offensive line do a lot of shuffling over the years, recalling a time when the left tackle spot was actually the most stable part of the line, is actually quite bizarre.
2. Sean Jones: DB, 2001-2004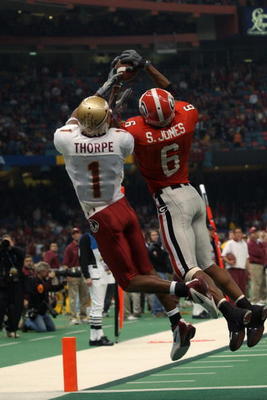 A big-hitting safety with great hands, there wasn't much NOT to like about Jones.
His signature play at Georgia was a 99-yard fumble recovery as the Vols were knocking at the door of a score.
That return, made at the end of the first half, is what many remember about Sean Jones when his name is brought up in conversation but he was always a player and he made his presence felt on the field whenever possible.
His final tally at Georgia was 250 tackles (10 TFL), seven interceptions, four blocked kicks, and three fumble recoveries.
1. A.J. Green: WR, 2008-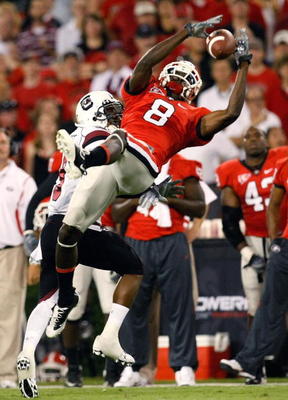 He's only a sophomore, but he already has a place in my heart. A.J. Green is the real deal and waiting for him to graduate as one of the best wide receivers to ever don the red and black jersey just seems a bit like waiting on the sun to rise.
I mean, we all know the kid is awesome and I don't need to know his final stat line to be able to say that he is now and will likely always be a favorite of mine.
His catches look effortless for him, even though a ton of them are actually made under duress and with multiple defenders surrounding him.
He so rarely misses a catch that if he does happen to drop one, we easily write it off to the quarterback. He's THAT good.
Keep Reading

Georgia Bulldogs Football: Like this team?