The Dirty Dozen—The 12 Worst Coaches in College Football History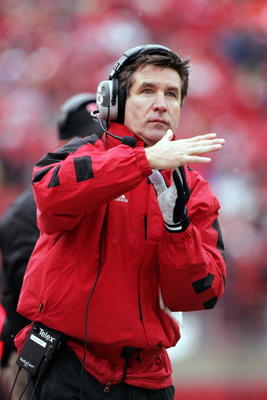 Some coaches seem like a good fit at the time. Maybe they were successful at a lower level, led a minor program to minor respectability, or were excellent coordinators at powerhouse programs.
However, this doesn't always translate to results in the big time and the following 12 coaches had the distinction of finding new and exciting ways to lose.
Some were put in tough situations and didn't get the job done at powerhouse programs, however they all have one thing in common; they didn't get the job done.
No. 12: Dave Kragthorpe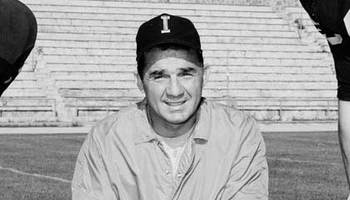 FBS Coaching Record: 17-48-2 (six seasons)
Coaching History: Oregon State 1985-90.
The patriarch of the first family of bad coaching, Kragthorpe was actually a solid FCS level coach during his tenure at Idaho State.
Leading the school to a FCS National Championship in his second season beating small college coaching legend Roy Kidd and Eastern Kentucky in the championship game.
Despite a 3-8 season the following year, Kragthorpe was hired to take over a traditionally bad Oregon State program, and in his first season at Corvallis he led the Beavers to one of the biggest upsets in college football history beating ranked Washington as a 38 point underdog.
However, the highlights end there as the Beavers won only 17 games in Kragthorpe's six season tenure including a 1-5 record against Rich Brooks' arch rival Oregon Ducks (the Kragthorpe family is 1-8 lifetime against Brooks, a sub-.500 career coach).
No. 11: Bill Callahan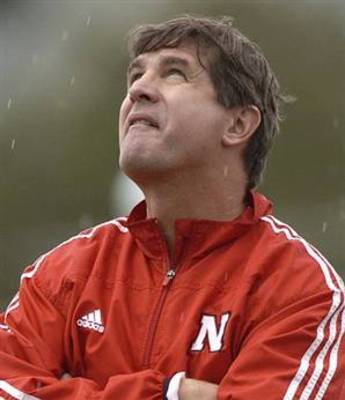 FBS Coaching Record: 27-22 (four seasons).
Coaching History: Nebraska 2004-07.
The hire that will forever be known in Lincoln as "Pederson's Folly" not as much for the hire of Callahan as for the firing of Frank Solich.
In the post Tom Osborne era, Solich's performance was deemed not up to standard by new Athletic Director Steve Pederson (after posting a 10-2 regular season record) and he was fired. Leading to the hiring of Callahan, Pederson's fifth choice for the job.
Coming off a firing with the dysfunctional Oakland Raiders, Callahan attempted to install a West Coast offense with personnel suited to run Solich's power running game.
The result was two five win, losing seasons and the firing of not only Callahan but the man who hired him.
No. 10: Ed Orgeron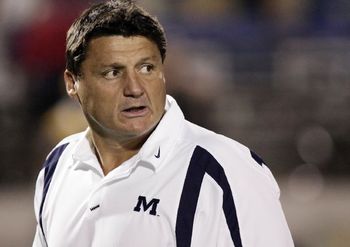 FBS Coaching Record: 10-25-0 (three seasons)
Coaching History: Mississippi 2005-07.
The textbook case of why good assistant coaches don't always make good head coaches.
"The O" had built up a reputation as a defensive guru having coached Miami's impressive line in the mid-90's as well as being the d-line coach and recruiting coordinator at USC.
However, like Callahan, Orgeron attempted to install an offense with players unsuited to run the high octane USC style attack. Frequent turnover among his offensive coaching staff led to inconsistency within the program as well.
While Orgeron did recruit well at Ole Miss, his record speaks for itself with only 10 wins in three seasons and two wins against teams with a winning record during his tenure (both against Memphis).
No. 9: John Blake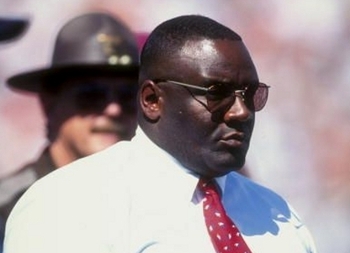 FBS Coaching Record: 12-22-0 (three seasons)
Coaching History: Oklahoma 1996-98.
Like Ed Orgeron, Blake was a good assistant who's skills did not translate into head coaching success.
Taking over the program still struggling with talent in the post Barry Switzer-era, and after the failed one year Howard Schnellenburger experiment, Blake could never get things going in Norman.
Blake's tenure is the worst in Sooner's history winning only a dozen games in three years, his best finish being a 5-6 mark in his last season.
However, Blake gets higher marks for being a solid recruiter and the majority of starters on Oklahoma's 2000 National Championship team were recruited and signed by Blake.
No. 8: Gerry Faust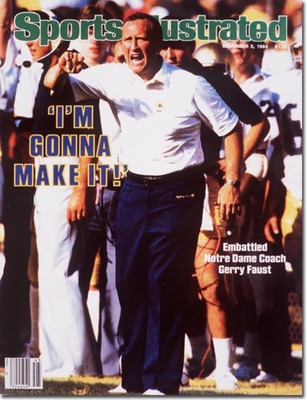 FBS Coaching Record: 73-79-4 (15 seasons)
Coaching History: Notre Dame, 1981-85; Akron 1986-94.
Gerry Faust might be the greatest coach in the history of high school football, however Notre Dame is not the job for a high school coach.
Coming from Cincinnati's Moeller High School where he had won four High School National Titles, Faust took over his dream job squarely in the shadows of Ara Parsegian and Dan Devine.
During his five year tenure, Faust never won more than seven games and led the Irish to a losing record in his first season. Adding insult to injury Faust lost four straight times to Air Force.
The Irish would lose over half of their games in the Faust era after holding a lead in the fourth quarter, and he led the Irish to only two bowl games in five years before being fired.
No. 7:. Hal Mumme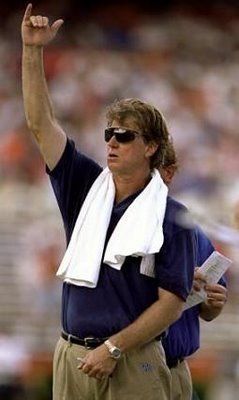 FBS Coaching Record: 31-64 (eight seasons)
Coaching History: Kentucky 1997-2000; New Mexico State 2005-08.
From the "I've got a good idea" vault, legendary Kentucky Athletic Director C.M Newton decided that the best man to lead his SEC program into the future was a Division 2 coach with a gimmick offense.
However, for three years it appeared that the Hal Mumme experiment would be a success. Behind the arm of local legend Tim Couch the Wildcats went to back-to-back bowl games and played an exciting, video game offense.
Mumme's only problems were that he never realized the defensive side of the football was important and he couldn't administer a major college football program.
The Mumme tenure ended in probation for the Wildcats and his later experience at New Mexico State showed that without Tim Couch in the fun-and-gun, Mumme-ball was doomed to fail.
No. 6: Mike DuBose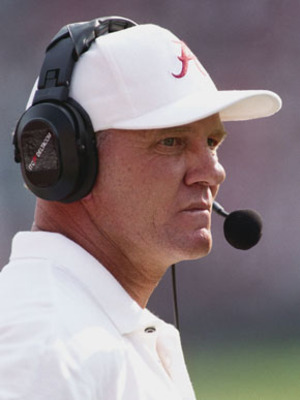 FBS Coaching Record: 24-23-0 (four seasons)
Coaching History: Alabama 1997-2000.
There are certain coaches who are bad news on a number of fronts and Mike DuBose fits that category.
Sure DuBose did win a SEC Championship in 1999 beating Steve Spurrier's Florida Gators behind the running of Shawn Alexander.
The highlights end there and the low lights are too numerous to mention beginning with a 14-20 record in his other three years in Tuscaloosa, and an embarrassing sex scandal in which DuBose had to pay his secretary/mistress $300,000.
However, the lasting legacy of the DuBose era was the probation given the school by the NCAA for what nearly constituted white slavery in the recruitment of Albert Means.
No. 5: Rick Venturi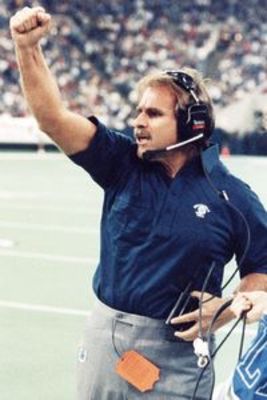 FBS Coaching Record: 1-31-1 (three seasons)
Coaching History: Northwestern 1978-80.
How hard is it to win at Northwestern?
Only two coaches have had winning records during their tenure at the school one the current coach Pat Fitzgerald and the other was Ara Parsegian who was only one game over .500.
While winning might be difficult at a school with some of the toughest academic institutions in America, losing at the level Rick Venturi did is something all together different.
However, Venturi's teams didn't just lose they got destroyed producing only one win in three seasons (against Wyoming), going 0-23-1 in the Big 10, and being out scored 358-1270 in his tenure.
No. 4: Kevin Steele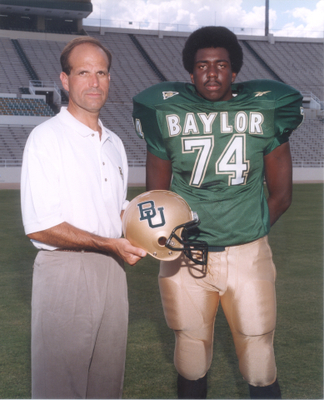 FBS Coaching Record: 9-36-0 (four seasons)
Coaching History: Baylor 1999-2002.
If you were to look at Kevin Steele's resume you would see a solid journeyman assistant coach who has worked successfully at some of the best programs in America.
Baylor isn't the easiest program in the world to build a winner, it is the only private school in the Big 12 and has higher entrance requirements than many of the universities they recruit against.
However, it wasn't the fact that Steele lost at Baylor that puts him on this list but rather the way he lost. Steele's teams were shut out 10 times during his tenure and 35-plus point blowouts became the norm in Waco.
Yet it is one single play that has sealed his reputation with 12 seconds left in the game his first season against UNLV all the Bears had to do was take a knee and walk out with a victory. However, Steele called a running play which resulted in a fumble that the Rebels took into the end zone for a win.
No. 3: Steve Kragthorpe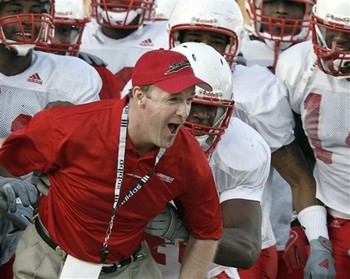 FBS Coaching Record: 43-41 (seven seasons)
Coaching History: Tulsa 2003-06; Louisville 2007-present.
Almost any Louisville fan will tell you that the only time Steve Kragthorpe doesn't talk in cliches is when he is making excuses.
Kragthorpe was once viewed as one of the "hottest up-and-coming coaches in America" for taking a traditionally morbid Tulsa program and building them into an above average Conference USA team.
Taking over a team that Bobby Petrino led to a 12-1 record, conference title, and Orange Bowl victory in 2006; Kragthorpe took a squad returning 18 of those starters and produced a 6-6 record.
Kragthorpe booted a number of players off the team in his first season, has changed assistant coaches as quickly as some people change shirts, and has blamed everybody and everything (Bobby Petrino, the fans, injuries, the referees, and the players) for his record without ever taking responsibility himself.
No. 2: Tyrone Willingham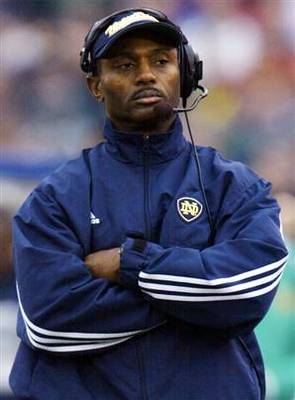 FBS Coaching Record: 76-88-1 (14 seasons)
Coaching History: Stanford 1995-2001; Notre Dame 2002-04; Washington 2005-08.
Like Baylor, Northwestern, Duke, and Vanderbilt winning at Stanford is not the easiest task for a head coach; yet Ty Willingham did just that taking the Cardinal to the 1999 Rose Bowl.
With this impossible task out of the way Willingham found himself with most coaches dream job taking over at Notre Dame after the ill fated George O'Leary Resumegate.
Willingham started strong in his first season posting a 10-3 record while beating four ranked teams; however his second season saw the Irish finish 5-7 and his third season produced a 6-6 mark leading to his firing.
Leaving Notre Dame, he accepted the job at Washington, another program with solid tradition where his coaching wheels finally came off.
Never the most fan or media friendly figure, the aloof Willingham alienated the Seattle media and his own fan base with a bunker mentality while leading the Huskies to a 11-37 record during his tenure.
No.1: Gerry DiNardo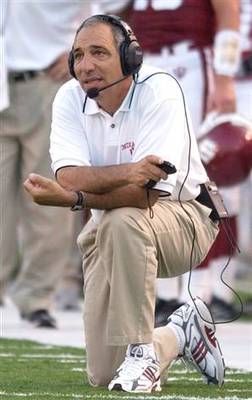 FBS Coaching Record: 60-76-1 (12 seasons)
Coaching History: Vanderbilt 1991-94; LSU 1995-99; Indiana 2002-04.
One thing that can't be debated is that you can't help but like Gerry DiNardo, he is without a doubt one of the "good guys" in college coaching and somebody you wouldn't mind living next door to.
However, you wouldn't want him as your school's head coach.
Taking over a Vanderbilt program that had been a permanent fixture at the bottom of the SEC for decades and bringing an ounce of respectability to the Commodores, he was chosen to take over one of the best programs in the country.
After the subpar tenures of Mike Archer and Curly Hallman, DiNardo's New York City personality made him an immediate success in the Deep South and his first two seasons saw the Bayou Tigers finish 19-5, then the wheels came off.
Part of DiNardo's problem was a recruiting strategy of taking talented but high risk recruits who often either didn't qualify academically or found themselves in legal trouble once they reached campus. The talent drain led to a 7-15 record in his final two seasons with a home loss to lowly Houston being the final straw.
After a year coaching in the ill fated XFL, DiNardo resurfaced at Indiana where in three seasons he never won more than three games in a season and was fired.
Keep Reading