My Top 10 Worst Tennessee Vols Losses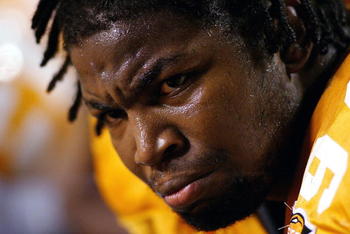 With another Tennessee-Memphis game just around the corner, I have decided to do a list of the 10 worst losses in my history as a UT Vols fan.
Obviously, that Memphis upset of 13 years ago will be very high on this list, but there have been many, many more that were as crushing and demoralizing.
I must first preface this list with the fact that I have been a fanatic of Tennessee Vols football since 1990. As a result, my list will include games from 1990 and forward.
I would love for my fellow Vols fans, who have been around UT football much longer, to read and comment on games prior to that 1990 season.
Have some fun with it. Post your own top 10 in the comments section.
Enjoy...or...since it's going to feature the worst losses you probably won't enjoy, but you get the point.
10. 2004 vs. Notre Dame, 17-13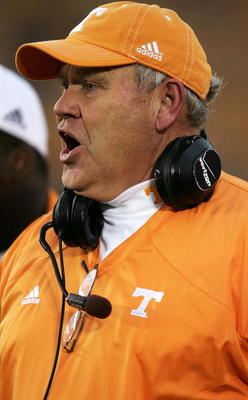 This is one I had the displeasure of attending.
Tennessee struggled to stop Notre Dame's ground attack all game long. A young Brady Quinn struggled as well, but he did just enough.
Still, it was Tennessee's inexplicable playcalling toward the end of the half, that I believe, cost them this game.
With :30 left in the first half, Fulmer and Randy Sanders decided the Vols should try to score.
Freshman quarterback Erik Ainge was having a tremendous season and was well on his way to quickly becoming a UT legend in just his first year.
Ainge dropped back and tried to throw a long pass from his own 30-yard line with 10 seconds left in the first half. He was hit and a separated shoulder on that very play ended his season.
The Vols still won the SEC East, but things could have been much more fun that season if the No. 9 Vols hadn't lost on that October afternoon.
9. 1992 at South Carolina, 24-23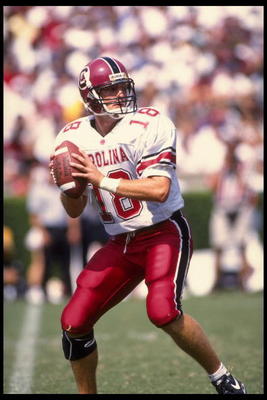 Led by long-haired quarterback Steve Taneyhill, the Gamecocks delivered a shocker in their first SEC season.
In a game that should have been over by halftime, the No. 16 Vols struggled against the unranked 'Cocks all day long.
This was the first major upset that I can remember the Vols being a part of. It was a heartbreaker.
This one will forever be the loss that sealed Johnny Majors fate as the head coach at Tennessee.
8. 2008 at UCLA, 27-24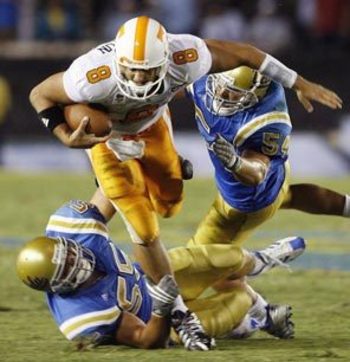 The Vols came in ranked a modest No. 18, but most of the starters returned from the '07 SEC East winning team.
The only real question mark was Jonathan Crompton. He had played well in relief of an injured Erik Ainge and in various mop-up duties in the two seasons prior to '08.
Unfortunately, this one didn't work out so well and it would be the beginning of the end of Phil Fulmer.
The Vols offense could not capitalize on four, yes four, first half interceptions.
The lack of offense would keep the Vols defense on the field for much of the second half where they eventually tired out.
Tennessee lost 27-24 in overtime when Daniel Lincoln missed the game-tying field goal.
It was an omen that most of us wouldn't really recognize until the season mercilessly played out to a 5-7 record and the end of the Fulmer era.
7. 1990 vs. Alabama, 9-6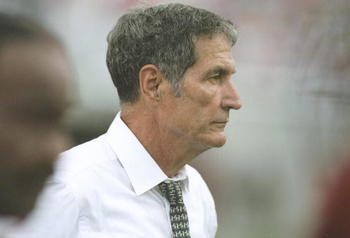 I called the South Carolina upset of '92 the first real upset I remember as a Tennessee fan.
Of course. this one, just by looking at the rankings, would seem to dwarf that one. But it's Tennessee/Bama...enough said.
This was my first Tennessee/Bama game; or at least it's the first one I remember. The Vols were ranked No. 2 facing an unranked, 2-3 Alabama team in Knoxville.
I remember listening to the game on the radio on our way to church (my dad was an associate pastor and we had to go to church no matter who was playing).
Tennessee's field goal try with a little under two minutes remaining was blocked.
The ball went nearly 25 yards backwards and 'Bama took over at the Tennessee 35 yard line.
'Bama would run the clock to four seconds to play and kick the field goal as time expired. Of course, it split the uprights and once again, broke hearts all over the state of Tennessee.
6. 2001 vs. Georgia, 26-24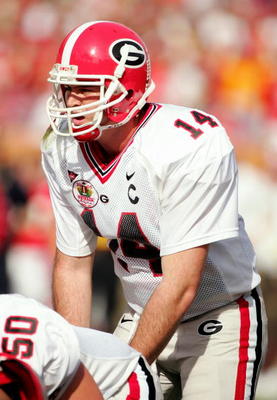 Lucky me, this is another that I was in attendance for.
The No. 6 Vols scored a touchdown with :40 left on the clock. It was no ordinary touchdown either.
Travis Stephens took a screen pass from Casey Clausen and rumbled 60 yards. Neyland Stadium was in a frenzy!
Unknown Georgia sophomore quarterback, David Greene would then lead the 'Dawgs on a heartbreaking touchdown drive which culminated in a play-action toss to a wide open Verron Hayes with :09 seconds left.
It was a terrible loss and a long drive home I will never forget.
5. 2008 vs. Wyoming, 13-7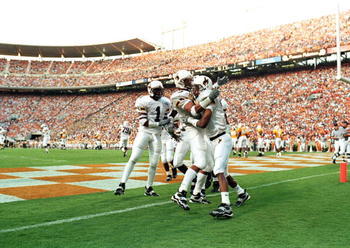 The ONLY reason this one isn't higher is because, while a shocker, it wasn't quite as shocking as it might have been considering Phil Fulmer was officially fired six days before the game took place.
AD Mike Hamilton allowed him to stay on as coach through the end of the season, but the game immediately following the decision was a symbol of just how far the program had fallen.
Nick Stephens was picked off in Wyoming territory on the first drive of the game. The Cowboys brought it to the UT five and scored a play later.
The Vols never got anything going on this day and the most embarrassing homecoming loss in the Vols history was finished.
It was a dark day for Vols fans everywhere.
4. 1999 at Arkansas, 28-24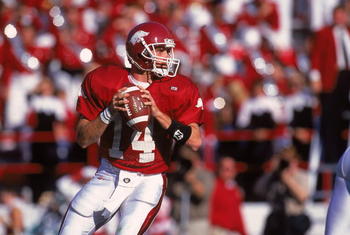 Maybe it was poetic justice for the Clint Stoerner. Maybe it was karma.
Certainly it was a stunning, terribly disappointing upset of the No. 3 team in the nation.
A year after the Stoerner fumble in Neyland Stadium that allowed Tennessee to remain No. 1 and eventually win the national title, the quarterback would exact revenge on virtually the same Tennessee team.
The Vols had lost one game, to the mighty Gators of Florida, but had climbed it's way back to No. 3 in the country. Arkansas was unranked.
Win this early November matchup and Tennessee is likely on its way back to a national title appearance for a second straight season.
Arkansas RB Cedric Cobbs ran all over the Vols on this day, however. Even still, the Razorbacks had to claw their way back into the game after being down by 10 in the third quarter.
But it was the Razorbacks defense that held Tennessee out of the end zone with 1:30 remaining for the 28-24 win.
Coincidentally, that was the exact same score from the '98 UT win over the Arkansas.
3. 2005 vs. Vanderbilt, 28-24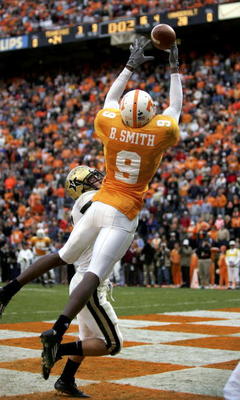 Tennessee had not lost to Vanderbilt since I was 10 months old (1982).
The Vols needed a win in this one to get to 5-5 and have a shot at bowl eligibility the following week at Kentucky. The Vols had not finished under .500 since 1988.
For years, Vandy had come close every three or so years against the Vols, but never found a way to win it.
Vandy QB, Jay Cutler, in his final collegiate game, sliced and diced the listless Vols all day long.
It was WR Earl Bennett's touchdown catch with 1:11 left on the clock that ended this one, however.
The Vols had a chance to score in the final seconds but Rick Clausen's pass to Bret Smith (pictured) was a tad high. The next play resulted in an interception as time expired.
Many will never forget this game. Quite a few Vols, in a show of complete disrespect and lack of discipline threw their helmets down on the field and left them there as they went to the locker room.
After the game, Tennessee head coach Phil Fulmer stated, "Before you start building back anything, you have to hit rock bottom. This is rock bottom."
2. 1996 at Memphis, 21-17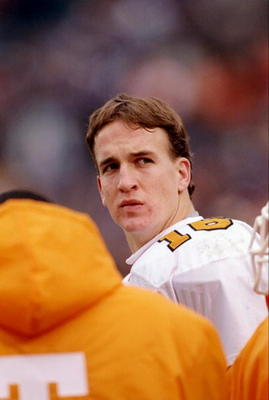 Obviously this one is the reason for the article.
As upsets go in Tennessee lore, this may be the largest.
After Peyton Manning and the Vols annual loss to Florida, the Vols once again had climbed into the top 10.
At No. 6 in early November, a win combined with some help from the higher ranked teams could have landed the Vols in a really nice bowl game at season's end.
That is, until Memphis tied the game in the third quarter on a punt return for a touchdown.
For years, many Vols fans thought the punt returner's knee was down when he spun around near the Memphis 25-yard line, but he clearly was not.
The Tigers would score the winning touchdown with 40 seconds remaining and the Vols would experience the biggest loss in their history to date.
It was Memphis' first victory over Tennessee.
1. 2001 SEC Championship Game vs. LSU, 31-20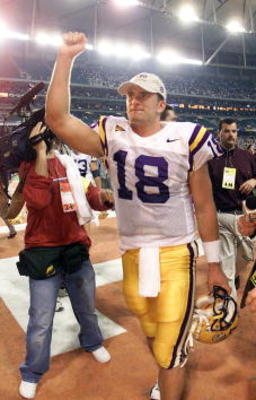 It pains me to write about this one even to this day.
Once again, a win here and the No. 2 Vols are playing Miami for a National Championship in the Rose Bowl.
After the Vols knocked QB Rohan Davey out of the game in the third quarter, already with a 17-10 lead, many thought it was over.
That is until LSU's 22-year old freshman QB, Matt Mauck took over. He led the Tigers on five scoring drives from the third quarter on and the Tigers never looked back.
It was Nick Saban's signature win in his early LSU career, a win that would carry LSU into the national spotlight and eventually a national championship two years later.
For the Vols, it was when the decline began for Phil Fulmer.
The former UT coach would call this the most crushing loss of his career. This is one thing I can agree with Fulmer on.
Keep Reading

Tennessee Volunteers Football: Like this team?