Where Does Jimmy Clausen Rank Among Notre Dame's Seven Best No. 7s?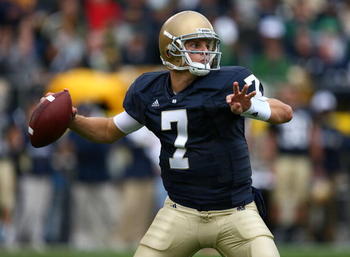 Lucky Number Seven has a special place in Luck of the Irish lore.
Jimmy Clausen wore it well, as have many before him.
Three Notre Dame All-Americans have donned the number seven jersey. So did one of the school's seven Heisman Trophy winners.
I've researched the seven best Irishmen to put on the navy No. 7, and endeavored to place Clausen in the proper position among those legends. I believe his performance to date warrants inclusion on this list.
We'll count them down from seven-to-one, even though all the greats will be accompanied by the No. 7.
*Special thanks to und.com for their extensive record-keeping, biographical information, and photographs.
No. 7 Jarious Jackson 1996-1999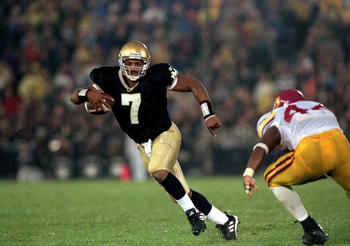 Jarious Jackson set school passing records for yardage (2,753), completions (184), and attempts (316) as a senior in 1999, unfortunately en route to a 5-7 campaign.
All of those marks were subsequently surpassed by Brady Quinn. However, Jackson still ranks fifth all-time in completions and yardage.
No. 7 Joe Restic 1975-1979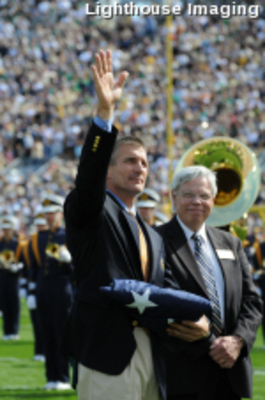 Of all the great number sevens, Joe Restic was probably the least glamorous.
In addition to starting at safety for the 1977 national championship team, Restic ranks seventh all-time in career punting average.
Clearly, he had a knack for the number.
Coincidentally, Restic is also currently serving a two-year stint as Notre Dame's Monogram Club president.
No. 7 Steve Beuerlein 1983-1986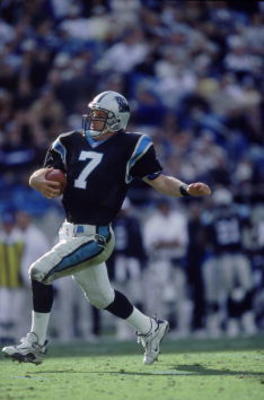 Much like Jackson, Beuerlein left South Bend with nearly every school passing record in his pocket and is credited with 22 wins across four seasons.
In addition to wearing the number seven at Notre Dame, the Hollywood, CA product also spent 17 seasons in the NFL, winning a passing title and earning a trip to the Pro Bowl with the Carolina Panthers in 1999.
No. 7 Tom Schoen 1965-1967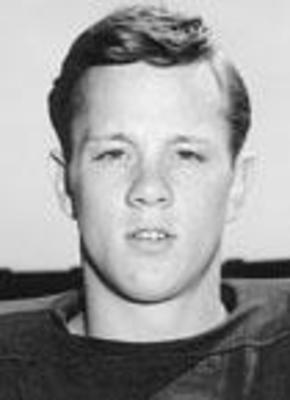 A national champion with the Irish in 1966, Schoen led Notre Dame's secondary in interceptions as a junior and senior.
He was also an exceptional punt returner, and in fact, still holds the school record for punt return yardage in a game with 167 on nine returns against Pittsburgh in 1967.
How much would the Irish give for that combination of defense and special teams right about now?
No. 7 John Huarte 1962-1964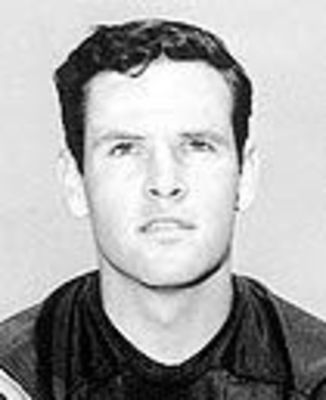 The lone Heisman Trophy winner on this list—though Theismann came close and Clausen might be next—John Huarte had perhaps the best one season career in college football history.
After missing the majority of his sophomore campaign due to injury and failing to earn a monogram as a junior, the California native burst onto the scene in 1964.
Under first-year head coach Ara Parseghian, the surprising Irish went 9-1 and nearly claimed a national title. Huarte ranked third in the country in total offense that year, set a dozen school records, and put his name on the stiff-armed trophy.
No. 7 Jimmy Clausen 2007-present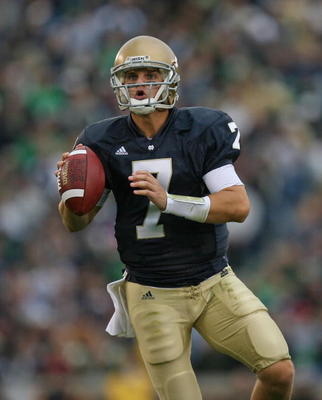 The latest Southern Californian to sport No. 7 under center, Clausen is on pace for the greatest statistical season in Notre Dame history.
To date, he's completed 67 percent of his 257 attempts for more than 2,300 yards and 18 touchdowns. This while battling a turf toe injury and missing approximately half of a Purdue game in which he normally would have played every down. His two interceptions through eight games consist of a last-minute heave and a deflection off the hands of his running back.
With a strong finish in Notre Dame's four remaining contests, he may very well become the school's eighth Heisman Trophy winner.
He also owns what is widely regarded as the single-greatest statistical game in Irish history, a 22-of-26, 401-yard, five-touchdown performance in a 2008 Hawaii Bowl victory.
And were he to stay for a fourth season in South Bend, Clausen would easily surpass all of Brady Quinn's career high-water marks. A national championship in 2010 would place him in an elite class of Notre Dame legends who can lay legitimate claim to the impossible honor, "best ever."
No. 7 Joe Theismann 1967-70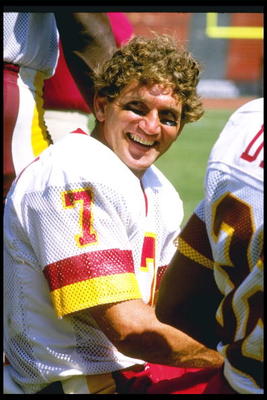 Jimmy is already his statistical superior, but Joe Theismann gets the nod over Clausen (for now) because of his 20-3-2 career record and his unforgettable 1970 season.
A year after a near-upset of eventual national champion Texas, Theismann led the Irish back to the Cotton Bowl to finish the job. Notre Dame was 10-1 that season, with a number two national ranking. And No. 7 also finished runner-up for the Heisman Trophy.
Theismann went on to a 15-year NFL career, primarily with the Washington Redskins, where he won a Super Bowl and a league MVP.
Theismann tops the list of Irish number sevens...for at least another month.
Keep Reading

Notre Dame Football: Like this team?