College Football Uniforms: The Good, the Bad and the Ugly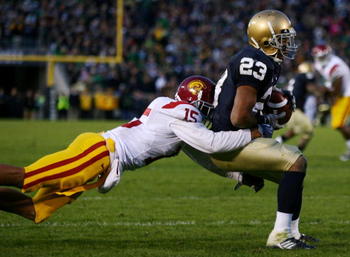 There are certainly many factors which help college coaches persuade a certain athlete to attend their respective institution. It would be naïve to believe in this day and age football uniforms are not one of said factors. Minor as it may be, if I have the choice between school A and school B, all else equal, I may choose which unis make me look better on the field. Let's face it, to many of these kids, looks may be a top factor.
Before I break down what will surely be my most objectionable article yet, let me give the disclaimer. This is my opinion and my opinion only. I am admittedly biased. I am not an SEC hater...trust me, I spread my hate equally. I apologize if I offend anyone's sensibilities, as I fully understand it may be hard for some of you to comprehend the fact that your team's uniforms may be ugly. Own it, be proud of it and embrace your ugliness.
That said, I'll start out with...
The Good. 8. Utah Utes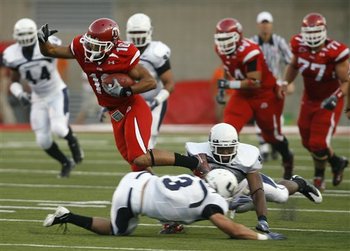 I cannot place exactly what I like about the Utes... as with a few of the teams on my lists, there is a recency effect. They're good, winning and maybe a bit disrespected. Or maybe it's just all the red!
7. South Carolina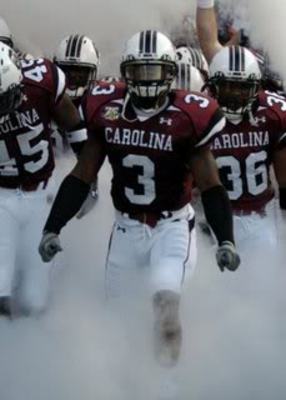 I'm certainly not a fan of the Old Ball Coach, but I cannot help but like their subtle disrespect of the North with the lone "CAROLINA" or the endless play on words with "Gamecock". I'm not sure what garnet is but it looks sharp with black and white.
6. North Carolina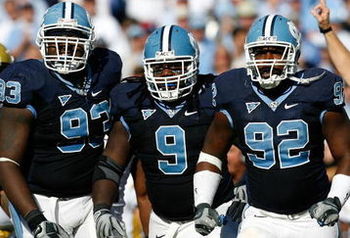 I hate UNC and I hate powder blue, but for some reason with the dark blue and white, it's a solid home jersey. All powder is all ugly though.
5. Penn State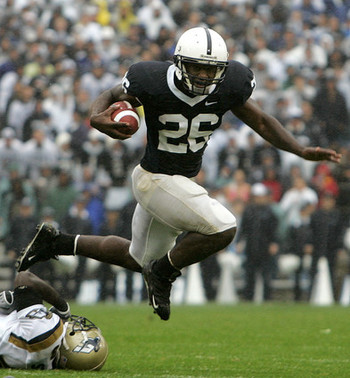 For the most part unchanged for many years. White and blue. It would seem hard to imagine fouling that up. Is it true the colors once consisted of dark pink? Thinkin' Joe-Pa would not have settled for that.
4. Indiana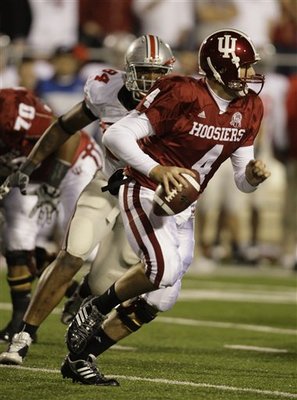 If this were a list for best jerseys coupled with worst team, I think Indiana tops that list. Either way, they're unis with the IU helmet logo and stripes are pretty bad ass looking!
3. Ole Miss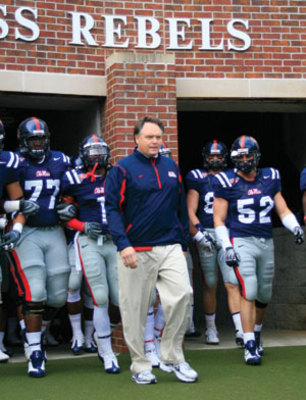 While there are other schools with the same color combo the Rebels do it right. Right now, they've got the best unis in the SEC. Close behind are the Arizona Wildcats with pretty much the same colors but damn solid uniforms as well.
2. Texas A&M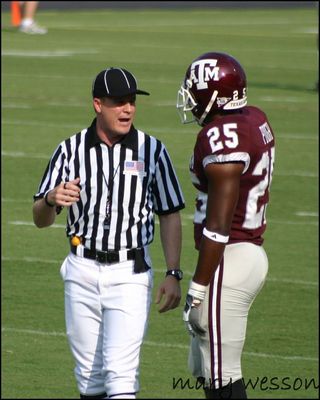 Tried and true, the Aggies remain old school with their colors and uniforms. Tradition is everything in College Station and certainly their uniforms are part of that tradition.
1. Notre Dame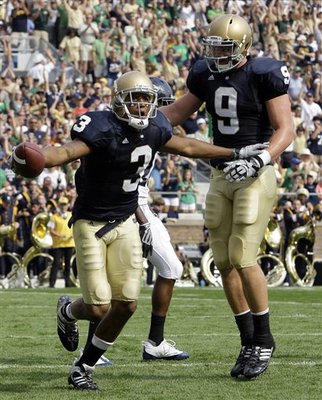 No surprise who holds the number one seed and how can you argue really. The golden dome, the plain blue jersey sans name-plate. While there have been a number of variations over the years, nothing gets the blood pumping or boiling on Saturday like watching the blue and gold take the field.
The Bad. 8. Boston College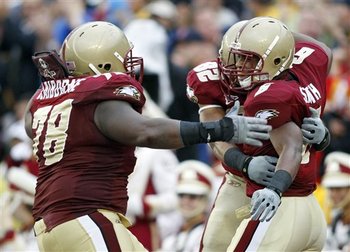 Blue and gold works; maroon and gold, not so much. The colors are bad, the numbers look bad and that eagle is bad as well. Even the gold is dull...
7. Iowa State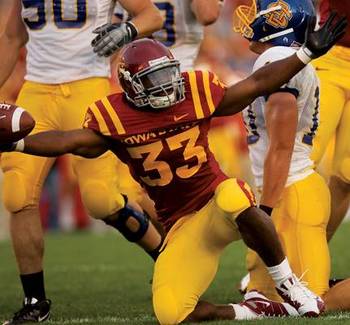 They finally dropped that toon bird in the hurricane logo on the helmet but they've still got the eerily USC like jerseys. Maybe they're hoping Pete Carroll will mistakenly be dropped off in Ames, Iowa and not realizing where he is, coach a winning football team. Yeah, probably not...
6. Toledo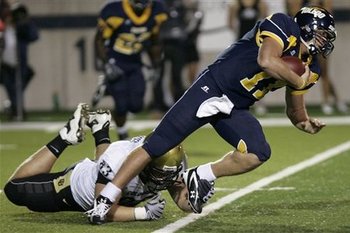 Maybe a long shot on the list here, but the helmet "Toledo" with the rocket has got to go. The rest is salvageable, but I guess they care as much as you care...not at all, it's Toledo.
5. Wyoming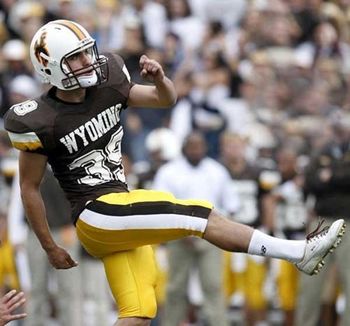 If it weren't bad enough your team is in Wyoming. A state with the poo-end of the stick as far as population and recruiting goes, you have to match it with equally smelly uniforms. I actually like the logo. I mean what says I'm going to whup your but on this here field like a cowboy, right? Let's attempt to attract dudes other than real-life Cope-spittin', flannel-wearin' cowboys though. For Pete's sake, jerseys may be the only thing to attract talent to your wonderful state... get it right!
4. Oregon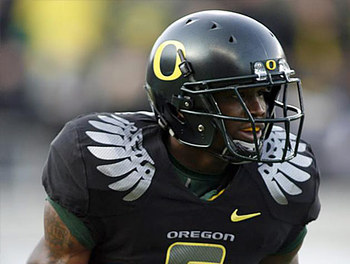 Well let me say I attempted to put Oregon on all three of my lists, but I could not find the good uniform...why, because Nike hasn't made it yet! The winged jersey would be on the 'Good' side save the stupid wings. I mean, I get that you're the Ducks... but wings. I'm sure to get quack-attacked come next post!
3. Tennessee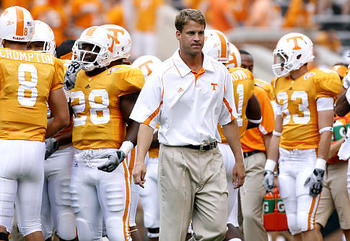 And here starts my meat and potatoes of the 'Bad' list. I don't have any bias against UT generally... I mean, they are the real U.T.! But I just cannot be down with the florescent orange. You will all soon notice my prejudice against a certain color. Indeed it starts with an o and ends in range!
2. Florida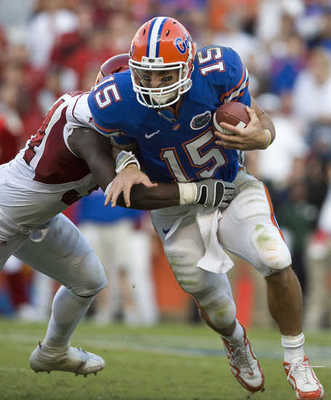 I know I know, I'm a hater... I don't like Jesus Tebow so I'm picking on their uniforms... I get it. What I don't get is the bright blue and ultra bright orange. It's not a good combo, sorry. I like the old "F" on the helmet but hate the cursive "Florida" and more so that goofy cartoony gator logo. Enough already.
1. texas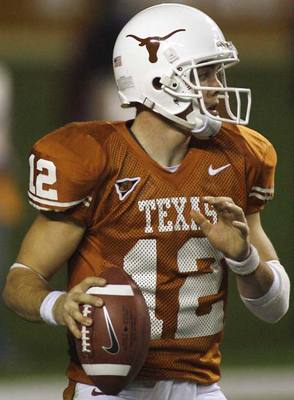 What would my list be without showing some hate to old UT? It's truly not about the hate though here. I can honestly say that burnt orange is worse than florescent orange and bright orange. That's all I've got to say about that right now.
The Ugly. 8. Bowling Green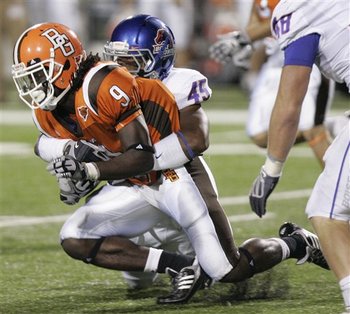 With the rare television appearance on Tuesday I realized these guys sport an ugly getup. The BG, the orange and brown once again.
7. Okie State and Oregon State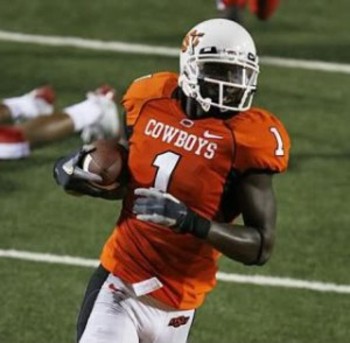 Virtually one in the same here...orange and black with varying amounts of each week-to-week. It's just not cool! Otherwise, Cowboys and Beavers, that's a lethal combo!
6. Miami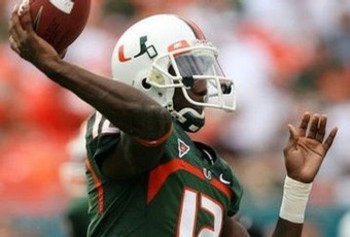 Bright green and more bright orange...ugh. Coupled with inconsistent football, just makes ugly more ugly.
5. Oregon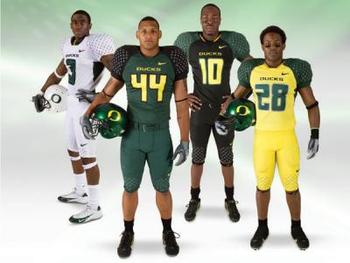 That's right, bad and ugly. It's a different combo of both each week. Only they have the means to roll with both at a time! Bad and ugly they may be to myself but to ridiculous football talent, they must know something I don't.
4. Clemson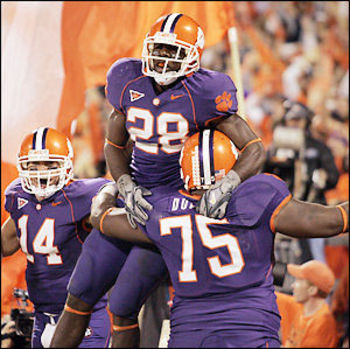 Purple and orange now. I don't know how many ways to say it, but orange is ugly! More orange, less orange or orange paw prints don't make a bit of difference. At least when Spiller runs by it's hard to notice what ugly combo he's wearing.
3. LSU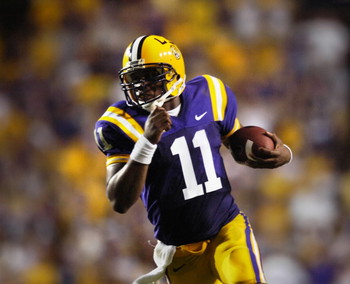 That's right, I said it. Ugly. Purple and yellow = ugly. There's no beating around the bush and no way around it. The block letters and tiger logo, also ugly. Do I hold a grudge, yeah maybe a couple, but at least I don't have to wear yellow!
2. Virginia Tech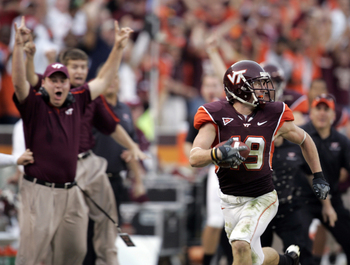 What do you get when you combine thug life with nerd life? That's right, puke brown and burnt orange. There's just no viable excuse for it. Bruce Smith is about the only thing keeping you out of number one... oh yeah, and the number one ugly.
1. The Ville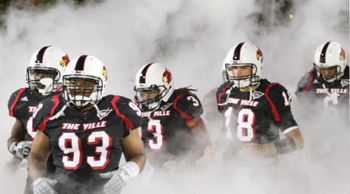 Maybe a dark horse to win in many eyes, but the buffoonery that is the University of Louisville's uniforms is unacceptable. First and foremost, let me say, I disrespect birds with teeth. I don't appreciate Cardinal Bird grittin' his unnatural teeth all over the place. Second, the ugly hip new font. It screams, we have no real tradition here to go old school so we're going make some cool edgy logos! And finally you drop the "Louis" and roll with "The Ville". I cannot even type into words how ludicrous this is. It belongs in the same football annals as "He-Hate-Me" and the Icky Shuffle. Stop it, JUST STOP IT ALREADY!
So there it is. Take your shots.
Keep Reading