NFL Midseason Report Card: Evaluations and Power Rankings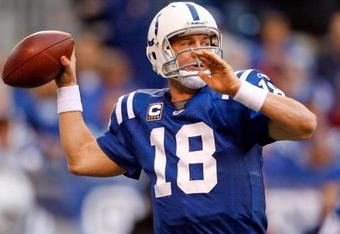 Andy Lyons/Getty Images
Believe it or not, we have reached the midpoint of the 2009 NFL season.
Halloween is over, and Thanksgiving and Christmas are now on the horizon—and with them, the stretch run of what should be a wild conclusion to the season.
So far this year, we have seen the league take a disturbing route of putting a mega assortment of mediocre, if not just plain awful football teams, on the field this year. The Browns (1-7), Raiders (2-6), Buccaneers (0-7), Rams (1-7), Lions (1-6), Titans (1-6), Chiefs (1-6), and Redskins (2-5) are all lost.
Four of those teams have first-year head coaches, and, of course, there is reason to believe that owners of those respective teams could be looking elsewhere.
Meanwhile, the Raiders, Browns, Redskins, and Titans, and most likely the Jaguars (3-4), Panthers (3-4), and Bills (3-5), will most definitely be looking for new coaches when the season is over.
Meanwhile, if your team is good, then life is really good this year. The Colts and Saints are still unbeaten, with the Broncos and Vikings having chalked up only one loss. In the near distance, the Eagles, Cowboys, Patriots, and Steelers are right behind this fearsome foursome as they look to create some postseason havoc come January.
In the meantime, let's rank all 32 teams and dish out some midterm grades for these team;, shall we?
32) Cleveland Browns (1-7): Grade F
Congratulations, Eric Mangini: You are the first coach with his head on the chopping block. The Browns already fired Mangini's GM, and it is only a matter of time before the Mangenius will be looking for work elsewhere.
31) Tampa Bay Buccaneers (0-7): Grade F
Does the Glazer family miss Jon Gruden yet? The Buccaneers thought it was a good idea to fire the fiery Gruden last January and replace him with baby face Raheem Morris, who is younger than some of the players on his own team.
Morris could get a reprieve this year because of his young age and the fact that the Bucs do not have an idea at quarterback with Byron Leftwich, Josh Johnson, and Josh Freeman still duking it out for the starting job.
30) St. Louis Rams (1-7): Grade F
Steve Spagnuolo told his team after Sunday's victory over the Detroit Lions that the win was one of the most special games of his career, and that the game ball he received from the team would be his most cherished game ball.
Wasn't there a Super Bowl game a couple of years ago against the New England Patriot, when Spagnuolo was the defensive coordinator of the New York Giants? Hmmm. That would seem to be more special than a victory over the Lions.
29) Detroit Lions (1-6): Grade F
How could the Lions lose to the winless Rams? Oh wait, they are the Lions. Matthew Stafford has shown some promise as the team's future quarterback, completing 54 percent of his passes, but the Lions are still light years away from actually being consequential. At least they will be better than last year's 0-16 team.
28) Tennessee Titans (1-6): Grade F
Memo to Jeff Fisher: Start Vince Young or you're fired. That message got through, as Young led the Titans to their first victory of the year. Just don't boo him, Tennessee fans; we all know that Young can't handle the pressure of being booed. If things continue to get worse in Tennessee, don't be shocked to see a new head coach.
27) Kansas City Chiefs (1-6): Grade F
So does anyone believe that Matt Cassel is a legit quarterback anymore? No? Can you say product of the Patriots system?
26) Oakland Raiders (2-6): Grade F
JaMarcus Russell stinks. Tom Cable, luckily, has not been arrested yet for punching one of his assistants, and yes, somehow, some way, the Raiders have won two games. Wow. When will the Raiders finally "get it" and begin cleaning house? When Al Davis gives up as the sole owner of the franchise which means never?
25) Washington Redskins (2-5): Grade F
For weeks we have heard about Redskins head coach Jim Zorn possibly getting the ax. However, that was put down by the Redskins front office, as they endorsed Zorn for the rest of the year.
Meanwhile, former Broncos coach Mike Shanahan rejected an offer from the Skins to take over at midseason. The Skins could be competing for Shanahan's rights come January—that is, if the rival Dallas Cowboys fall flat again come December.
Either way, the Skins need a legit coach who can get this franchise back on track and decide once and for all if quarterback Jason Campbell has the "it" factor.
24) Seattle Seahawks (2-5): Grade F
Talk about a mega disappointment. The Seahawks were expected to be contenders in the NFC West with a healthy Matt Hasselbeck and a new young voice in the energetic Jim Mora Jr. as head coach. Instead, the Seahawks are having a repeat of 2008. Hasselbeck missed a couple of weeks, and Julius Jones still can't run the ball for Seattle.
23) Jacksonville Jaguars (3-4): Grade D-
Jake Del Rio is next in line to be fired come January. Del Rio's Jaguars have underachieved for the second straight year, fans are not coming to games, and there are rumblings that things are going to change in Jacksonville. Amazing, because just two seasons ago, the Jaguars were one of the toughest teams in the league.
22) Carolina Panthers (3-4): Grade D
Nice win on Sunday against the Arizona Cardinals. After a slow start this year, it appears that the Panthers' ground game is starting to gain some traction as DeAngelo Williams rushed for 158 yards on Sunday and Jonathan Stewart rushed for two touchdowns and 87 yards.
Jake Delhomme, however, is the main reason that the Cats stink this year, having thrown five touchdowns and 13 interceptions.
The Panthers can still save John Fox's job—they have won three of four—but will likely have to play themselves back into the wild card race for that to happen.
21) Buffalo Bills (3-5): Grade D+
Will Dick Jauron get fired or what? The Bills got off to a horrendous 1-4 start but managed to beat the Jets and Panthers in back-to-back weeks to get to a respectable 3-4. Then reality set in on Sunday against the Texans, as Houston put a 31 on the scoreboard.
Dick Jauron ... you're fired.
20) San Francisco 49ers (3-4): Grade C-
Hey, did anyone believe in the Shaun Hill 49ers? Nah, I didn't think so. The 49ers got off to a nice start, but reality settled in, and Hill was benched for Alex Smith. Yeah, right, that decision will pay off.
19) New York Jets (4-4): Grade C-
So much for Rex Ryan's Bad Ass football team. After an electric 3-0 start, the Jets have dropped four of five and have done so in a million different ways. First, it was the wildcat running all over them on a Monday night; then it was five interceptions against the Bills, and on Sunday it was two kick returns by Ted Ginn Jr. that killed Gang Green. The Jets just aren't that good—let's face the facts.
18) Miami Dolphins (3-4): Grade C+
I'm tempted to give the Fish a B-, but I will give them the C+ because they did blow a 24-3 lead to the Saints a couple of weekends ago. The Fish should be 4-3.
Chad Henne has struggled at times since taking over for Chad Pennington, but the wildcat has led the way for the Fish with Ricky Williams and Ronnie Brown spearheading the Fish's offense.
Ginn's two kick returns for touchdowns highlighted Miami's 30-25 victory over the Jets on Sunday. The sweep of the Jets was the first for the Dolphins over the Jets since 1997.
17) New York Giants (5-3): Grade C+
The Giants are overrated. Let's face it. When a team smacks around four opponents who are a combined 5-24 and can't beat three solid football teams, it raises eyebrows. Injuries on the defense have not helped, and the poor play of Eli Manning is shocking to say the least.
16) Green Bay Packers (4-3): Grade C+
The Packers are not good when they need to be. Sure, they can pound the Lions, but when they choke when faced with a big game, like the two prime matchups with Brett Favre and the Vikings, it is a sign of bad things to come.
15) San Diego Chargers (4-3): Grade C+
What can I say about the Chargers? They are soft. They have beaten the Chiefs, Raiders, and the Pennington-led Dolphins, yet they have lost to solid teams like the Ravens, Steelers, and Broncos. In short, the Chargers are a weak football team that will limp toward a wild card berth, if they ever get it.
14) Chicago Bears (4-3): Grade C+
The Bears have been frustrating to watch this year. They got off to a hot 3-1 start, highlighted by a week two win over the champion Steelers, but since that time have suffered two crushing losses to the Bengals (45-10) and Falcons (21-14). Will the real Chicago Bears please stand up?
13) Atlanta Falcons (4-3): Grade B-
The Falcons got off to a great start, but two straight losses, including a horrific showing on Monday night against the rival Saints, have the Falcons at 4-3. The Falcons can still contend for a wild card, but they will have to pick up really soon.
12) Arizona Cardinals (4-3): Grade B-
You know, I was really buying into the Cards when they beat the Giants on the road in Giants Stadium two weeks ago, but now, after losing their third home game on Sunday, one has to wonder if the Cards have what it takes to compete for another NFC championship.
11) Baltimore Ravens (4-3): Grade B
The Ravens have been up and down this year. Joe Flacco got off to a red-hot start this year, throwing for 1,849 yards, 12 touchdowns, and five interceptions, while Ray Rice is proving to be a steady starting running back, gathering 525 yards and four touchdowns.
Meanwhile, the Ravens' once vaunted defense has been awful this year. They are no longer in the top five in any defensive category and seem to lack a necessary punch this year. Still, the Ravens' 30-7 smackdown of the Broncos was encouraging.
10) Houston Texans (5-3): Grade B+
How about them Texans! After they got socked by the Jets in week one, the Texans have rebounded and proven that they are indeed a playoff contender.
Matt Schaub has been brilliant and could be the MVP of the league this year, with 2,342 yards, 16 touchdowns, and seven interceptions. He has been dazzling in leading the Texans on a three-game winning streak and will lead the Texans into Indianapolis for a classic clash with the unbeaten Colts.
9) Dallas Cowboys (5-2): Grade B+
The Boys just keep rolling along. Tony Romo lit up the Seahawks for 256 yards and three touchdowns on Sunday, as the usually frustrated quarterback is finally showing some zip and spunk behind center. Now, the Boys travel to Philly, where they take on the Eagles at Lincoln Financial Field, a house of horrors for Dallas over the years.
8) Philadelphia Eagles (5-2): Grade B+
How about that Eagle offense? Donovan McNabb to DeSean Jackson is becoming a lethal combination. Jackson has 501 yards receiving with four touchdowns, including a three-catch, 78-yard effort against the Giants. LeSean McCoy has done a nice job leading the ground game for Philly in place of the injured Brian Westbrook.
Oh, and as for Michael Vick, he hasn't done much this year—the less we have to hear from Vick the better.
7) Pittsburgh Steelers (5-2): Grade B+
The Steelers are coming off a bye week still tied for first in the AFC North. They have won four straight with their latest victory over the Vikings two weeks ago proving to be their most impressive. Can they go up to Denver and smack around the very tough Broncos? We shall see.
6) New England Patriots (5-2): Grade B+
Tom Brady and the Pats are alive and well. After a sluggish start to the 2009 season, the Pats plastered the Titans and Buccaneers by a combined 94-7! Yeah, that equals major smackdown. This week should be interesting when New England takes on the hot Miami Dolphins.
5) Cincinnati Bengals (5-2): Grade A-
The Bengals have been a surprising 5-2 this year, and if not for a screwy final play in the season opener, the Bengals could be 6-1 right now. Carson Palmer has been fantastic, while Chad Ochocinco has been simply great. Tough test over the next two weeks when the Bengals play the Ravens and Steelers.
4) Denver Broncos (6-1): Grade A
The Broncos have been spectacular all year. Coming into their game against the Ravens, Kyle Orton threw one interception and has provided steady leadership for the Broncos. Meanwhile, the defense has been one of the best throughout the first half.
On Sunday, Denver got a taste of its own medicine when the Ravens held Denver to seven points in a 30-7 rout. Can the Broncos rebound against the Steelers?
3) Minnesota Vikings (7-1): Grade A+
Hey, you think Brett Favre is still on Cloud Nine after thrashing his old team in Lambeau Field? You betcha! Favre finally got his revenge against the Packers as he was seen prancing around the locker room afterwards.
Don't let Favre fool you with the tears he throws at the media during post-game interviews—inside, the guy is sticking his tongue out at the Packers fans, management, and players. Nah nah ne nah nah.
2) New Orleans Saints (7-0): Grade A+
The Saints just keep on marchong on. Their offense found a way to outscore yet another opponent as Drew Brees threw for two scores, while Reggie Bush and Pierre Thomas ran for two more in a 35-27 win over the Falcons.
Caveat: The Saints still can't stop anyone. They allowed Michael Turner to gash them for 151 yards, yet the Saints made Matt Ryan look like a rookie, picking him off three times and bringing one back for a touchdown. Saints are 7-0 and still the best in the NFC.
1) Indianapolis Colts (7-0): Grade A+
The most complete team in the league got a big scare on Sunday when the 49ers held a 14-12 lead into the fourth quarter. Peyton Manning didn't have his best day; he threw for 347 yards but no touchdowns. It's not easy being king, is it?
This article is
What is the duplicate article?
Why is this article offensive?
Where is this article plagiarized from?
Why is this article poorly edited?