Bald Prophet's College Basketball Top 40 For 2009-10 (No. 40-31)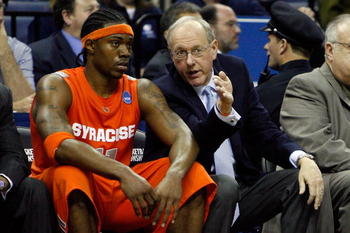 I'm back!!! The Bald Prophet looks at the Top 40 college basketball teams for the upcoming campaign, starting with numbers forty through 31. There's a return from some non-BCS schools and the SEC should make a return to glory. Which teams will make the Dance? Why might they fall short? Why have I fallen in love with question marks? Let's get to it!
40. Syracuse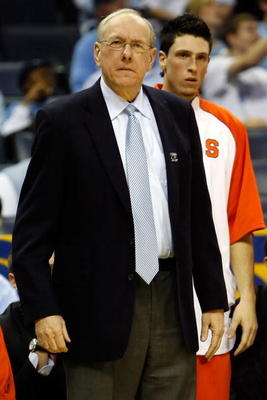 Why they will make the tournament: Andy Rautins is a big guard who can lead, defend and shoot from outside. Rick Jackson and Arinze Onuaku are rugged beasts in the paint. Iowa State transfer Wesley Johnson could slide in nicely at the three.
Why they won't make the tournament: Losing Jonny Flynn, Eric Devendorf and Paul Harris is the hoops equivalent of losing James Hetfield and Lars Ulrich from Metallica. Scoop Jardine has to prove he's healed from last season's stress fracture in order to run the point. Last year, even with Flynn, the Orange ranked near the bottom of the conference in scoring defense and turnovers.
Early season test: California on November 19. Cal's an interesting squad that will be detailed later in the show. Their experienced backcourt could give the new 'Cuse starters fits.
39. Utah State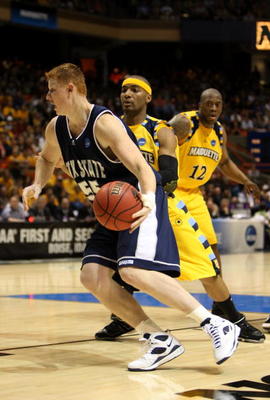 Why they will make the tournament: There's very little competition for the Aggies in the WAC (though New Mexico State could give them a loss). Jared Quayle and Taj Wesley return from last season's 30-win edition with two other starters and an effective bench.
Why they won't make the tournament: While the Aggies are heavily favored to win the regular season title again there are no guarantees in the conference tournament and their schedule isn't exactly RPI-friendly. An off-night could have them NIT-bound.
Early season test: BYU on December 2. The battle for Utah supremacy (the winners get to dance with the Osmonds on a made-for-TV special) should feature a good battle between Quayle and BYU guard Jonathan Tavernari.
38. Cornell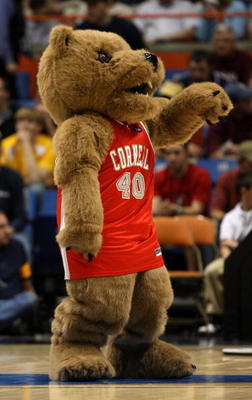 Why they will make the tournament (and maybe even win a game): Like Utah State there's little conference competition for the Big Red. All five starters come back, led by Ryan (son of Randy) Wittman and Louis Dale. Add Kentucky transfer Mark Coury (star of Napoleon Dynamite 2: Electric Boogaloo) to the mix with no post-season tournament to trip them up and a repeat trip to the dance looks like a solid bet.
Why they won't make the tournament: The Big Red agreed to take on all comers before the Ivy League season starts. Yikes. Alabama, Syracuse, at Kansas, Seton Hall….at least they'll be battle tested but will they be worn down by the time they get to Ivy League play?
Early season test: Duh. January 6. Kansas. The Jayhawks second unit could beat this team and that's no knock on Cornell. If they can keep the final margin under a dozen points that would be very impressive.
37. South Carolina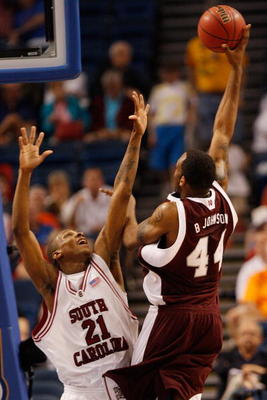 Why they'll make the tournament: There's no truth to the rumor that Devan Downey was the result of a bizarre cloning experiment involving B.J. McKie, Larry Davis and Tre' Kelley even though he has a similar stellar game. Balance that with paint presences Mike Holmes and Dominique Archie and the Gamecocks have a versatile offense.
Why they won't make the tournament: They finished dead-last in the watered-down SEC in rebounding margin and assists. The rebounding probably won't improve with no player taller than 6-9 that will get significant minutes.
Early season test: Clemson on December 6. This shapes up to be one of the best early-season matchups on the national landscape this year.
36. Tulsa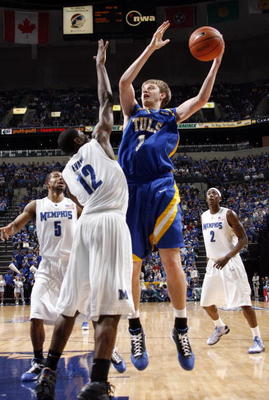 Why they'll make the tournament: John Calipari isn't coaching Memphis. By extension, John Wall and DeMarcus Cousins went to Kentucky instead. Jerome Jordan gets most of the press (as talented big men often do) but guard Ben Uzoh deserves just as much credit.
Why they won't make the tournament: This is not a deep team and may rely heavily on freshman point guard Donte Medder to carry a heavy load. If Uzoh or Jordan have to miss time the Hurricane will look like one of those lesser weather systems that just ruin your barbeque plans.
Early season test: Oklahoma State on December 2. Every one talks about Kansas and Texas in the Big 12 but don't forget the Cowboys.
35. Florida State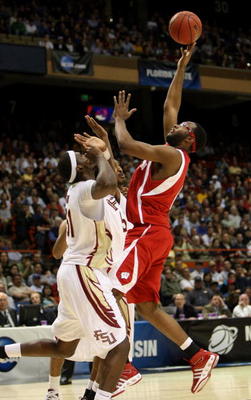 Why they'll make the tournament (and possibly win a game): Big guys thrive in the ACC and Solomon Alabi and Chris Singleton look ready to explode this year. California Player of the Year Micheal Snaer should step in at the two guard as a freshman. They should win more than half their conference games which will be good enough for a bid.
Why they won't make the tournament: All Snaer has to do is take over for Toney Douglas, just like all Jimbo Fisher will have to do (eventually) is take over for Bobby Bowden. Despite the 'Noles size they were not a great rebounding team last year. Derwin Kitchen must assume the field general duties full-time without help from Douglas.
Early season test: Ohio State looms on December 2 in the Big Ten-ACC Challenge but look out for Jacksonville on November 16. The Dolphins aren't bringing back Artis Gilmore but return a lot of players from a solid squad and could pull the upset.
34. Clemson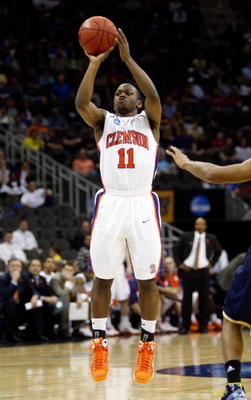 Why they will make the tournament (and possibly win a game): They only have two starters coming back from last year's NCAA team but one of those is wide-body Trevor Booker, who nearly averaged a double-double last season. He welcomes his younger brother David (who at 6-8, 235 can't be classified as little) as well as touted freshmen Milton Jennings and Noel Johnson.
Why they won't make the tournament: Two of those starters not coming back were named K.C. Rivers and Terrence Oglesby, who combined for nearly thirty points a game. It will be up to some bench players from last year's edition to take over.
Early season test: In addition to the Palmetto State Pow-Wow against South Carolina they face Texas A&M on November 26. A nickel's worth of free advice to the Tigers: stay away from the turkey and stuffing.
33. Oregon State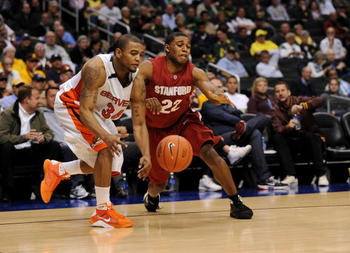 Why they will make the tournament (and possibly win a game): Craig Robinson managed to turn this tradition-rich program around in a hurry without his brother-in-law having to twist the arms of Congress. Seven players who averaged at least four points a game come back and Roberto Nelson heads their best recruiting class in a long time.
Why they won't make the tournament: Despite their success they were outscored for the season. If you consider that they only gave up 63 points a game that's pretty ugly. Shooting guard Seth Tarver led the team in rebounding. That has to change as well.
Early season test: Nothing pops up until they open conference play against Washington on New Year's Eve. The good news: this should make the Beavers nationally ranked by that time. The bad news: If they stumble in conference play don't look for the selection committee to give them much love.
32. Kansas State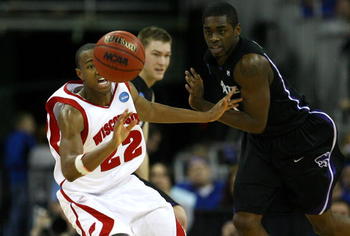 Why they will make the tournament (and possibly win a game): People who thought the recruiting would dry up once Bob Huggins left and prospective freshmen realized this Manhattan doesn't feature, um, liberated women sorely discounted Frank Martin and his staff. McDonald's All-American Wally Judge joins four returning starters and UConn transfer Curtis Kelly.
Why they won't make the tournament: Denis Clemente is lightning-quick but his outside shooting could use some work. The Wildcats had nearly as many turnovers as assists. The Big 12 is a monster conference this year so even though the Wildcats are improved on paper they could still suffer a worse finish than last season, when they tied for fourth.
Early season test: If this schedule were last season's matchups against Washington State, Cleveland State and Xavier would be cause for concern. Fortunately the Wildcats get them this year when all of those teams lost quality personnel. No big tests loom until 2010.
31. Vanderbilt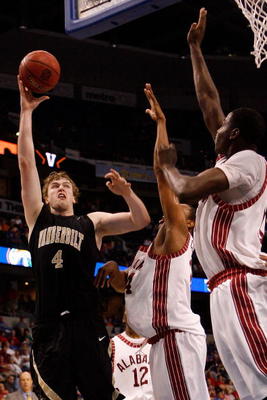 Why they will make the tournament (and should win a game): All five starters come back, led by Aussie big man A.J. Ogilvy. Backcourt mates Jermaine Beal and Brad Tinsley averaged double figures as well. They welcome back defensive stud Andre Walker from a torn ACL.
Why they won't make the tournament: They play a lot of people but don't get much scoring. Keep in mind that this team looked like contenders last season until injuries slowed them down. Aside from one freshman this is the exact same roster that only finished 19-12.
Early season test: They go to Illinois on December 8, another team that is trying to return to previous heights. This looks like another early-season gem that any college hoops fan should take a break from the holiday rush to enjoy.
Keep Reading

Syracuse Basketball: Like this team?