Where Cowards Are Made: Brandon Spikes' Lack of Punishment Shows SEC's True Colors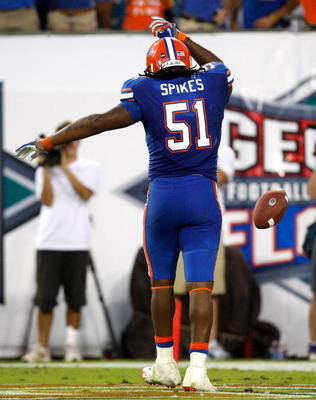 Brandon Spikes is a coward! There's no other word to describe what he did to Washaun Ealey during the Florida Gators' game on Saturday.
Some Gator fans think it was a spur of the moment type of play, and one person I've run across and has written an article claims that Spikes was going for Ealey's chinstrap. No one buys the excuses.
The evidence is overwhelmingly against Spikes. There's no way a rational person can say that Spikes was trying to take Ealey's helmet off from the chinstrap.
But the even bigger news is the lack of punishment of such a cowardly play by not only Urban Meyer, but SEC commissioner Mike Slive as well—who seems like he cares more about protecting his officials than the actual players in the conference.
Coward No. 1: Brandon Spikes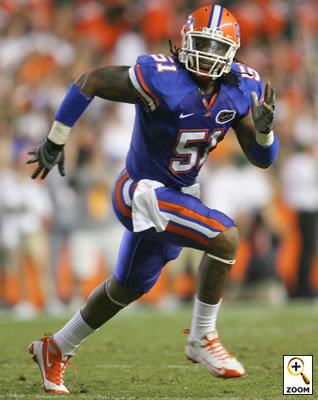 I pretty much summed up why he was a coward in the introduction. If you haven't seen the video of what Spikes did, here is the clip.
After viewing the video, can anyone with a straight face say that Spikes was going for the chinstrap? The answer is you cannot! It was a dangerous play, and it was a cowardly act.
I also don't buy into the reasoning that it happens every game. No, it doesn't happen every game. There isn't a player that is attempting to remove an eye from another player's socket.
It's not to say that in piles nothing happens like the twisting of an ankle or biting of fingers. It's the fact that Spikes did it so blatantly and so easily seen. He was frustrated, and he took it out on Ealey.
Coward No. 2: Urban Meyer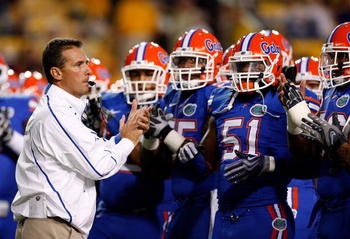 Urban Meyer proved that the thing he cares about is winning and not actually doing what is required of a coach.
Suspending a player who attempts to injure another player for one half is an absolute embarrassment to the SEC and to the other conferences in the NCAA.
The sad part from reading the stories is that Meyer had no clue what Spikes had done until his wife told him. So, he didn't even know about it. Great coach right there. Where was he, off in never-never land?
Meyer failed his Gators team as a coach, he failed the Gator fans, he failed the SEC conference, and he failed the NCAA by not properly punishing Spikes.
Again, only one word for that: cowardly!
Coward No. 3: Mike Slive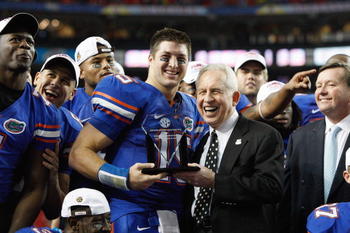 Mike Slive is just as cowardly as Spikes and Meyer. He is the one that accepted the punishment handed down to Spikes when it's clear that the punishment handed down by Meyer wasn't even a punishment.
With his ruling, the question of whether he is protecting Florida arises. Isn't the point of being the commissioner to help teams, coaches, and players make sure that in a situation like this correct punishment is given?
Well, it's obvious Slive wasn't doing his job, and the lack of punishment of Spikes makes Slive look incredibly weak, and it also makes the SEC look bad as well.
Congratulations, Slive—you are a coward as well!
Keep Reading

Florida Gators Football: Like this team?