Guus Hiddink Picks Russia's Finest For One Last Push to South Africa
November 2, 2009
Alex Livesey/Getty Images
It's now or never.
Guus Hiddink has one more chance - the playoff - to guide Russia to a place in South Africa. After failing a German test twice, the fate is just. The new enemy is no slouch, as the overachieving Slovenians pride themselves on team defense and the ability to play in any weather conditions.
Although Hiddink's side took an unexpected tumble in the FIFA World Rankings, the chosen 24 men plan on preventing another tumble in qualification.
On July 28, 1942, Soviet leader Joseph Stalin issued Order No. 227 - "Ни шагу назад," or "Not a Step Back!" Against Slovenia, Hiddink's men will need all the offense going forward they can find. There's no lack of experience in his selected 24. Every player has considerable international duty on their resume.
As the playoff mandates, the first leg will be played at Luzhniki Stadium in Moscow on Nov. 14 under Norwegian referee Terje Hauge. Four days later, the two sides will clash once more in Maribor under Frenchman Laurent Duhamel.
Goalkeepers (Club, Caps)
Igor Akinfeev (CSKA Moscow, 37), Vyacheslav Malafeev (Zenit St. Petersburg, 16), Vladimir Gabulov (Dynamo Moscow, 5).
Post No. 1, Igor Akinfeev.
As expected, Igor Akinfeev will be the man guarding Russia's goal for both matches. He has played every minute of Russia's 10 qualifiers to date, so seeing anyone else between the pipes for so crucial a match would be unthinkable. Despite many links to big clubs like Manchester United, Akinfeev has been superb not only for CSKA, but with the national team as well.
Hiddink's reliable No. 2 is Vyacheslav Malafeev , the veteran Zenit stopper who has shown fine form in the recent months. It was a little surprising to not see him in net for the pointless clash in Azerbaijan, but either way, Hiddink has a quality backup in the case of a disaster.
Making his return to the national team after injury is Vladimir Gabulov , who has been out since late September after taking a boot to the face from Spartak Moscow striker Welliton. Although it's incredibly unlikely that he finds his way into game action, it's good to see him back.
Defenders (Club, Caps)
Sergei Ignashevich (CSKA Moscow, 53), Vasili Berezutsky (CSKA Moscow, 40), Aleksei Berezutsky (CSKA Moscow, 34), Aleksandr Anyukov (Zenit St. Petersburg, 46), Yuri Zhirkov (Chelsea, 32), Denis Kolodin (Dynamo Moscow, 21), Renat Yanbaev (Lokomotiv Moscow, 7).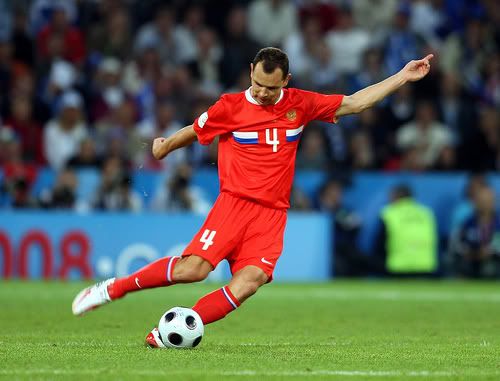 CSKA's powerful center back.
Sergei Ignashevich is no surprise on the backline. He has also played all 900 minutes in qualifying in front of teammate Akinfeev. The powerful center-back can always be counted on for solid defense, and he even scored the eventual game-winning goal against Wales. The always-useful Berezutsky brothers will again be called on, but whether either plays is a mystery.
Zenit St. Petersburg right-back Aleksandr Anyukov has recovered from an illness that kept him out against Azerbaijan and a couple league matches. But the marauder is never afraid to get forward, and often does, working to supply balls in for Arshavin and company.
Renat Yanbaev , the usual backup left-back has been recalled, and could start if usual No. 1 Yuri Zhirkov can not. Yanbaev played a great game against Wales, being tested early and often by Manchester City striker Craig Bellamy and passing with flying colors.
The Chelsea man has been once again fighting off injuries. While he did make a start against Germany, it was painfully obvious that he wasn't near his best.
Dynamo's human cannon Denis Kolodin has also been recalled. He hasn't played for the national team since June against Finland, but he is apparently fit enough to go after his injury. The second center-back position is open to competition from Vasili Berezutsky and Kolodin.
While Anyukov and Ignashevich are locks to start, the other two slots will come down to returning injured players being match-ready or not.
Midfielders (Club, Caps)
Sergei Semak (Rubin Kazan, 62), Igor Semshov (Zenit St. Petersburg, 42), Diniyar Bilyaletdinov (Everton, 30), Vladimir Bystrov (Zenit St. Petersburg, 29), Konstantin Zyryanov (Zenit St. Petersburg, 28), Dmitri Torbinsky (Lokomotiv Moscow, 19), Igor Denisov (Zenit St. Petersburg, 9), Alan Dzagoev (CSKA Moscow, 5), Aleksei Rebko (FC Moscow, 3).
Possibly the latest bloomer in international football.
This is the one position where nearly nobody is a lock to start, and almost all of them have at some point throughout qualification. The man who is most certain is Vladimir Bystrov of Zenit. He has held his reputation as one of the fastest players on the planet and currently can't stop scoring in the Russian Premier League.
He excelled against Germany, having Jerome Boateng sent off, and turned himself into a man that nobody in their right mind wants to defend.
Another man who could surely start is late-bloomer Konstantin Zyryanov . Every one of his seven international goals have come after his 30th birthday. A technically sound midfielder who can play whatever position he's asked, he seems to never run out of gas.
Former team captain Sergei Semak has been a half-and-half player of late, sometimes starting and sometimes coming off the bench. After captaining his Rubin Kazan side to a victory over Barcelona, his leadership and experience might be a necessity in a playoff.
Diniyar Bilyaletdinov might have also played his way back into the starting lineup with a string of excellent showings for Everton.
Zenit defensive midfielder Igor Denisov had the gargantuan task of dealing with Michael Ballack, Bastian Schweinsteiger and company against Germany and should start once more due to lack of positional competition. It's safe to say that no Slovenian presents the same challenge as the world-class German midfield. It's hard to see newcomer Aleksei Rebko earning the start over the more accomplished Denisov.
Igor Semshov hasn't been in peak physical form lately, but still has value as an offensive substitution if necessary. Young sensation Alan Dzagoev will also be available and could also see time after strong performances in the Champions League. He also showed nice chemistry up front with Arshavin, setting up his goal against Azerbaijan.
Forwards (Club, Caps)
Andrei Arshavin (Arsenal, 48), Alexander Kerzhakov (Dynamo Moscow, 49), Roman Pavlyuchenko (Tottenham Hotspur, 31), Pavel Pogrebnyak (Stuttgart, 16), Dmitri Sychev (Lokomotiv Moscow, 45).
Captain Rossiya.
Shhh. Andrei Arshavin is the man behind the curtain pulling the strings. He is constantly at the center of the attack and rightly so. While he hasn't been a scoring machine in qualifying, he's set up his fair share of goals. He's as much of a lock to be in the starting 11 as anybody on the roster.
The enigma that is Roman Pavlyuchenko has been an outcast with Tottenham and out of favor with Hiddink. But he leads all scorers for Russia in qualifying with five goals. He might be forced into a start on his finishing ability alone, as nobody else has managed to show a golden touch. Alexander Kerzhakov has been awful with Dynamo and should not start again.
While Pavel Pogrebnyak has failed to make any sort of impact with the national team in qualifying, he has value as a 70th-minute substitution if Hiddink needs more offense. He is always a threat inside the box, but remains entirely ineffective outside it.
Last and literally least, Dmitri Sychev receives a surprise call. He has played a whole six minutes in qualifying, coming in during the 84th minute of a 2-1 loss in Dortmund. Nevertheless, the ancient relic is back with the national team, though he is a longshot to see the field.
Exclusions
Possibly the most notable exclusions are two Rubin Kazan players. Both center-forward Aleksandr Bukharov , currently the top Russian-born scorer in the domestic league, and 23-year-old teammate Aleksandr Ryazantsev were omitted.
Ryazantsev has been playing at an extraordinarily high level and his heat-seeking missile at Camp Nou only gave him more confidence.
Only Guus knows why the two were left out in the cold. But it doesn't matter now. The 24 selected players have one goal only.
Find a way to South Africa.