College Football's 11 Best 11s: Oregon Stomps Bewildered USC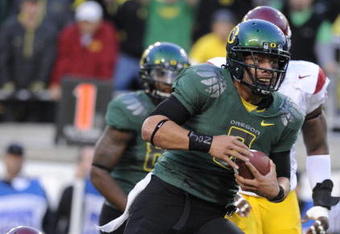 Steve Dykes/Getty Images
The big story in college football on Saturday was the absolute domination of the Southern California Trojans by the underdog Oregon Ducks.
The 47-20 beatdown exorcised a number of demons for the PAC-10, a conference accustomed to being on the receiving end of the previously invincible Trojan juggernaut.
It was the worst loss for Pete Carroll as head coach of USC. It was a bad scene, and it was getting worse as the game went along.
Another ten minutes of action and one senses the Ducks could have put 70 on the suddenly hapless Trojan defense.
Southern Cal's two conference losses so far this season have been to teams with first year head coaches.
If this doesn't demonstrate rough times are ahead for the Men of Troy it at least indicates league teams are no longer intimidated by the name, jersey, or tradition.
SC must recognize there has been a turning point in their rule of the conference and will now have to combat vengeful and confident opponents in future PAC-10 games. 
"The times, they are a-changing."
                                      The 11 Best 11s
Rank This Week                                          Rank Last Week
1. Texas Longhorns                                      1.
2. Florida Gators                                          2.
3. Alabama Crimson Tide                                3.
4. Boise State Broncos                                  5.
5. Georgia Tech Yellow Jackets                       4.
6. Texas Christian Horned Frogs                     10. 
7. Oregon Ducks                                          11.
8. Cincinnati Bearcats                                    7.
9. Iowa Hawkeyes                                         6.
10. Louisiana State Tigers                              9.
11. Pittsburgh Panthers                                 N/R (No. 1 On The Porch)
On The Porch: Penn State, Notre Dame, Ohio State, Oklahoma, Houston
                                  THAT WAS THE WEEK THAT WAS
When the season comes to a close, football analysts need look back no further than this past week's action to read the tea leaves regarding what will happen this year.
In more polite circles, it is called "topsy-turvy." 
Defending champion Florida, drifting about aimlessly for several weeks following the concussion of superstar quarterback Tim Tebow, suddenly rose up and swatted the Georgia Bulldogs as though they were no more than annoyance.
The Gators, ranked No. 1 by practically everyone everywhere, are on the road to a historic second consecutive BCS Title. The 41-17 win over Georgia signals they are  back on track.
Standing firmly in their way is the Texas Longhorn powerhouse, a dynasty that has won more games in the past 12 years than any school in the country.
Texas showed they are up to the eventual task of challenging the Champion Gators by destroying Oklahoma State 41-14 in Stillwater.
Georgia Tech's mighty "Avalanche Rushing Attack" was reduced to a mudslide in the first half of their encounter with the Commodores of Vanderbilt, resulting in a 28-28 tie at the break.
Playing the second half with an intensity and purpose, the Yellow Jackets eventually broke the spirit and then the back of Vanderbilt, resulting in a 56-31 victory.
Boise State, TCU, and Cincinnati continued their unbeaten ways but, Iowa was singularly unimpressive in a home field comeback win over lightly regarded Indiana.
LSU cruised to a 42-0 win over old foe Tulane while Pittsburgh slipped into the 11 Best 11s for the week by virtue of a week off.
Dropping from the rankings were Southern California and Virginia Tech. Both, of course, lost to teams they were favored to defeat.
In addition to the above mentioned teams, special notice should be given to the following teams for a fine performance this Halloween weekend.
Auburn– For righting their ship and overwhelming the forever under-performing Rebels of Ole Miss, 33-20.
Texas A&M– For continuing the long road back from mediocrity with a fine 35-10 win over highly competitive Iowa State.
Tennessee– For demonstrating real courage to wear the Halloween uniforms while annihilating the over-achieving South Carolina, 31-13.
Utah– For the superb decision to insert Freshman Quarterback Jordan Wynn when the game with Wyoming seemed to be lost, resulting in a 22-10 Ute victory.
Temple– For recognition of a 6-2 record, first place in the MAC East, and the 267 yards rushing by Bernard Pierce during the 27-24 win over rugged Navy.
Duke– For the opportunity to salute the 5-3 Blue Devils after a 28-17 road win over Virginia, placing Duke in a virtual tie with Ga Tech for first place in the ACC Coastal.
This article is
What is the duplicate article?
Why is this article offensive?
Where is this article plagiarized from?
Why is this article poorly edited?

Florida Gators Football: Like this team?