Top 10 Ugliest Uniforms in Sports Today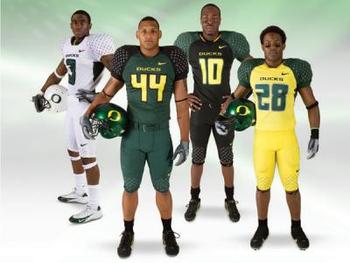 It's almost Halloween but for some teams every day is Halloween because for some teams scary happens whenever they put on a uniform.
You know the type of uniform that I'm talking about, right? The type that makes you change the channel if you have a regular television or scratch your eyes out if you have an HD set? Yep. That type of uniform.
Well, here's the list of the Top 10 Worst Uniforms in Sports today. Anybody can go back and check out the Denver Nuggets skyline atrocity of the 1980's, but finding the worst uniforms of today isn't easy.
Believe it or not, the marketing department for most college and pro teams has gotten much savvier today than in the past. They know what people like. They know what's ugly and what's not, but mistakes do happen and the 10 below are mistakes. Some are newer mistakes. Some are traditional mistakes, but they're all mistakes because nobody would create these things on purpose.
Let's get to it!
10. Notre Dame Fighting Irish, Football, (Green Jerseys)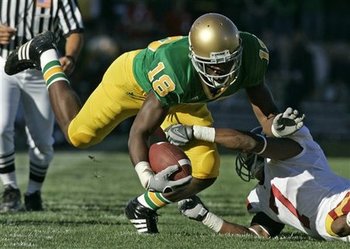 9. Toronto Blue Jays, Baseball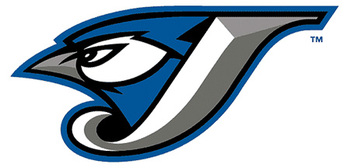 The problem with the Blue Jays' jerseys isn't that the colors are bad, it's that the logo is just weird. If you look at it closely, it's a blue jay coming out of a "J." That's just odd. I mean, is the Blue Jay being born?
That and the fact that if you just see this insane logo in passing, as a flash across your screen, you think you're staring at an oddly blue orb with a beak coming out the side of its body.
8. Tampa Bay Rays, Baseball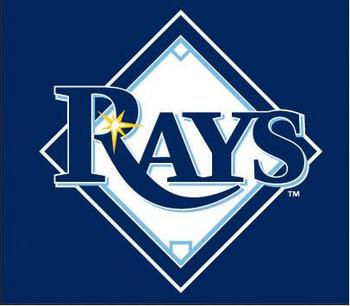 Most of the baseball uniforms nowadays aren't really that bad, they're just weird. The Rays are weird because, well, what's with the strange, yellow star near the "R"?
Also, you're called the Rays. Where's the ray? Are you an animal? Are you just a ray? Like a ray gun? Are you...well, you get the idea.
7. Vancouver Canucks, Hockey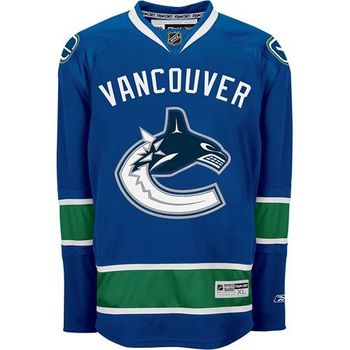 There are a lot of ugly hockey uniforms in the NHL right now, but this one has to be one of the ugliest. I mean, they put the entire name of the city right on the front of the jersey, and then there's a canuck, or a shark, I guess, in the shape of a "C."
What does that mean? Canuck, canuck? Eww...
6. Seattle Seahawks, Football (Lime Green)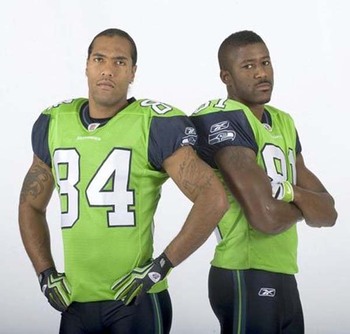 The Canucks and the Seahawks must have the same marketing guy. Green, blue, and then white. The problem is when they break out with those lime green things like they did against the Chicago Bears earlier this season.
have no idea what the point of the lime green is. None. It's not even an emerald green, you know, like the city of Seattle's nickname. It's a lime green. Like ice cream sherbet or something.
5. Golden State Warriors, Basketball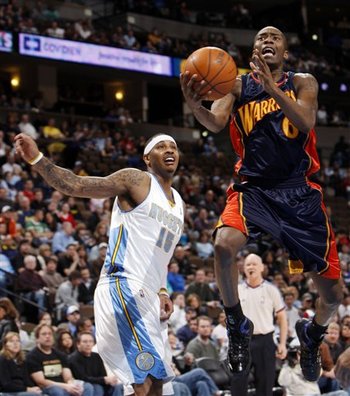 The uniforms aren't horrible, but they're plain and they're just not very intriguing. They are a step above what they were in the past, but here's the thing, you're a nickname—nickname, Warriors.
I mean, you can't put Oakland in there anywhere because that's not your name. You can't put Golden State in there anywhere because that's the nickname of the state of California.
Besides, you tried that and the uniforms really, really sucked. So, you can only put the name Warriors in there. Either you stay boring or you get stupid. Hey, nobody said you had to be a nickname—nickname team.
4. Anaheim Ducks, Hockey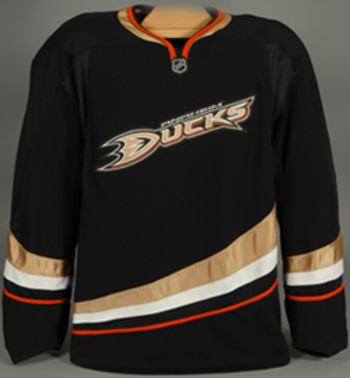 The mad, fighting Donald was a bit odd, and then came the Friday the 13th looking Donald. Now, there's no Donald at all.
Instead, there's just a strange, boomerang-looking "D" and earth colors—burnt orange, ugly brown, and black—that make up the jersey. Yeah...that's a step up from the Donalds.
3. Cleveland Browns, Football
This kills me. First, you're named after the owner of your team, Paul Brown. Then you wear the worst color of brown, the poop color of brown, all over yourself. Your original "Browns" moved to Baltimore. But you, as a city, decide to keep the old "Browns" name and ugly, poop color jerseys. So, you're still the Cleveland Browns.
Look, you haven't made it into a Super Bowl since, well, forever. Get over the past, Cleveland. Please? I'm tired of thinking of dirty diapers every time you step onto the football field.
2. Oregon Ducks, College Football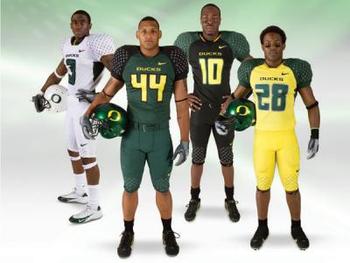 Oregon coach Chip Kelly was on the radio before the season started talking about how the great Oregon uniforms really get his team fired up to play. Really? Great? Yellow, green, dark green, white, whatever. It doesn't matter. Every single Oregon uniform out there is just awful, hideous, disgusting. When Oregon plays, I'm not sure if I'm watching football or Cirque Du Soleil.
1. Boise State Broncos, College Football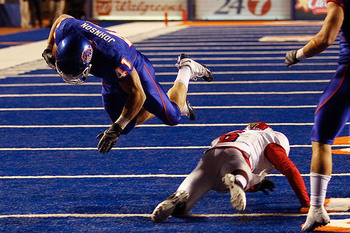 It just isn't right. Who says you can create the ugliest uniform in the world and then play on the ugliest field in the world? There's a reason that the Broncos are so awesome against the spread at home. Nobody can concentrate on football in that freaky place.
Watching Boise State is like drinking absinthe, sitting on your couch, and putting in an Elvis Presley Technicolor movie. When Oregon played Boise State this year, on Boise's insane blue field, it was like taking the brown acid at Woodstock.
Keep Reading