10 Things We Learned About the NFL In October
Several teams are looking for the light as we enter the "dog days" of the NFL season.
As the remaining autumn leaves take their final descent to the ground, we begin to get a little clearer picture of how the NFL will look in February.
Teams such as the Titans, Lions, Redskins, and Chiefs are already making plans for next season, whereas the Colts, Vikings, Saints, and Broncos are beginning to make post-season plans.
Here are 10 things we learned about the NFL season in October.
No. 10: Tennessee (for sure) Won't Make the Playoffs
In my last list, I wrote ("10 Things We Learned About The NFL In September") that the Titans wouldn't be making the playoffs, and now it's confirmed. With a 0-6 record and games coming up against Jacksonville, Arizona, Indianapolis, and San Diego, I see a five win season at best for Tennessee. What a turn-around in the wrong way, huh?
No. 9: The Chicago Bears are becoming a huge disappointment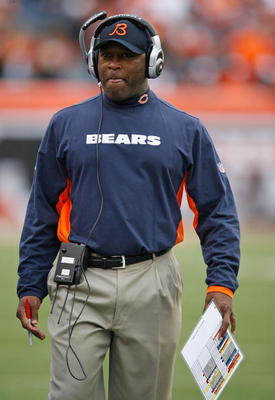 I'm a Bears fan, and I'm upset.
45-10 to the Bengals?
Not even that, it was the 21-14 loss in Atlanta when we should have won the game that really got me down. The Bears have gone way past the euphoria of upsetting the Steelers, killing the Lions and Seahawks, and are now on a slow descent back to earth.
And, it's not looking too bright.
Next month's schedule:
Cleveland, Arizona, @ San Francisco, Philadelphia, @ Minnesota
I smell trouble. And somebody (and somebody important) is going to be fired by the time we kick off the 2010 season if the Bears continue down the route they're on.
No. 8: The Bucs and Rams may go winless this season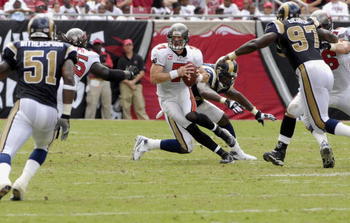 It's sad to think that it's very plausible that there are going to be two winless teams this season.
Tampa has already gone through all three of their quarterbacks, and the Rams' only bright spot has been Stephen Jackson.
But what's more ominous is their remaining schedules:
Tampa Bay:
Packers, @ Dolphins, Saints, @ Falcons, @ Panthers, Jets, @ Seahawks, @ Saints, Falcons
Best chance for a win: @ Seahawks
St. Louis:
@ Lions, Saints, Cardinals, Seahawks, @ Bears, @ Titans, Texans, @Cardinals, 49ers
Best Chance(s) for a win:
Seahawks, @ Lions
No. 7: Albert Haynesworth really was better as a Titan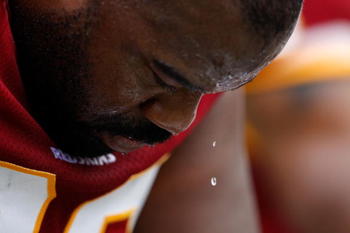 He anchored that dominant Titan defense last season, and now he's laying dormant in the failing Washington system. Since joining the Redskins, he's accumulated 16 tackles and 3 sacks, as opposed to the 21 tackles and 6 sacks at the same time last season. Not to mention, his Titans were 7-0 this time last year, whereas he's 2-6 this season.
Granted he's been battling some nagging injuries, but it's clear now that Haynesworth is not the man he was with the Titans.
No. 6: Dallas may be looking at the playoffs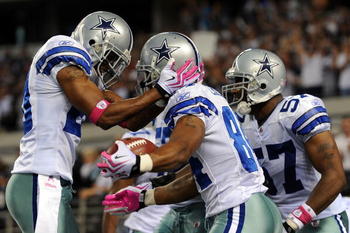 Prior to the season, they were not even considered in the playoff forecast. But now, they've just made things a lot more interesting after going 2-1 in October with a key victory against Atlanta.
Currently, they sit eighth in the NFC Standings with only Philadelphia and Green Bay ahead of them for the sixth place slot that gets them into the playoffs.
What's better is they still have the opportunity to play the Eagles twice, the Redskins twice, and the Giants once more. Plenty of time to shake things up in both the division, and in the wild-card.
No. 5: Pittsburgh muscled their way back into the playoff hunt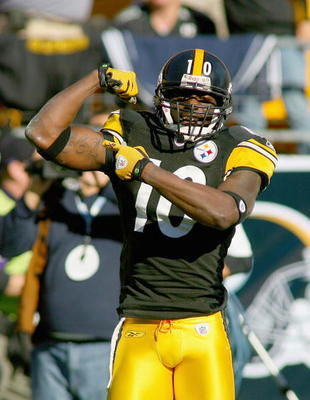 They barely squeaked past the Titans in week one. They were upset two weeks in a row in Chicago and Cincinnati. History tells us that starting the season 1-2 usually leaves you sitting at home in February.
But, history forgot to tell the Steelers.
They've battled their way back and sit 5th in the AFC standings, after winning four straight games.
Though their biggest test will come in two weeks when they travel to Denver, the Steelers have already proven to me that they can still contend.
No. 4: Denver and Cincinnati are legit contenders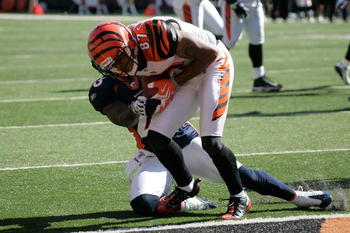 Who would've thought that when the Broncos and Bengals met way back in Week One, we were watching what could be a future playoff game? I sure didn't. But eight weeks later, the Broncos sit at 6-0 and the Bengals are 5-2.
Granted there is a lot of football yet to be played, but these two teams certainly seem like two very good teams that could make some noise come January.
No. 3: New Orleans, not New York is the team to beat in the NFC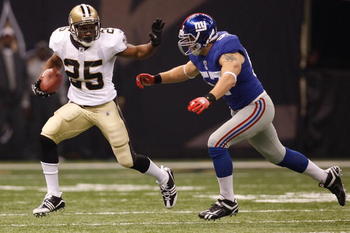 The Saints look nearly unstoppable right now. Drew Brees is at the top of his game, that defense is looking better, their run game is sparking up (Reggie Bush where have you been!?), and they're unbeaten.
It seems to me that the Saints are well on their way to their first NFC Championship game since 2006. Can they finish the job this time?
No. 2: Alex Smith finally showed up to the NFL party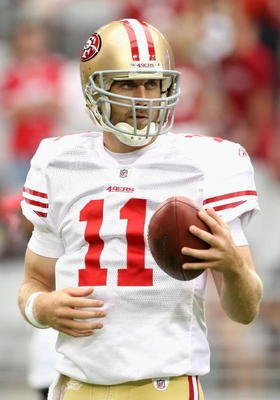 Down 21-0 against the Texans, 49ers coach Mike Singletary called on Alex Smith to make his first appearance in over a year, and he nearly guided them all the way back to within four of winning the game.
He's already been named the starter for next week's match-up, but I don't expect A-Smith to be the premier quarterback he was expected to be when he was the no. 1 overall draft pick. Then again, anything's possible in the NFL.
No. 1: Baltimore slipped right out of the NFL playoff picture
Ok, this may just be a little too drastic, but it's amazing to me how fast the Ravens have fallen.
Three straight losses after winning three straight is a drastic turn in the wrong direction, and now they've fallen to 3rd in the division. Can they turn things around back in the right direction in time? We'll see in November.
Keep Reading