Iowa Hawkeyes' Road To BCS
The Hawkeyes need to win out before any talk of a BCS title shot is taken seriously.
To accomplish that, Iowa will have to get by preseason Big Ten favorite Ohio State—at least that appears to be the deciding game.
One would be wrong to assume this.
Iowa has four games to play and each of those teams will be out for black and gold blood.
This Week's Game: Indiana Hoosiers
Iowa returns home Saturday to welcome the Indiana Hoosiers after an exhausting game against Michigan State.
The Hawkeyes are 18-point favorites. That alone should be reason for worry.
Not to take away from Iowa's success this season, but they haven't handed any opponents a beat down that severe since Iowa State. Every team they should have beaten by 18-plus points (UNI, Arkansas State) somehow managed to keep the margin unbearably close.
Will the Hawkeyes finally cover the spread against the Hoosiers? Many Hawkeye fans would like to believe so but Indiana won't go down without a fight.
The Hoosiers' offensive leaders haven't put up spectacular numbers this season, but the Hawks can't turn their backs.
At times, the Iowa front seven has been anything but impenetrable. Indiana running back Darius Willis can put up big numbers. He posted 153 yards and two touchdowns against a stout Michigan defense.
The Hawkeye defense needs to come out strong and stuff any rushing attack Willis and the Hoosiers attempt to establish if they're to be successful.
Indiana quarterback Ben Chappell is mistake prone, with seven interceptions and only eight touchdowns. If the Hawkeye secondary can confuse and exploit Chappell, the spread may well be covered by the end of the day.
On defense, Indiana is vulnerable to the big play. The Hoosiers are ninth in the Big Ten in yards allowed per game (392.5) and give up 26.5 points per game.
Ricky Stanzi will have to lead an Iowa offense without starters Adam Robinson (RB) and Dace Richardson (G) to exploit the Hoosiers' defensive weaknesses.
November 7: Northwestern
Here's a disconcerting stat:
The Northwestern Wildcats have won three of the last four games against the Hawkeyes including two straight at Kinnick Stadium.
Pat Fitzgerald's Wildcats know how to play the Hawkeyes hard—and win.
This contest has all the makings of a trap game for Iowa before heading into Columbus, Ohio to face the Buckeyes.
Leading the way for Northwestern is senior quarterback Mike Kafka. Any hopes of a Northwestern victory ride on this man's shoulders.
But don't think he isn't capable.
Kafka leads all Big Ten quarterbacks with 2,067 passing yards and is fifth in quarterback rating (129.01).
While the Iowa secondary has been impenetrable at times, they've been soft at others in Defensive Coordinator Norm Parker's "bend but don't break" scheme.
The Hawks can't let Kafka to "nickel and dime" them down the field, as Northwestern's offense has been known to do.
The Wildcats run a fairly one-dimensional offense through the air, but they don't lack play makers.
Receivers Zeke Markshausen and Andrew Brewer account for nearly half of Northwestern's receiving yards and receptions. Markenhouse leads the team with five touchdown catches.
On a brighter note, Kafka has been sacked a Big Ten high of 17 times. Watch for the Hawkeye defense to put the pressure on Kafka and ensure he gets his fill of field turf.
Kafka is also mistake prone. Hit him with pressure and interceptions will follow. The Iowa secondary will play a key role yet again in the game's outcome.
November 14: at Ohio State
Iowa finishes up its road schedule in one of the toughest venues in all of sports.
If Iowa comes into Columbus at 10-0, a lot obviously rides on this game.
If the Hawkeyes fail to run the table to this point, well, this slide show may have been a complete waste of time.
If the contest in East Lansing was a defensive battle, this will be a defensive nuclear apocalypse.
Both teams feature turnover producing defenses. The Hawks lead the Big Ten with plus eleven turnovers, while Ohio State sits in second with plus six.
The Buckeyes turn the ball over more than the Hawkeyes but what they lose they take back, plus seconds.
Both defenses feature plenty of star players.
Iowa safety Tyler Sash leads the Big Ten in interceptions (5). OSU defensive back Kurt Coleman is tied for second with Iowa safety Brett Greenwood and a host of others with three pics.
This game will be won partially through turnovers. Look for them to come through the air.
Statistically, the teams don't differ much. OSU gives up 13.1 points per game, while Iowa surrenders only 14.8. Iowa only gives up about 12 more yards of offense per game, too.
Don't look for either offense's statistics to be beautiful. That should go without saying.
To win the game, the Hawks need to have the better defense, not turn the ball over and squeak out a few points—preferably, not with two seconds remaining.
November 21: Minnesota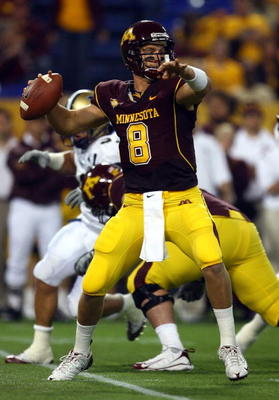 Oh, how boys will fight over a pig.
Come this game, Minnesota could be fighting for a bowl bid, so don't think the Gophers will have nothing to lose in Iowa City.
Obviously, the Gophers will be missing their biggest offensive threat in the Big Ten's best receiver Eric Decker.
They are the Big Ten's lowest producing running team at a horrendous 105.9 yards per game.
A lackluster 186.9 yards per game through the air doesn't exactly back up the nonexistent running game, either. Those stats include when Decker was healthy!
Minnesota quarterback Adam Weber leads the Big Ten in interceptions with 11. He has thrown a pick in every game except the contest against Air Force.
How Weber plays will determine the outcome.
Nevertheless, the Hawkeyes will be licking their chops.
The Gopher defense isn't intimidating to say the least, allowing 20 points or more in every game this season.
The point has been made: Iowa should win this game.
It can't be forgotten that this is a rivalry game and that strange things happen in college rivalries.
The Hawkeyes cannot overlook the Gophers.
As it is the last game of the season—and winning out will be key to a BCS title shot—don't look for Coach Kirk Ferentz to allow his team to jump ahead of itself.
Keep Reading

Iowa Hawkeyes Football: Like this team?