Analizing The Triple Threat Match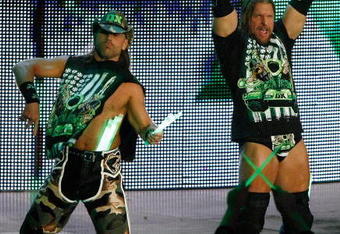 (Photo by Ethan Miller/Getty Images)
This Monday we had pushes, debuts, NASCAR drivers and law suits. But at the end of the show we were informed of the survivor series main event. Cena vs. HHH vs. HBK in a triple threat match for the WWE championship. I for one have been hoping for another DX style triple threat since Wrestlemania 20 if I'm not mistaken. So now we have it. Even though this is a Wrestlemania worth main event that's not what I see. I see the beginning of the end for DX, I see this match starting dissention in DX. This match will be the start of a retirement angle for Shawn Michaels. This rivalry or dissention in DX will lead up to a match between the two members at Wrestlemania 26. I don't see john Cena losing the WWE title At Survivor Series due too the fact that he just won it. Although I do see him losing it at the royal rumble to either triple h or Shawn Michaels, and the other winning the royal rumble I see Triple H winning the rumble since Michaels has already won three and they wouldn't want him too surpass Austin. Also Michaels deserves at least one more title reign. Well anyways the piont is that his is going to lead to a career threatening match for the Heart Break Kid. Do you think it's the right way for the creative team too handle the retirement angle?
This article is
What is the duplicate article?
Why is this article offensive?
Where is this article plagiarized from?
Why is this article poorly edited?