Atlanta Falcons All-Decade Team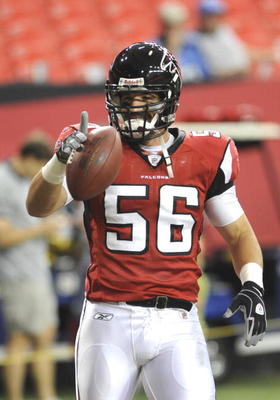 The end of the decade is upon us. With the past 10 year span coming to an end, it is time to look back and reflect.
In this case, it is time to look back and reflect on the Atlanta Falcons All-Decade team.
The Falcons have not had a very bright history, but the past decade has supplied many bright spots, including many marquee players.
Quarterback- Matt Ryan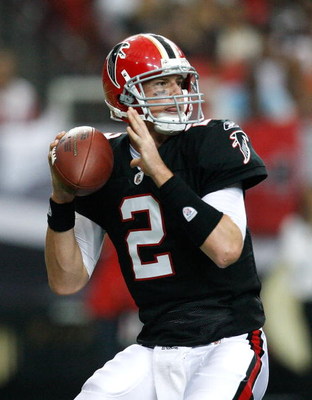 Yeah, yeah, hold your horses. Vick was the greatest thing that ever happened to the Atlanta Falcons organization, and he changed the way the game was played.
But guess what? The game went back to the way it was played before Vick entered, and in the form of Matty Ice.
What Vick did on the field was great, but his falters off the field lose him points here. Ryan on the other hand is a class act, and puts up numbers as a quarterback that Michael Vick dreamt of achieving.
Not to mention the fact Ryan's record as a starter is 15-8. Ryan is not even two years into his career, and has already drawn comparisons to Peyton Manning.
Running back- Warrick Dunn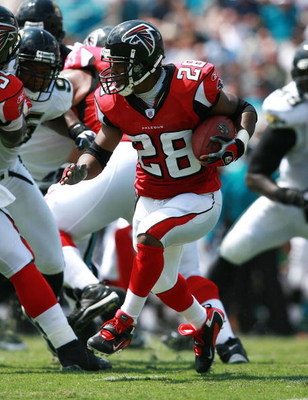 Dunn is what I called the anti-Vick before Ryan showed up. Dunn not only is a class act, but was a staple in the Falcons offense from 2002-2007. He put together Pro Bowl seasons and huge performances.
The most notable was his career game against the St. Louis Rams in the 2004 NFC Divisional Playoff game, in which Atlanta won 47-17.
Running back- T.J. Duckett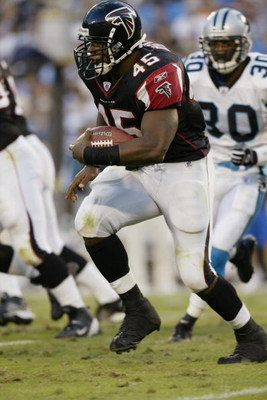 Yup, Duckett gets the nod over Michael Turner.
Michael Turner is one year into things. Duckett however, was always a bright spot for the Falcons, through good and bad. Nicknamed "The Diesel", Duckett's train-wreck running style was a perfect compliment to Dunn's elusiveness.
Wide Receiver- Brian Finneran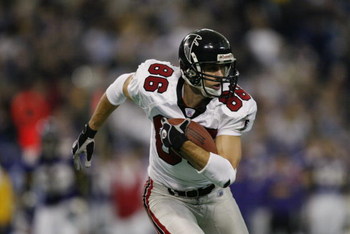 Atlanta has had plenty of wide receiver experiments from 2000-2009. Terrance Mathis fell off and left, Shawn Jefferson was Mr. Average.
Peerless Price was a gigantic bust. And, Roddy White and Michael Jenkins are just now emerging into a very reliable receiving corps.
But, through it all, Finneran has been here, making plays when asked. He epitomizes an Atlanta Falcon more than anyone else on this list.
The fact that Finneran is still here, in this day and age of free agency, is astounding.
Wide Receiver- Roddy White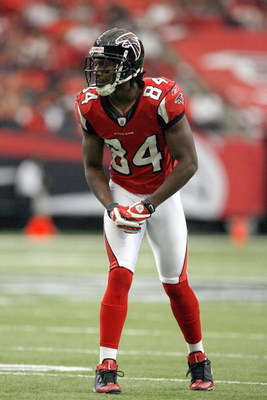 White has gone from "bust" to star thanks to two 1,000 yard plus seasons. His play-making ability and infectious personality makes him an instant fan favorite.
His pre-touchdown back flips are pretty exciting as well. White has potential to go down as one of the best receivers in franchise history (which really is not saying much, but still).
Tight End- Alge Crumpler
Sure hands. Strange speed. Big body. Great blocker.
Alge Crumpler's career in Atlanta made him one of the most notable tight ends in the league. His recent tenure in Tennessee has not been too great, which makes what he did for us in the Georgia Dome even more special.
Tackle- Todd Weiner
Big No. 74 had been a consistent part of the Falcons attack for years. And was a dirty one at that.
Tackle- Bob Whitfield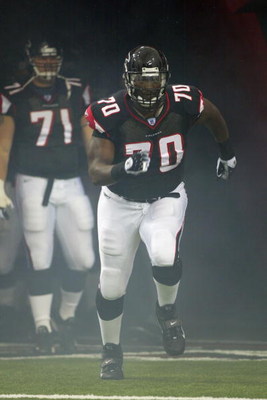 Big Bob Whitfield was an immovable object for the Falcons during the early part of the decade. His age finally caught up with him, but he is the first person I thought of when I began to compile this list.
Guard- Kynan Forney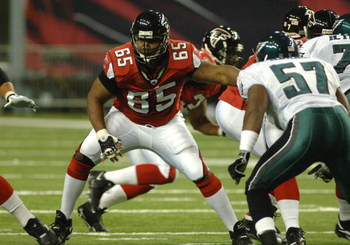 Forney helped lead the Falcons "DVD" running attack to lead the NFL in rushing in consecutive seasons.
Guard- Harvey Dahl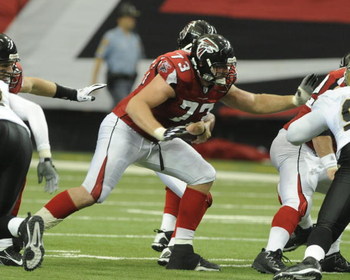 A little premature here, but Dahl has helped lead a Falcons offensive line that allowed just 17 sacks as a unit last year.
He has gained a reputation already as being one of the dirtiest players in the NFL.
Center- Todd McClure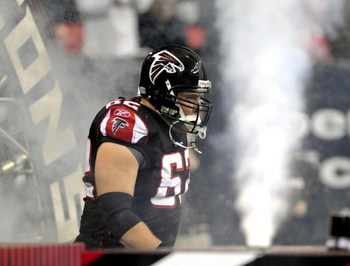 McClure has been snapping balls for the Falcons since 2002. Again, in the free agency decade, the fact McClure is still around is impressive.
Defensive End- Patrick Kerney
Kerney was a sack machine while in Atlanta, and could single-handedly get a crowd out of their seats. A major emotional leader and big time sack master.
Defensive End- John Abraham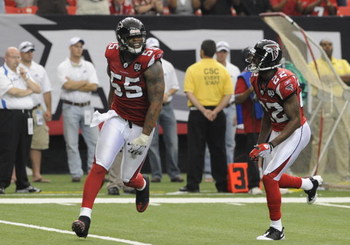 "The Predator" has come into Atlanta and drastically improved the Falcons' pass rush. People wonder how 19.5 sacks last year did not get him into the Pro Bowl.
Defensive Tackle- Rod Coleman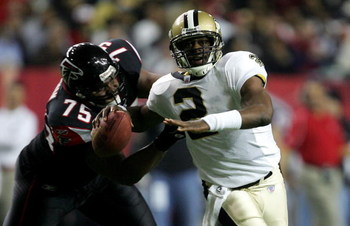 Big Rod Coleman was a big time playmaker from 2003 onward, but some controversial seasons and distractions might have taken away from his performances.
Defensive Tackle- Ellis Johnson
Ellis Johnson was a solid defensive tackle for the Falcons in 2002, with eight quarterback sacks.
Since then, Atlanta had not really had a staple defensive tackle. Grady Jackson's presence does not quite cut it in my book. And guys like Babineaux are still developing.
Johnson was a big part of the magical 9-6-1 2002 season.
Linebacker- Keith Brooking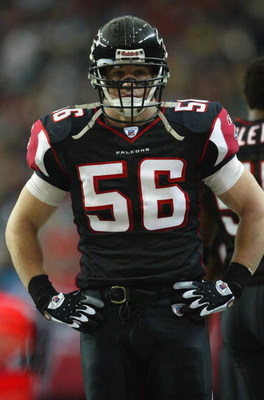 This is a no-brainer. Nothing said Falcons football more than Keith Brooking. Brooking had a rough final few years with the Falcons, but what he did from 2000-2007 was very notable.
A true Atlantan, and we know that even as a Cowboy, he misses us.
Well, hopefully.
Linebacker- Demorrio Williams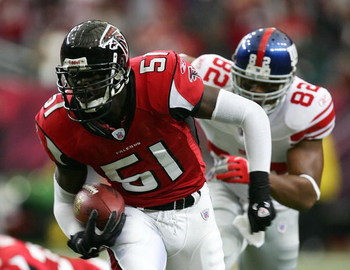 Williams was a tackling machine and major playmaker, however never got recognition from the media.
It always bugged me. He would make interceptions, recover fumbles, force fumbles, block kicks, you name it.
Oh, and he also finished near the top of the NFC in tackles in 2006.
Linebacker- Curtis Lofton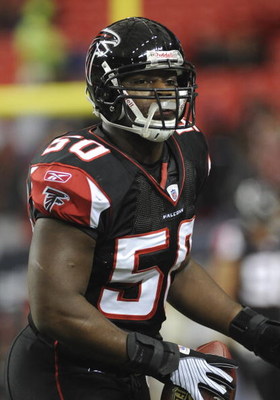 Another premature pick here, but Lofton has already proven he is going to be a consistent player in this defense for a long time.
He is a speedy linebacker and a sure tackler. And, considering it's his second year, is quite a leader.
Lofton makes that 2008 draft class one of the strongest in recent memory.
Cornerback- Ray Buchanan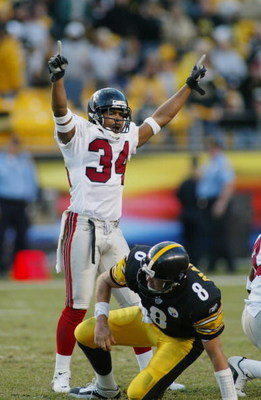 "Big Play" Ray was another one of those no-brainers. Though the peek of his career was in the 90's, Buchanan was a solid shut down corner for the Falcons in the early part of the decade.
Cornerback- DeAngelo Hall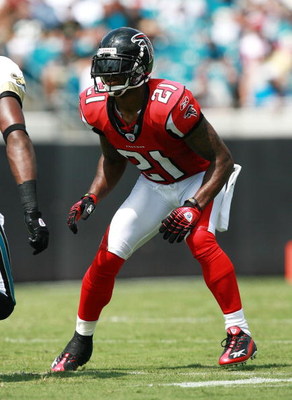 "MeAngelo" might have been annoying, but there is no doubt he was the best cornerback Atlanta had since Deion Sanders.
His speed and playmaking ability resulted in plenty of interceptions and return yards.
Heck, he's even still doing it. With the recent struggles of the Falcons' secondary, you begin to kind of want him back.
Just kind of.
Safety- Keion Carpenter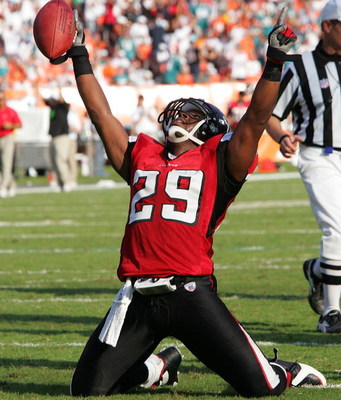 Carpenter was the last playmaking safety Atlanta has had. He had an incredible 2002 season, and continued to be a consistent performer all the way through 2005.
Safety- Lawyer Milloy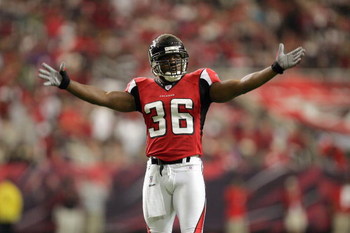 "The Law Dawg" might have made his trip to Atlanta towards the back end of his career, and he might have been a liability in pass defense.
But, his leadership and run stopping ability really helped the 2008 Falcons defense get on it's feet. Just ask current safeties Thomas DeCoud and Erik Coleman.
Kicker- Jason Elam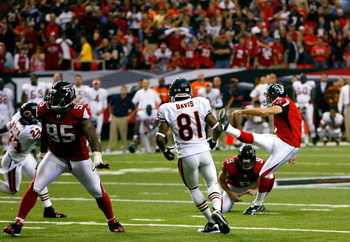 Another newcomer, but I am plenty aware nobody ever liked Jay Feely.
Elam also made one of the clutchest kicks in Falcons history.
I almost put Morten Anderson here, but his glory was all in the 90's. His short tenure back in Atlanta has quickly been forgotten.
Punter- Chris Mohr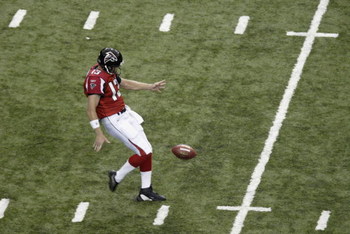 Hmmm. Most boring part of the rankings. Pick the guy who did it the most. Chris Mohr. Okay, next.
Return Specialist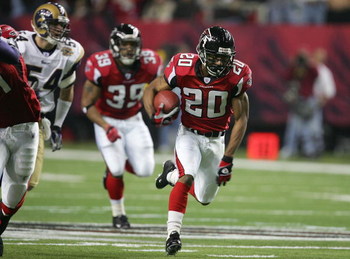 Who doesn't miss this guy?
Rossum might not be capable anymore, but I'm plenty sure Norwood, Weems, and Douglas will have plenty of impact in the return game.
But man, has there ever been a more electrifying returner? Rossum is shown here with his incredible punt return touchdown during the Falcon's 47-17 beatdown of the Rams in 2004. Rossum had two touchdowns in the game.
Keep Reading

Atlanta Falcons: Like this team?