The Top 5 Spooky MMA Fighters Ever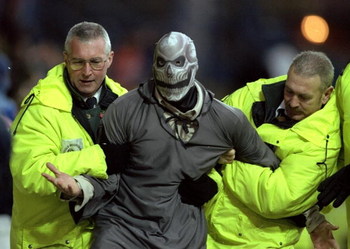 Well, Halloween's here, and that means crazies are out and about. So, I figured I'd put together a slideshow that showcases the spookiest MMA fighters around.
Feel free to agree or disagree, and I'm sure there will be many questionable fighters left off. But, that's why they write the articles right? TO THE SPOOKY!
5. Clay "The Carpenter" Guida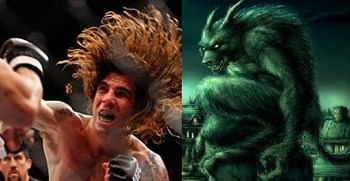 The Carpenter is a very freaky dude. Not only does his long hair and scary weird looks intimidate people, he's also freakishly fast.
His pace and technique can be downright scary, and the Carpenter is a very good gatekeeper on this list. Now if only he could make it into the top five in what really counts...
4. Frank Shamrock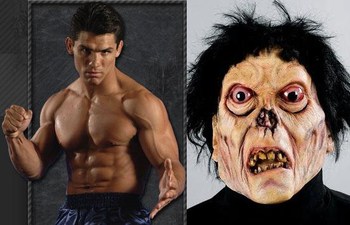 Frank Shamrock used to be one of the most feared fighters in MMA. Now he's one of the most feared announcers in MMA.
Why? His teeth!
Shamrock called fights for the now-defunct Elite XC promotion along with Gus Johnson and Mauro Ranallo.
Shamrock may not be fighting anyone great soon, but he sure will spook some people this Halloween.
3. Brock Lesnar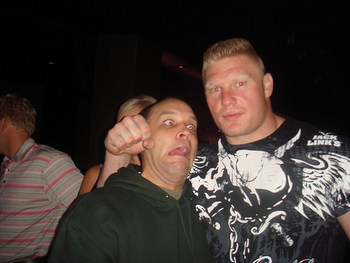 See, even this guy is afraid of Lesnar. Rightly so!
Any man that pummels another into an absolute beating, and then drools onto the Octagon while yelling at the camera needs to seriously be considered for scariest human being for all time.
Lucky for Lesnar, he doesn't qualify as a human being...simply a monster.
2. Andrei Arlovski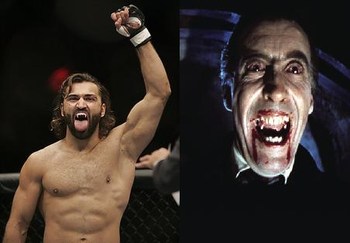 AA was close consideration for No. 1 on the list, but just wasn't that scary this year. I mean, how could a man that has a glass jaw come up with all those nasty bites on people's necks?
He probably should have just transformed and flew like a bat out of hell out of the arena the night of the Rogers massacre. I mean, c'mon Drac.
1. Jason "Mayhem" Miller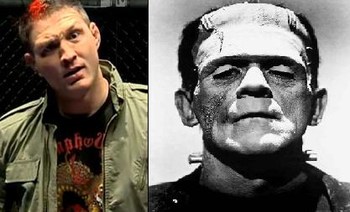 If your nickname's Mayhem, you're going to likely make the top 20 Halloween nicknames list that some writer will make this Halloween season.
However, if your name's Jason "Mayhem" Miller, then you'll make the top 5 of my list. This guy actually is really freaky, and come Halloween time, that's what you want.
While some may not agree with my decision to make Mayhem No. 1, I stand by him and his weirdness. Congrats, Mayhem!
Keep Reading