2009 World Series Preview: New York Yankees vs. Philadelphia Phillies
The Fall Classic is set. The New York Yankees are heading to the World Series for the first time since 2003 to face the defending champions, the Philadelphia Phillies. The Yankees were the best team in baseball this year, and the Phillies were one of the top teams in the National League in 2009.
Both of these teams are defined by their top-end starting pitchers and slugging lineups. I'll run down how each player is projected, using the Bill James Handbook 2010 projections, position by position.
Catcher: Jorge Posada vs. Carlos Ruiz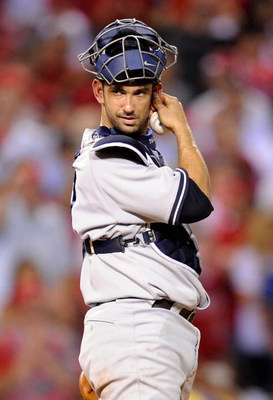 Jorge Posada: .276/.372/.467 with a .368 wOBA.
Carlos Ruiz: .260/.344/.408 with a .335 wOBA
Offensively, Posada is far superior to Ruiz. He gets on base more and hits for quite a bit more power. Ruiz's defense prowess make this a more even match than it first appears.
Ruiz has a ton of success against fastballs and curveballs, but really seems to struggle with sliders. He could be a tough matchup for Burnett, but I expect Sabathia and Pettitte to contain him.
Posada is one of the worst defensive catchers in the majors. His arm has actually been decent this year, allowing him to throw out an average percent of base stealers. However, he really struggles with blocking balls behind the plate.
Ruiz, on the other hand, wasn't as proficient in throwing out baserunners, but he is among the top catchers in the league when it comes to blocking the plate.
Edge: Yankees. Ruiz's superior defensive play does not make up for the huge difference between his and Posada's hitting ability.
First Base: Mark Teixeira vs. Ryan Howard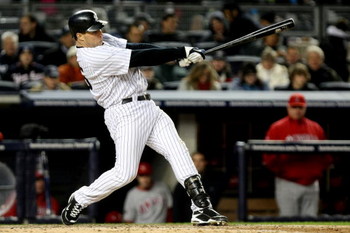 Mark Teixeira: .300/.395/.559 with a .409 wOBA.
Ryan Howard: .278/.372/.575 with a .401 wOBA.
These are two of the top sluggers in the league every season. In 2009, Teixeira was tied for first in the American League with 39 home runs. Howard mashed six more home runs than Tex, but was still only third in the NL. If you're looking for pure power, Howard has Teixeira beat.
If you're looking at the total hitting package, there isn't much that sets these mashers apart. Neither of these guys have a particular pitch that they struggle against. Whatever a pitcher is throwing to them, they are extremely dangerous at the plate.
On the defensive end, these are two guys with opposite reputations. Teixeira won a gold glove last season, and Howard isn't really known for his defense. The fans scouting report says the same thing: Tex has great fielding instincts, and Howard doesn't look great out there. UZR disagrees with this sentiment, and says that they have both been slightly above average for their careers.
Edge: Yankees, but could be a push; Tex is a slightly better hitter and a better fielder.
Second Base: Robinson Cano vs. Chase Utley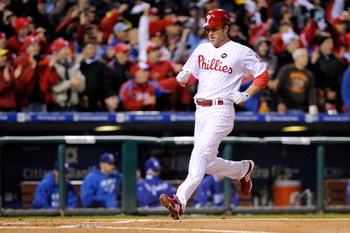 Robinson Cano: .309/.347/.489 with a .361 wOBA.
Chase Utley: .290/.384/.513 with a .389 wOBA.
Year in and year out, Chase Utley puts up fantastic numbers. He probably deserves to be in the MVP discussion every year, but for some reason is ignored by the voters. There is no doubt that Utley is a better hitter than Cano, but his fielding is what really sets them apart.
Since breaking into the majors, Utley has been one of the top defensive second baseman. Cano shows flashes of defensive brilliance, but is inconsistent out there.
Edge: Phillies, by a good margin. Cano is a good player, but Utley is one of the best in the majors.
Third Base: Alex Rodriguez vs. Pedro Feliz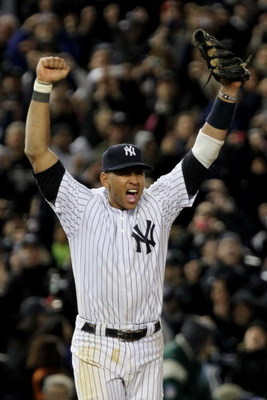 Alex Rodriguez: .294/.400/.548 with a .409 wOBA.
Pedro Feliz: .253/.296/.400 with a .304 wOBA.
This is easily the biggest gap between two players at the same position in this series. Alex Rodriguez is one of the best hitters in baseball, and Pedro Feliz is, well, Pedro Feliz.
A-Rod has carried the Yankees to this point in the postseason, but there's no reason to think he'll keep hitting so well. It's much more likely he puts together a line that looks like the one shown here.
Defensively, Rodriguez has lost a step since he's been recovering from hip surgery, making him a below average third baseman. Feliz has been one of the top defenders at third base in the league for a while, but he is entering his decline phase.
Edge: Yankees, by a lot.
Shortstop: Derek Jeter vs. Jimmy Rollins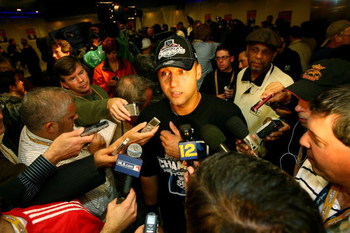 Derek Jeter: .317/.388/.444 with a .370 wOBA.
Jimmy Rollins: .271/.328/.438 with a .334 wOBA.
Derek Jeter is coming off one of his best seasons, improving both his offense and defense. Jimmy Rollins, on the other hand, had his worst season since 2002, when he hit .245.
Jeter is a far superior hitter to Rollins right now, but Rollins posted a career-worst .255 BABIP this season. That suggests that Rollins had a lot of bad luck.
In the field, Jeter has been praised for having his best defensive season of the decade, and UZR bears that out. On the other hand, Rollins has been one of the top defensive shortstops for years and definitely has the edge on defense.
Edge: Yankees. Rollins is a very solid player, he was above average even in one of the worst seasons of his career. Look for Rollins to rebound a bit next season, but he is still no Derek Jeter.
Left Field: Ben Francisco vs. Johnny Damon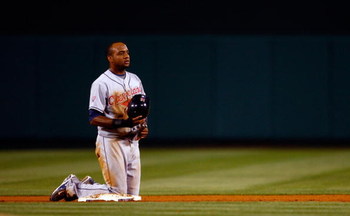 Johnny Damon: .278/.355/.430 with a .348 wOBA.
Ben Francisco: .269/.339/.438 with a .341 wOBA.
The offensive numbers are a bit closer than I expected, considering Damon put up a monster season. This is why I chose to use projections, though. I highly doubt that Damon can be expected to hit as well has he did over the regular season.
Offensively, these guys are pretty close. Look for the Phillies to try to overpower Damon with their fastballs, as he has recently struggled with them.
Defensively, both of these players are poor left fielders. Francisco is better out there than Ibanez, though, so I can see why he will be getting the road starts in the field.
Edge: Push. Similar bats, similar defense.
Center Field: Melky Cabrera vs. Shane Victorino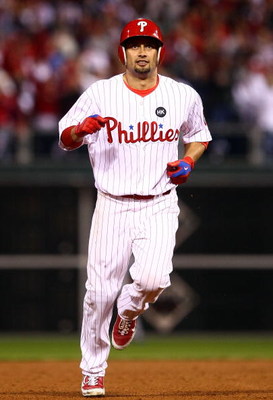 Melky Cabrera: .278/.344/.406 with a .333 wOBA.
Shane Victorino: .283/.343/.418 with a .336 wOBA.
This is an oddly pessimistic projection for Victorino. He has had wOBAs over .350 for three consecutive seasons, so I can't imagine why they expect his production to drop off so much.
Melky Cabrera is a very average player. He's average with the bat. His defense is average. Victorino is an above average player with the bat, with his baserunning, and with his defense.
Edge: Phillies, by a solid margin.
Right Field: Nick Swisher vs. Jayson Werth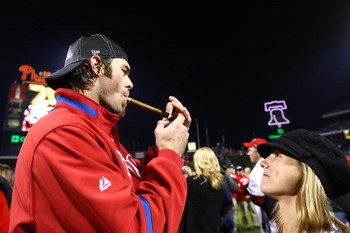 Nick Swisher: .247/.365/.467 with a .365 wOBA.
Jayson Werth: .269/.369/.490 with a .374 wOBA.
Wow, I hadn't realized just how good Jayson Werth has become. Not only is he a force with the bat, he is one of the best right fielders in the game. Swisher has an above average glove, but he is nowhere near as good of a defender as Werth.
Werth has a very strong and accurate arm, and he covers a ton of ground in the outfield. Werth also absolutely mashes lefty pitchers, so the Phillies will need him to step up against Sabathia and Pettitte.
Edge: Phillies.
Designated Hitter: Hideki Matsui vs. Raul Ibanez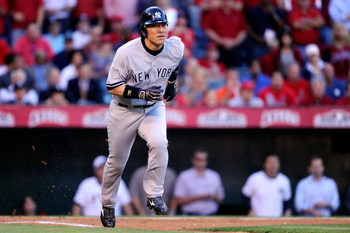 Hideki Matsui: .282/.367/.475 with a .368 wOBA.
Raul Ibanez: .270/.340/.467 with a .351 wOBA.
Ibanez was one of the hottest hitters in baseball to start off the season, but has cooled down, as expected. These are the vagaries of small sample sizes. A good player can look like one of the best players ever if you choose some arbitrary endpoints. The big picture will always be more predictive of how well you can expect a player to keep hitting.
Matsui put together a fine season for himself, and the Yankees will have to decide whether or not they want to bring him back. Both of these players are fine hitters, but Matsui is a superior one.
Ibanez will play left field in Philadelphia home games, though, and Matsui won't step foot in the outfield during the series.
Edge: Yankees, but the Phils have an edge in home games with Ibanez vs. Damon.
Ace Starting Pitcher: CC Sabathia vs. Cliff Lee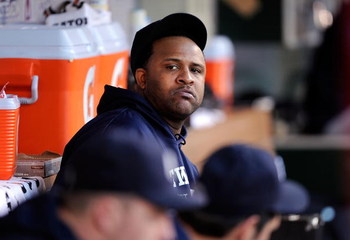 CC Sabathia: 7 IP per start, 3.40 ERA, 2.26 BB/9, 7.65 K/9
Cliff Lee: 6.94 IP per start, 3.81 ERA, 2.43 BB/9, 6.81 K/9
These two aces were teammates for years with the Cleveland Indians, but both have since been traded and have led their respective teams to the playoffs.
They both excel with great command, so don't expect to see either of them put batters on the bases for free. Sabathia has dominated this year with a new grip on his changeup, that has been his most effective pitch all season long.
Cliff Lee doesn't have a knockout pitch like CC, but he commands all of his pitches well, which gets the job done. These two will face off in what looks to be a pitchers duel.
Edge: Yankees.
Rest of the Starters
AJ Burnett: 6.37 IP per start, 3.75 ERA, 3.63 BB/9, 8.75 K/9
Andy Pettitte: 6.39 IP per start, 3.91 ERA, 2.68 BB/9, 6.82 K/9
Pedro Martinez: 5.24 IP per start, 3.54 ERA, 2.33 BB/9, 8.2 K/9
Cole Hamels: 6.36 IP per start, 3.43 ERA, 2.27 BB/9, 8.4 K/9
It looks like the Phillies have the edge here based on the numbers, but you have to keep in mind that the Phillies pitchers don't have to face a designated hitter, so their numbers will look better.
Hamels is definitely superior to Pedro, so I'm not sure why the Phils have opted to pitch Pedro in game 2, but it should make for some fun drama. Last time I saw Pedro pitch in Yankee stadium in the playoffs was Game 7 of the 2003 ALCS. I was at this game, and lets just say things didn't work out too well for Pedro. Expect some "Who's your daddy?" chants.
Edge: Push. All of these pitchers have pretty similar outlooks.
Bullpens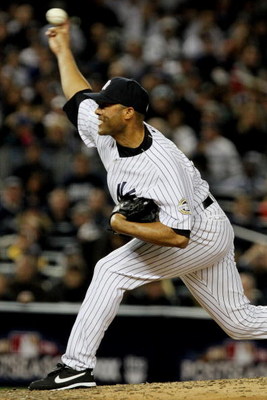 I'm not going to get into all of the numbers here, but it seems that the Yankees possess a better 'pen. Rivera is the best closer in the world, and Lidge has struggled quite a bit this season.
Setup men Phil Hughes and Ryan Madson are both exceptional, and then both teams have serviceable middle relievers.
Advantage: Yanks. Mo is too good, and I know that no Phillies fans trust Brad Lidge right now.
Bench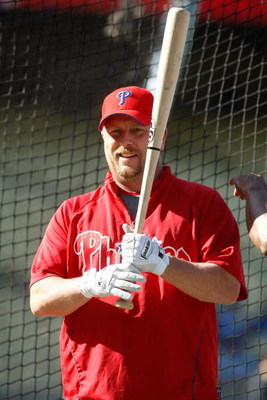 The Yankees will play a few games in a National League ballpark, where they will lose their DH and the bench will become more important. However, it will also give the Yankees the best pinch hitter either team has to offer, Hideki Matsui.
The bench shouldn't play that big of a role in the series, and the teams haven't announced who they are carrying yet. Since I don't know who will be on both teams bench, I won't give one team's the edge over the others.
Even if I did, the separation in talent between the benches really shouldn't play into the series that much.
Putting it all together
After looking at each position, I figured I'd calculate the log5 odds. I used Wins Above Replacement from FanGraphs from the 2009 season, and this is what I got.
The Yankees are huge favorites to win the series, and even have a decent chance at sweeping. While looking at numbers is fun, the games are played on the field. The team that goes out and executes without making any mistakes will be the team taking home the World Series trophy.
Keep Reading

New York Yankees: Like this team?