The Hottest Cheerleader on every NBA Team
I'm back—with a fresh new view on the upcoming NBA season. After hours of through evaluation and research I have come up with the most accurate and in depth preview of the up coming NBA season.
I evaluated every individual dancer/cheerleader in the League and I have selected the MVP, or in this case, MVC, for this season.
Here is the official Sweet Mo slideshow of the Hottest Dancer on each NBA team.
30) Odaymis- Miami Heat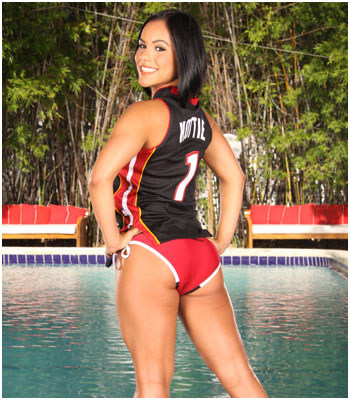 Odaymis is a graduate of Florida International University and she has been with the Heat for 2 years.
Heading into her junior year with Miami, she hopes to bring the heat and really turn up the temperature for the crowd in American Airlines Arena this season.
29) Caitlin- Boston Celtics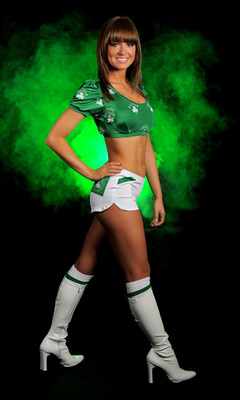 Caitlin actually hails from the Midwest and is a tax accountant.
Ironically enough, she enjoys taking short walks in the forest and enjoys well-lit breakfasts.
Caitlin's has been heard to say her ideal job would be an ice-cream taster. Me too, Caitlin—me too.
28) Tracy- Golden State Warriors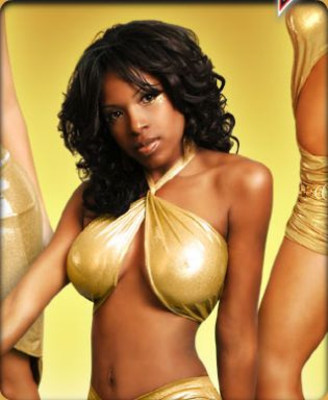 The Warriors are arguably the most exciting team in the league—but that doesn't really mean much in this countdown.
This will be Tracy's second season with the Warriors and I think she will be very productive in the Bay Area.
I will believe anything she tells me.
27) Ashley- LA Lakers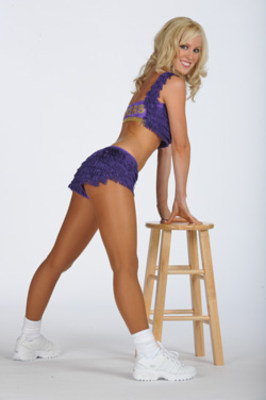 The famous title of, "Laker girl." Well there is now a better title—Hottest Laker girl!
Ashley will be playing the role of Kobe this season and leading her squad cheering into the postseason.
Babe alert!
26) Teresa – Phoenix Suns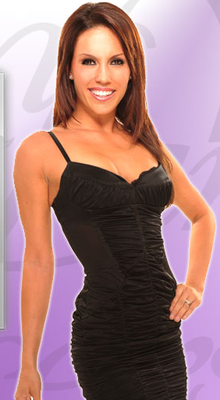 The Suns are a classy organization. Teresa is a classy chick—just makes good sense.
She is holding it down for the Suns this season as the team's leader in hotness.
She also has a great asset at her disposal—I'm not going to tell you what it is, but it rhymes with "class."
25) Jarin- Indiana Pacers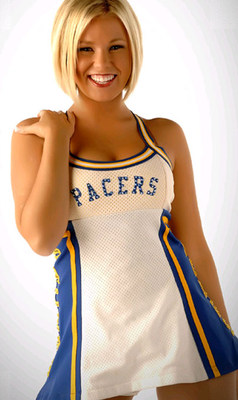 Jarin has spent three years as a Pacers Girl and heading into her fourth season, she looks great.
She has been stretching in the offseason and will be sure to kick extra high this year. The Pacers playoff hopes might not be up, but the height of Jarin's leg kicks certainly will be.
24) Tiffany- Milwaukee Bucks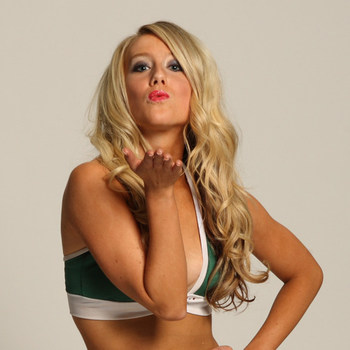 The Bucks may have some ugly color combinations but Tiffany makes them look amazing!
Tiffany not only is the hottest Bucks' cheerleader, she also happens to be a team Captain.
I am really trying hard to not make any bad "buck" jokes—so I'm just going to stop mid…
23) Kylee- Utah Jazz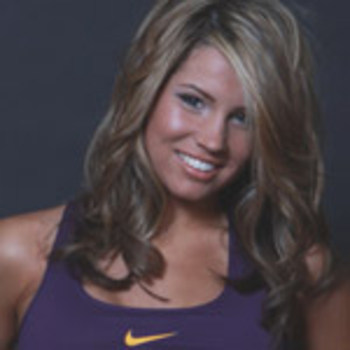 All-American girl Kylee is going to make the Delta Center rock this season.
She brings a unique flavor to Utah and I like it!
22) Minnie- Memphis Grizzlies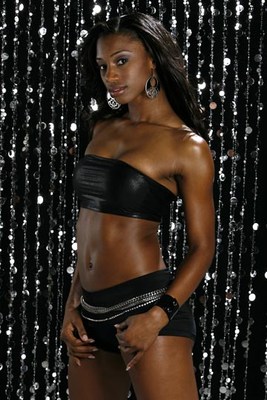 Well, grrrrrr! Minnie is a wild animal when it comes to cheerleading.
She will scream and kick and dance with the best of them.
21) Shannon- New Orleans Hornets
My heart is abuzz with this girl. Shannon has the southern belle vibe and she can ring my bell anytime.
Chris Paul may lead the league in steals, but Shannon stands a chance to lead the league in stolen hearts.
20) This Chick- San Antonio Spurs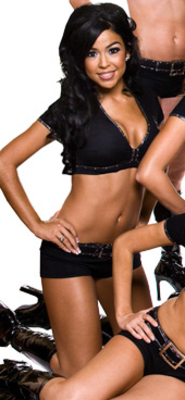 She is on the 2009-10 squad but she has yet to have her name released.
I am waiting with anticipation and hoping maybe for a phone number too?
19) Jessie- LA Clippers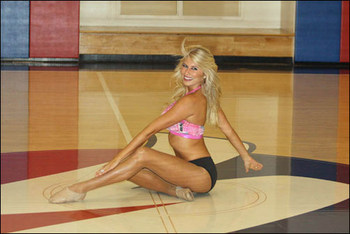 A blonde? In LA?—Surely you jest!
Oh, yes Jessie, who happens to be a veteran for the Clippers squad this season, turns up the heat in So Cal.
There are a lot of pretty girls on this dance team, but Jessie is hottest.
18) Erin – Chicago Bulls
A Midwest Babe working it in the Windy City. Erin can blow the socks off anyone, and does so on a nightly basis.
She can run with my bulls any day.
I have no idea what that means.
17) Briana- Atlanta Hawks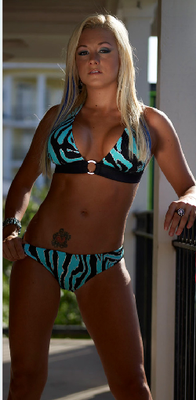 Things are always hotter down South. Briana is no exception.
I don't like to use the phrase "shorty" very often—but I just got to say, "shorty" holler at your boy!
I'm smitten.
16) Rachel - Detroit Pistons

Detroit is rebuilding, but at least they can watch Rachel while they do it!
She may be the sole reason why certain fans return to the Palace. Joe Dumars, you hire the dance team too right?
15) Amanda - New York Knicks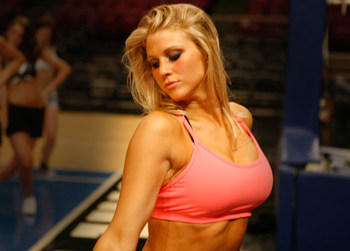 Oh the Knicks don't have much excitement on the court in terms of players this year, but in terms of cheerleaders—They are stacked.
Amanda proved a lot at this year's auditions and I think she has climbed a mountain to reach the peak.
I'm excited to see what she's got this season.
14) Pamela - Toronto Raptors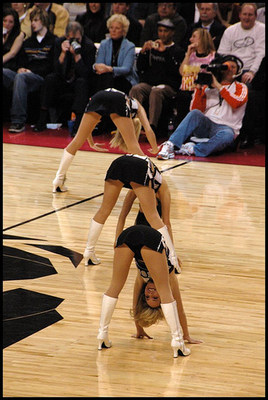 You can't tell which one she is? That's okay—but she is on the Raptors Dance Pak team this year, and she may or may not be in this photo.
But then again, do you care if she is or isn't in this photo?
13) Ashley P- Minnesota Timberwolves
Ashley P is able to stay warm through winter because of her remarkable ability to stay hot!
No snowstorm is going to cool this chick down! Ashley P, you need to come see me.
12) This Chick – Denver Nuggets
The Nuggets have not released the official names of their cheerleading roster, but I have already picked out the MVC.
That is just good reporting.
11) Alicia- Washington Wizards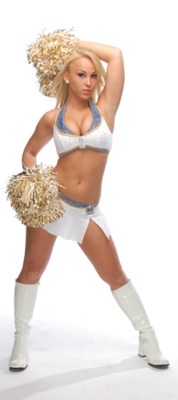 Alicia is the babe of the Bleachers. Meaning everyone in the Bleachers wants to be with this babe.
Me included. I am a fan!
10) Kali D- Dallas Mavericks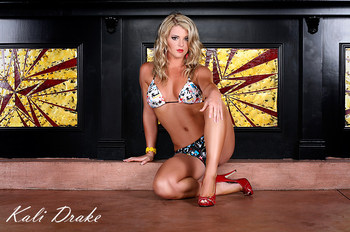 I've said it before and I'll say it again—Dallas has high standards for cheerleaders.
It's just a fact. That's why if you're the hottest cheerleader on a pro team in Dallas, you are a certified big deal.
Kali has the talent and drive to lead her squad this season as the hottest cheerleader for the Mavericks.
9) Emily- Houston Rockets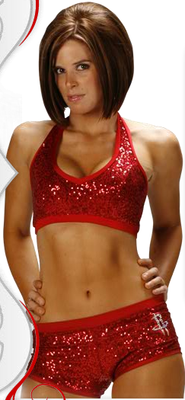 Houston is hot and so is Emily!
She enjoys cheering for her Rockets and watching them blast other teams. I'm not sure how often that is going to happen this year, but Emily—I'll still watch!
8) Amanda- Orlando Magic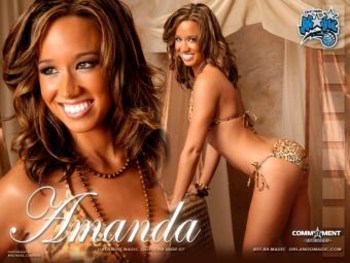 Amanda is the one who can rival Dwight Howard's personality in Orlando.
However, this competition has nothing to do with this countdown. Neither do these words really.
The point is Amanda is the hottest Cheerleader in Orlando this season.
7) Melanie – Philadelphia 76ers
Melanie is the girl-next-door type that you wished actually lived next door.
She enjoys reaching out to the community, but I would be careful Melanie—sometimes the "community" is inclined to reach back.
I apologize—that was a little creepy.
6) Natalie – Cleveland Cavaliers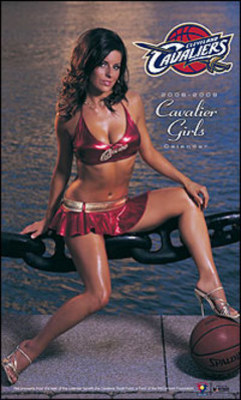 The Cavs may have the reigning MVP on the court, but I know the real reason why people are coming to the "Q"—it's for Natalie.
She might not have her own signature shoe, but Victoria's Secret should give her a signature something. I wouldn't buy it—but the ladies of Cleveland might.
5) Christina - New Jersey Nets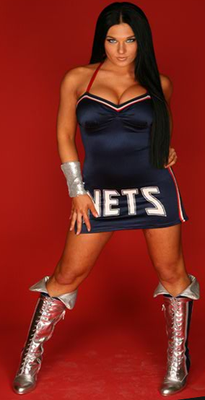 The Nets are boasting a very strong dance team this year, with cuties found across the board.
However, this cheerleading connoisseur has to give the top spot on the NJ squad to Christina.
I don't think she would need a net to catch anyone—more like a stick to keep us away.
4) Caitlin - Portland Trail Blazers
WOW! The Blazers are one of the deepest teams in the league, and so are their cheerleaders!
This squad is stacked from top to bottom but Caitlin will be the one on top. She can blaze a trail to my place anytime.
3) Candace- Sacramento Kings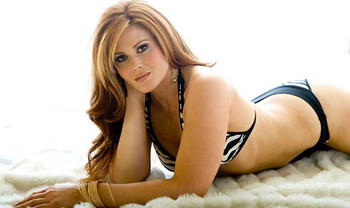 This fiery redhead is the MVC of the Maloof Brothers Cheer squad.
She is a triple threat: she candance, cheer, and look amazing in a swimsuit. Bonus points for being so multi-talented!
2) Lindsay- Charolette Bobcats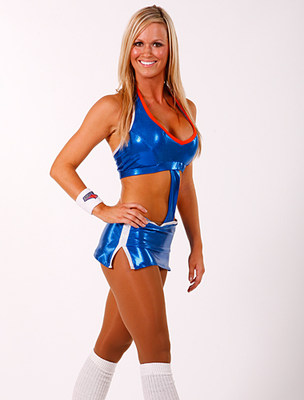 Well the Bobcats might not get a lot of national exposure but I sure hope Lindsay does!
1) Erica- OKC Thunder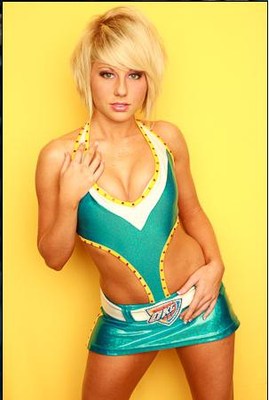 Well the Thunder may be new to the NBA but Erica doesn't care, and at this point you probably don't either.
Erica is a babe that will always cheer for her squad with all her heart—even if they are going to lose 50 games this year.
Keep Reading