Top Five Plays from the 2009 Denver Broncos (so far)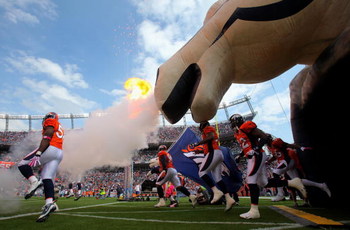 What a season it has been so far for Broncos fans.
In a season in which the team was expected to struggle, the team has surged out to a surprising 6-0 start and a three game lead over the Chargers in the AFC West.
There have been many great memories so far this year. Here are the top five to date:
5. Champ Bailey breaks up Romo's pass to clinch win over Cowboys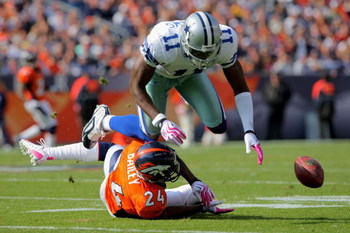 No it didn't produce points, but Bailey's deflection of Tony Romo's pass in the final seconds of the game against the Cowboys sealed the Broncos' fourth win and put the league on notice that this Broncos team is for real.
4. Eddie Royal takes it to the house...twice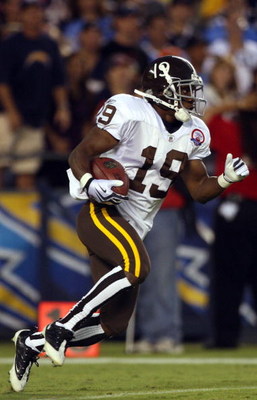 OK, so technically these are two plays, but Royal returning a kickoff 93 yards and a punt 71 yards for touchdowns turned out to be the difference maker in last Monday's win over the San Diego Chargers.
The Broncos were able to grab the lead back from the Chargers with each touchdown and that proved key in keeping Philip Rivers and the Chargers offense on their heels.
3. Matt Prater's game winning field goal in overtime to beat the Patriots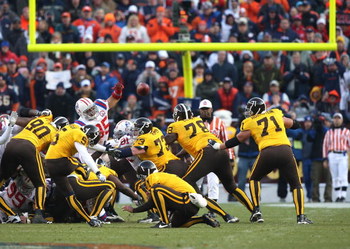 It was the biggest kick of Matt Prater's career and he nailed it.
Prater made a 41 yard field goal to beat the mighty New England Patriots 20-17 in overtime and gave coach Josh McDaniels a win over his mentor Bill Belichick.
The win also pushed the Broncos to 5-0, providing further prove that their strong start was no fluke.
2. Brandon Stokley's 87 yard miracle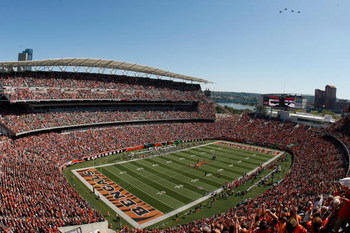 A little bit of a disclaimer here: Numbers two and one could very easily have been switched.
However, Stokley's 87-yard catch and run was a bit more luck than skill. That said, this play has catapulted the Broncos to a 6-0 start and this early win, as lucky as it was, gave this team the confidence it needed going forward.
1. Brandon Marshall's 51 yard touchdown catch and run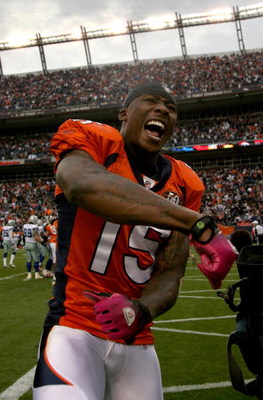 There are a couple big reasons why this play is number one over Stokley's miracle grab and run.
1. Marshall showed pure athletic skill with his feet avoiding the Cowboys defense and getting in the end zone. His ability to avoid the tackle showed why Marshall is one of the best in the game. You can't coach that stutter move he put on the Cowboys. It was pure skill.
2. After the touchdown, and again during McDaniels' post-game press conference, Marshall shared a very emotional and very real embrace with his head coach. At this moment you knew that Marshall, the unhappiest of Broncos during training camp, was on board with this program.
It was this play and the celebration after that Broncos fans knew that they indeed had a very special team to call their own.
Honorable Mention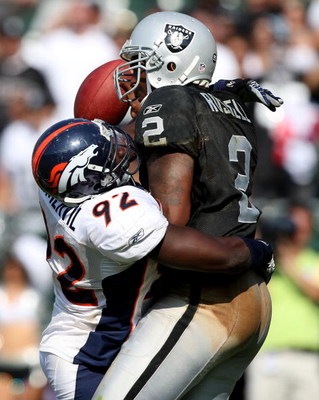 There having been many other plays during the Broncos season thus far that were quite good but not quite enough to make the top five. Here are a couple:
1. [Insert Elvis Dumervil Sack Here]—The man has been on a tear so far this year and he should be considered a frontrunner for defensive player of the year along with a trip to the Pro Bowl unless the Broncos are playing in Super Bowl XLIV of course.
2. Tony Scheffler's 52 yard catch and run against the Chargers—It set up the game clinching touchdown and showed the Broncos have a tight end capable of breaking big runs.
Conclusion: Can these be topped?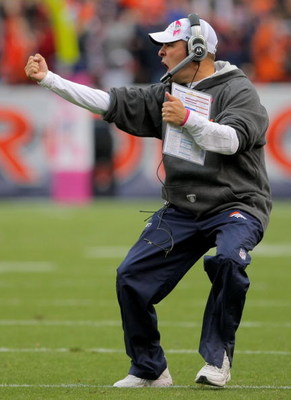 It has been an incredible run so far. Here's hoping these top five from the first six game pale in comparison to the top five from the final ten.
Could this magical Broncos run end in Miami with the Broncos bringing home the Lombardi Trophy?
It very well could if the energetic wunderkid that is Josh McDaniels has anything to say about it.
Stay tuned.
Keep Reading

Denver Broncos: Like this team?