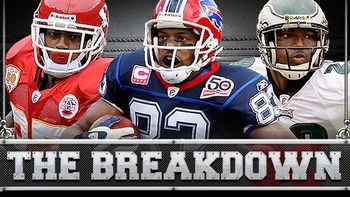 The Cardinals offense has survived the Super Bowl hangover. It has survived Kurt Warner's 38th birthday, Warner's hip surgery, and another offseason full of questions about Anquan Boldin's happiness.
The team's pass attack is a little different, but still effective. Warner still throws like crazy. He's tied for the league lead in attempts per game and is on pace for over 4,600 yards.
He just doesn't throw as deep, as Marcus Fitzgerald is happy to tell you. Warner has turned Marcus' bro into a possession receiver; Fitz hasn't had a play over 26 yards all year and is averaging only 10.3 yards per catch. His previous career low was 13.4, and that was as a rookie.
It's not just Fitzgerald Warner isn't connecting deep with. Warner is 19th in the league in plays over 20 yards, behind Mark Sanchez, Matthew Stafford, and Kyle Orton. (He has one more than "Captain Checkdown" Trent Edwards.) Warner has completed one play over 40 yards, tied for 25th in the league. Last year, Warner was in the top five in both explosive play categories.
Perhaps the hip surgery has eroded Warner's deep ball. The difference was obvious when watching him try to throw a hail mary from the fifty-yard line at the end of the first half against Seattle. Warner loaded up, but had to throw the ball without any arc to get over the goal line.
It's a testament to Warner's accuracy and smarts that he's still able to thrive. He's turned Steve Breaston into a legitimate every week fantasy option. (Breaston, Boldin, and Fitzgerald have similar yardage.) Warner has survived despite a running game that still remains among the league's worst by any measure – more on that in the notes.
After an uneven start to the season, the Cardinals passing attack is back. The lack of explosive plays should cost them eventually, but Warner also should have been washed up six seasons ago when Eli Manning passed him on the Giants depth chart. Warner's wild career was not built on logic. It was built on an ability to adapt.
Week 7 Quarterbacks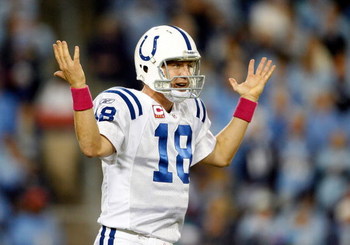 Rank Player Name Opponent Notes
1 Peyton Manning at STL -
2 Tom Brady at TB
3 Drew Brees at MIA -
4 Philip Rivers at KC -
5 Matt Schaub vs. SF -
6 Aaron Rodgers at CLE
7 Ben Roethlisberger vs. MIN -
8 Jay Cutler at CIN -
9 Matt Ryan at DAL -
10 Eli Manning vs. ARZ
11 Kurt Warner at NYG -
12 Tony Romo vs. ATL -
13 Brett Favre at PIT -
14 Donovan McNabb at WAS
15 Carson Palmer vs. CHI -
16 Matt Cassel vs. SD -
17 Chad Henne vs. NO -
18 Shaun Hill at HOU -
19 Josh Johnson vs. NE -
20 Jake Delhomme vs. BUF -
21 Marc Bulger vs. IND -
22 Jason Campbell vs. PHI -
23 Ryan Fitzpatrick at CAR -
24 Derek Anderson vs. GB -
25 Mark Sanchez at OAK -
26 JaMarcus Russell vs. NYJ -
QB Notes: Was Philadelphia's offensive line meltdown a one-game anomaly or a long-term problem for Donovan McNabb? Yes, McNabb missed some throws, mostly in the fourth quarter. But the line was so ridiculously bad the rest of the game, it was hard to put the blame on him. And it wasn't just left tackle Jason Peters' injury. Philly was just as bad up the middle and to the right side. Washington's defense isn't playing that poorly, so it will be a tough test. McNabb isn't an automatic fantasy start. … The Bucs give up more yards per pass play than any team, so Tom Brady's rejuvenation should last at least another week. … A co-worker benched Matt Schaub last week because he didn't like the matchup compared to his other option. Schaub is beyond matchups at this point, an every-week fantasy play in the same tier as Manning, Brees, Rodgers, and Brady. … Eli Manning often struggles at home, but Arizona's stout rush defense will make him have to throw to win.
Long term, the fact that Aaron Rodgers still had protection problems against Detroit is a concern. But it won't matter this week against Cleveland. … As Joe Flacco showed last week, you can throw on the Vikings if you are willing to take a hit. Ben Roethlisberger certainly is willing, and his receiver group is superior to Baltimore's. Expect a solid QB1 day. … As a diehard Tony Romo believer since the day he entered the league, it pains me to say I trust Matt Ryan much more as a fantasy option this week when they play each other, even with Atlanta thin in the secondary. I also trust the Falcons defense more as a whole. The ascension of Miles Austin will help Romo, but the Cowboys should still be a run-first team and they have a lot to prove in the passing game. … The Bengals defense is a neutral matchup. Play Jay Cutler as you normally would. … A decent pass-catching tight end would make Carson Palmer infinitely better. That's why the team reportedly went after Dallas' Martellus Bennett before the trading deadline, only to be denied.
Chad Henne gets his chance this week to prove his Monday Night Football performance against the Jets wasn't a fluke. I don't think it was. Henne will have ups and downs as a young quarterback and he's not an exciting fantasy option most weeks because the Dolphins will run a ball control offense led by the Wildcat. But this week is a game the Dolphins will need to throw to win, and you could do worse than Henne. His receivers will limit his ceiling this year, but he can make all the throws. … JaMarcus Russell's decent statistical day last week, wasn't a sign of hope. He made enough mistakes in the second half to lose; the Raiders defense just bailed him out. It's hard to imagine Chaz Schilens having much value with the way Russell is playing. … Matt Cassel is a fine bye week option if you need help against a suspect San Diego secondary. … The Cardinals are Saints-lite. They can pick on New York's struggles at safety by working the middle of the field too. Kurt Warner should be solid.
Week 7 Running Backs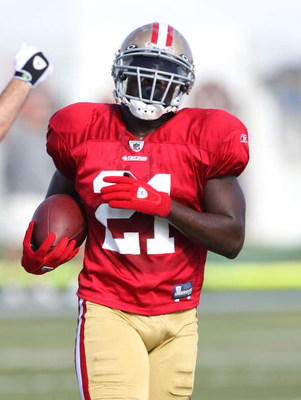 Rank Player Name Opponent Notes
1 Frank Gore at HOU Probable(ankle)
2 DeAngelo Williams vs. BUF -
3 Adrian Peterson at PIT Probable(ankle)
4 Ronnie Brown vs. NO -
5 Michael Turner at DAL Probable(chest)
6 Steven Jackson vs. IND -
7 Brian Westbrook at WAS -
8 Cedric Benson vs. CHI -
9 Marion Barber vs. ATL Probable(thumb)
10 Steve Slaton vs. SF -
11 Matt Forte at CIN -
12 Ryan Grant at CLE -
13 LaDainian Tomlinson at KC -
14 Jonathan Stewart vs. BUF Probable(heel)
15 Pierre Thomas at MIA -
16 Marshawn Lynch at CAR -
17 Ahmad Bradshaw vs. ARZ Probable(ankle)
18 Thomas Jones at OAK -
19 Joseph Addai at STL -
20 Rashard Mendenhall vs. MIN Probable(knee)
21 Brandon Jacobs vs. ARZ -
22 Donald Brown at STL -
23 Darren Sproles at KC -
24 Fred Jackson at CAR -
25 Leon Washington at OAK -
26 Clinton Portis vs. PHI Probable(ankle)
27 Tim Hightower at NYG -
28 Larry Johnson vs. SD -
29 Laurence Maroney at TB Probable(thigh)
30 Tashard Choice vs. ATL -
31 Carnell Williams vs. NE -
32 Felix Jones vs. ATL Probable(knee)
33 Mike Bell at MIA -
34 Ricky Williams vs. NO -
35 Reggie Bush at MIA -
36 Jamal Lewis vs. GB Probable(hamstring)
37 Justin Fargas vs. NYJ -
38 Willie Parker vs. MIN Probable(toe)
39 Chris Wells at NYG Probable(hip)
40 Jerome Harrison vs. GB Questionable(flu)
41 Glen Coffee at HOU -
42 LeSean McCoy at WAS -
43 Chester Taylor at PIT -
44 Derrick Ward vs. NE -
45 Chris Brown vs. SF -
46 Michael Bush vs. NYJ -
47 Mewelde Moore vs. MIN -
48 Jamaal Charles vs. SD -
49 Kevin Faulk at TB -
50 Ladell Betts vs. PHI -
51 Brandon Jackson at CLE Probable(ankle)
RB Notes: Sometimes, you hear a coach say about a rookie: "The game isn't too big for him." No one is saying that about Beanie Wells. He fumbles, bobbles, and misses protections. The Cardinals are a passing offense, and they can't trust him, even when Tim Hightower is averaging 3.1 yards per carry. During the snaps Wells gets some room, the kid looks fearless. Defenses expect him to pound the ball up the middle, and he can take it outside, then punish a cornerback. But the mistakes are too frequent and too costly. … Hightower isn't exactly shutting the door on Wells. We heard a lot about his change of attitude this offseason, but he gets held up by defenders and pushed backwards too often. He's not a good short-yardage option, but he's a fine receiver and understands protections. For now, that's enough to cancel out Wells. I don't want to use either player against the Giants.
An encore performance would be nice, but that looked like the old Brian Westbrook last week. He's explosive through the hole, and the vision hasn't changed. Perhaps the long speed to outrun cornerbacks on the second level of the defense isn't quite the same, but the overall package is close to the real thing. The big difference is Westbrook's usage. LeSean McCoy came in on third downs occasionally and basically split carries with him throughout. This is a good idea for Philadelphia long-term, but it could make Westbrook's fantasy production more inconsistent. … Ahmad Bradshaw didn't play during New York's first three series last week. As exciting as he is, that outlines that he's still going to be a risky play.
The Raiders offense just stayed "on schedule" better with Justin Fargas at the helm. I have my doubts he can keep it going, but his effort will earn him enough snaps to make Michael Bush useless for the near future. … Jonathan Stewart is an excellent play this week because of Buffalo's rush defense and the chance that Carolina may be playing with a lead for once. Donald Brown and Joseph Addai is another backfield tandem that can both be used this week; Indianapolis should have mercy for the Rams and take the air out of the ball eventually. While we're at it, the Chargers duo of Tomlinson and Darren Sproles should have an up week against Kansas City. … With Marion Barber back it's probably best to avoid Tashard Choice and Felix Jones in a neutral matchup.
Week 7 Wide Receivers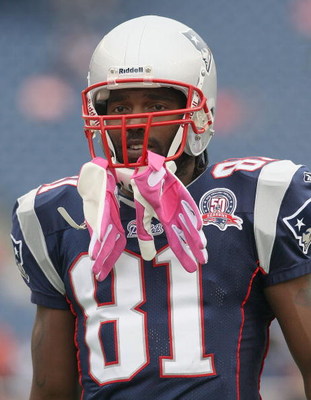 Rank Player Name Opponent Notes
1 Randy Moss at TB Probable(shoulder)
2 Andre Johnson vs. SF -
3 Larry Fitzgerald at NYG -
4 Vincent Jackson at KC -
5 Reggie Wayne at STL -
6 Marques Colston at MIA -
7 Roddy White at DAL -
8 Chad Ochocinco vs. CHI -
9 Greg Jennings at CLE -
10 Wes Welker at TB Probable(knee)
11 Steve Smith vs. ARZ -
12 Hines Ward vs. MIN -
13 DeSean Jackson at WAS -
14 Santonio Holmes vs. MIN -
15 Donald Driver at CLE -
16 Dwayne Bowe vs. SD -
17 Steve Smith vs. BUF -
18 Steve Breaston at NYG Questionable(knee)
19 Kevin Walter vs. SF -
20 Miles Austin vs. ATL -
21 Roy Williams vs. ATL Probable(ribs)
22 Mohamed Massaquoi vs. GB -
23 Sidney Rice at PIT -
24 Devin Hester at CIN -
25 Braylon Edwards at OAK Probable(quadriceps)
26 Antonio Bryant vs. NE Probable(knee)
27 Mario Manningham vs. ARZ Probable(back)
28 Lance Moore at MIA -
29 Pierre Garcon at STL -
30 Bernard Berrian at PIT -
31 Hakeem Nicks vs. ARZ -
32 Santana Moss vs. PHI -
33 Ted Ginn Jr. vs. NO -
34 Lee Evans at CAR -
35 Percy Harvin at PIT Questionable(shoulder)
36 Johnny Knox at CIN -
37 Jeremy Maclin at WAS -
38 Earl Bennett at CIN -
39 Terrell Owens at CAR -
40 Devery Henderson at MIA -
41 Donnie Avery vs. IND Questionable(hip)
42 Michael Crabtree at HOU -
43 James Jones at CLE -
44 Austin Collie at STL -
45 Andre Caldwell vs. CHI -
46 Davone Bess vs. NO -
47 Isaac Bruce at HOU -
48 Patrick Crayton vs. ATL -
49 Mike Wallace vs. MIN -
50 Josh Morgan at HOU -
51 Bobby Wade vs. SD -
52 Mark Bradley vs. SD -
WR Notes: There isn't anyone better at making difficult catches with defenders nearby than Marques Colston. There may be equals, but just wanted to get that off my chest. … I'd play Miles Austin over Roy Williams already. He's a more explosive player. … Hakeem Nicks has done a lot of his damage in garbage time, but he has another gear that players of his size just shouldn't have. He's going to hurt Mario Manningham's value the rest of the way. The Giants are also working Domenik Hixon into the mix. The team is good for a few vertical strikes a game, but it will be hard to predict who will get them. … For now, Anquan Boldin is not on the rankings. If he starts, it's a concern that he won't finish the game. Boldin's presence would knock Steve Breaston down the rankings.
Last week's disappearance shouldn't change your opinion of Jeremy Maclin too much. He was targeted deep twice and was a few feet away from having a big day. He's not that polished on the shorter routes, though, so he'll be a boom or bust option. … Forget what we know about Sidney Rice and Bernard Berrian from before this season. Think about what Brett Favre knows about the two players. Rice has made tough grabs; Berrian has dropped easy ones. Favre likes to throw down the seams more than down the sideline, which also suits Rice's game. The Steelers are a lot easier to throw against than run, even with Adrian Peterson, so it should be a decent day for the Vikings.
Lance Moore won't have as many explosive weeks as last year, but I think it's fair to expect a lot of five-catch, 60-yard days. He'll be a decent PPR WR3 now that he's finally healthy. … Pittsburgh's starting wideouts have basically become must-starts except for in the toughest of matchups. Minnesota is not one of those matchups. … Dwayne Bowe improves every week and gets a plus matchup this week against the Chargers. … The squeaky wheel gets the grease theory should be at play with Steve Smith of the Panthers this week, but ultimately the Panthers will run to win against Buffalo. Jake Delhomme will certainly try to get Smith more involved, but they haven't shown any ability to convert big pass plays, and Buffalo does a good job preventing them. Really. … There is a huge drop-off in the wideout rankings after the top-20 or so. Someone like Braylon Edwards is boom or bust. Mohamed Massaquoi is dropping lots of passes, but he's a safer bet because the targets will be there. Antonio Bryant isn't a bad option because the Patriots will be throwing plenty. … Ryan Fitzpatrick won't help the Buffalo receivers. Maybe last week's game, though, reminded the coaching staff how much better of a player Lee Evans is than the 2009 Terrell Owens. … Chad Henne does make Ted Ginn better. He still won't be consistent, but you could do worse for a WR3 option this week.
Week 7 Tight Ends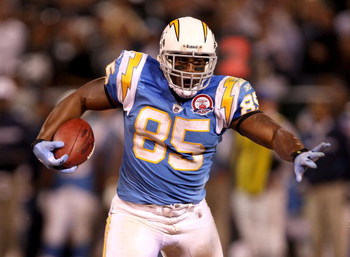 Rank Player Name Opponent Notes
1 Antonio Gates at KC -
2 Dallas Clark at STL -
3 Jason Witten vs. ATL -
4 Owen Daniels vs. SF -
5 Tony Gonzalez at DAL -
6 Heath Miller vs. MIN -
7 Brent Celek at WAS -
8 Vernon Davis at HOU -
9 Kellen Winslow vs. NE -
10 Chris Cooley vs. PHI -
11 Greg Olsen at CIN -
12 Zach Miller vs. NYJ -
13 Jeremy Shockey at MIA
14 Dustin Keller at OAK -
15 Visanthe Shiancoe at PIT -
16 Jermichael Finley at CLE -
17 Kevin Boss vs. ARZ -
18 Anthony Fasano vs. NO -
19 Ben Watson at TB
20 Randy McMichael vs. IND -
TE Notes: The Vikings have given up more fantasy points to tight ends than any team, so Heath Miller's career year should continue this week. … Second on the worst teams against tight ends list is Philadelphia. All the fears that Chris Cooley would be stuck as a blocker last week were overblown. He performed his usual role once the coaching staff had a week to prepare for life without Chris Samuels. … The Patriots are one of the best teams preventing yards to tight ends because of the play of Brandon Merriweather and Brandon McGowan. This will be a tough matchup for Kellen Winslow. … It's fair to have lost patience with Dustin Keller by now, especially with so many excellent options at tight end. Greg Olsen and Zach Miller are showing expected signs of life, for instance, and still have trouble cracking the top ten.
Week 7 Team Defense
Rank Player Name Opponent Notes
1 Eagles Def/Spec Team at WAS -
2 Jets Def/Spec Team at OAK -
3 Patriots Def/Spec Team at TB -
4 Colts Def/Spec Team at STL -
5 Packers Def/Spec Team at CLE -
6 Giants Def/Spec Team vs. ARZ -
7 Vikings Def/Spec Team at PIT -
8 Steelers Def/Spec Team vs. MIN -
9 Fortyniners Def/Spec Team at HOU -
10 Chargers Def/Spec Team at KC -
11 Bears Def/Spec Team at CIN -
12 Bengals Def/Spec Team vs. CHI -
13 Panthers Def/Spec Team vs. BUF -
14 Raiders Def/Spec Team vs. NYJ -
15 Cowboys Def/Spec Team vs. ATL -
16 Saints Def/Spec Team at MIA -
17 Falcons Def/Spec Team at DAL -
18 Cardinals Def/Spec Team at NYG -
19 Texans Def/Spec Team vs. SF -
20 Dolphins Def/Spec Team vs. NO -
21 Redskins Def/Spec Team vs. PHI -
22 Bills Def/Spec Team at CAR -
23 Chiefs Def/Spec Team vs. SD -
24 Browns Def/Spec Team vs. GB -
25 Buccaneers Def/Spec Team vs. NE -
26 Rams Def/Spec Team vs. IND -
Week 7 Kickers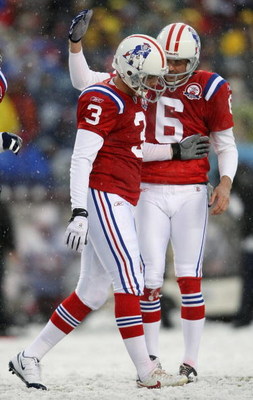 Rank Player Name Opponent Notes
1 Stephen Gostkowski at TB -
2 Lawrence Tynes vs. ARZ -
3 Mason Crosby at CLE -
4 Neil Rackers at NYG -
5 Jay Feely at OAK -
6 Ryan Longwell at PIT -
7 John Carney at MIA -
8 David Akers at WAS -
9 Nick Folk vs. ATL -
10 Robbie Gould at CIN -
11 Nate Kaeding at KC -
12 Matt Stover at STL -
13 Kris Brown vs. SF -
14 Joe Nedney at HOU -
15 John Kasay vs. BUF -
16 Jason Elam at DAL Probable(hamstring)
17 Ryan Succop vs. SD -
18 Jeff Reed vs. MIN -
19 Dan Carpenter vs. NO -
20 Shayne Graham vs. CHI -
21 Rian Lindell at CAR -
22 Sebastian Janikowski vs. NYJ -
23 Josh Brown vs. IND -
24 Phil Dawson vs. GB Sidelined(groin)
25 Shane Andrus vs. NE -
26 Shaun Suisham vs. PHI -
Check Out..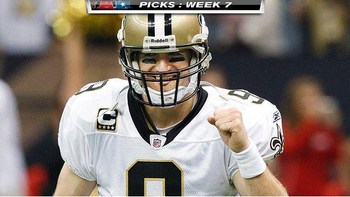 Check Out My Week 7 Picks
http://bleacherreport.com/articles/277412-lucky-number-7-silva-week-7-picks
Keep Reading